.
.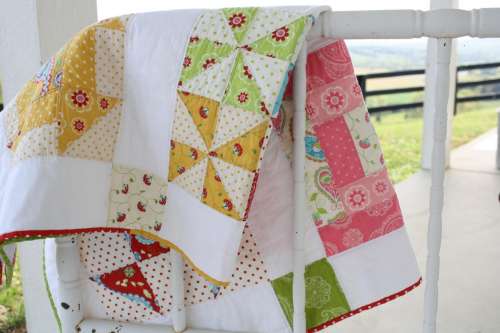 .
A sneak peak of the sampler lap quilt I made using MaryJanes beautiful Caravan Roundup Fabric (this is what the girls will end up with at the end of the quilt camp)!  This lap quilt just might become a give-away here on the blog at the end of the summer.  IF I can part with it!  
.
Happy, happy spring to all my Farmgirl friends!  It is warm enough in Tennessee to feel like summer is here so I've gone ahead and jumped in with my first Summer Quilting Camp Class.  Just in case you missed my first post about it, you can read it here.
.
Before we could have our first class I had a lot of prep work and one of the things that I needed to do was calculate how much fabric each girl needed for her lap quilt.  The different quilt blocks really call for a lot of different fabrics and I knew the easiest route to go would be a collection of fabrics.  It also would make it easier for the Mom's to purchase for the girls.  But it was quickly getting very expensive and I began to worry about how this was going to work.  I really want to encourage the girls to use quality quilting fabric and not buy something that is lower quality just because it is inexpensive.
I decided to take the plunge and do something I've not done in this capacity before and I drafted a letter and emailed four of my very favorite fabric designers.  I told them about my Summer Quilting Camp and asked if they would be willing to share some of their fabric with the girls.  I was completely amazed at the response and so I'd like to share with you the fabric that was donated to the girls.
.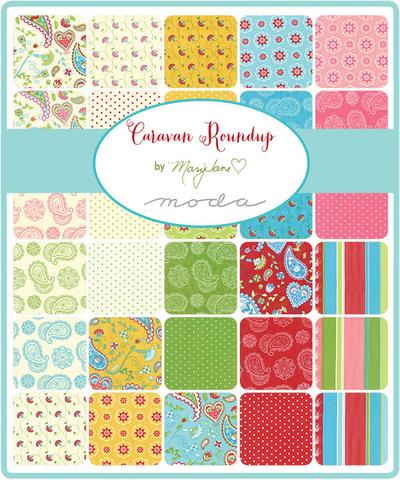 .
Of course I wrote to MaryJane because I love MaryJane (who doesn't?!) and I adore her fabric and also her latest line, Caravan Roundup, is so bright and happy I knew the girls would love it.  Of course she was thrilled to send them a complete bundle of her beautiful fabric.  And let me tell you, it's so much fun! I can't keep my hands off of it! As you can tell from the lap quilt I made right away!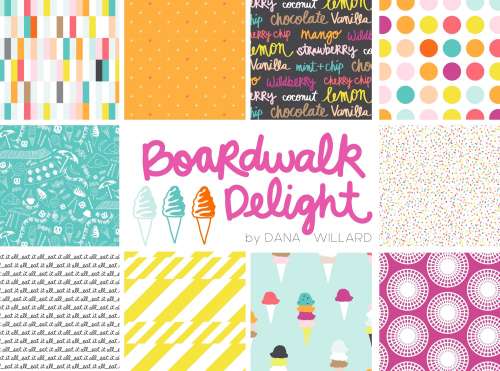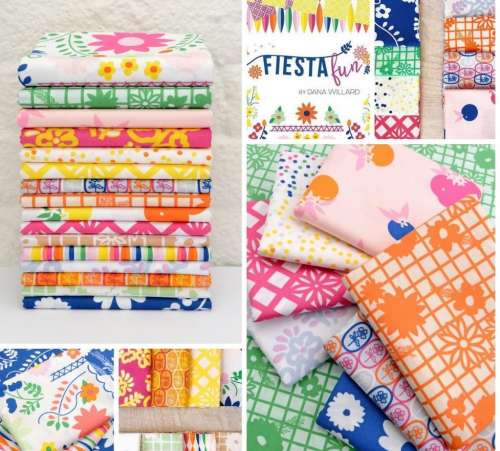 .
I wrote to Dana Willard, who is an amazing seamstress that writes a blog and also has a  YouTube channel with incredible sewing tutorials.  I've followed her blog for many years and made so many of her patterns.  She now designs fabric that is bright, girly, and incredibly modern.  She was so kind and so gracious and she actually sent us fabric from both of her collections – Boardwalk Delight and Fiesta Fun.  The fabric is amazing.  When you look at it, all you can think about is Summertime!
.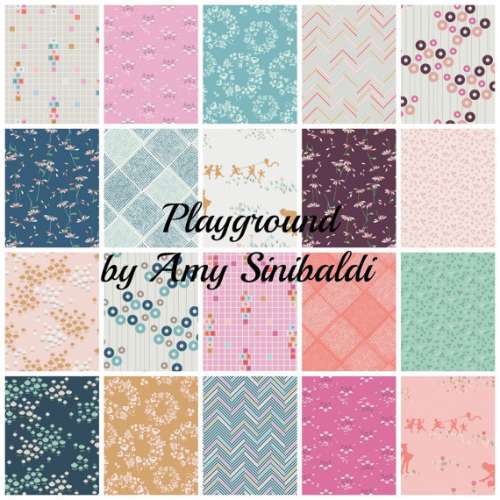 .
I love all the fabric that designer Amy Sinibaldi designs and she has a collection called Playground.  It is full of beautiful, subtle prints that I knew would be a perfect fabric for the girl that doesn't exactly go crazy over bright fabrics.  Amy was so kind to send us a bundle of scraps that she had left of her Playground collection.  There is just enough for one lap quilt – it is so perfect!
.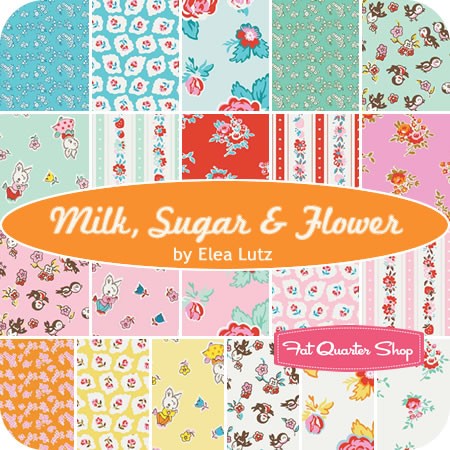 .
I also wrote to Elea Lutz, who designs the sweetest fabrics that are so precious and I had a feeling would be perfect for the littlest girl in our class.   Elea has been in touch with me with such excitement to send fabrics.   I'm not sure what line she is sending, but the picture above is one of her collections that I've done a lot of sewing with in projects and it is probably one of my favorites!
I feel so excited because it was just a huge burden lifted to be able to start this class with enough fabric for each of the five students to choose from.  I can't express my appreciation enough for all the help!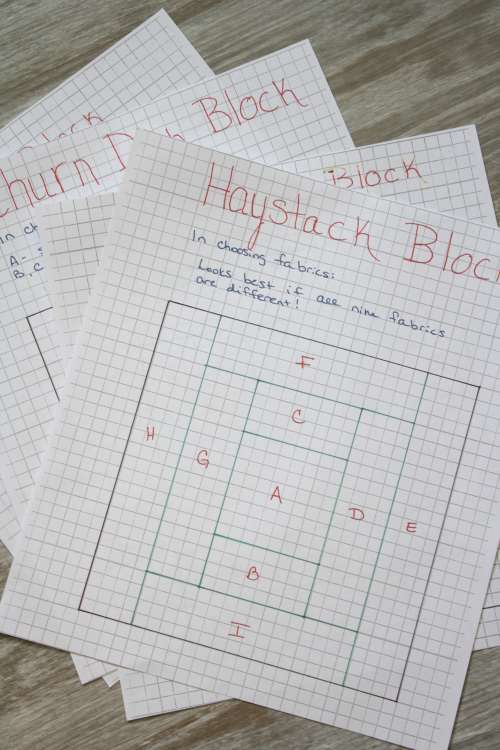 So the next thing that I needed to do was draw each of the quilt blocks out on graph paper.  I made copies for each of the girls so they each had a copy of the different quilt blocks.  (You'll see why this was necessary in a minute!)
.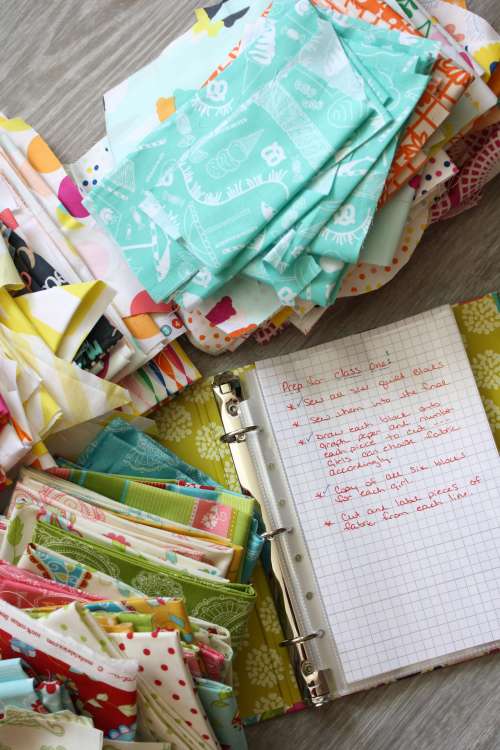 .
We held the first class one evening and I carefully lined up the different fabric collections out on my large cutting table and let each girl choose her collection.  My guess on what each of the girls would choose was spot on and there was no arguing over who wanted what.  Once again, I was just so thankful for all the amazing fabric they had to choose from.
.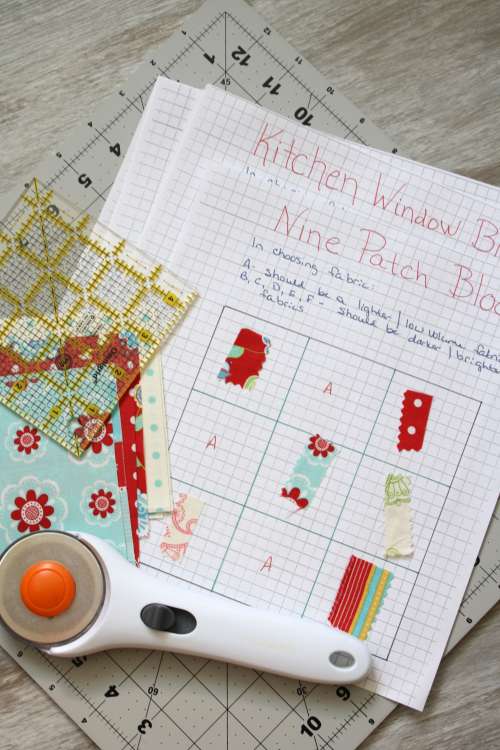 .
My instructions were to start with the first block that we would be sewing (the Nine Patch) and look at their fabric and choose the ones they wanted for that block.  Then to cut a tiny little piece and tape it to the appropriate place on the paper block.  Since I will be doing all the cutting it seemed like the best way for me to know what fabrics they wanted where.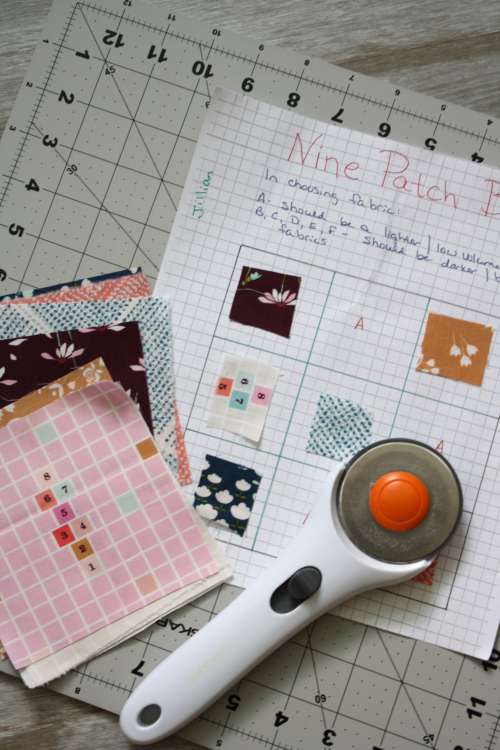 .
The girls did that with each of the different nine blocks and it went very quickly.  I worked very hard to stay out of their way and not give my input on which fabrics to put where.  I just feel like these quilts have to be THEIR quilts and so when they were worried about their choices I tried to remind them that they are individuals, and their quilts will reflect that.  I can hardly wait to see how they look!!!
.
.
I think the girls had a lot of fun diving through their fabric selections and my neat stacks became a big, huge, fun fabric mess!  They also kept saying to me, "We are SO EXCITED for our Summer Quilting Camp" – it really made me so happy that I decided to plunge into the project!
.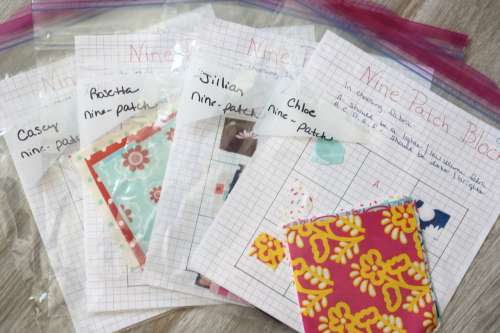 .
This week I've been cutting, cutting and cutting!  I have all the fabric cut except what I'm waiting for in the mail for the last little girl.  As I cut the fabric for each block, I placed that in a gallon size ziplock bag to make it easy for our first official sewing class in May.  This way I can just hand each girl their ziplock bag for their first block and we'll be able to get started without any sorting, cutting, shuffling of fabrics, etc.
.
What I learned from the first short class is that these girls are very quick and very eager to learn and SUPER EXCITED about the project.  It is not going to be easy and we will have some tough class days but I think we are off to a great start and that makes me so happy.  I will continue to keep you posted!  And I have a LOT more prep work before our official first sewing class on May 15th.  It's exciting prep work that I'll share with you soon!
.
.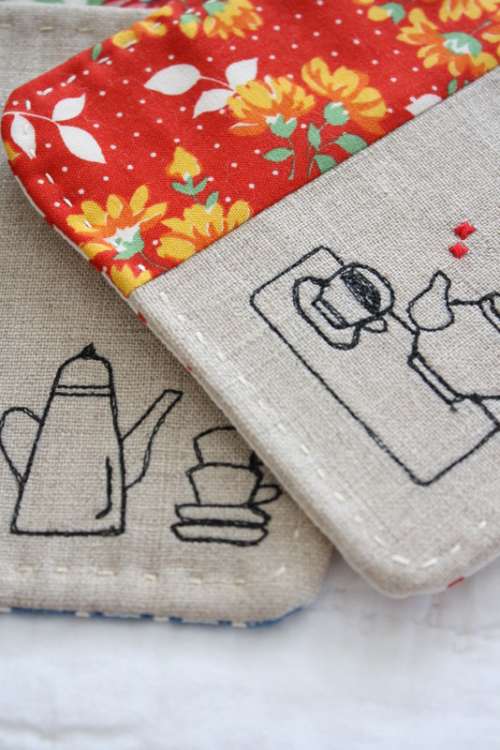 .
Now for the WINNER of the giveaway that I promised last month!  When I wrote my blog post about being a Maker, it was a spur of the moment decision to offer a give-away and I have to admit that I had absolutely no idea what I would make the winner.  The only thing I knew is that it would be made by me!
.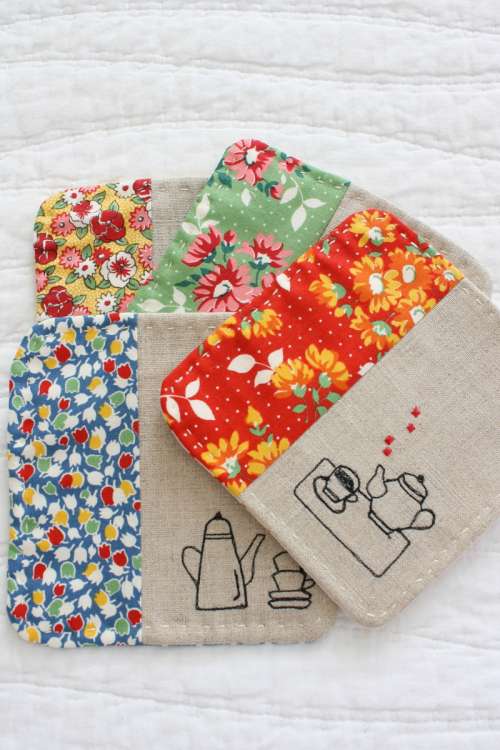 .
.
So the last month I did quite a bit of thinking and finally settled on these darling little coasters for your coffee or tea.  I love this form of sewing called Illustrated Sewing and I think I need to make myself a set of these coasters now!
.
…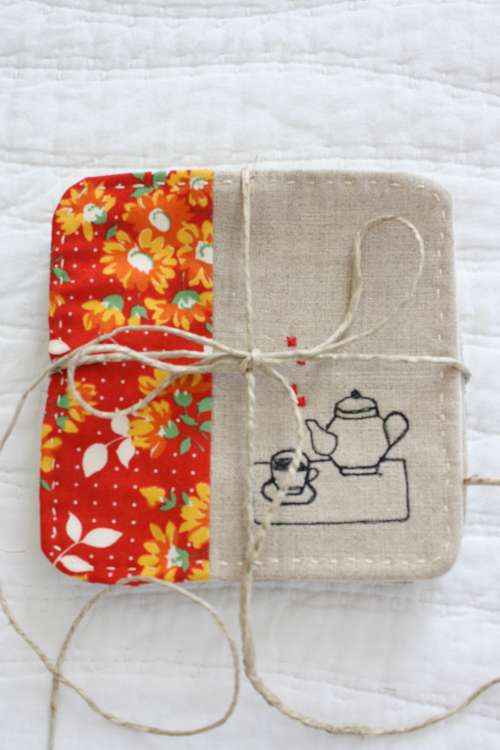 .
So, congratulations to our winner:  Ann Riddle
.
I also want to say thank you to all of you that commented on my blog post last month.  Every comment meant so much to me and I truly do appreciate all of you!  Now that I won't mess up the Random Number Generator (used to pick a winner) I'll be going through and responding to each of you personally.  Honestly, those were the biggest bunch of awesome comments ever!
.
Until our gravel roads cross again… so long.
.
Dori