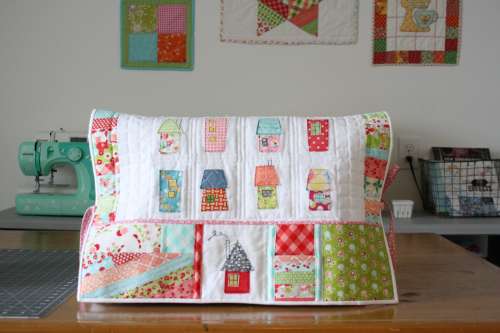 mak·er / mākər
noun
1. a person or thing that makes or produces something
Someone recently referred to me on my Instagram account as a Maker.  I've heard the word used to describe people that I feel are professionals in the creative community but never have I thought of myself in this term.  It got me thinking quite seriously about the creative side of my brain that makes me a Maker and what it takes to keep the creativity alive.  This is what I've learned the last little while as I've pondered these thoughts.
.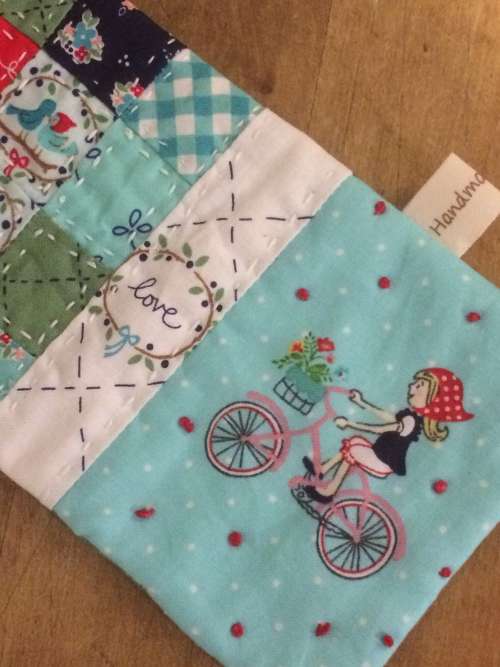 Hand quilting and embellishing little sewing projects with hand work is one of my favorite things to do.
.
Find Your Passion
I feel that we all have (or at least we should have) something that we are passionate about. I happen to be one of those people that has many interests and enjoys learning new things, working in my gardens, cooking, and even cleaning house.  But recently I've become aware that time in my sewing room is my passion.  Even if all I'm doing is sewing up some quick potholders for a birthday gift for a friend, it is completely enjoyable to me.  Everytime I am with my elderly parents – who still ranch full time – I am aware that what keeps them active and happy is their passion for what they do.  We all need something that drives us.
.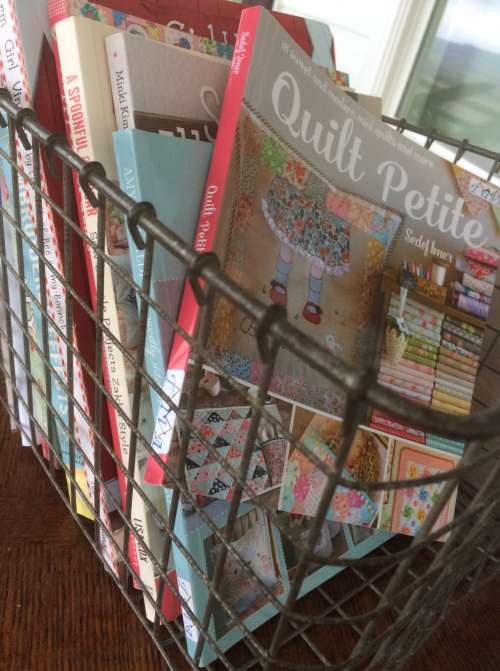 My vintage locker basket full of my favorite inspirational project books!
.
Make Time For It
In the book, Big Magic: Creative Living Beyond Fear, the Author talks about how necessary it is to make time to develop that creative thing in our life that we are passionate about.  For me it doesn't mean that it has to be all consuming, but I do recognize that it helps me in so many areas of my life if I make time for that creative passion.  Recently I read a comment that a friend had written about her love of creating.  She said, "I make time to sit at my sewing table and do something every day.  Even if it is only 15 minutes to pull some fabric for a new design, sew a few hand stitches on a quilt, or look at a new pattern.  I am happier, my family is happier, my day goes smoother."   And I would agree completely.  Sometimes all I have time for is a few minutes to look at one of the fun creative books that I own.  It's enough to get the energy flowing again!
.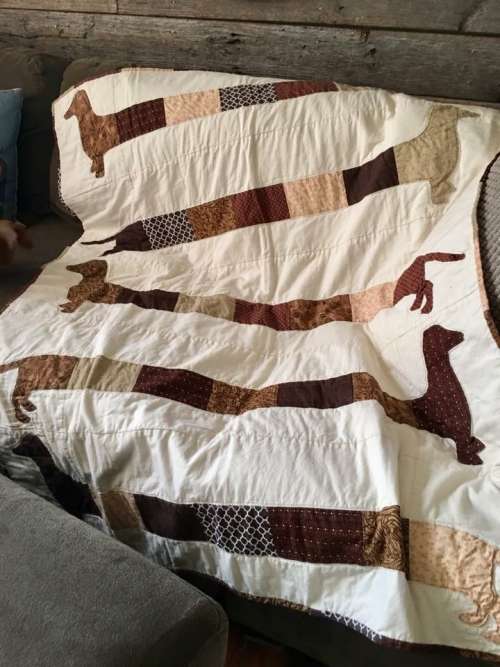 The quilt that was not my thing!
.
Step Out Of Your Comfort Zone
I recently was asked by a friend if she could pay me to make a specific lap quilt for her sister in law.  She showed me a picture of what she wanted and I told my friend that yes, I could make it.  But then the trouble started.  The fabric colors required for the project were not my favorites, the pattern itself was not something that was enjoyable for me (it was weener dogs for goodness sakes!) and all of a sudden what I love doing became drudgery.  Because I'm a finisher, is wasn't hard for me to stick it out and finish it but I felt that it was not my best work and I was disappointed in it.  But it taught me a lot; I learned some techniques I had never done before, I learned that even though it didn't make me happy it certainly made someone else happy.  I also learned that stepping out of my comfort zone was good for me and that I need to do it more often.  And the final lesson was one I'm sure you're waiting for:  when the quilt was finished I loved it and the few things that I felt I could've done better will certainly not be noticed by anyone else!
.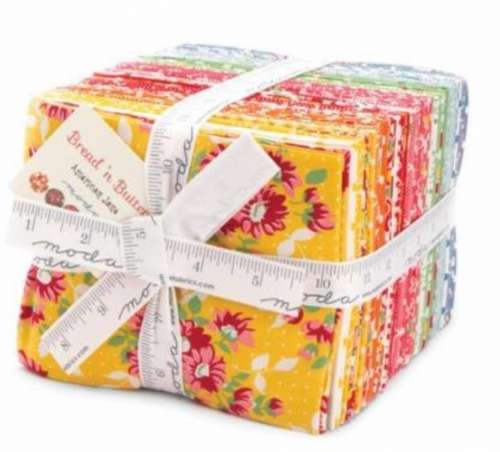 The gorgeous bundle of fabric I have for twin size quilts… and I can't bring myself to cut into it.
.
Put The Fears Aside
Why, in doing something I love, would there be fears?  I ask myself this all the time.   I have had a plan to make quilts for my guest room beds for three years now.  Twice I've put the project out of my mind.  Last year, after a tremendous amount of deliberation, I purchased the fabric for the quilts.  I looked at hundreds of patterns until I finally settled on my two favorites.  And so how far have I come in the process?  Not one single step.  The beautiful fabric is still sitting on my sewing room work area.   But I cannot seem to cut into the fabric.  Strange as it seems I am having some real fears of failure here.  I'm not afraid that I can't do it; because I can.  I'm not afraid that I won't love them; I'm quite sure I will.  I'm not afraid of the time involved; I'm prepared in my mind for how long it will take. But somehow I've got some fears of taking that plunge and cutting the fabric! I've finally figured out that I love projects that give me instant gratification and a quilt, especially one that I intend to quilt by hand, is a very long process that could take me a year to complete.  Somehow soon I will put those fears aside and get started.  I'm asking you to hold me accountable!
.
"So this, I believe, is the central question upon which all creative living hinges: Do you have the courage to bring forth the treasures that are hidden within you?"
― Elizabeth Gilbert, Big Magic: Creative Living Beyond Fear
A quote from one of my favorite books I've read about creative living.
.
Take A Deep Breath… And Have Courage
Do you all remember this post I wrote in January about my plans to teach a summer quilting camp to four sweet girls?   To some people it may not seem like a big deal to plan something so simple as a summer quilting camp for young sewists, but for me it has been a really big deal and took a lot of courage to commit to it.  But just writing about it helped me to make it real and after I shared my blog post on my IG feed I could not believe the support that I received from people in the quilting community.   I feel so much more confident now and recognize that even if the camp doesn't go exactly as I picture it in my mind; if the girls go home with a feeling of success for themselves then it is absolutely perfect!  I'm thankful I had the courage to just simply get started with the ideas.  I think there is treasure hidden there and I'm eager to see what it is!
.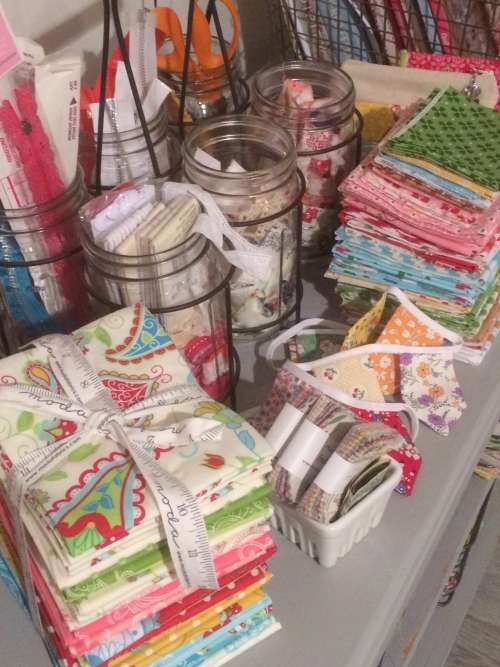 One little area on my fabric shelves… continual inspiration!
.
Surround Yourself With Creativity
Numerous times I've shared the picture of my craft room – especially my sewing table with my wall filled with mini-quilts that I've sewn and many that have been gifted to me.  So I'm not going to share that picture again.  But the picture above is just a little vignette of what the top of my  fabric storage shelf looks like.  I try always to have little areas like this with beautiful fabric displayed because it  makes me happy and also makes me creative!  Incidentally that bundle of fabric there on the left that is tied with a ribbon?  That fabric is called Caravan Roundup and is designed by our very own MaryJane!  It is sitting there reminding me of my summer quilting camp coming up because one of the girls will be using that fabric!  (Just one of the little things of MaryJane's that always inspires creativity in me.)
.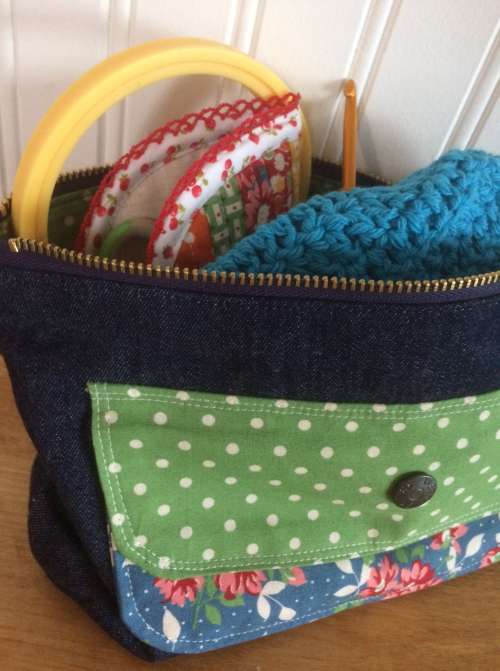 One of the sweetest gifts I've received from a Maker friend – a Maker bag that holds everything I need for any little hand project I'm working on.  I can grab it and go – it's always at the ready! 
.
Do Not Compare Yourself To Others
Living in the world we live in now where we Makers share our projects on all sorts of different social media platforms, we are opening ourselves wide up to comparison.  I have found myself in this place a few times and all it does is feed insecurities. However, the flip side of "comparison" is that we can use it to help us fan the flame of creativity, to give us more ideas and to strive to perfect our skills.  Something I've found in the Maker community is this desire to encourage and inspire others.  The sharing of ideas is amazing.  And the sharing of kindnesses.  I've received so many beautiful little things in the mail from other Makers that I know only through social media and it is amazing the kindness.  I have found in myself that sharing is always better than comparing.
.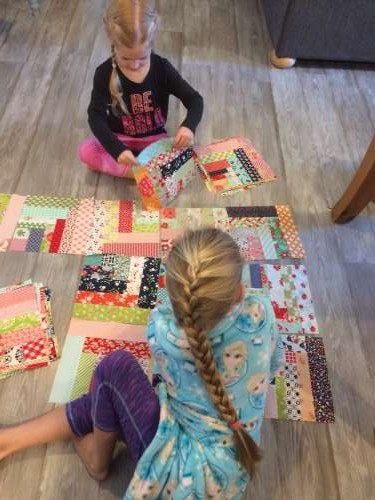 Passing on my love of fabric and quilt blocks to my grand-girls encourages me.
.
Always Thank Those That Encourage You
Thank you dear readers for listening to me ramble today about my musings on being a Maker.  And for always, always being an encouragement in your comments.  So…. to thank you (smile!) I've got a  GIVE-AWAY!  A great little special home-made item to send to one lucky winner.  It is a complete surprise…. custom made for you, by me!  I AM a Maker after all!  All you have to do is leave a comment below telling me what it is that you are passionate about and do you find time for it daily?
.
Until our gravel roads cross again… so long.
.
Dori