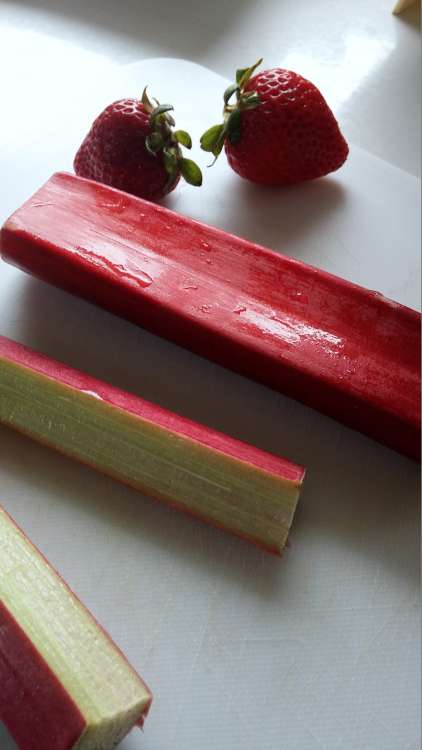 Dear Sisters,
Are you a fan of Rhubarb? This tart but tasty herbaceous perennial is a vegetable generally used for making pies, sauces, jams and chutney. Today I'm sharing and easy Strawberry-Rhubarb Pie recipe. It just happens to be my husbands favorite dessert in the whole wide world and a family favorite too. All I have to do is mention the word Rhubarb and someone will say, "did I hear pie?"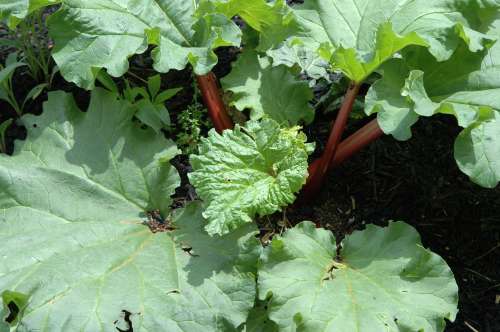 Rhubarb is very easy to grow. It likes rich, well-drained soil and full sun. If you're lucky, you might get a cutting from your neighbor, or you can sometimes find it well established in 1 gal. pots at a local nursery or farm.  You can plop it into your perennial border or along side a fence, stone wall or the side of your home and it will most likely thrive with little or no care from you. Only the stalks are edible and the leaves are poisonous so don't feed them to your chickens! The beauty of this plant is that it's ready for harvesting in late spring ( right now ) just in time for making tasty light deserts that go with BBQ, and other light summer meals. It's great for preserving and can also be sliced and frozen, though the freezing process does something to make it to be soggy when it thaws out, so I like it best for sauces and compotes if I've frozen it.
It's also easy to harvest. The stocks should be at least 10″ in length from the crown to the leaves. To remove the stock just wiggle it back and forth gently until it breaks off of the crown.
Here's the recipe I used from one of my cook books at the cottage, which is where I baked the pie.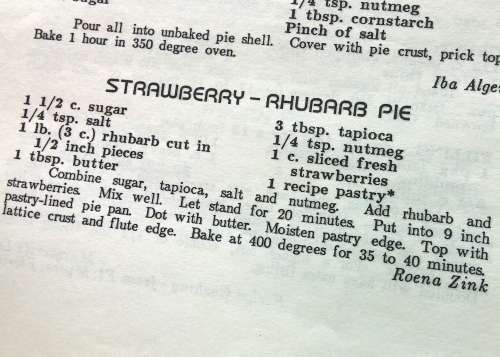 The cookbook is from the Marshfield Newcomer's Club, Circa 1980's. It's filled with old- fashioned New England classics.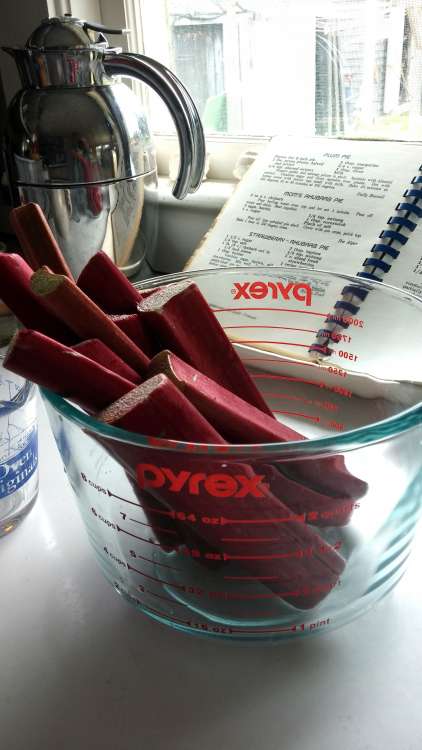 I had already removed the stocks from the leaves and rinsed the rhubarb before we left home so all I had to do was slice it once we got there.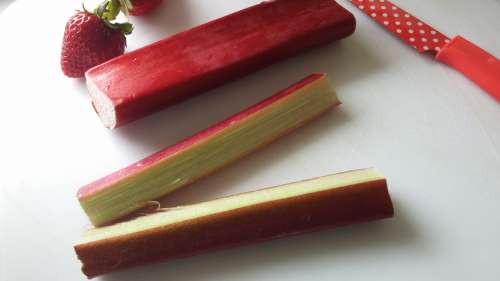 I can't get over what a luscious red the skin is on this rhubarb. I have no idea what variety it is, but I know there are several, some of which are red all the way through the stalk. Rhubarb is celery-like in texture and has no real flavor raw so adding sweet, ripe organic strawberries helps to sweeten it up. Check out this quick link to learn more about Rhubarb Varieties.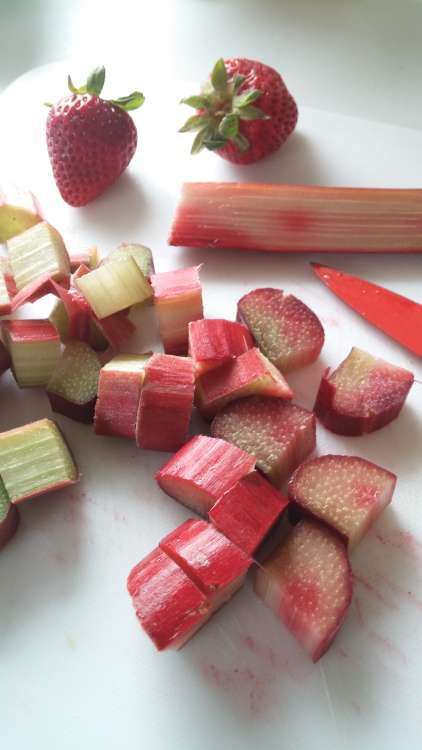 Once the rhubarb and strawberries are cut you can mix the additional ingredients. As the recipe states, let it sit for 2 minutes before pouring it into the pie-plate.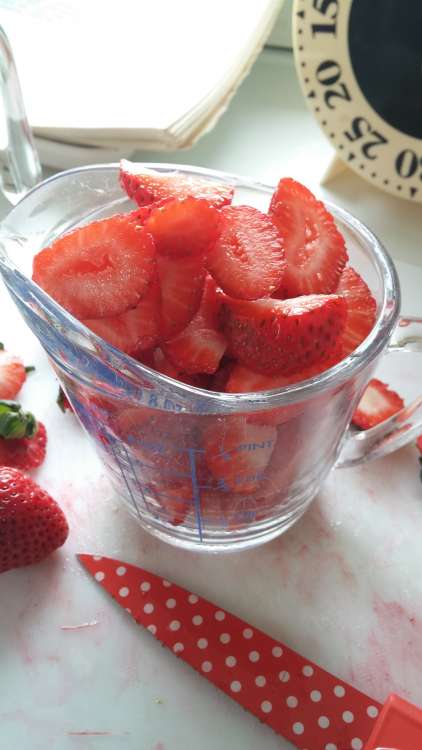 Now, before we go any further, I have a confession to make. As I was running out the door to go the cottage, I remembered I needed tapioca for my pie. In a rush, I accidentally grabbed my small pearl tapioca (for making tapioca pudding ) instead of Minute Tapioca for pies.
Oops! Well, even as I was adding ingredients I STILL hadn't realized the error of my ways.
I continued along, happy as a clam knowing my pie was almost ready to put in the oven.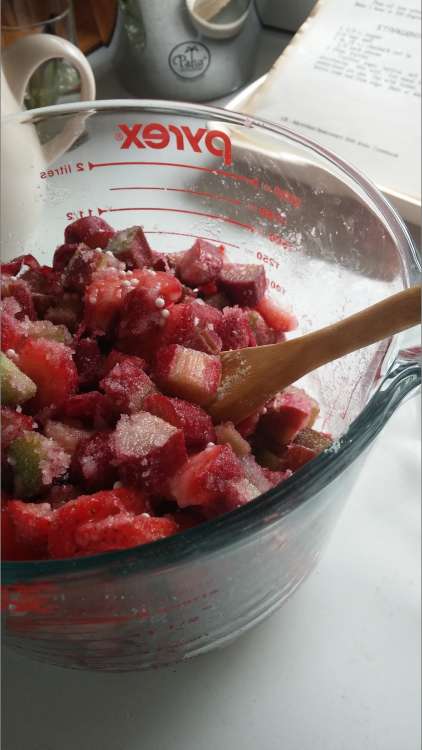 I stirred in the sugar, nutmeg, salt and tapioca pearls…Wait! Pearls?! Then it hit me what I had done. Now what was I gonna do? Being the optimist that I am I hoped, prayed, and pleaded with the pie Gods that the pearls would dissolve while baking.
We aren't set up at the cottage with dry goods just yet so I used a store-bought rolled pie crust. So convenient in a pinch.
I put a few vents in the top of the crust and in the oven she went!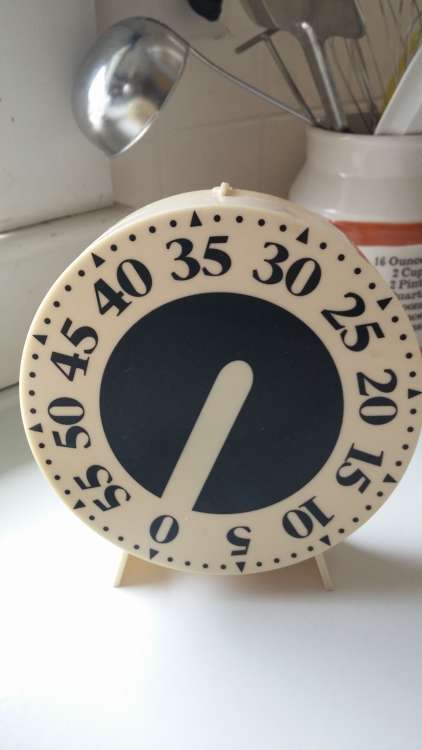 Ta DA!
Now, you may be wondering why I don't have a photo of a single slice of pie… Well, unfortunately, those pesky tapioca pearls didn't dissolve. Instead they swelled up a little adding a very UN-desirable texture ( and appearance)  to an otherwise perfect pie. But, I'm happy to report it didn't change the flavor in the least and it was enjoyed by all!
Whew! I couldn't bear the thought of feeding that whole pie to my chickens (although they would have scarfed it up in no time) if it had not tasted GOOD!
Share YOUR favorite Rhubarb memories, dishes in the comments!
Until our next shoreline visit~ Enjoy these late spring days. They are precious gifts and great reminders of how beautifully our earth provides for us when she is gently cultivated, loved and tended to.
Beach Blessings and Much Love,
Deb, The Beach Farmgirl # 1199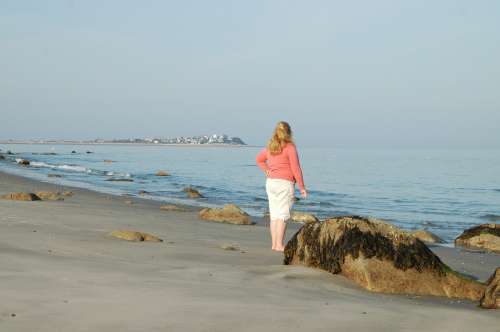 PS. Here's a link to a prior post I wrote with a wonderful recipe for rhubarb, date and apricot chutney. YUM! Be sure to scroll all the way to the bottom of the post for the full recipe.