Love is to the heart what the summer is to the farmer's year – it brings to harvest all the loveliest flowers of the soul. ~Author Unknown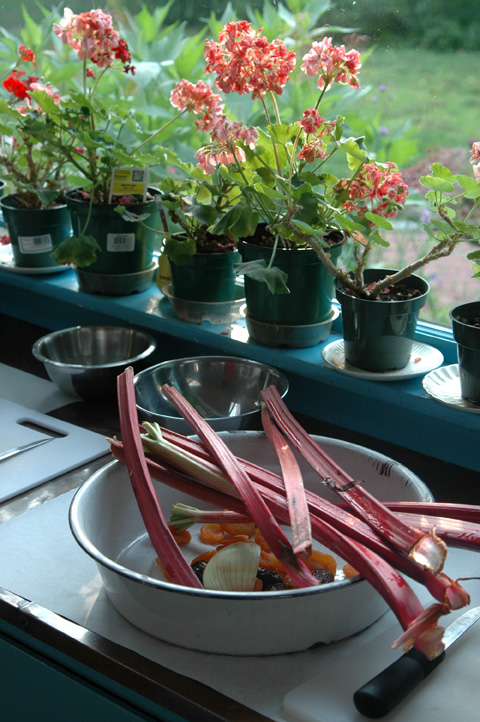 Howdy fellow farmgirl sisters! What kind of farmgirl summer are you having this year? I love summer! It comes on slow here in the North East bringing bright spring blossoms, first days at the beach then suddenly the heat is on and I'm feeling energized by the sun! Another fourth of July is behind us, the Garden is nearly at it's peak and the Home Town Farmgirls went Jammin' last week in a 100 year old Jam Kitchen on Cape Cod! I'll introduce you to the Cottage Hens, and our TWO roosters, Rudy Ru and Rodeo. Come see what the BEACH farmgirl has been fillin' up on this summer!
First, let's grab a glass of home brewed sun tea, it's hot out and there's lot's to see!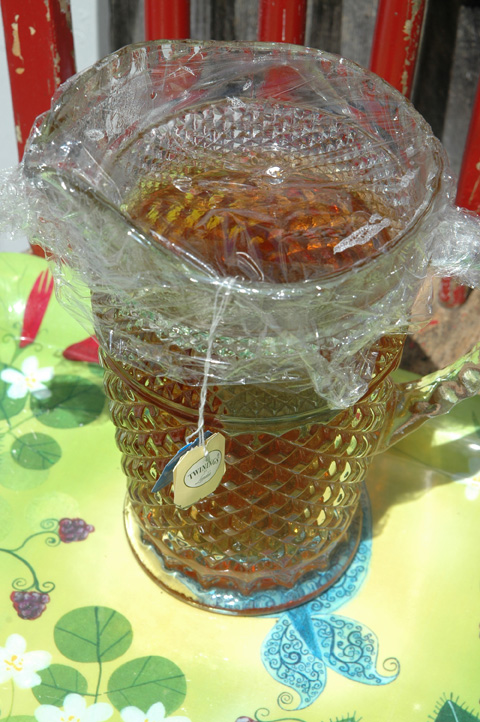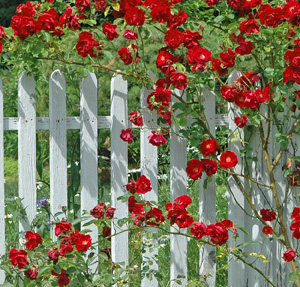 Where to begin? With pretty pickets that's where! I'm a very lucky farmgirl because I don't have to travel far to get a glimpse of my beloved picket fences. Our area is loaded with them and if you've been reading my blog since the beginning you already know I'm crazy about pickets!  I know you'll love them too! Be warned, this won't be the last you see of picket fences here!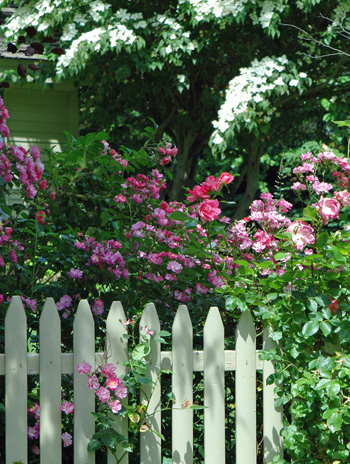 Right now many of our local pickets are smothered in blooming roses… I can hardly take it!
One more? Oh, alright, since you twisted my arm.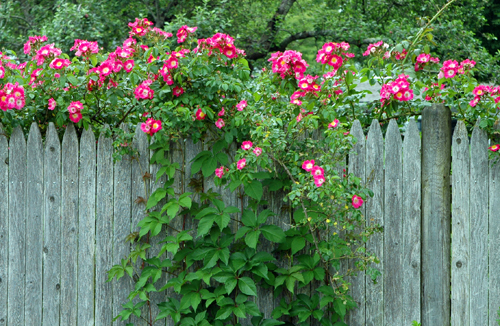 Next stop is The Little Red Hen House to meet the Cottage Hens and the boys!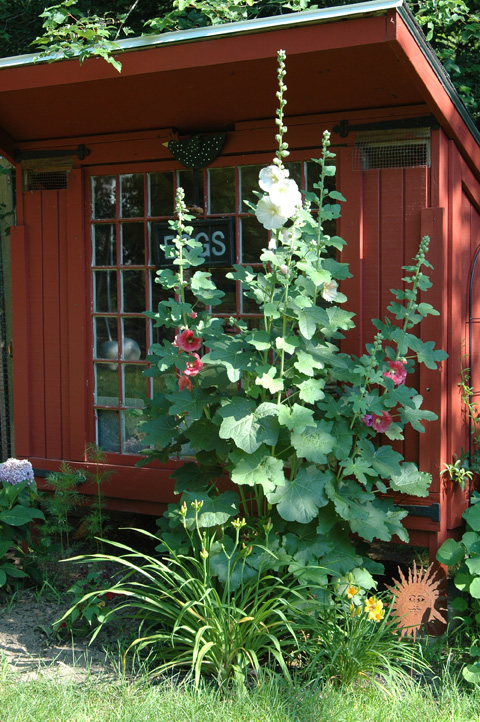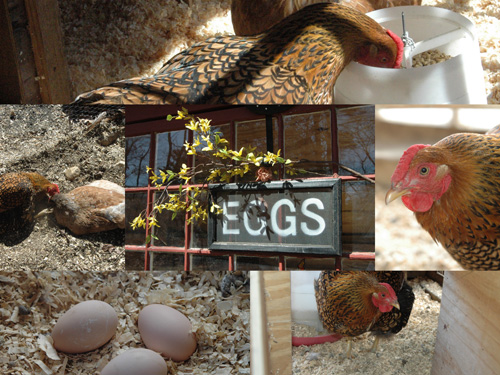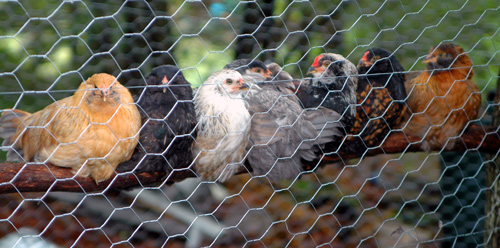 I still can't believe I captured all 7 of our Ameraucanas roosting all at once. See the three chickens on the end looking towards the center at the " chic " who is sitting backwards on the roosting bar? The two on the inside of that threesome are are our roosters. Rudy Ru and Rodeo. We've been keeping chickens for 5 years and this is our first experience with roosters.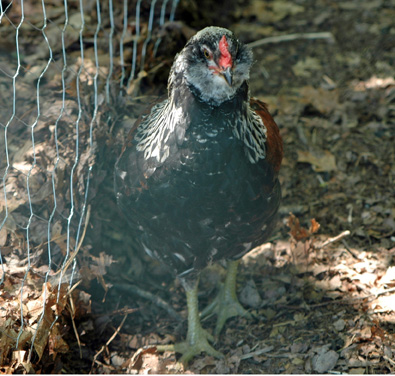 So far there is harmony in the hen house! We are keeping our fingers crossed it stays that way! Tell me, am I just being naive here? I love the crow they make in the morning and in the afternoon when someone approaches the run, but keep in mind we are backyard chicken keepers. Our neighbors might feel differently. So far, no one has complained. Go here to get a closer look at the cottage hens coop ( made from recycled materials ) inside and out!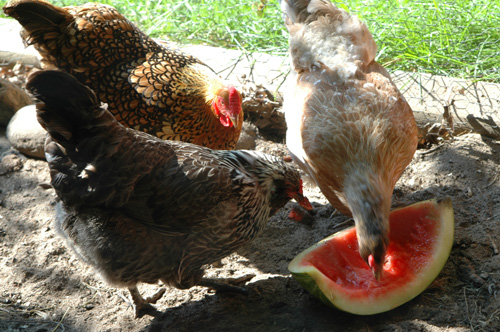 Our three oldest girls enjoyed some fresh watermelon rind while I took more photos of their Hollyhocks. We are in Hollyhock heaven at the moment. I planted one hollyhock last spring so the "girls" would have something purty in front of their " house " and it has exceeded my expectations in every way. It's healthy, colorful, strong and tall and the blossoms are just so delicate.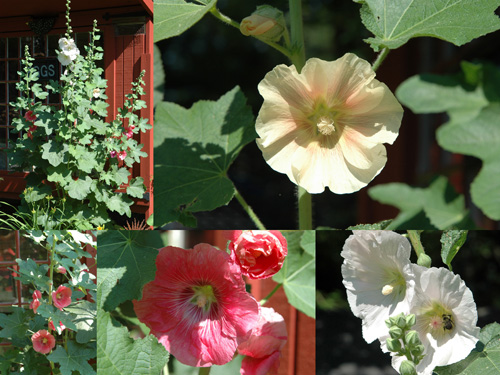 All of these colors blossom on one plant which I love. Just this morning I noticed an additional color about to bloom. PURPLE!
The bird and butterfly garden is nearly at it's peek!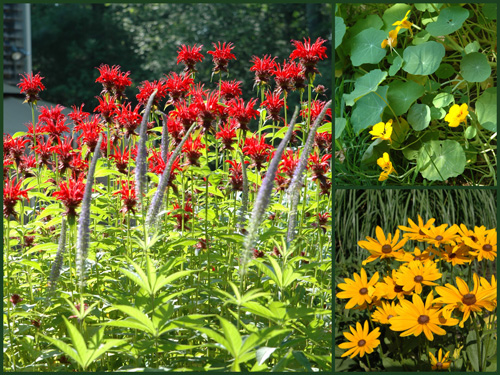 This years Garden Sink is filled with the same red and white Petunias my mom used to fill her large flower bed with. I'm blessed we live in the same town but I still think of her everytime I look at them. I drug that old tea pot 3000 miles from Nevada because I got it in the little town the handsome Yankee and I were married in. This year, it's brewing Nasurtiums and I don't have to tell you what I think of when I see it perched on the old worn out chair near the shed.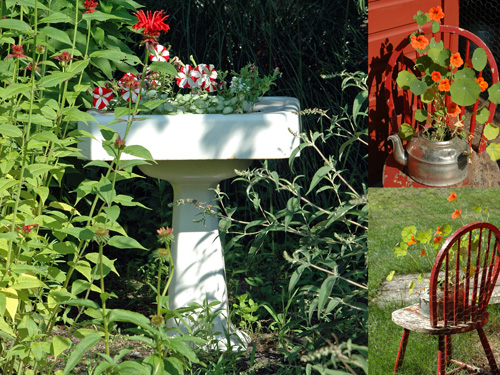 Gardening is hard, back breaking, sweaty work… A  little Garden whimsy can go a long way in keeping your spirits up when faced with some of the challenges of gardening. Plants will die, aphids will eat your roses, tomato worms will visit your veggie garden at least once, wood chucks and deer will eat their fair share of what you serve up, and we are at the weathers mercy to boot! It's a wonder we garden at all isn't it? Well, we're farmgirls after all and it's going to take more that a few unwelcomed guests and bad weather to keep me from one of my favorite farmgirl soulfoods! Gardening is a big slice of my summer farmgirl soulfood diet!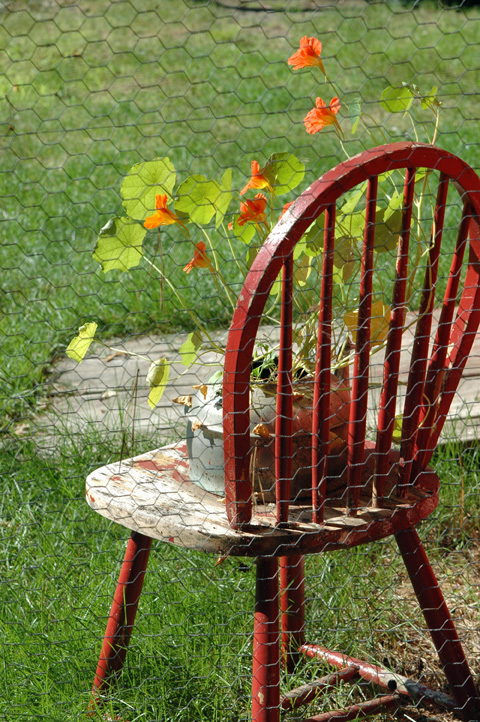 Speaking of diet, this last stop will get your mouth waterin'. Do you like Chutney? I'll admit, it was a complete mystery to me until…The Home Town Farmgirls went Jammin' for our last chapter meeting to a 100 year old Green Briar Jam Kitchen located in Sandwich, MA., The oldest seaside town on Cape Cod, It's part of the Green Briar Nature Center and Wildflower Garden where the well known children's author Thornton Burgess got his inspiration for the characters in his books and the setting for which they lived. The Adventures of Peter Cottontail ring a bell?  I first learned about this wonderful, enchanted place while looking for a nature center to take our two home grown children when they were still in their wonder years. We made weekly visits there for two years running. Miss Mary read stories while she sat on the floor in front of Gracie the iguana's enclosure. Turns out, Gracie had escaped from someone's car and was rescued by the center. When story time ended Miss Mary would spring Sir Speedy the resident desert tortoise from his aquarium and the children would follow him along the winding paths in the wildflower garden. Then we would go visit the rabbits, Sebastian and Peter Cottontail. We were members for a while and volunteered to care for the bunnies too! Some of our fondest homeschooling memories were made there. I was bitten by the bug to take a class way back then and it was a great feeling to finally git r done and share it with my fellow farmgirls!
Here are a few of my farmgirl pals, Pat, Cynthia ( our newest member) and Amy dishing out their best farmgirl smiles. It was just us four that night, the other members couldn't make it due to summer piling up on them as it so often does. We missed them!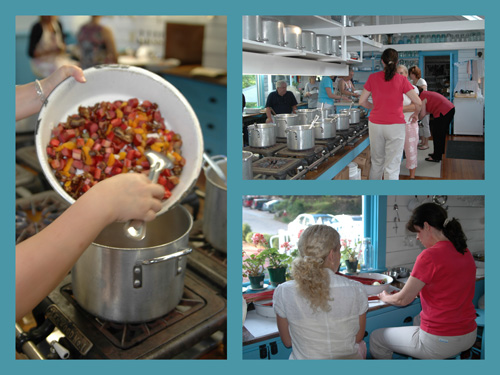 The recipes the kitchen uses in their workshops are the original recipes of Ida Putnam who began inviting people into her kitchen over 100 years ago to teach them how to put up jams, jellies, and chutneys.
Today, her kitchen is a " living museum " where visitors can go to play and learn.  None of us wanted to leave! We each brought home 6 jars of chutney, canning labels, and the recipe… But that's not all we took away from our night out Jammin'. We were all surprised at how easy it was to prepare and we had the best time just being out together. So much so that we've already planned our next two farmgirl field trips! We are off to our local farmers market soon then back to the Jam Kitchen to put up some butter pickles in August!
If you haven't started a chapter of your own yet, just go on and do it! Even if it's just you and one other farmgirl pal to start. The time away doin' fun farmgirl stuff together is worth the effort it takes to plan and go and it's simply the best farmgirl soulfood around!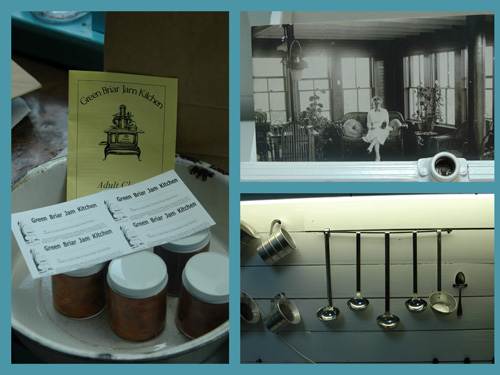 RHUBARB DATE & APRICOT CHUTNEY~
4 cups sliced rhubarb
1 cup chopped dried dates
1 cup lightly packed brown sugar
1/2 cup chopped dried apricots
1/2 cup cider vinegar
1/4 cup finely chopped onion
1/4 cup finely chopped ginger
1 tsp curry powder
1/4 tsp ground nutmeg
1/4 tsp pickling salt
Combine all ingredients into pan. Bring to a boil over medium high heat. Reduce heat and cook gently, stirring frequently. Chutney is done when onion is transparent, fruit is soft and liquid is thickened. Remove from heat and let sit for a few minutes. Ladle into sterilized jars and seal.
~ This Chutney is especially delicious alongside fresh baked fish. We've also been enjoying it on plain bagels with cream cheese. Perfect for breakfast or a light lunch!
I've got one last fun link to share with you!I host the Farmgirl Friday blog hop on my personal blog Dandelion House every Friday. It's a place ( in addition to the farmgirl forum) , for farmgirls to flaunt their farmgirl flair in blogland. If you are a bloggin' farmgirl and would like to meet other like minded talented bloggers, come on by and join in the fun every friday here! Some of you are already regulars on the hop and I thank you for hopping with me! I learn something new every week!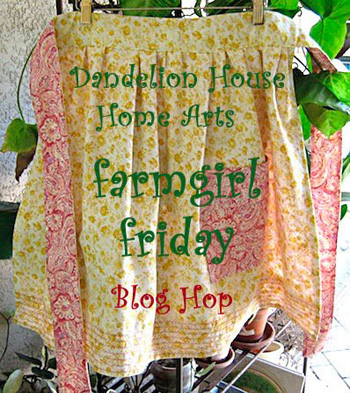 It's been quite a tour ( meal )! I hope you enjoyed it. I sure did! Summer is fast and fleeting and I aim to fill up on all of my favorite farmgirl soulfood. Right now, a nap sounds pretty darned good!
What's on your FARMGIRL plate for summer? I'd love to hear about it!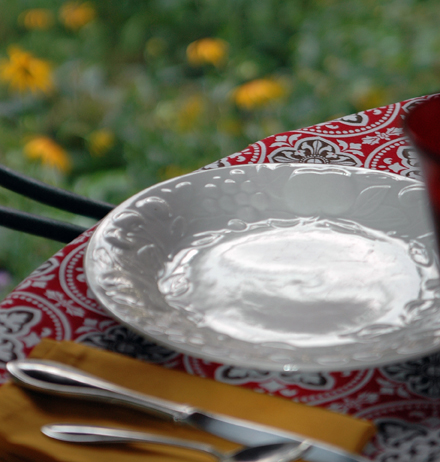 Until our next shoreline visit~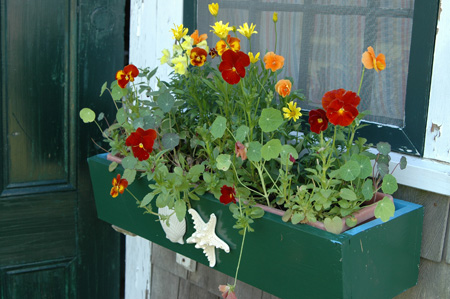 Beach Blessings and Happy Summer my sisters!
Love,
Deb