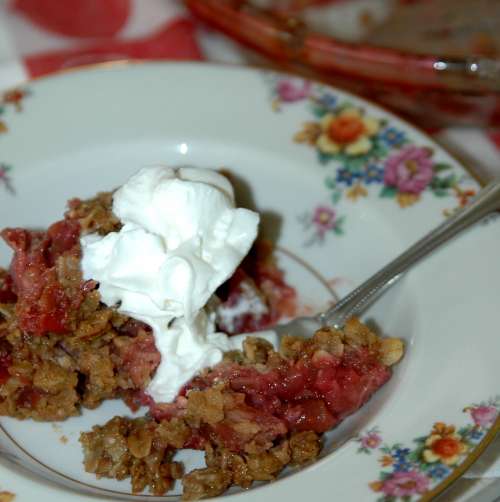 Dear sisters,
Where did the month of May go? Spring is like that isn't it? We wait and wait for the weather to turn warm and all of a sudden it's Memorial Day. If you're like me ( and every other American ) you are looking forward to a long weekend of R and R with some time set aside for remembering loved ones who have left this earthy world and those who have served and continue to serve our country so we can live free. No doubt you'll be firing up the grill and dishing up some of your favorite cook-out side dishes and desserts too. I just happen to have some freshly harvested rhubarb I need to use up. Today I'm sharing my Raspberry Rhubarb Crisp recipe. It's easy, tarty and tasty! Come on in for a bite.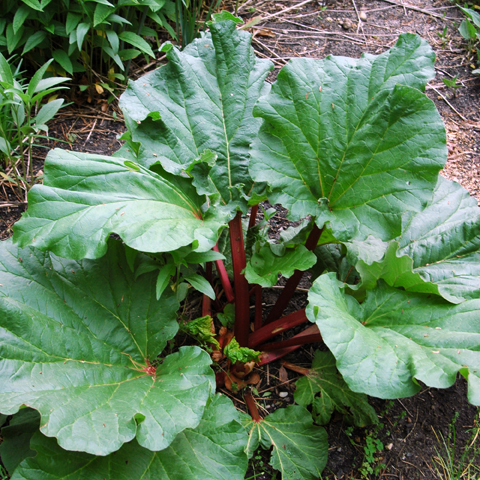 Rhubarb is a funny little (well, it's not so little actually) plant. Rhubarb grows from small rhizomes and is perennial. It's sometimes mistaken for fruit because it's often used in cooking and baking with other fruits and nuts. Rhubarb comes in different varieties and colors. There's a green stem and a red stem. I only grow the red stem because that's what our local nursery had in stock at the time, but I'd love to add some green too just to see if theirs a difference in flavor. A common misconception is that the red stalk varieties are sweeter than the green ones but I've read that there is no difference between the two. ( Farmgirls chime in  if you're in the know about that). I have no idea which variety I'm growing but I LOVE, LOVE, LOVE the ruby-red color of the long stalks. It's best to harvest when each stock is about 10″ inches long. As you can see in the photo below, some stalks will be very thick and others will be thinner. This doesn't affect the flavor at all. *A note of caution about this plant is that the large leaves are poisonous. I once tossed some leaves into the chicken run and wondered why the girls didn't want any part of them. They lay on the ground for several days untouched. After a quick google search I learned the leaves were poisonous. The 'girls' knew before I did.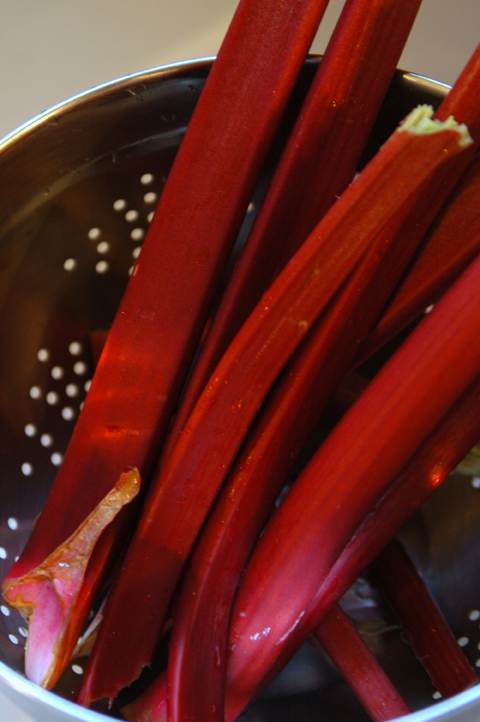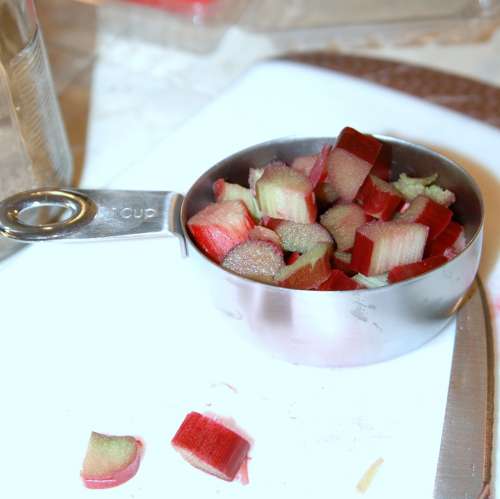 Rhubarb is quite tart all by itself and needs other sweeter fruits and sugars to take the pucker out of it!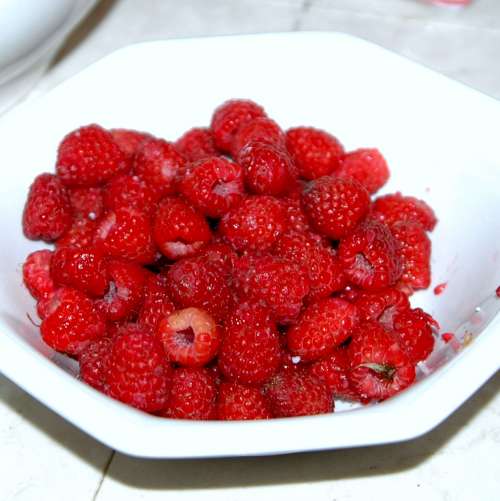 Because it's my handsome Yankee's favorite, I've made compotes, pies and chutney's with rhubarb over the years so I decided to try something new this year with our first harvest. He loves crisps of any kind so I decided to make two Raspberry Rhubarb Crisps, one for him and for the girls at work! I got the thumbs up from all parties so I decided to share it with my sisters too.
Here's the recipe:
Raspberry Rhubarb Crisp ( makes one crisp )
Preheat oven to 350 degrees.
Filling~
4 cups rhubarb ( about 10 stocks ) cut into 1″ pieces
1 pint raspberries
3/4 cup granulated sugar
2 tsp granulated tapioca
1 tsp fresh squeezed lemon juice
Mix rhubarb, raspberries, sugar, tapioca and lemon juice in large bowl and pour into greased Pyrex pie dish or 9×9 glass baking dish. Prepare topping.
Topping~
1 1/2 cups organic oats ( Quick or Old Fashioned, uncooked)
3/4 cup brown sugar
1/3 cup flour (or gluten-free almond flour )
1/4 tsp sea salt
1 stick butter, chilled
Mix all dry topping ingredients together in small bowl.  Cut stick of butter into small cubes and add to mixture. Mix with a pastry blender until crumbly. Pour over the top of filling mixture and bake for 45 minutes.
*Serve warm with vanilla ice cream or fresh whipped cream. YUM!
That's it! A quick and easy fresh dessert for your summer time cook-outs, glamp-outs and picnics. Have you done any cooking or baking with rhubarb? I'd love to hear all about it.
 Until our next shoreline visit~ Enjoy this long weekend and I look forward to our next visit in late June. Be well, be grateful and be happy!
Beach Blessings and Much Love,
The Beach Farmgirl,
Deb