I got home from New Mexico and jumped right in to some winter crafting for my house as well as for gifts and as I was "wrapping" gifts in Mason Jars I realized how many places in my house I use canning jars.  I grabbed my camera and started walking around my house shooting pictures of my jars in all their many uses.  Then for fun I decided to share with you.  Come along for a little tour!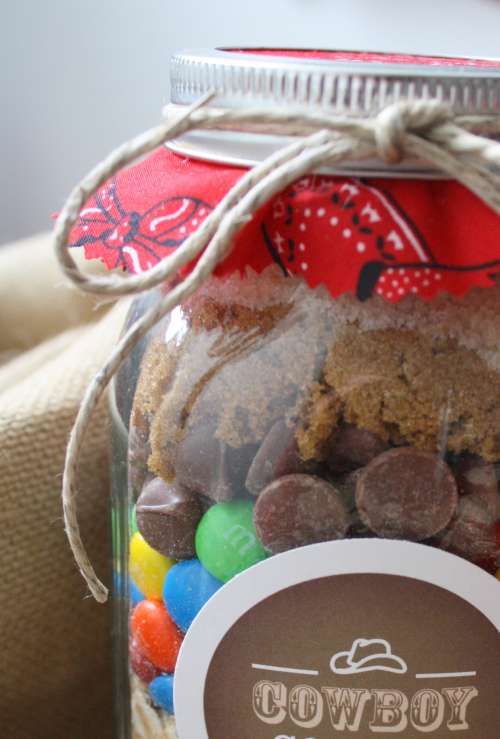 I just plain love jars for food storage.  My pantry is full of jars of all shapes and sizes that hold not only my home canned things, but also my dry goods.  And sticking on a chalk label sure makes it easy for knowing at a glance what is in each jar.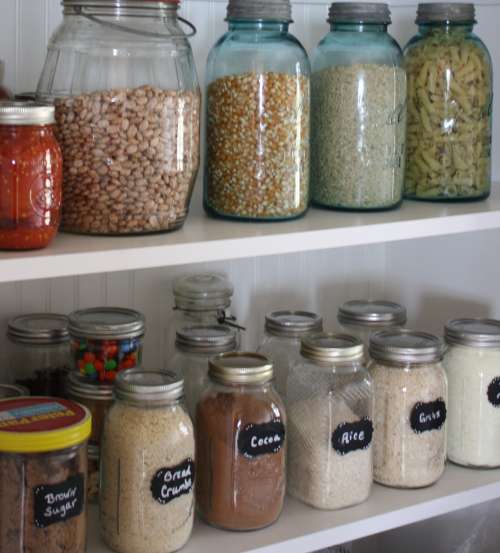 I love to can the extra produce from my garden.  This year I had a bumper crop of cucumbers so you can see all the jars of pickles I have!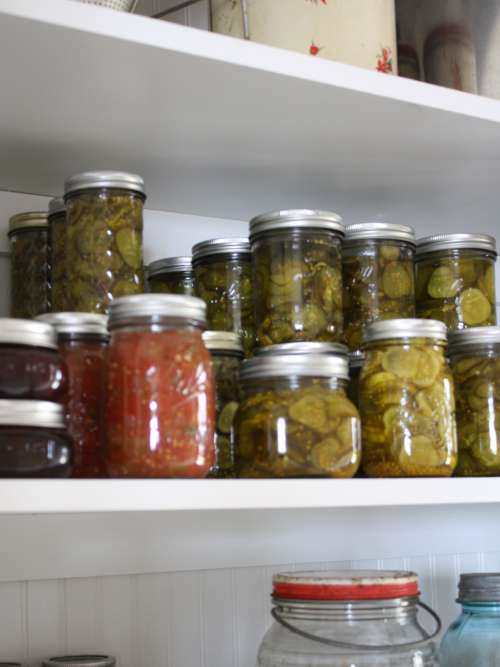 We also have wild blackberries in abundance and wow does it ever make amazing jam and jelly!  And it is beautiful in these little half pint jars.  I like to use small jars for jams and jellies, as we like a variety in the refrigerator and this way it saves having all these large jars taking up refrigerator space.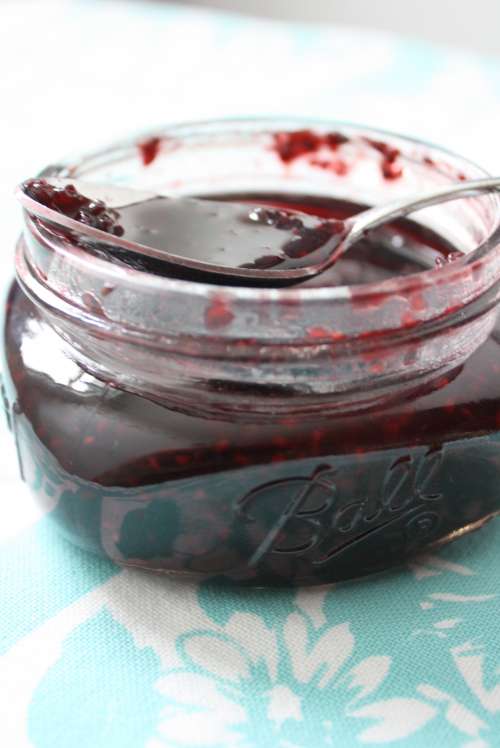 I realize this jar is not a canning jar but I thought I would share it with you anyway.  It is a vintage gallon size candy jar and it is the greatest size for my pinto beans.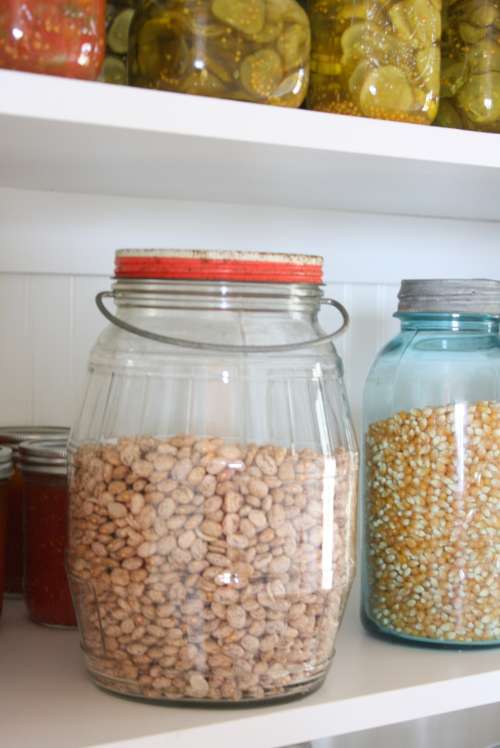 Some of my favorite jars are the half gallon size vintage ones.  I would love to have a lot more of them… maybe a trip to the antique store would do the trick!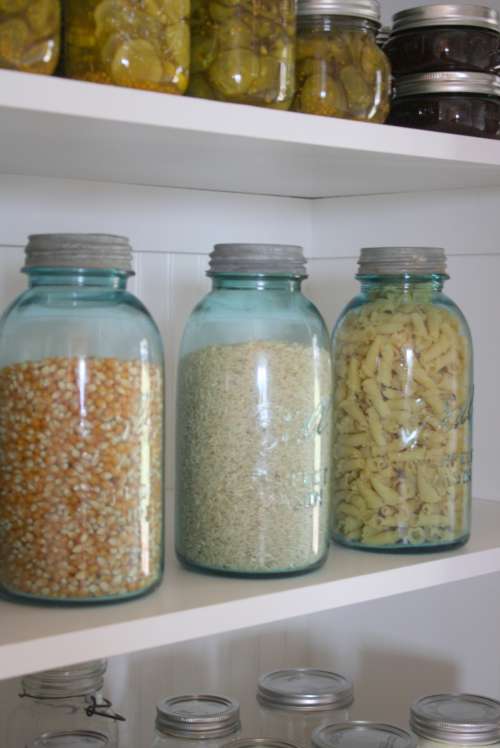 Having my pantry organized with the jars really keeps it fresh and clean, which is necessary since my pantry door is actually a screen door and is sort of "front and center" in my laundry room.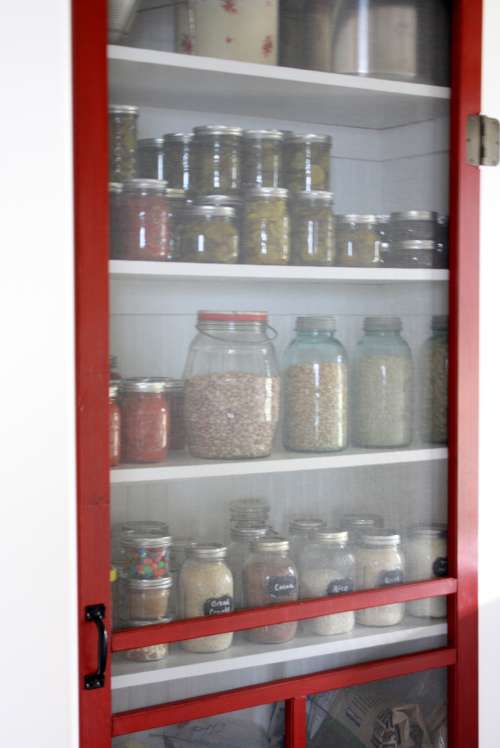 And of course, who doesn't drink out of their canning jars?  I drink ice tea out of a canning jar all year 'round! And have you seen these awesome little lid inserts that turn the jars into a sippy cup for little ones?  My grand-girls love them.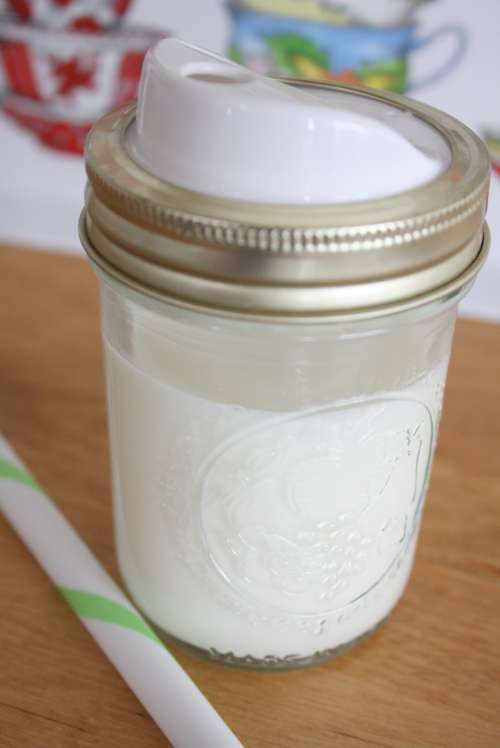 I have found that using canning jars in the bathroom is amazing.  They are perfect for things like Q-tips and cotton balls.  I buy my lotion products from a friend that makes them from all natural butters and oils.  She uses canning jars of all shapes and sizes and not only are they functional but beautiful too.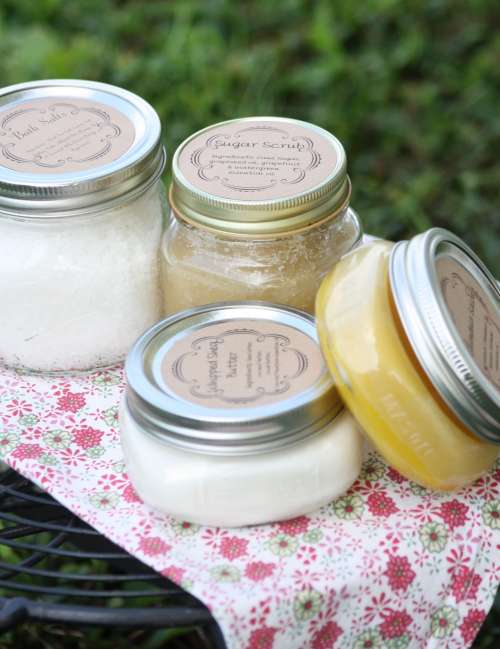 I love using them in my craft room.  I have found that they are the perfect thing to store all kinds of crafting items.  They line up nicely in the old wooden ammunition crate that I have on my craft shelf.  And the pint size wide mouth ones are easy to see and grab things out of.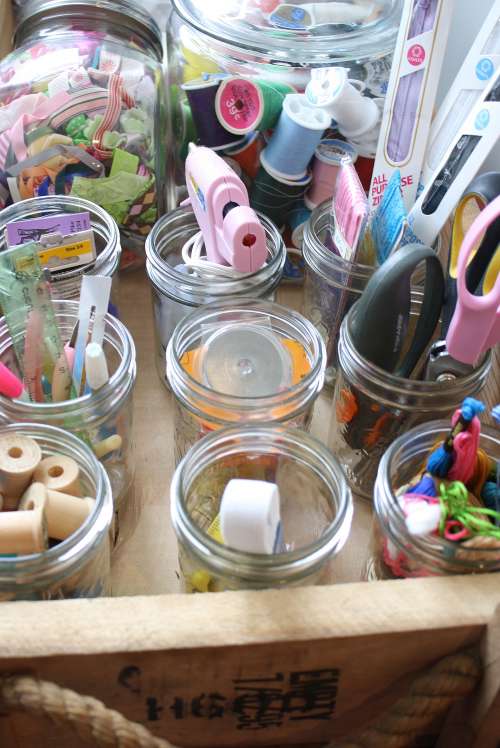 And of course canning jars on a desk is a must right?  I have them lined up with all the pens and crayons my little grand-girls use when they are at my house.  It makes it easy for them to find the colors they want, as well as to put them away when they are done.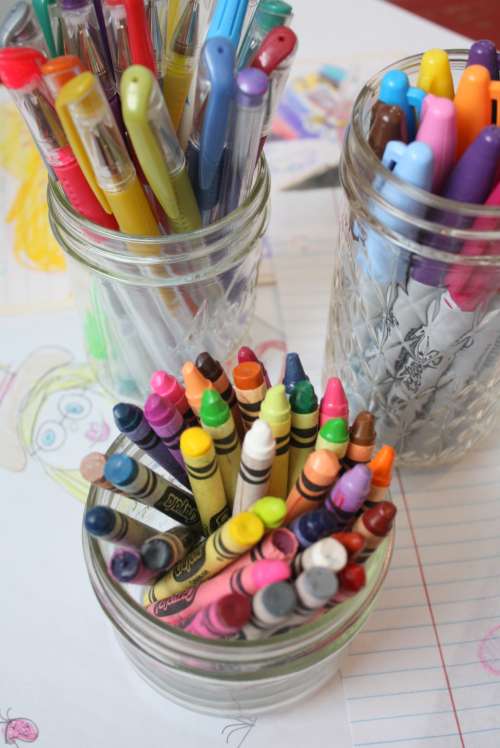 And I would be hard pressed to find anything more beautiful than fresh cut flowers tucked in canning jars!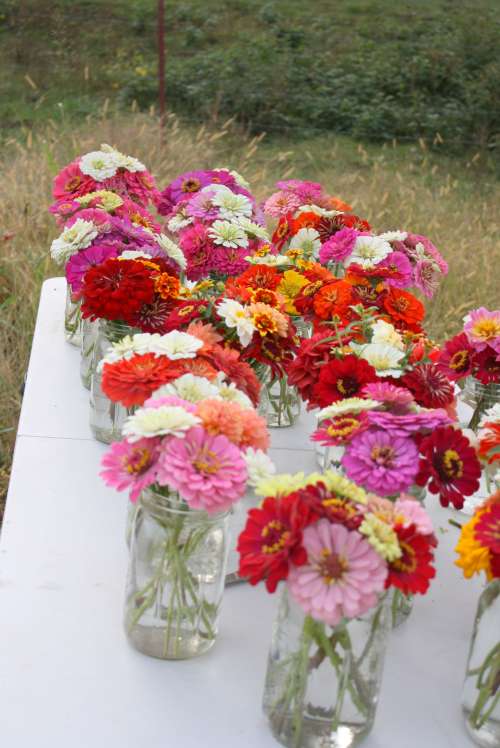 My daughter and I grow and sell cut flowers and we sell them in canning jars.  Our customers take them home right in the jars and then return the jar the next time they buy flowers.  With a little tag tied on the jar and placed in our flower stand, they are just gorgeous.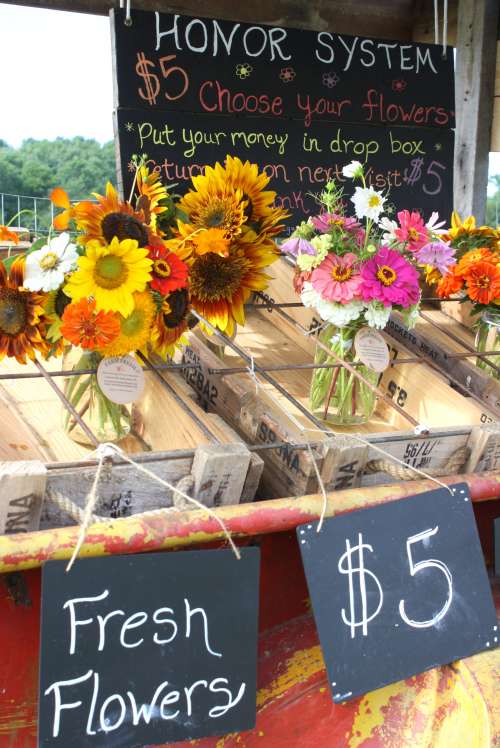 Jars also make the perfect thing for packaging up a darling gift.  I gave these "Cowboy Cookies" as gifts and they are always a big hit.  I think I need to revamp them to say "Farmgirl Cookies" though!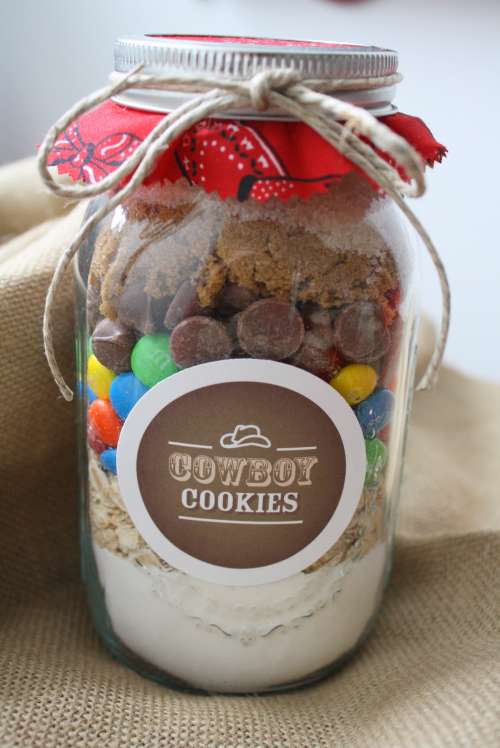 And this sewing kit in a jar, with a pin cushion fashioned from the lid – isn't it the most adorable thing?  When I was in Arizona recently a special little girl was so excited to show me her sewing corner and so I made this for her.  I'm very anxious to get it mailed to her.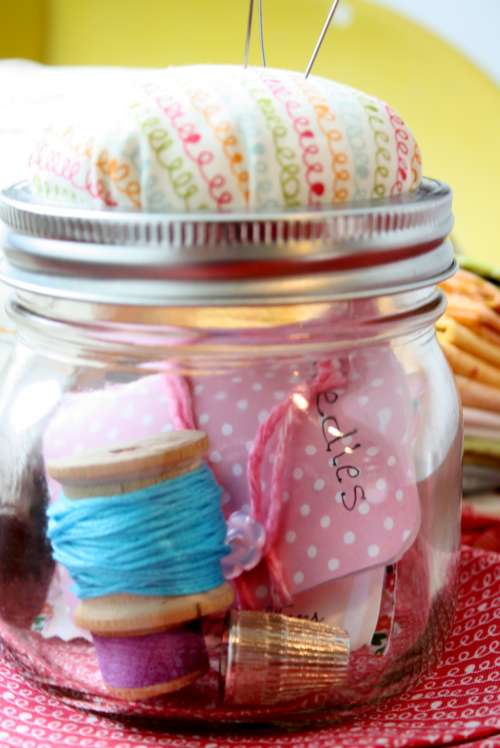 I'm pretty certain that all Farmgirls use canning jars for loads of things besides canning.  I know I've just scratched the surface.  All it takes is a 10 second search for "mason jars" on Pinterest and you could spend all day looking at ideas!
 I would love to hear your favorite use for canning jars!
The Happiest of Holidays from my porch to yours!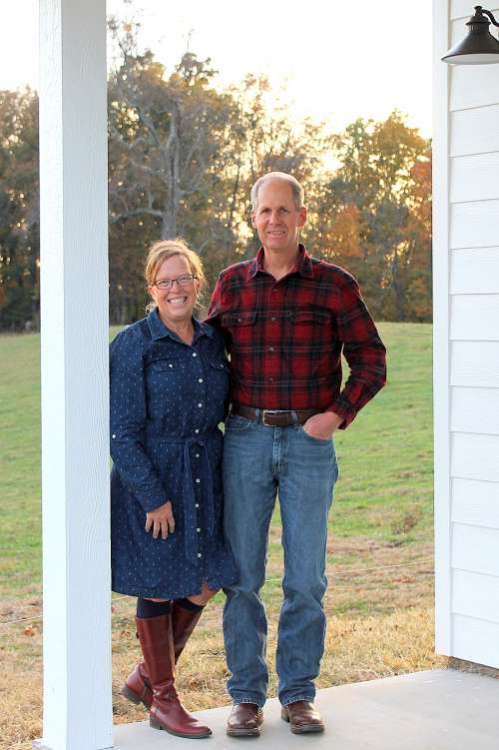 Until our gravel roads cross again… so long.
Dori