I just love holidays, especially Christmas. This year, I'm extra-excited…we'll be hosting family! Like a racehorse at the starting line, I couldn't wait to deck the halls the day after Thanksgiving. Each year, I add a little something to my mixed bag of decorations. This time, I was craving something fun…something vintage… and found just what I was looking for: blow molds!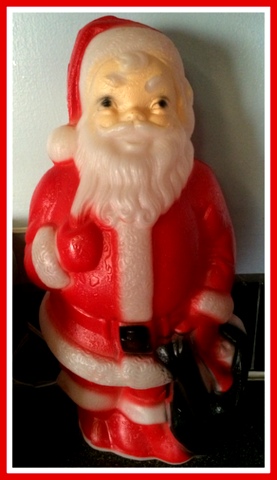 Blow Molds, or the art of "blow moulding", refers to sculpting hollow plastic to form a shape, giving it a 3D effect, similar to glass-blowing. Blow mold decorations date back to the 1940's, not really catching on until the late 1950's when Don Featherstone designed the plastic pink flamingo while working for the Union Products company. In 1996, Mr. Featherstone won a Nobel Art Prize for his iconic design, and began serving as President of Union Products, the most successful blow mold manufacturer. The company closed in 2006. Other companies, such as Empire, also made blow mold decorations. Most popular in the '60's, through the decades, blow molds have come in and out of fashion, always keeping a steady following among collectors.
I want every corner to have holiday cheer during Christmas, inside and out. The older I get, the more nostalgic I am, loving anything "vintage" –  things with a previous "life", representing simpler times. When I was little, blow molds were the rage, and every year, my grandmother's little house sported glowing red blow-mold candles on the covered wooden porch. I was an adult before I knew the correct term, "blow mold", seeing it on Facebook somewhere. I only knew them as "those so-tacky-they're-cute plastic lawn ornaments". Usually loathing anything plastic, I have a childlike fondness for blow molds. My friend Andrea is a blow mold connoisseur, having collected them for years. Although most think blow molds at Christmas, countless others were made for different holidays, as well as cartoon figure shapes and other animals. Andrea says if blow molds have scratches or paint missing, don't paint them- paint isn't translucent and touch ups will show. She recommends leaving as is, as part of the charm, but if you must touch up, use a Sharpie.
At Christmas, I'm not one found at the mall. I'd rather bathe in honey and sit on an ant bed than mall shop, especially at Christmas! I am addicted to antique and thrift shops, flea markets, and online tag sales! Recently, when a vintage blow mold Santa and snowman were offered, I was thrilled! Planning on only the snowman, on a whim I purchased both. I asked the seller if they had lights. She sent a photo with them plugged in, and we arranged pick up.
Usually, blow molds have  a small hole in back where a  "night light" bulb clips in, or a hole in back or at bottom for a larger, 60-watt "type A" bulb. (Not all blow molds were meant for outdoors, if there's a plug with a slide-type switch, it's for inside only). Plugs should be UL-approved, and marked for outdoor use.
Back  home with my blow molds, I couldn't wait to light them up, setting them on the kitchen counter.  I plugged in Santa. Oh how cute! I plugged in Frosty…POP! ZAP!!! Flames shot out of the socket, I felt a little shock, and the circuit breaker blew. My daughter and I screamed. The old plug melted. Death by snowman. How would that be for an obituary?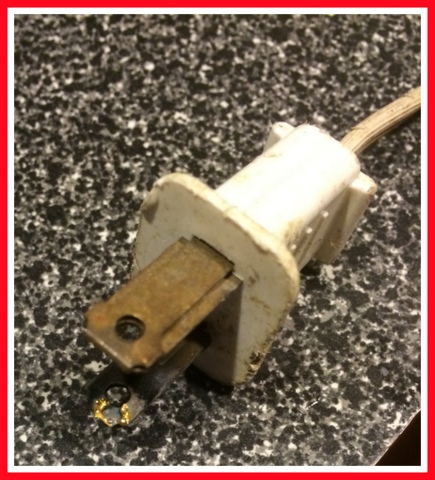 I could've been hurt or burnt the house down. It wasn't the seller's fault; (she even offered my money back – no need, but shows she has integrity).  My daughter said I looked like the crook in  "Home Alone",  my hair wild. We laugh about it now, but I should've known better. If you love old blow molds, do yourself a favor: buy new cords, and replace them every few years to be safe. I  found mine here:
http://www.americansale.com/Products/General-Foam-Blow-Mold-Replacement-Candelabra-Cord-with-Bulb__774789.aspx
Here's the cords for the larger, "type A " light blow molds:
http://www.americansale.com/Products/General-Foam-Blow-Mold-Replacement-Medium-Base-Cord__774796.aspx
Once rewired, I love how mine look, both day and night. Santa's small, residing on my kitchen counter.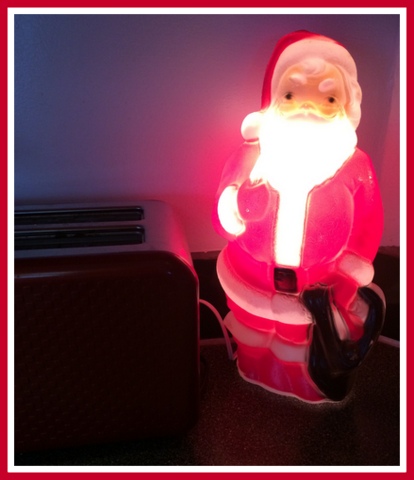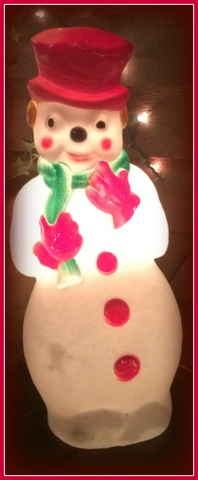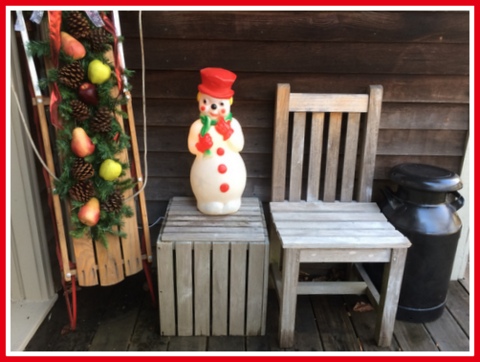 Just like chocolate-covered pretzels, once you have one, you want more. I discovered that blow molds are still being manufactured, some even using the "old" molds of days gone by. I decided I'd like something on both front and back porches. After going in several stores, I found the candle I was looking for, similar to my grandmother's. There were also big snowmen and Santas.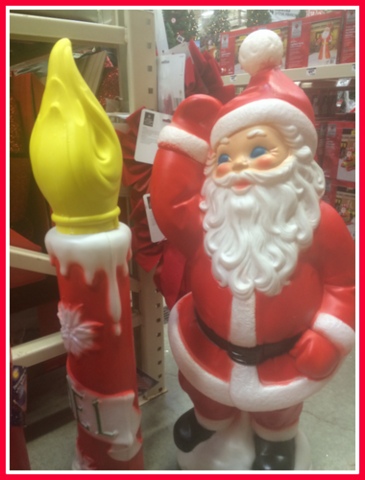 I picked Santa as my new front door greeter. His smiling, cherub-like face makes me happy.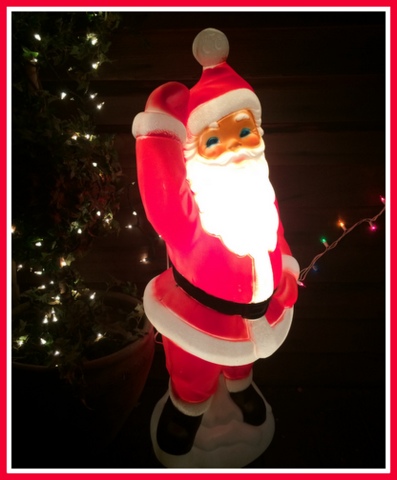 A bit kitschy, a bit whimsical…people either love or hate blow molds. I think they make the holidays a little bit brighter.
What's your take on Blow Molds…Love or Hate? How are you decorating for the season? Tell me in comments!
Until Next Time…Farmgirl Hugs, Nicole