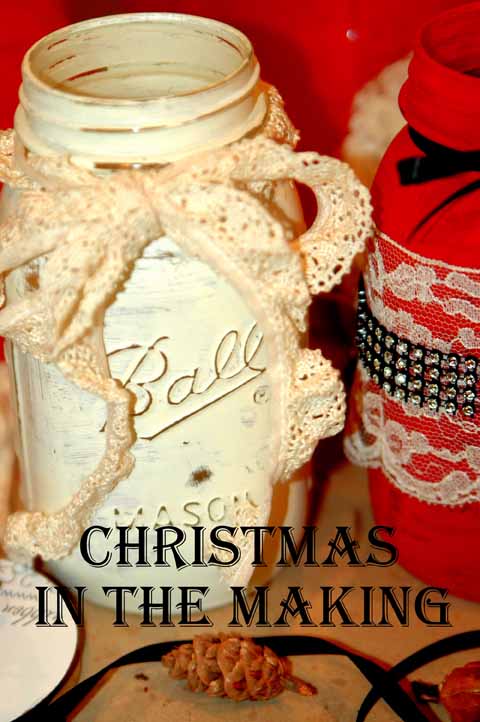 Dear Sisters,
Happy December! Have you started your holiday preparation's yet? We aren't tree puter- uppers on Thanksgiving weekend are you? Many New Englander's start decking the halls before the turkey leftovers are all gone! Not this girl! I like to eaaaaase into Christmas for a few reasons. One. I don't like to over-spend and I'm not a fan of crowds, especially at 3 in the morning. To say I'm NOT a Black Friday shopper is an understatement. To each her own! Two. I like to feel some spark of inspiration in my decorating and gift giving before I jump into Christmas. And three, I don't always know right away what KIND of Christmas I want to make. I have to have the right craftitude before I can get my holiday craft on! This year I'm in the spirit for some creative recycling! I'm decking the halls at Burlap and Bling for the annual OPEN HOUSE at the Antique Marketplace this weekend and I've got a huge mess on my kitchen island where I've been getting my Christmas craft on!
Come on in for PART ONE of my Christmas In The Making…
I've been eying mason jar projects on Pinterest for a while now and finally decided to try my hand at hand painting some to add a festive flair to my booth and for gifts! This project is super easy so go ahead and invite your crafty kids to help make Christmas at your house!
I picked up some used jars ( sans lids) at my local thrift store for 99 cents a piece! BARGAIN!!!
I chose Christmas colors for my holiday jars. Annie Sloan Chalk Paint Emperor's Silk and Old White.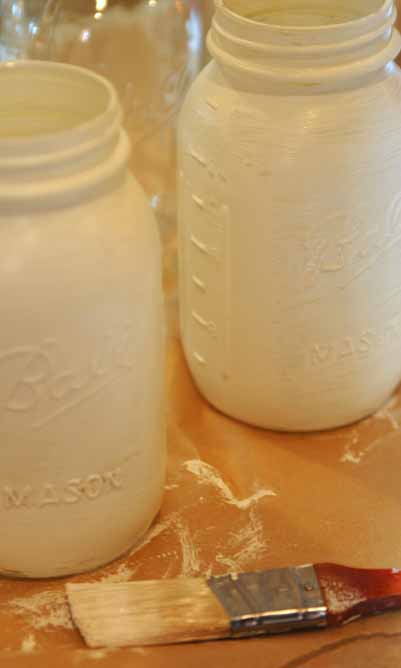 I removed the sticky tags, washed and dried each jar and started painting. You only little paint and a light hand for this project. I didn't go for complete coverage because I distressed each jar so you can still read the embossed word Ball and see through some of the painted surface just as if it had aged that way!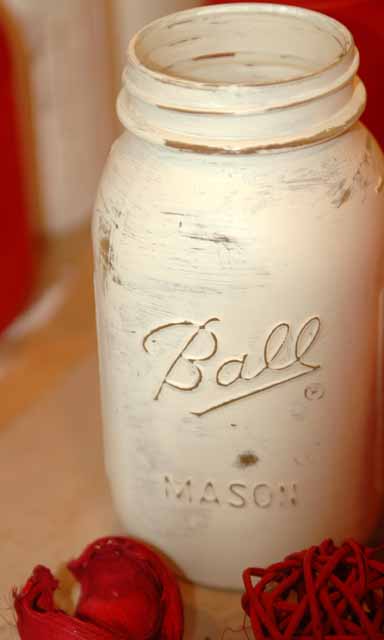 After distressing each jar with a gentle rub with fine grade sand paper I vacuumed up the dust and gave each one a coat of clear wax. Any clear wax over a matte or eggshell paint finish would work, but I chose the Annie Sloan Clear Wax and applied it with a soft piece of an old white t-shirt.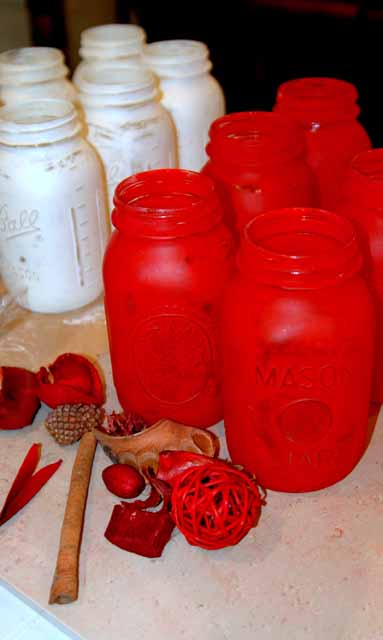 The real fun began once I started to gussy up each jar! Oh the possibilities for designs and uses are endless! Vases, candle holders and potpourri were a few that came to mind as I created with some things I had in my stash! I tried a few ideas out and here's what I came up with!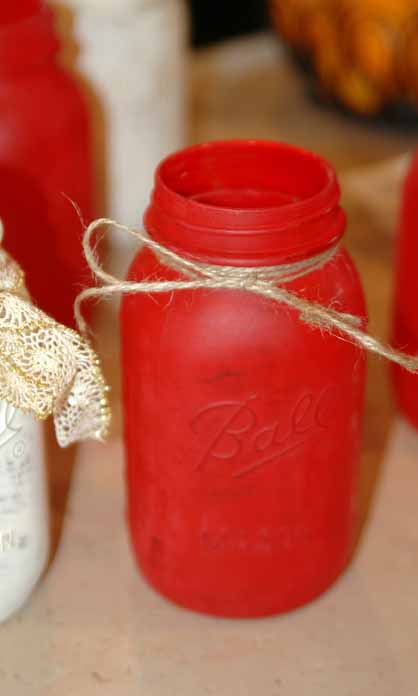 A simple bow tied with twine is understated and leaves the possibilities open more embellishing. I picture this one with a simple, natural arrangement with evergreens and holly berries.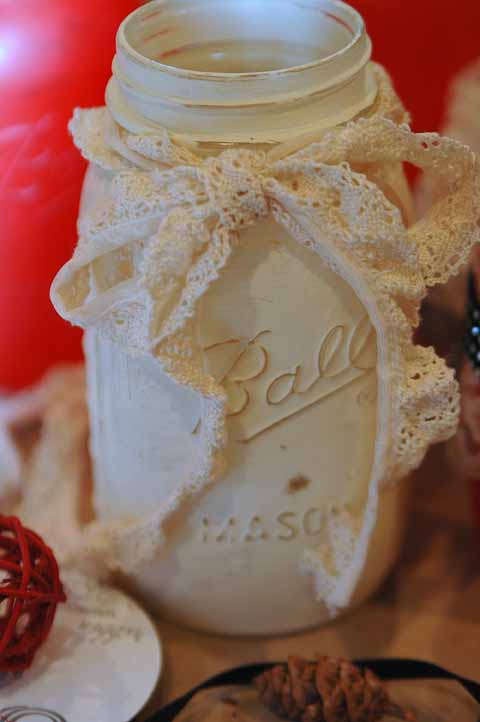 I call this one Farmgirl Romance because of the cotton lace ribbon tied around the top.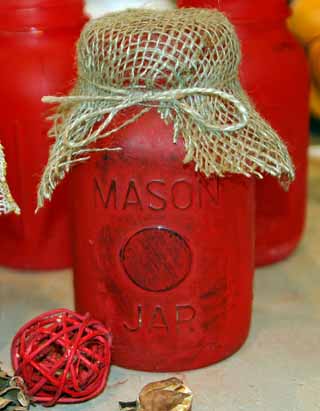 This one is more primitive looking and is filled with spicy cinnamon and apple slices, scented pine cones, and other finding's from nature. It might even be fun to make your own potpourri minus the dies and fake smells the store-bought kind has. The burlap topper is cut from a roll I bought at our local Tractor Supply. The loose weave allows the scent to escape from the jar filling your room with the aroma of Christmas!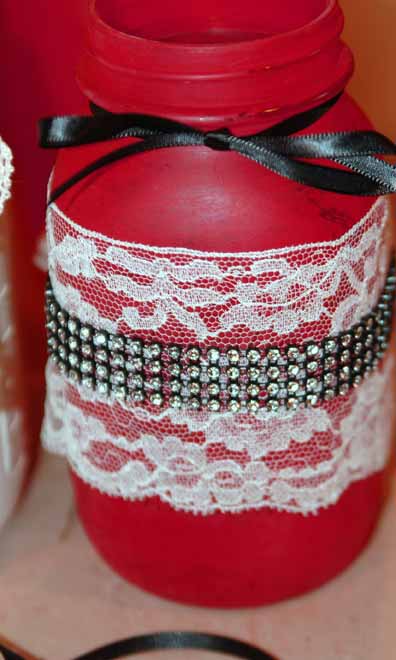 I love black, red and white together but add a little BLING and I love it even more! It never goes out of style and besides they are the colors that Santa's suit are made of! Black, red and white qualify as Christmas colors in my book!  Imagine this jar as your centerpiece with the glow of candle light flickering during a romantic Christmas Eve dinner just for two!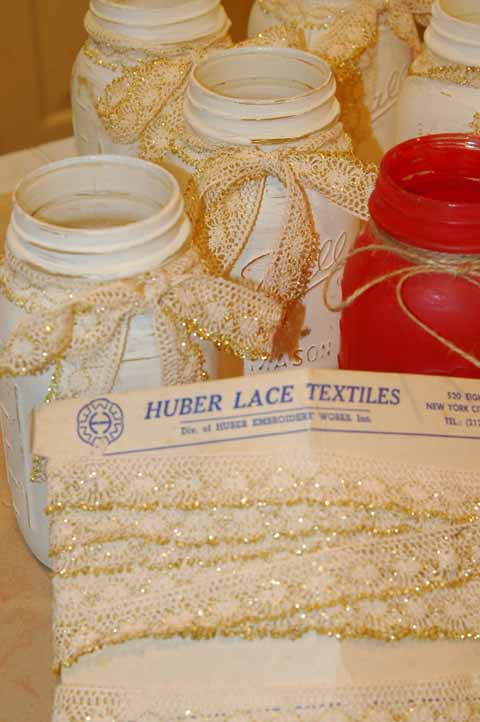 I happened to have some pretty vintage lace which looked very Christmassy to me with the metallic gold thread on the tips. Just perfect to add a little bling to my booth!
Truly, the sky is the limit for decorating mason jars. Pinterest is loaded with more inspiring ideas for every occasion, from rustic, romantic weddings, to baby showers, backyard BBQ's and everything in between! Savvy Etsy sellers offer a gazillion mason jars in various themes as well!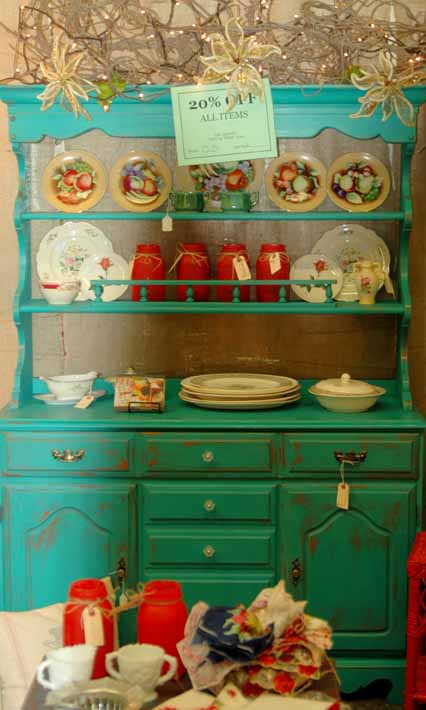 I love the pop of red the mason jars make with this ASCP Florence ( turquoise) color don't you? I wish you could all come enjoy the OPEN HOUSE at Main Street Antiques with me this Saturday!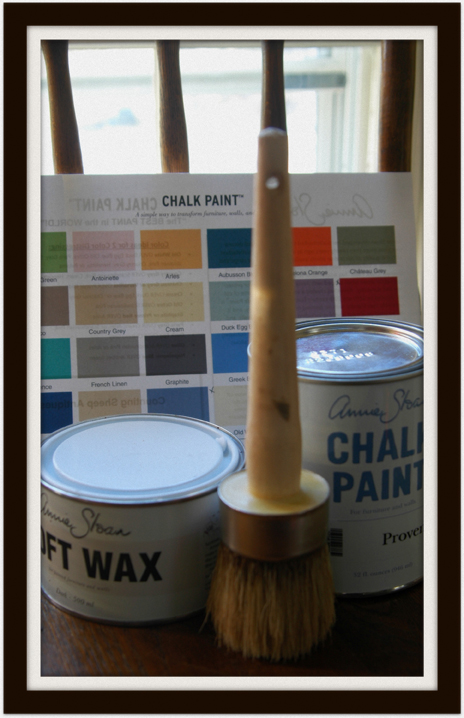 I've shared ASCP many times here and I'm doin' it again cuz I just love it! I'm encouraging all of my crafty farmgirl sisters to check out the link and get to know Annie Sloan ( creator of the best paint in the world) better!
Time for this farmgirl to sign off! I've got cookies to bake for this weekend PLUS two more projects I'm working on with chicken wire that I'll share with you in PART TWO of Christmas In The Making~
How's YOUR craftitude this year?
Until our next shoreline visit~ Wishing you all the joys of preparing for the season!
Much Love and BEACH BLESSINGS!
Sister Deb # 1199
P.S. On another note: I just wanted to say the outpouring of love and support you all shared with Shery Jespersen the Ranch Farmgirl on her farewell blog was very moving. She's one -of- a- kind and the round table of farmgirl bloggers just won't be the same without her. We are blessed we had her as long as we did!  We will ALL miss Shery's beautiful and inspiring blogs! She's a sparkler, that one!