.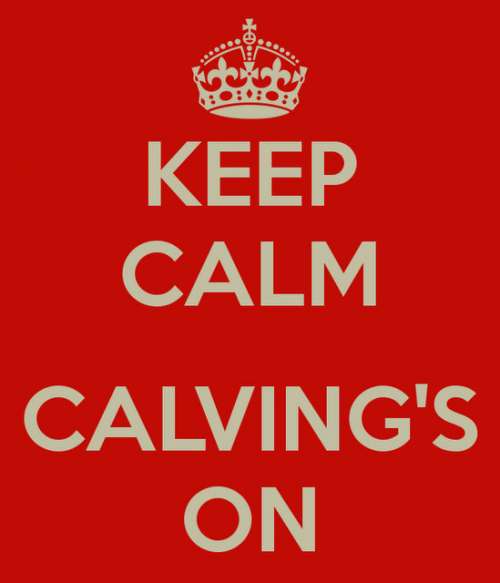 .
Well, Farmgirls.  Here I am on our farm in Tennessee where the obsessing over the Momma Cows that haven't had their calves yet, has begun.  (And I'm the one that obsesses; not my husband!)
.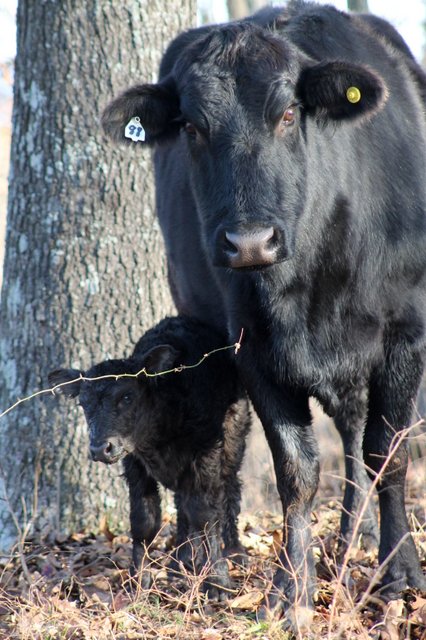 Momma #88 and her calf born January 2014.
.
When I was planning this blog post, it was going to be all about the birth of our first calf of the year.  Because Momma #88 was due about two weeks ago.  But guess what?  She's still walking around the farm like the poor, miserable pregnant Momma that she is.  (This sort of reminds me of our very own Rural Farmgirl, Alex's, blog post a few weeks ago where she was walking around waiting for her own baby to be born! Alex, I am NOT comparing you to our cows.  Just that I sympathize with you! Smile!)
.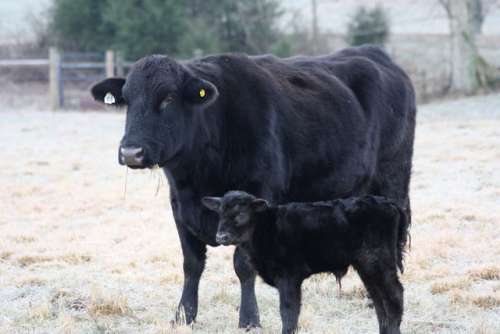 Momma #88 and her calf born January 2015.  
.
For the past two years, Momma #88 has had her calf on almost the exact same day.  This year?  Nope, that day has come and gone. 
.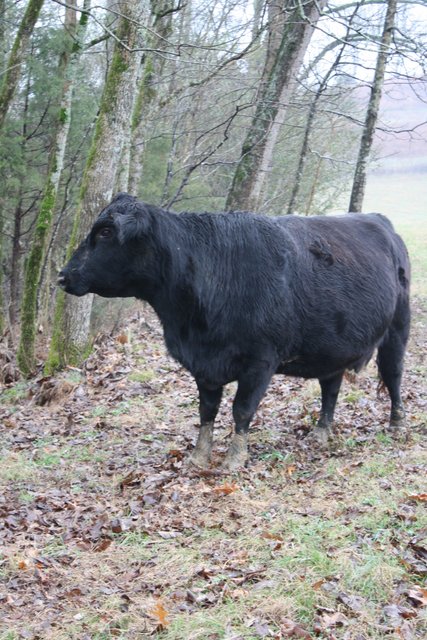 The thoughts going through Momma #88's mind today: "If I don't look at her, she's not looking at me right?"  
.
So, to keep me from following Momma #88 around with my camera and bugging her to pieces… I decided to tell you all about the signs that I look for to (maybe) tell me that the Momma Cow is going to have that baby any day!
.
Sign #1) Very large udder.  They begin to "bag up" and get full, tight and sometimes even the teats will stick out at an angle.  However, some of the older Momma's will bag up waaaay before they are due, so you can't always judge imminent delivery from this!  And a Heifer (a first time Momma) won't necessarily bag up at all.
..
Sign #2)  Springing.  This sign is what my own Momma refers to as "springing".  My Mom will say to me on the phone, "Do you have any cows springing yet"?  Ha Ha!  The best way I can describe this is that their backside gets loose and "springy"… sometimes the vulva will even bounce a bit when they walk.  But this can begin a few weeks before delivery, so that doesn't help with the obsessing either!  It feels a little strange to stalk a Momma Cow from behind watching to see if her Vulva is bouncing!
..
Sign #3) Mucous Discharge.  Sometimes I will see mucous discharge and think… this is it! It's going to be today! But this can actually mean the cow has lost her cervical plug and still has a week or more to go! It might sometimes look like the water bag, but it's not!  (Oh the obsessing and stressing.)
..
Sign #4) Relaxation of the pelvic ligaments.  I like to say that the calf has "dropped" in this stage.  But the pelvic ligaments are relaxing and all of a sudden you will notice that the pelvic bone is really prominent – like the cow has suddenly gotten very bony along the head of her tail.  It's getting closer!  The obsessing and stalking begins in earnest now!
.
Sign #5) Strange behavior.  One of  the most obvious signs in our cows is their behavior.  They tend to separate themselves from the herd.  We actually have a couple Momma Cows that come to the hilltop near the house and will pace the hilltop… almost begging for us to notice they are in labor!  This behavior can go on for several hours.  Sometimes they will lay down, get up, pace and then start the pattern again.   (Obsessing?  Oh yeah.)
.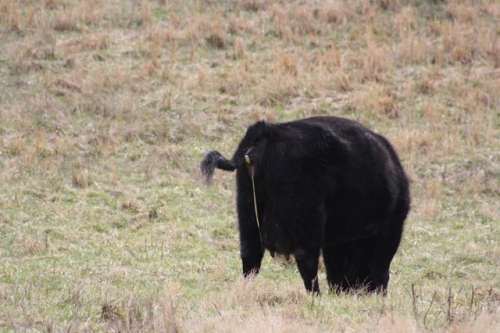 The broken water bag and the tiny hooves. 
.
Sign #6) Ruptured water bag.  And finally… the most stressful step for me.  When you see the water bag hanging out and then two little hooves.  And the Momma is pacing back and forth with those little hooves hanging out.  I say to my husband, "She needs help.  She needs help.  She needs help."  Over. And over.  And over.  Until he wants to lock me in the house!  This is where you must stay calm (with your camera in the ready) and let nature do its perfect work.  Those Momma Cows are amazing.
.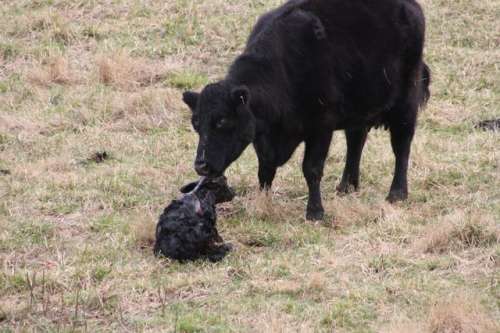 And then… you are rewarded with this!   Can there be anything more precious?  And if you are me, you stand there with tears streaming down your face because it is the most perfectly sweet thing to witness.  And you say, "Wow.  She sure did that fast.  Why was I worried?"  And your husband says, "I told you so"!
..
So, right now it is Thursday night and I'm listening to the rain pouring down on the metal roof of our house and knowing that a "winter mix" is in the forecast for the early morning hours and I'm thinking… "Number 88 will have her calf tonight.  Because they always, always wait for the winter storm"!   This blog post will be live tomorrow morning, but you can be sure I'll head out at day-break with my camera and if our first calf of 2016 is born?  You'll be the first to know!!
.
Good night, Farmgirl Friends.  Thank you for letting me talk through my Calving Obsessions!
.
Until our gravel roads cross again… so long.
.
Dori
Saturday Morning Update:  Here is our baby born yesterday in a blowing snow storm!  The picture is a cell phone picture so not the greatest!  Momma #88 and Baby #88.1 (great name Cindi!) are doing fabulous!  And let me set your mind at ease about the cold… we have an amazing tree break where the cows go in the storm.  It is very protected from the wind.  And a Momma's warm milk does miracles to keep a new baby warm!  
.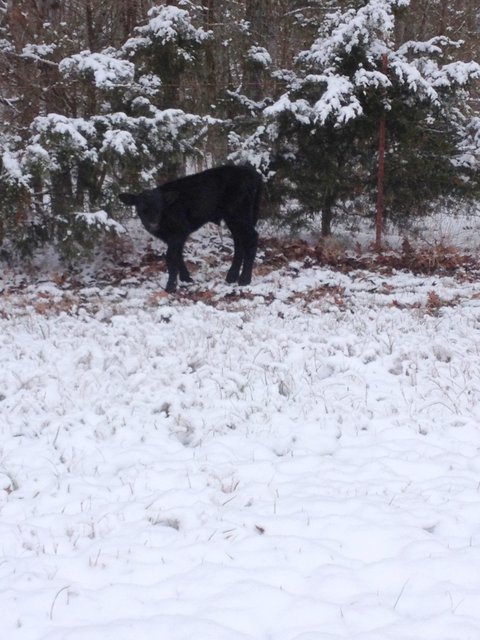 .