.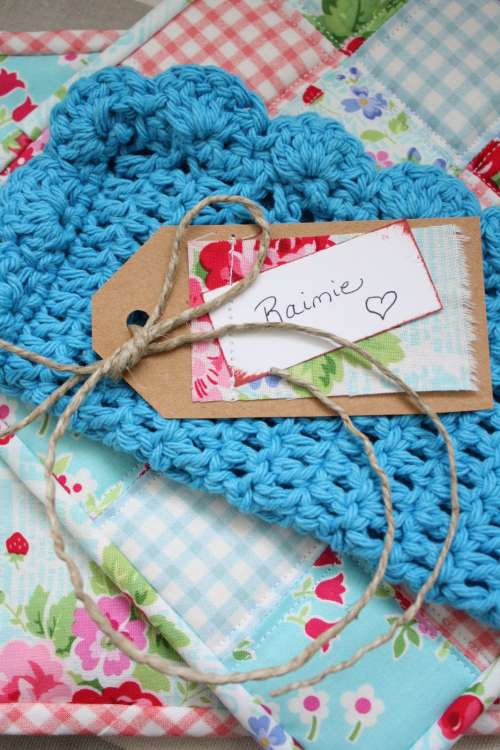 .
Last year I started out the year with several goals in mind and one of them was to stick with homemade gifts through the year as much as I possibly could.
.
.
I wasn't a hundred percent successful, but one thing I did learn is that when my gift was homemade – even when very simple – the time I spent always brought such pleasure.  And it made me realize something very important:  isn't that one of the biggest reasons we give gifts?  To bring pleasure both to the recipient and to ourselves?  Not just to quickly buy something because we have to give a gift.
.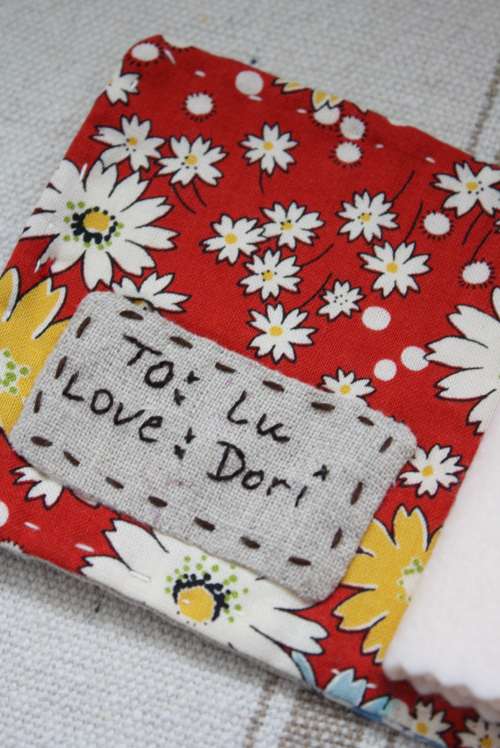 .
Most of the time my homemade gift items seem to be sewing related.  I guess because sewing is what brings me the most joy.  This year I really enjoyed "personalizing" some of my hand sewn items by embroidering a little tag.  More work, but happy results!
.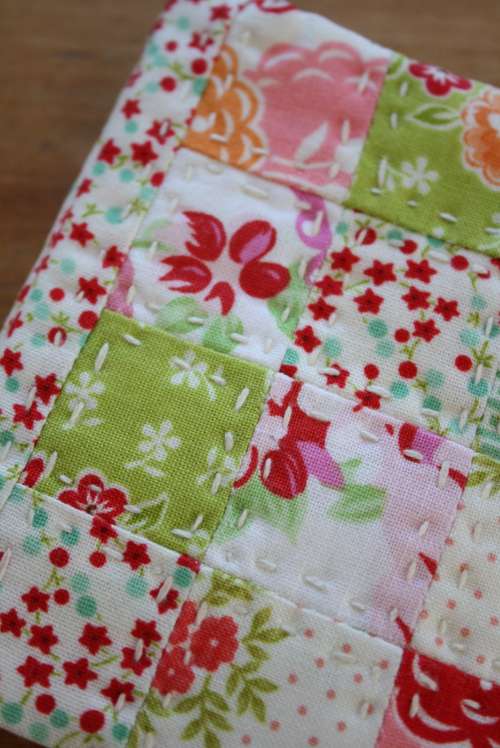 .
I also found out that sitting in my recliner with a cup of coffee doing hand quilting on darling little one inch squares of fabric was so very relaxing and soothing.  That was another one of my goals for last year – to take things slower.  (I wrote about that here.)
.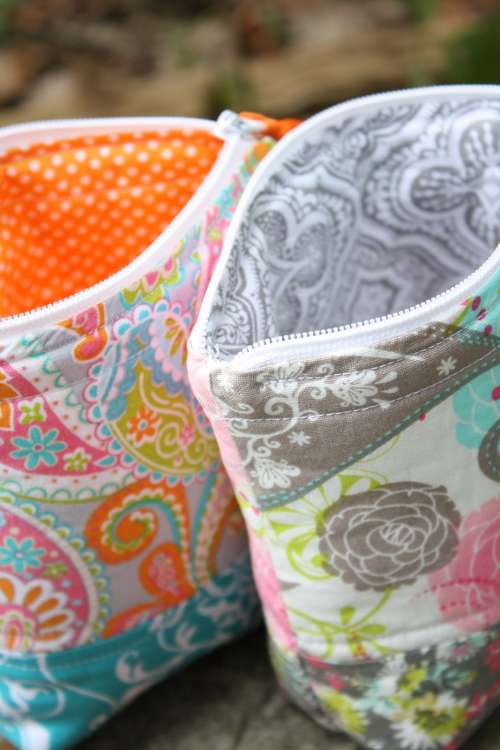 .
One of my favorite homemade gifts this year were making darling little bags and filling with something store bought.
.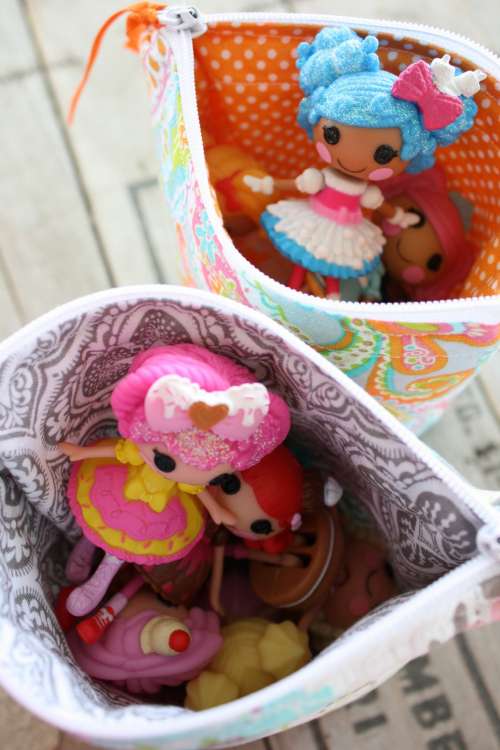 .
My Grand-girls are in love with these Lalaloopsy dolls so I purchased several for each of them and gifted them to the girls in the little handmade bags.  They play with these dolls everyday and everyday they are put away in the bags!  So I think they love their bags almost as much as they love their "Lollies"!
.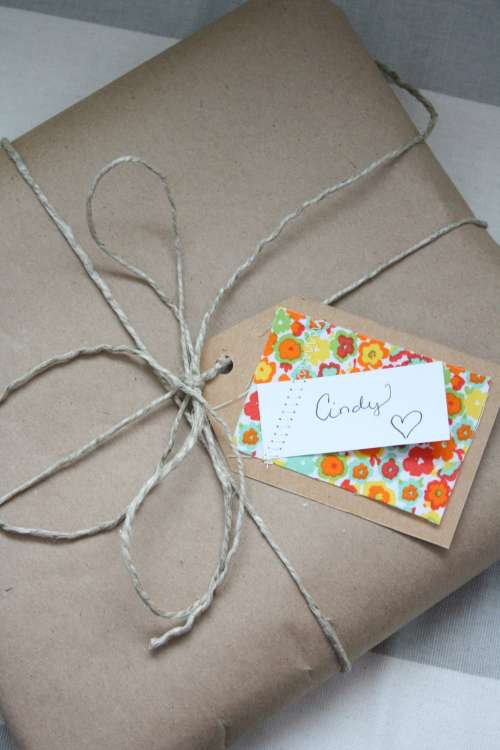 .
.
Then there is the packaging.  I think that brown paper packages tied up with string will always be my very favorite package to give!  And craft paper is not expensive!  I also love simple packages wrapped in white butcher paper.  You can purchase a 100 foot roll in your grocery store for very inexpensive.  And a roll of twine will cost you about $5 and last for ages.
.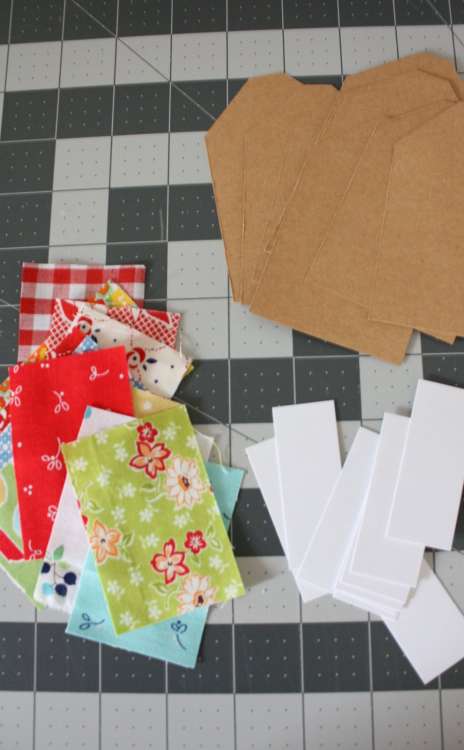 .
I decided to make special little gift tags and really enjoyed the process of making them.   I did an assembly line where I cut craft paper, fabric scraps and white card stock.
.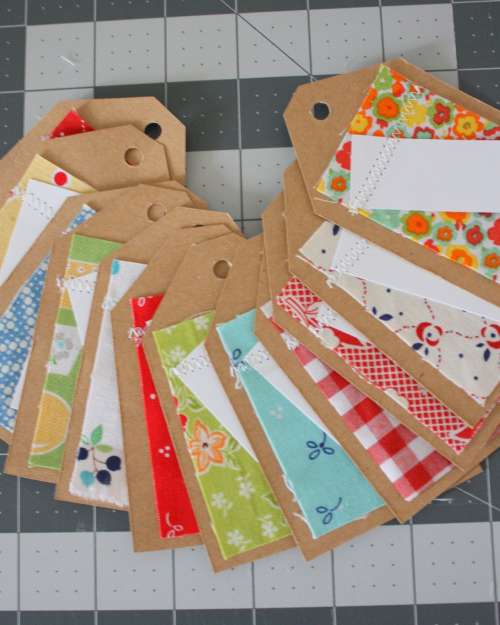 .
Then I just quickly sewed them together with my sewing machine.  You can set them aside and when you need them they are ready to add a name and tie to a package.
.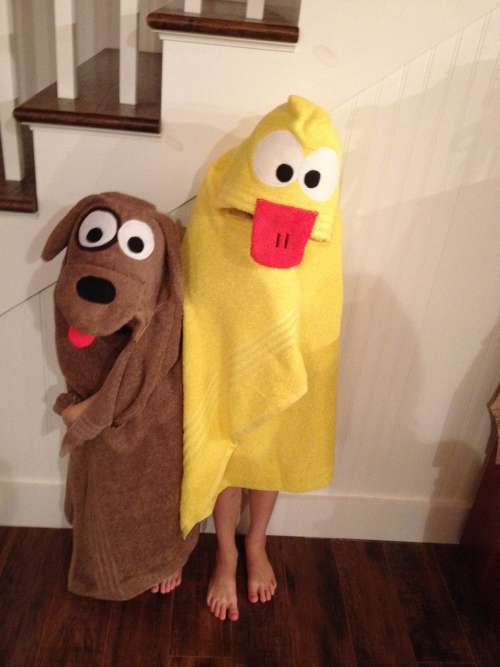 .
.
So now that the new year is here and I'm reflecting back on the things I'd like to continue into this year, this is one of those things.  Keep my gifts homemade.  In a world when we can go to the store and buy just about anything; homemade has become priceless.   And you know what?  There is always something that we can make… even if it is just a towel with some eyes and ears added for that favorite little one (or two) in your life!
.
I also want to take this opportunity to thank all of you for reading, commenting, and sharing with me this past year.  I feel like you've become my friend and it means the world to me.  Writing this blog post every couple weeks is always a highlight for me as it feels like I'm inviting all my farmgirl friends to my farm.  Thank you from the bottom of my heart for coming to visit!
..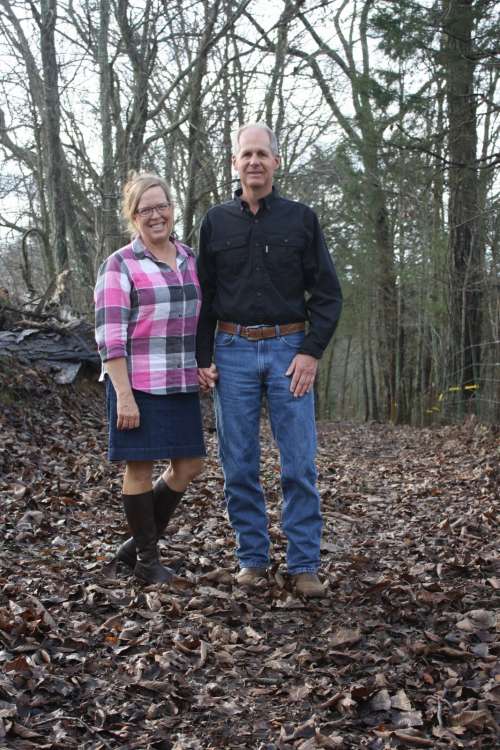 .
The Happiest of New Years to you dear friends.
.
Until our gravel roads cross again… so long.
.
Dori