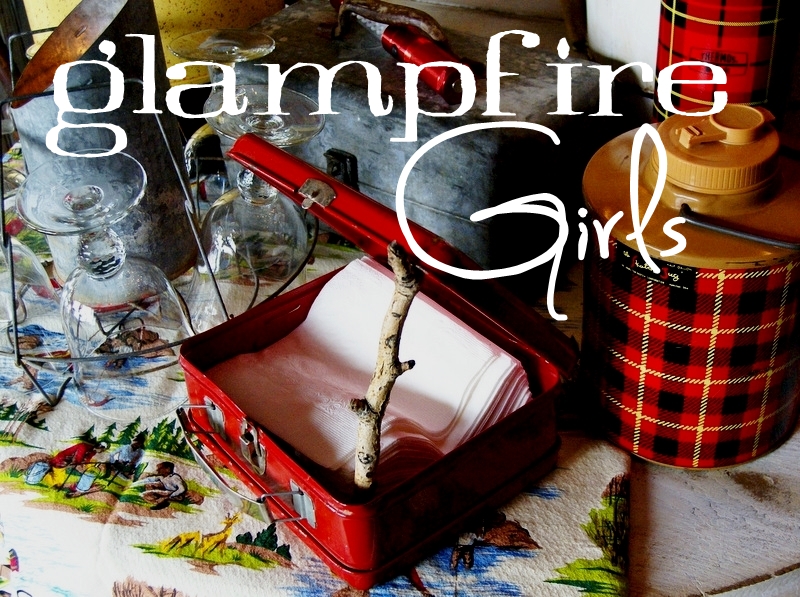 Just yesterday, Anita (farmgirl pal – below), suggested we better get to making some Summer 2013 glamping plans. I agreed … we need to visit with the other "glampfire girls" about dates & places. We've got our sights set on location #1 for a June road trip. Hmmmmm, where else???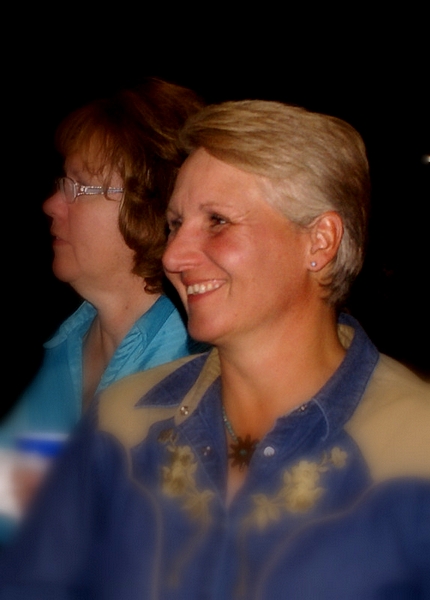 Below: photo collage of Anita's "ItyBity Bunkhouse" – a 70s vintage camper.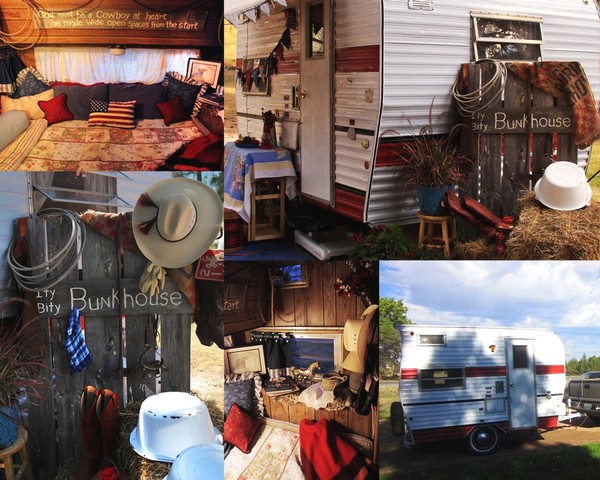 No sooner had Anita mentioned that we needed to make glamping plans when we simultaneously had a vision! There – it – was … parked at one of the local eateries.
IT WAS A SIGN!!! Out of state glampers (from Kentucky) had stopped for a bite to eat while on their way to Glacier Park.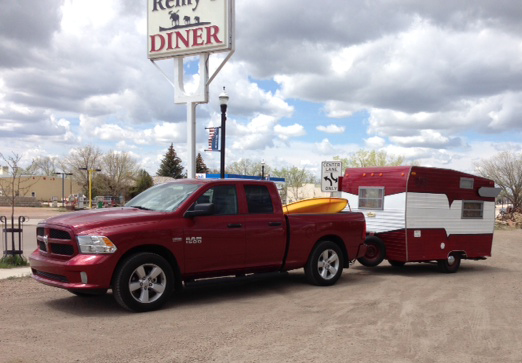 Of course, we had to investigate and introduce ourselves. Like many of us, "Pam" purchased a vintage trailer (this little beauty is a 60s era Shasta) in need of some TLC. She told us that it had been a hunting camper – hard used, even had a few bullet holes in it for pity sake. So, she fixed up her little darling and now she's pretty as a picture and ready for the open road. Pam was all too tickled to offer us a "show & tell" tour. Then, she and her husband of three months went on their way to enjoy their honeymoon. Oh, are they going to have FUN!!
Ok, back to making glamping plans in OUR neck of the woods. There are about half a dozen of us glampy inclined farmgirls in our flock. Anita told me that we're about to get a new recruit – a younger sister who wants to join us. I've not met her yet, but that's fixin' to change.
I spoke with Michele recently and she's got the glamping bug too. You know, our group of glampers pulled our act together toward the end of glamping season last fall. So, we've not been glamping but on one occasion … when MaryJane herself came out to join us on our maiden glamping trip last Labor Day, 2012.
Below: Michele's 1961 Shasta. She just purchased a 70s vintage pickup to pull her glamper — perfect to haul glamping gear.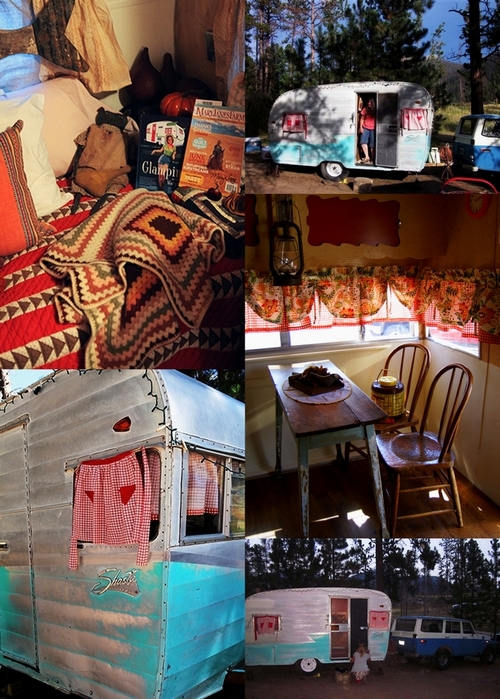 I need to spruce up my "Cabin In A Can" after she's sat all winter. Dust, vacuum, basic house-keeping. Other than that, she's ready to go.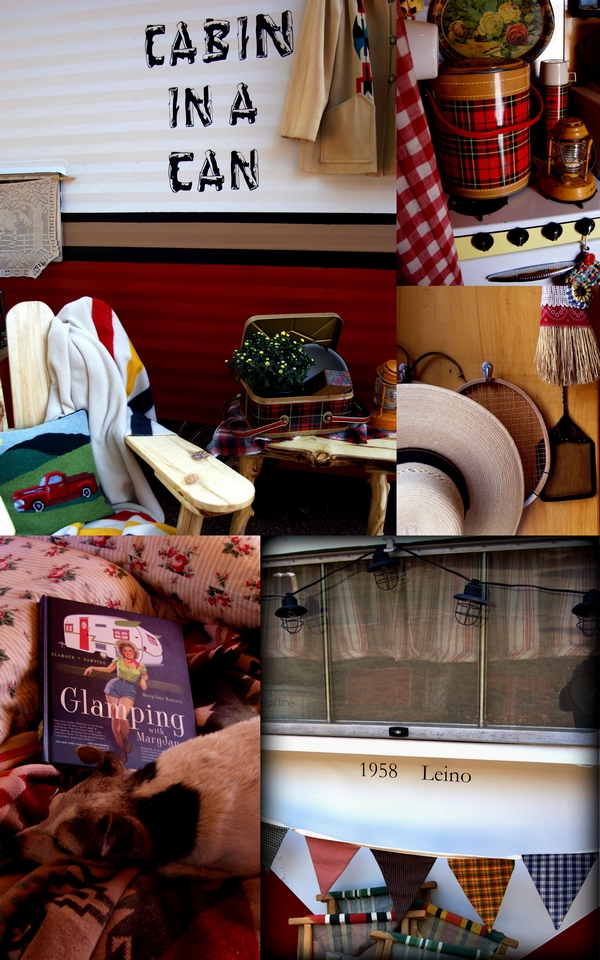 Our first destination goal is nearby – only about an hour drive, in the Wyoming part of the Black Hills. There are three possible spots to set up camp … all of which are right on the stream. Ohhhh, the sound of gentle moving water. Must remember fishing licenses!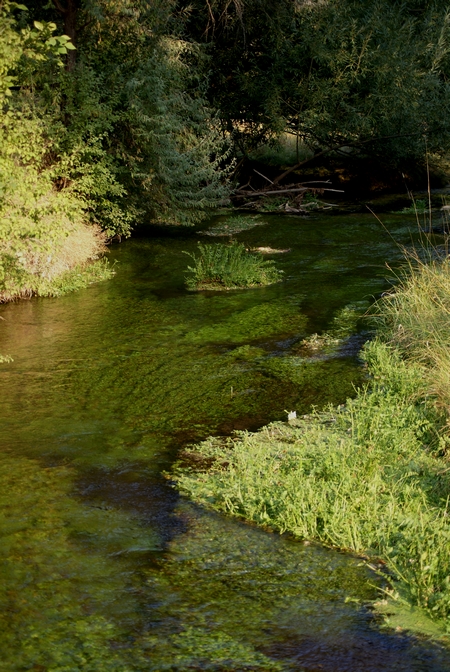 Got my pole, got my baubles (in case we go out to dinner one night at a nearby lodge) … … got my glamper ready. Hi-Ho the merry-O, a glamping we will go!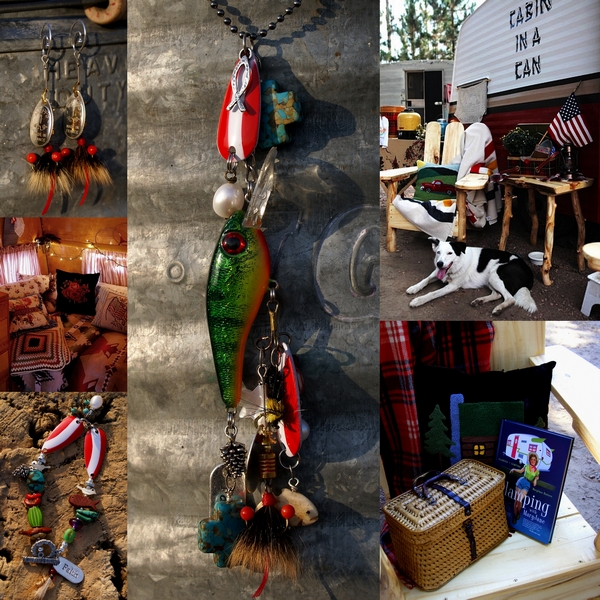 An old canning jar holder makes a handy glamper caddy for all kinds of things.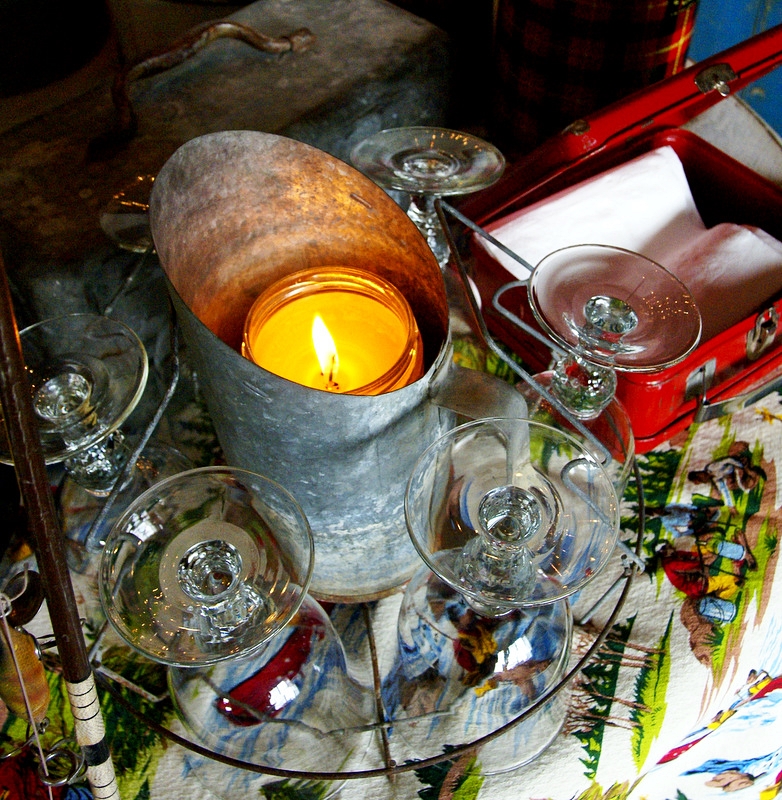 I saw a simple dutch-oven recipe that I want to try for glampsite cooking; you can do the prep-work beforehand. Slice large 'baker' potatoes very thin … but not all the way through, then place slices of bacon (trimmed to the same length) inside each slot; wrap potato in foil. Bake them for a good hour or so; serve sour cream mixed with fresh chives over the top. Ok, with them … picture, if you will … crispy, pan fried, freshly caught fish, homemade lemonade, salad greens … and rhubarb crisp for dessert. Oh, I'm soooooo there already.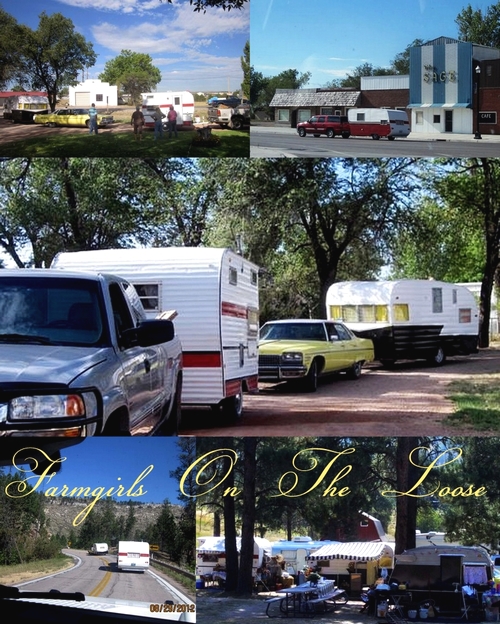 How about YOU? Have you any camping plans? Any of you farmgirls out there in the blogosphere buy a new "old" glamper that you've fixed up? Or, are you a tent camper? I've seen so many different glamping options: old farm trucks with a tent in the back, slide-in pickup campers fixed up every bit as cute as a trailer, canvas tents of every size etc, etc.  There are so many ways to go "glamping". Whatever works for you is the best way. As for me and my sister glamp-tramps … we're itchin' to GET OUT!
We'll be headed for the hill country just as soon as we can get our farmgirl posse on the same page for a getaway. How about you, where are you headed? Wherever your destination may be … Happy Trails to & from home … and may the good Lord keep you safe on your journey. ~ Shery