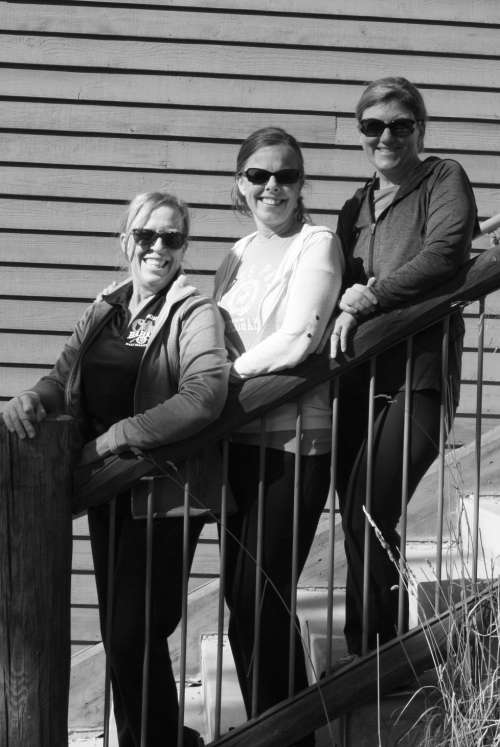 .
I don't know if you remember the post I wrote back in March about my two wonderful girlfriends that I'm so lucky to have?  Well, here's a little story for you.
We all three have birthdays in late September and early October that are within days of each other.  On our birthday last year one of us (not sure which one) said, "Next year we should take a girlfriend trip and celebrate our birthdays together".  The idea stuck and the planning began.  Not wanting to spend a lot of money on plane tickets, car rental, motel and meals but yet not wanting to meet up at one of our homes, we had to really dig deep to come up with a plan.  (Luanne lives in Nebraska, Michelle lives in Arizona and I live in Tennessee.  So you can imagine the logistics involved.)
We began looking for a common denominator to solve the dilemma and this was it:  Luanne lives 6 hours driving distance from Denver, I have a son and daughter in law that live near Denver, Michelle has a cousin in Denver who has a vacation home in Estes Park just an hour from Denver.  Are you following me yet?  Smile!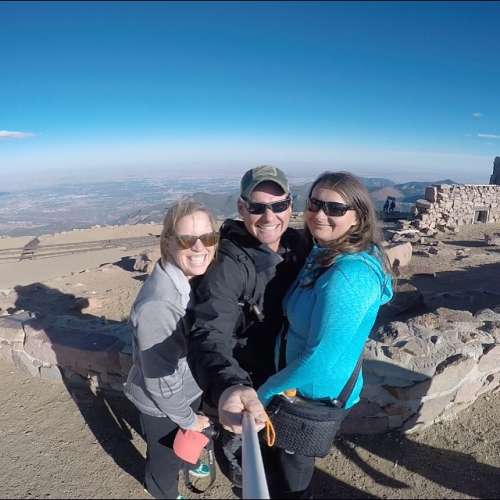 With my son and daughter in law on Pikes Peak!
.
We had it all planned and then it was just the waiting.  I arrived in Denver about 5 days ahead of Michelle and Luanne and spent an absolutely glorious time with my son and daughter in law.  They gave me (not exaggerating) five days of birthday fun!  It was fabulous.  That's coming up in a future post!
.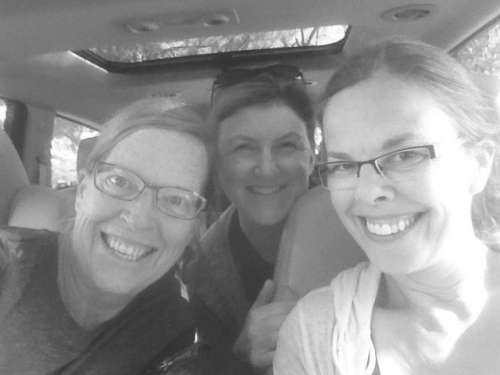 .
Then we three girls met up in Denver at Michelle's cousins home where we got the key to their home in Estes Park.  We piled into Luanne's vehicle and we were off.  Let the girlfriend trip begin!
(You will have to excuse the fact that the photography in this post is not going to be as good as I like to have it… unfortunately, some of these photos are from our phones.)
.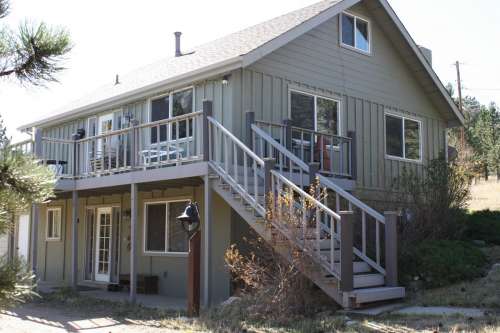 .
We arrived at the home in Estes Park and were so excited.  This home is not a vacation rental.  It is the original family home where Michelle's cousins were raised.  Even though the parents are gone, her cousin has kept the home in the family and it is only used by close friends and family.  It is a very special home and we were so lucky to be able to use it.  The inside was decorated with things that were original to the home and so many memories for Michelle visiting there as a child, that we really enjoyed hearing her stories.  It truly was a magical place that pulled us in and made us want to just live there!
.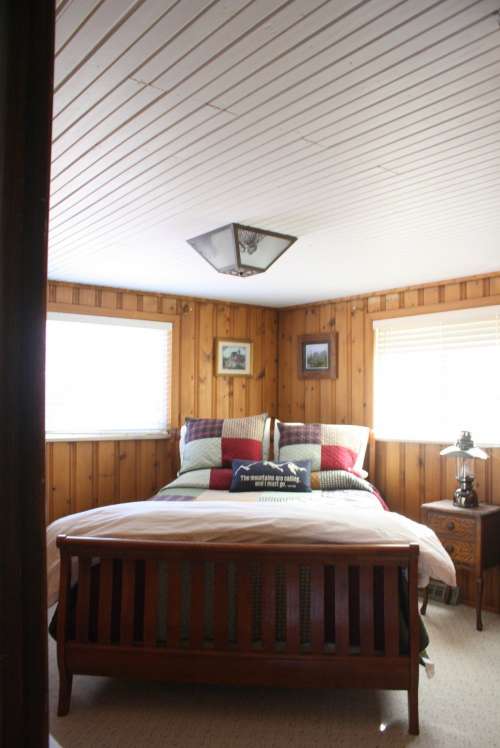 Don't you just love this bedroom with the antique bed, beautiful walls, and old bead board ceiling?
.
We picked our bedrooms right off the bat.  The girls were kind and gave me the bedroom closest to the bathroom as I was (sadly) suffering from a sinus infection and some residual altitude sickness and was still not feeling my best.
.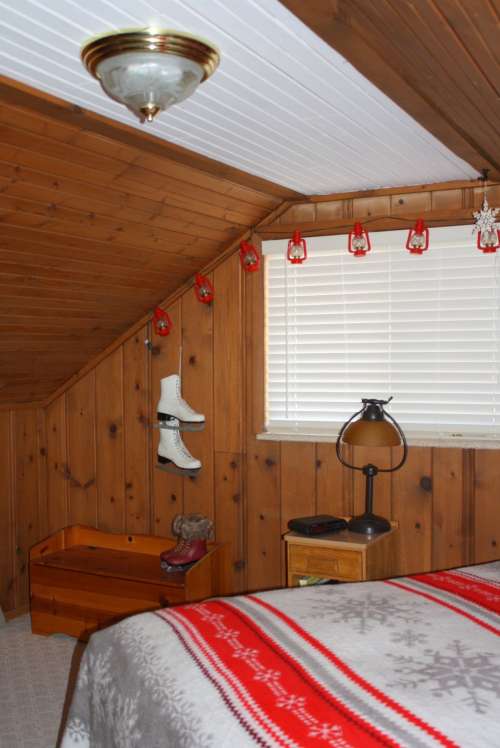 .
They took the two upstairs bedrooms that were decorated so cute.  Vintage skates hung in both bedrooms.
.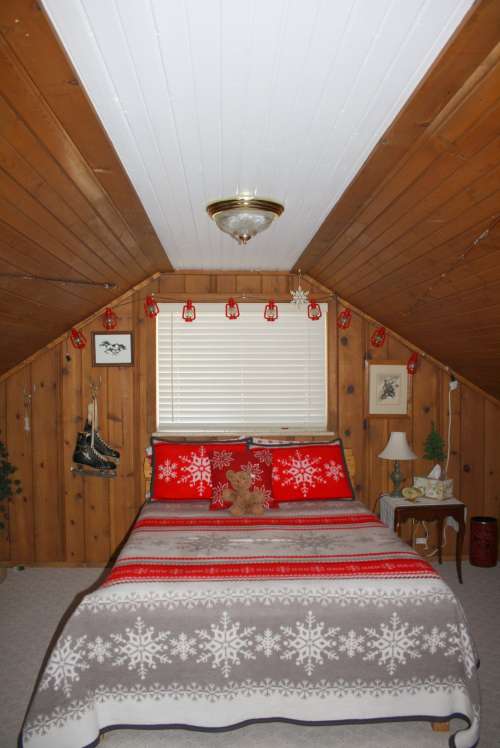 .
And the little lantern lights above the bed in each bedroom was such a cute touch.
.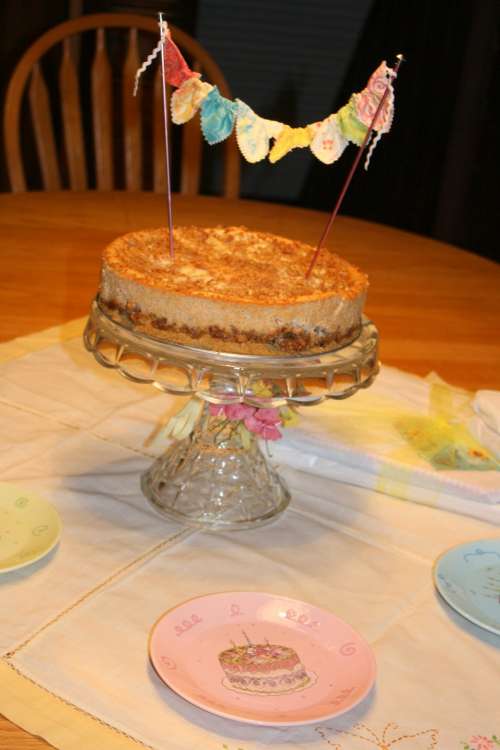 .
The very first night we were there, we celebrated our birthdays!  Luanne brought a cheesecake and some fun vintage decorations!
.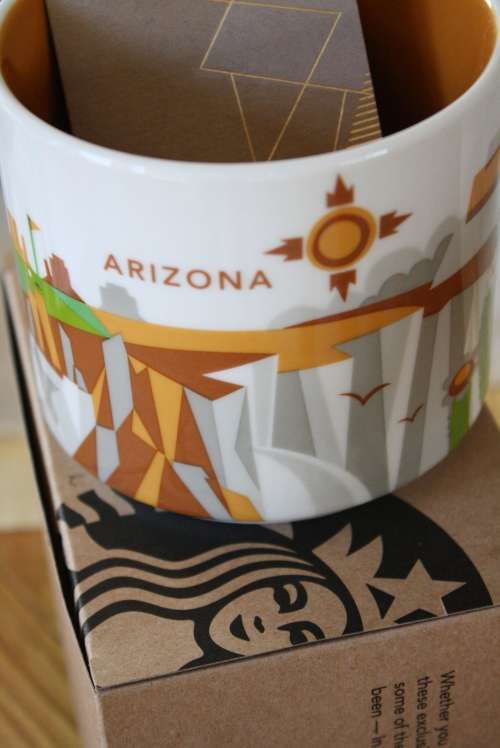 .
We even had birthday presents!  Michelle brought Luanne and I Starbucks mugs from Arizona with Starbucks gift cards inside.  (She's not a coffee drinker but she is kind enough to encourage us in our coffee habit!)
.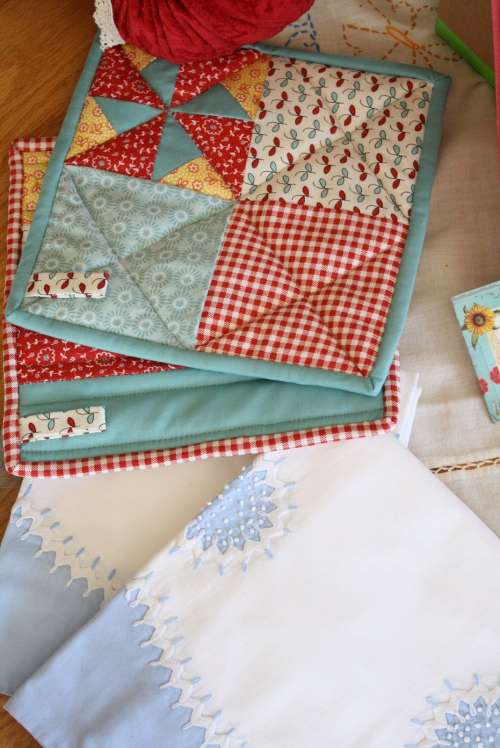 .
I told you in my post two weeks ago about the vintage pillow cases and home-made potholders that Luanne brought each of us.  Love them so much.
.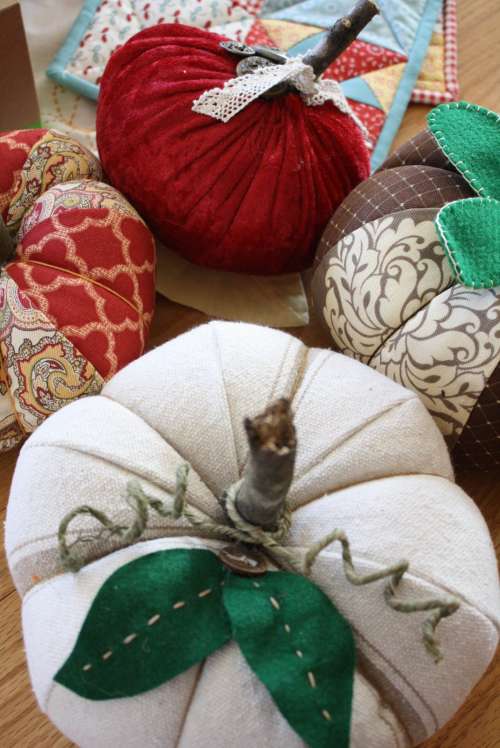 .
I brought the girls fabric pumpkins that I made.  (For those of you that are members of MaryJanes Farmgirl Sisterhood you probably read the tutorial I wrote in the October Sister Issue on how to make the fabric pumpkins.  If you're not a member of the Sisterhood, you need to be!).
.
(And yes… I had to bring a separate suitcase just for the pumpkins.  I brought some for my daughter in law too!)..
.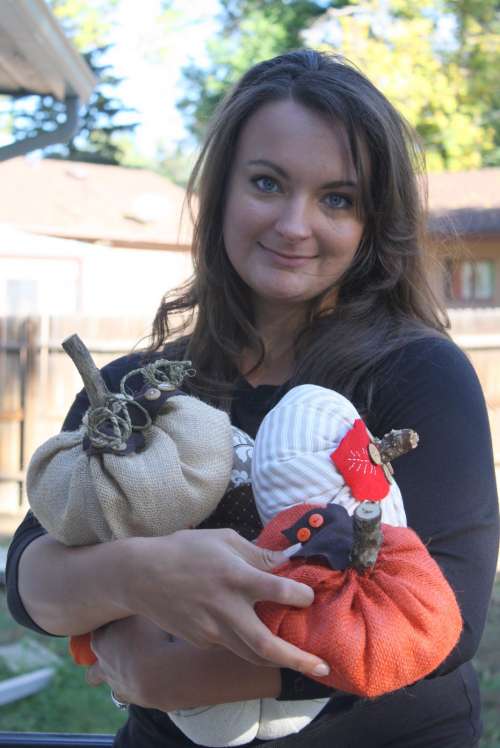 My sweet daughter in law, Ciara, with her pumpkins!
..
.It was just the beginning of a fun Birthday Celebration for all three of us.
.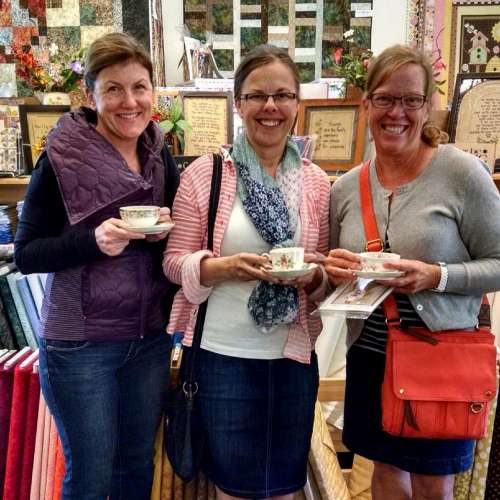 .
We spent a few days in Estes Park shopping…
.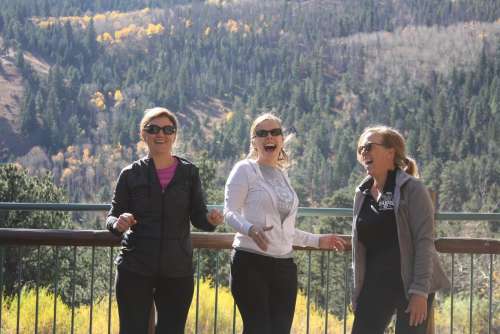 .
…laughing…
.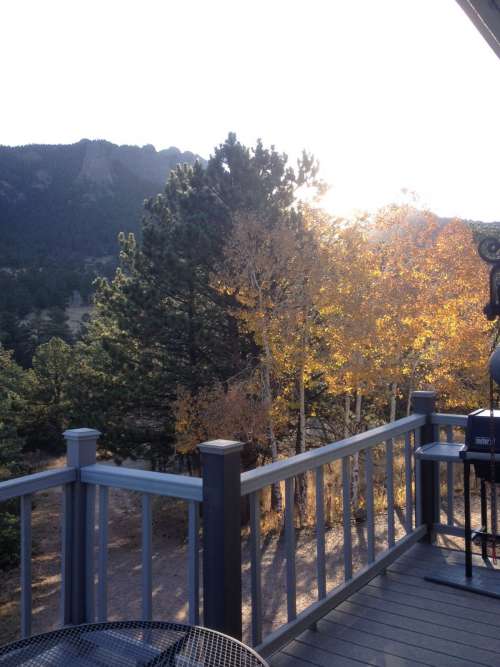 .
…enjoying the scenery from the balcony of our cabin…
.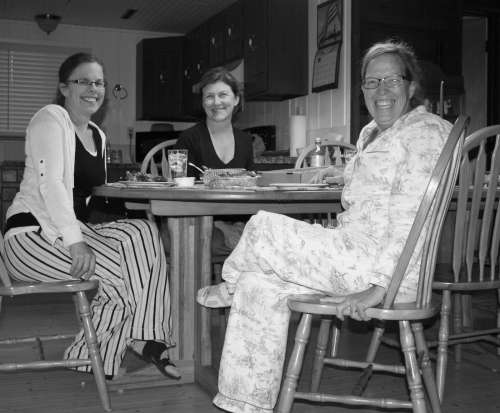 .
…staying up late eating and talking…
.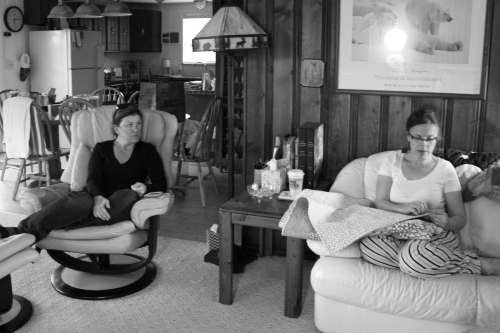 .
…lounging around in our pajamas working on projects…
.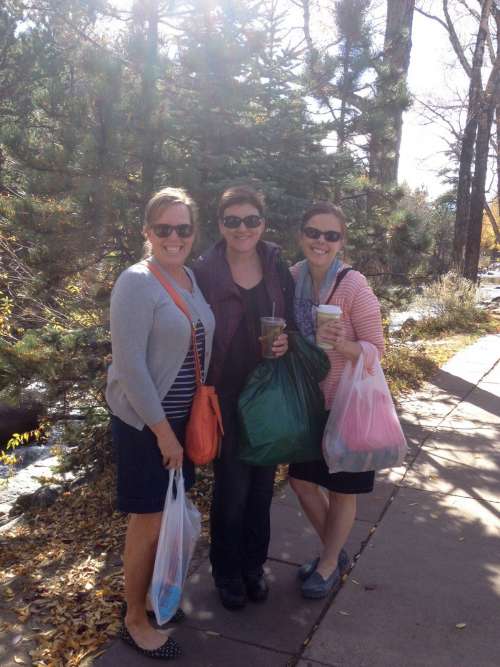 .
…walking along the river that runs through the town…
.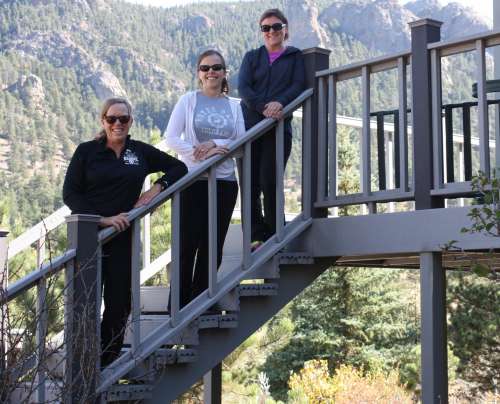 After numerous times of setting up the camera on a timer and running like crazy to get in place… finally a decent picture!  Me (on the bottom stair), Luanne and Michelle.
.
…and trying like crazy to get a good picture of the three of us!
..
Most of all we just enjoyed being together.
.
And everything I wrote about in my original girlfriend post back in March came to my mind on this trip.  The older I get, the more I recognize how lucky I am to have both of these amazing women in my life.
..
And you want to know one more thing I learned about my girlfriends on this trip?  When, on your last day together, one of you gets the most ferocious migraine that you can't even lift your head off the back seat to look out the window… but those girlfriends keep smiling, cheerful, caring and kind… and never ever make you feel like you are ruining anyone's last day together… those are the best friends in life to have!  (And yes, that was me with the migraine.)
.
And guess what we decided?  Next time… we are going to invite our husbands!
.
Until our gravel roads cross again… so long.
.
Dori