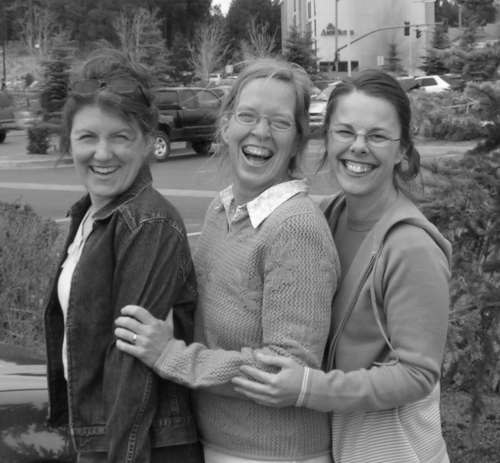 Three best girlfriends – just happy to be together!
I've been very lucky in my adult life that I've had two best girlfriends that have been by my side in every experience – be it crazy fun or crazy terrible.  Two of us have been best friends for over 30 years.  You hear that saying – "three is a crowd" – but in our friendship it has never once been that way.  Sometimes the three of us are together, sometimes it will only be two of us and although the one that doesn't get to be there voices her "insane jealousy" it really isn't like that!
.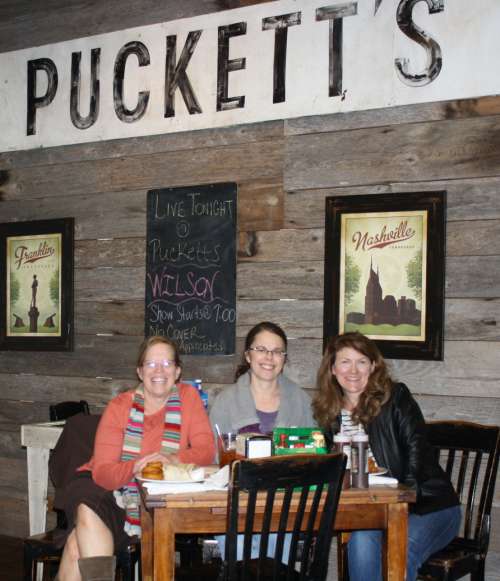 .
Together at the famous Puckett's restaurant in Franklin, TN
We live thousands of miles away from each other.  I'm in Tennessee,  Luanne is in Nebraska, Michelle is in Arizona.  Sometimes the logistics of the three of us getting together are impossible.
.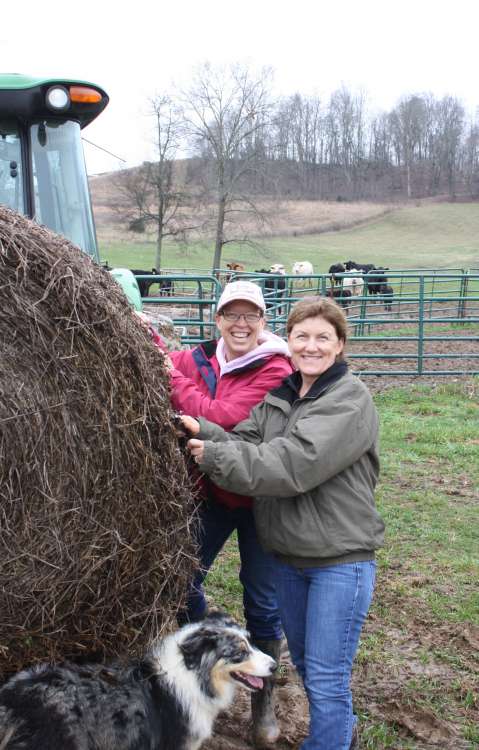 .
Michelle came to visit me at the farm last week.  My husband was out of town on a consulting job so we got to help my son-in-law with farm chores.
.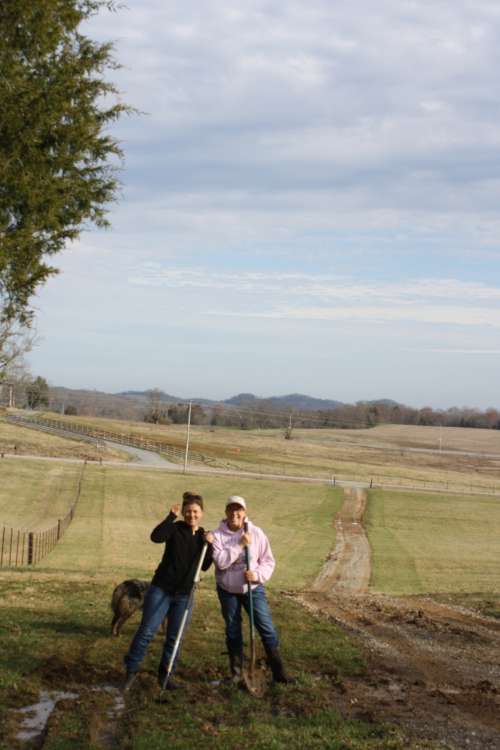 .
After a lovely week of  just being together I've been thinking a lot about what it takes to have, and to be, a close girlfriend.  Here are a few of my thoughts.
.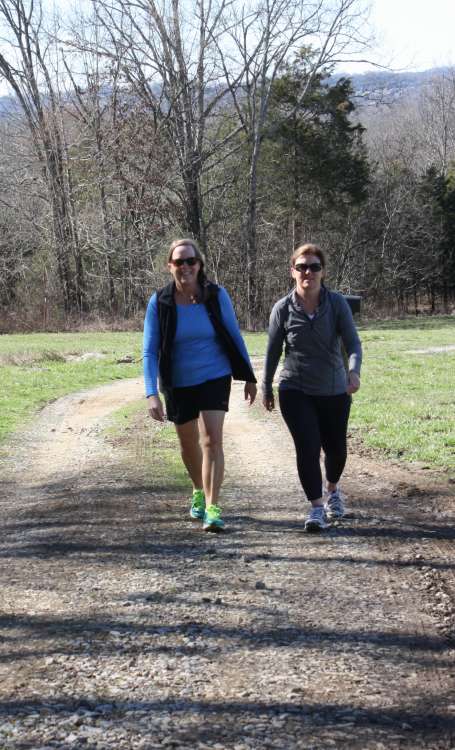 Michelle and I speed walking the farm roads
It takes work.  You don't just automatically have a best friend that sticks around through thick and thin.  Luanne and I have said many, many times that Michelle makes the best friend because she never stops calling us when we are too busy to reciprocate!
.
Luanne and I in Nebraska
Make time for each other!  Sometimes being a good friend means setting aside the demands of our family, husbands, and hectic lives to make time to get together.  We three girls have had a number of girlfriend trips and even with good planning the timing for everyone involved is never perfect.  Go anyway!
.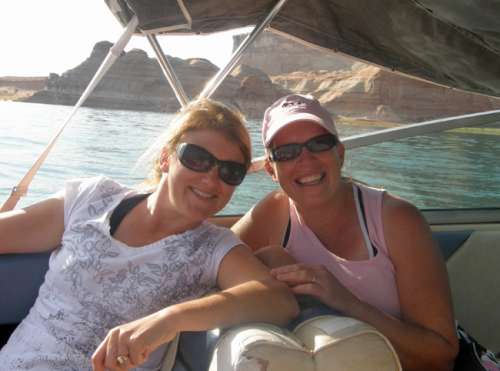 Michelle and I boating in Utah
You don't have to live near each other.  You can have thousands of miles between you and still be the closest of friends.  However, I'm sure thankful for cell phones and unlimited minutes as I have vivid memories of the old days with horrendous phone bills!
.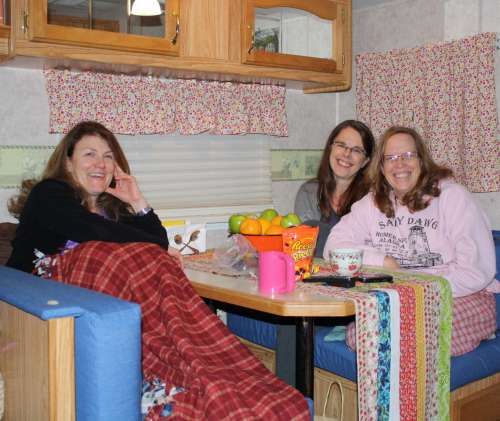 The three of us together – travel trailer glamping!
Be loyal, be honest, be real, be open.  We three girls do not always agree. But I will say we've never argued.  We are just open and receptive to each other's opinions about things. And we have some of the deepest discussions because we don't always have the same feelings!  Thinking alike is not a requirement in being best friends!
.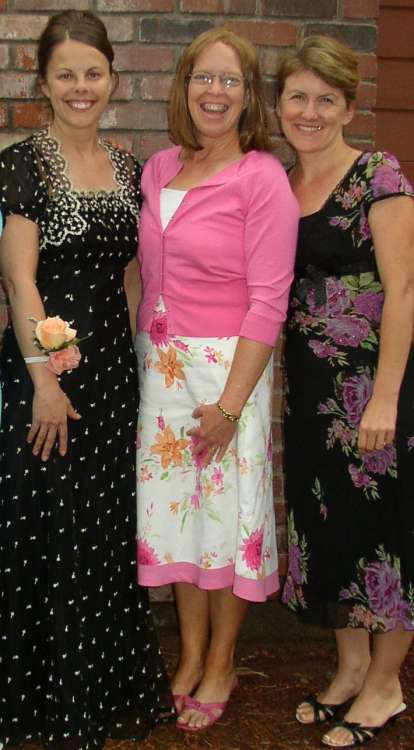 At Luanne's son's wedding (I was bald under that red bob of a wig!)
Be prepared to share in the tears… as well as the joy!  My girlfriends went through a cancer diagnosis and treatment with me.  We've been through the heartaches of life together.  And the happiest of times.  Michelle has been with Luanne in the birth of a baby.  We've been with each other at the weddings of our children.  A vivid memory is when Michelle told me she was expecting her second child… many, many years after giving up.  She told me in a store for goodness sake, and I think I screamed, then laughed, then bawled, then laughed again.  With an aisle full of people looking on at the crazy ladies!  Never be afraid to be yourself.
..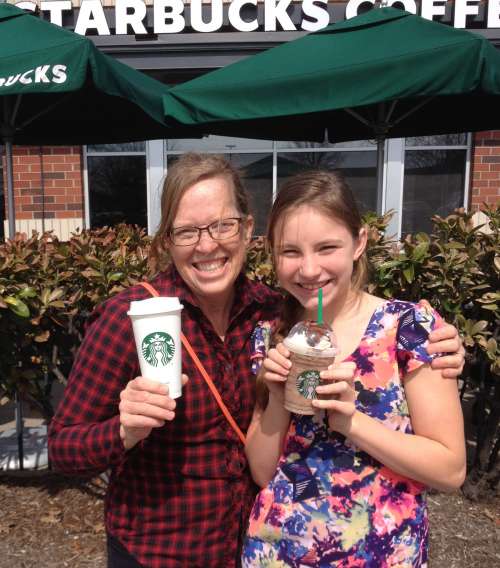 Hailey came along on this trip with her Mom and I wanted to keep her!
Be like a mother to each other's children.  My daughter lived with Michelle and her family for 2 years when she moved away to go to college.  Michelle treated her just like she was her daughter.  Luanne's son has been the very best friend of my son; those boys have practically been interchangeable to us.   Michelle has a daughter, Hailey, who is 11.  Hailey is the miracle child that came along when Michelle and her husband's only other child was 17 years old, so from the time Hailey was born she's been a big part of our friendship.  When she was just 3 years old she would say, "Girls, wait for me"!!!  I feel such a bond with little Hailey that I think she could be mine.
…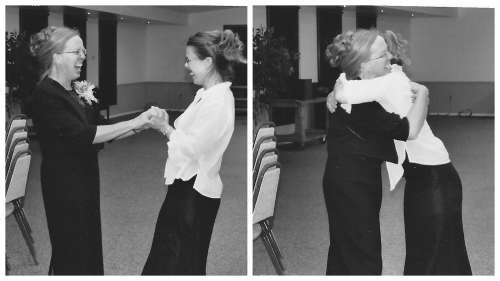 Late at night after my daughter's wedding, where in front of a crowd full of people, Luanne and I made huge fools of ourselves as we said our vows of a forever friendship!   
Don't be afraid to laugh loud and full… even when a room full of people think you are crazy!  I think Luanne and I have laughed at the most inopportune times, at the most important and serious things… that somehow we found deliriously funny!
.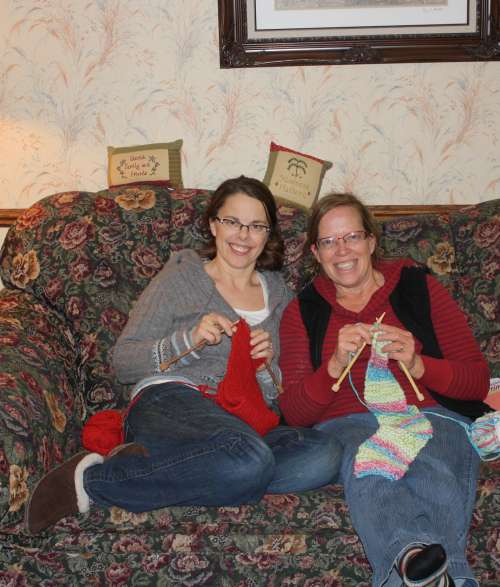 Luanne and I learning to knit!
You don't have to have common interests.  Luanne and I love a lot of the same crafty things, but Michelle and I probably have more in common in other ways.  I have discovered that none of that matters.  It's a much deeper bond that glues us together.
.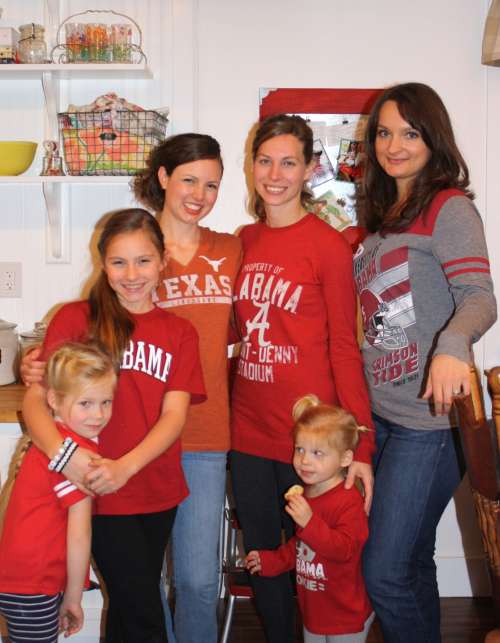 Michelle's girls – Hailey and Ashley,  my daughter and daughter-in-law – Andrea and Ciara, and my two grand-babies – Jillian and Rosetta
It helps if your husbands and your children are friends too!  All three of us have been very lucky in that our husbands and children have been very good friends.  We've had many, many times together as families and now we have grand-children sharing in the memories too.
.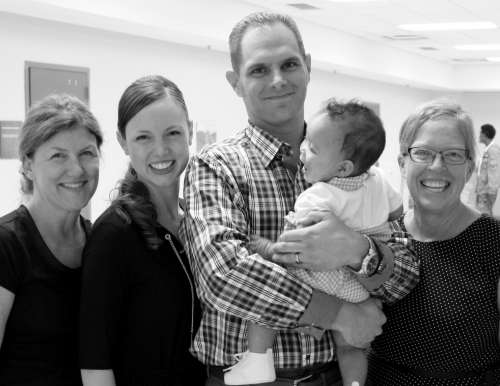 Michelle and her daughter and son-in-law celebrating the miracle of adoption
Rejoice in life's beautiful miracles together.  When Michelle's daughter and her husband adopted a precious little boy, I was able to be with them on the day his adoption was finalized.  It was a day that will forever rate as one of my most precious memories of our time together.  It was an honor to be included.  
..
I realize now that I am in my fifties and looking back over my adult life, that I have been very, very lucky to have had such amazing girlfriends.  Not everyone gets this lucky.
.
What is your best girlfriend memory?  Please share with all of us other girlfriends!
.
Until our gravel roads cross again…  so long.
.
Dori