.
I love having overnight guests and never tire of getting ready for them to arrive.  My guest bedroom is simple and cheerful.
My very favorite thing to do in anticipation of their arrival is ironing the guest bed sheets!  Do you think possibly I'm a little crazy?  My two closest girlfriends tease me and say I'm just a little messed up.  They are probably right!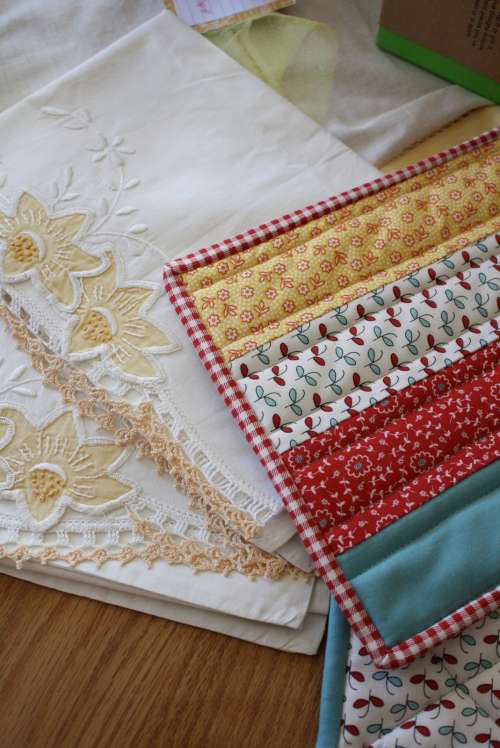 .
Recently those two girlfriends and I had a lovely little trip to Estes Park, Colorado (which I'll tell you all about next time) and my friend Luanne brought me the most amazing gift.   A set of vintage pillowcases in the most beautiful yellow ever (as well as two darling home-made potholders).
.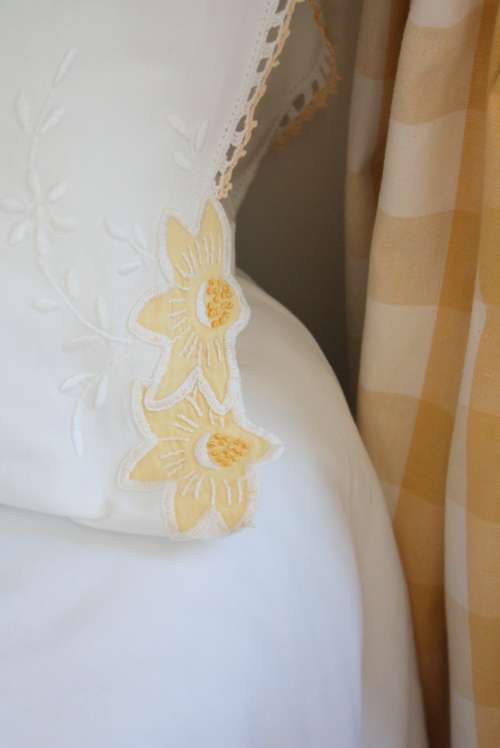 .
My guest bedroom is yellow and I'm sure that is why she chose those particular pillow cases, but I'm pretty sure she had no idea how perfectly they would match.  Aren't they just gorgeous?  There is something about vintage linens and the handwork that is just so special.
.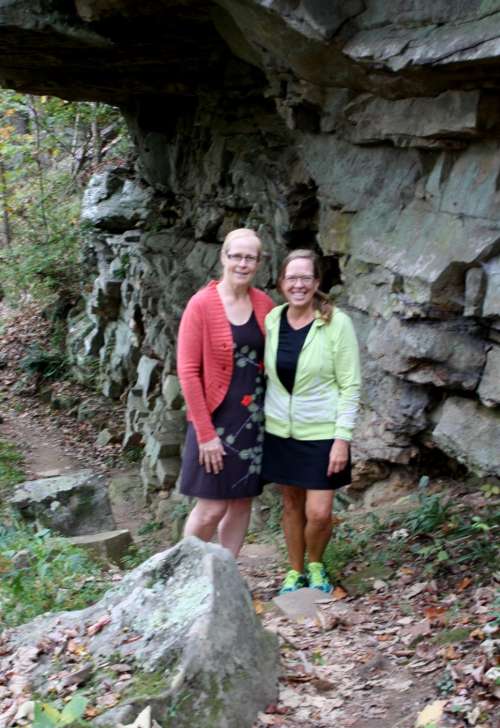 .
So, last week I had company from Washington for a week – another girlfriend visit, can you even believe it?  (My husband is such a good sport!)  And so I was super excited to get the room ready for her with my new pillow cases!.
.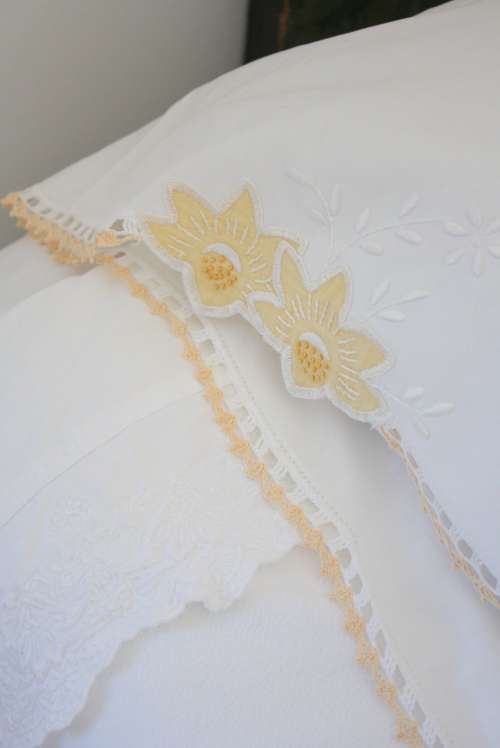 .
And for me, getting the room ready includes ironing the sheets and making the bed just perfect!  There is something about freshly ironed sheets that just makes me so happy!
.
.
I also love the Hospital Corners on a bed!  You can read a great tutorial on how to do it here.
.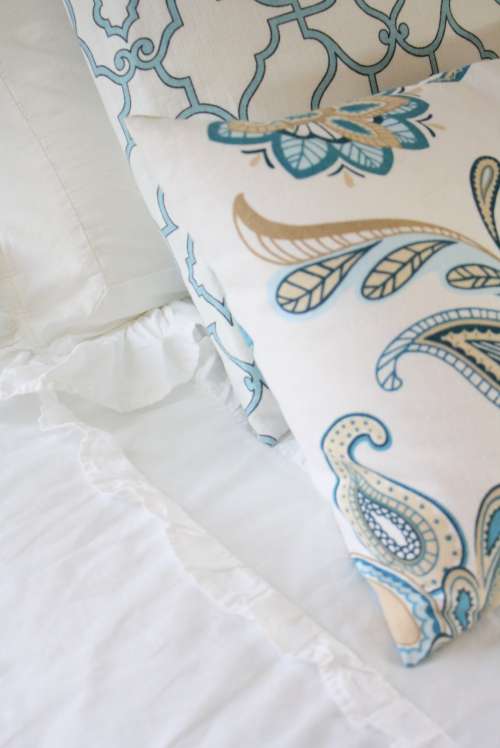 .
A couple years ago I made pillow covers for the down throw pillows on the beds and I still love them.  The blue goes perfect with the yellow.
.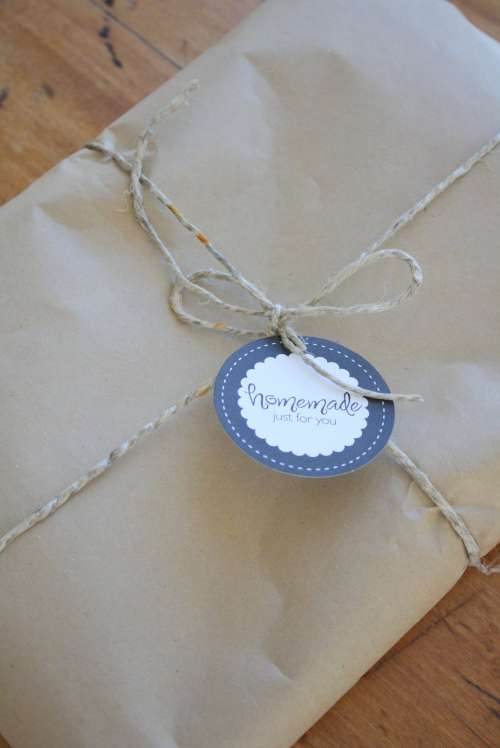 .
And the final touch to make the room company ready?  A little home-made gift!
.
So tell me… am I very weird for loving to iron sheets?  Somehow I'm thinking there are probably a lot of other Farmgirls out there that do the same!
.
AND FINALLY!  Announcing the winners for the crocheted dish cloths!  Since it's been two weeks since I wrote the post, that means I've made a few more so instead of choosing two winners, I chose THREE!  They are:
Roseanne
Sandi
Christine 
.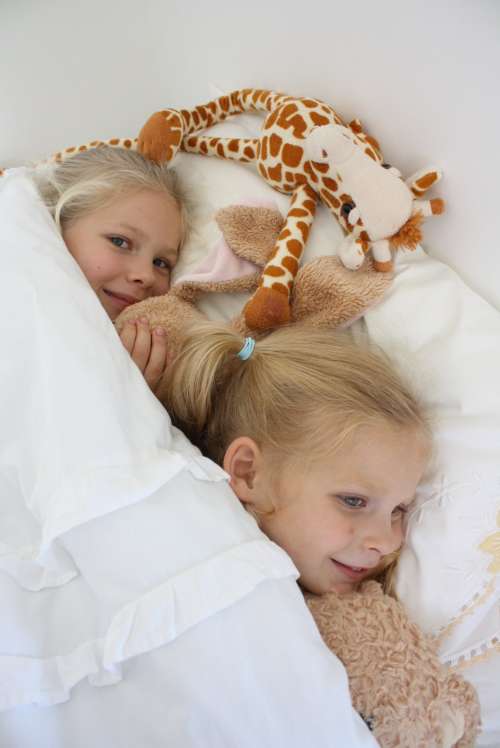 .
And still, the very best company ever are the weekly overnight visits from my grand-girls!  They each have their own bed but they always, always end up in one!
.
Until our gravel roads cross again… so long!
.
Dori