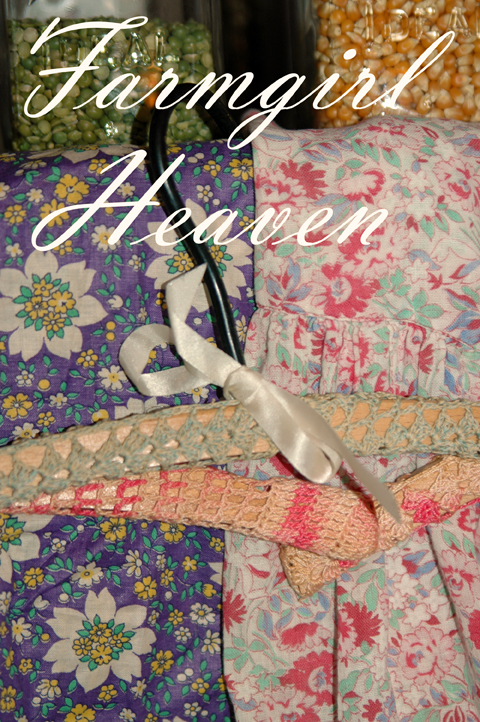 Do you dream of handmade aprons like your granny used to wear as she went about her daily rounds? How about a soft, warm, delicate crochet coverlet with an embroidered pillow case too pretty to sleep on? Do visions of tables covered in vintage tablecloths of floral prints or lace set with the prettiest of mixed china, glassware and silver with a bit of tarnish sparkling on your table as the morning sun streams in dance in your head? Me too! Someone pinch me! I think I've died and gone to
FARMGIRL HEAVEN!
I'm noticing a trend in the items I'm collecting for my booth space at the Antique Mall. You might agree there's a little (okay, A LOT) of
farmgirl style
influence in my pick'n.
I can't wait to share last week's pretty farmgirl finds with you!
As usual, I'm jumping into a new adventure with just enough knowledge (or not) to be overly optimistic and a bit dangerous! Don't worry… the dangerous part isn't that scary. That is if you don't think shopping on EBay is risky behavior. Let's just say I've been out-bid more than I've won this week and no doubt I've paid too much for an item or two just because I HAD TO HAVE IT…Oh well, live and learn right sisters? All I know is that when people walk in to my little booth I want them to feel pretty, nostalgic, comforted, inspired and at home…I hope people smile, remember and hopefully they'll take a small piece of the past home to be loved and used again.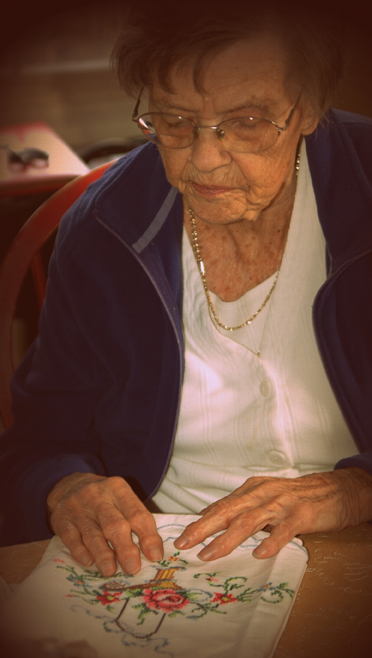 My mother n law ( Kim )  stayed with us last week and she and I had more fun waiting for the mailman every day! Here she is admiring the beautiful embroidery on a single pillow case that came in a lot of 9 pairs and 8 singles. The best parts are the memories that were sparked while she looked at each item I unpacked. She told me that she has plenty of pillow cases like these in her farmhouse but they aren't in any condition to be resold because, says she, "we used ours "! She remembers her grandmother and her mother doing needle work but she never tried it herself.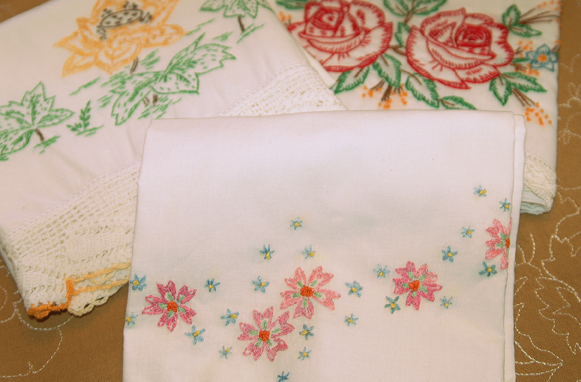 The handwork on this lot of vintage pillowcases is just beautiful. I imagine many were shower and wedding gifts at one point. I have a feeling as a young bride I wouldn't have used them either, but as the years pile up on me I have a different mindset. I'm keeping a couple of the singles for my mother in laws bed at our house!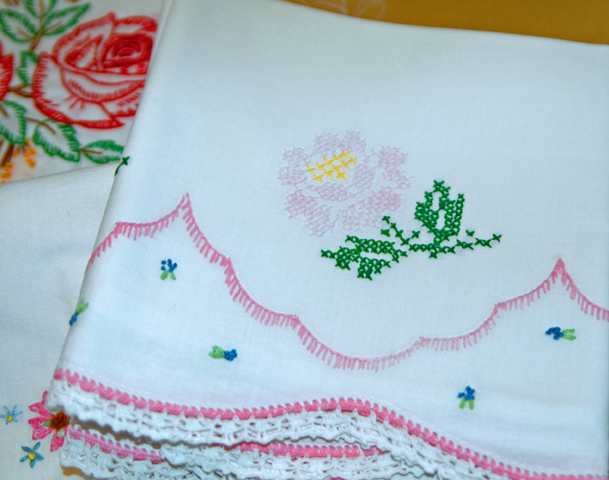 This delicate crochet hem finishes off the needlework so nicely…How many of you can crochet like this? The only embroidery I remember having around me as a child was the chambray shirt my mom embroidered for me in middle school. My best friend and I had matching shirts and we wore them to pieces, literally! I still have what's left of mine in an old chest! I do however have three beautiful afghan's that my mom crocheted for me and I cherish them! My mom fell in love with two crochet coverlets she spotted in one of the booths at the mall where we are setting up shop and she got me going on finding some for ours. I've been on the hunt and have managed to find three at a fair price on EBay!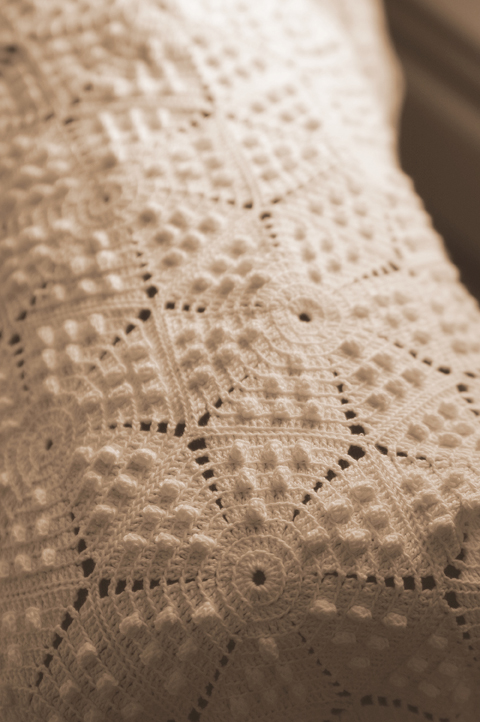 The more of them I see the more I love them! This one is called ' popcorn'  because of the raised threading on the circle patterns. I'm seeing these priced anywhere from 23.00 for smaller sizes to 800.00 on Ebay! That's quite a range in pricing. Crochet bedspreads speak to the simpler times some American's are yearning for, especially the young mothers of today who want to bring back to life the time honored traditions their grandmothers knew.  I even found a pinterest board devoted entirely to antique and vintage crochet coverlets and bedspreads.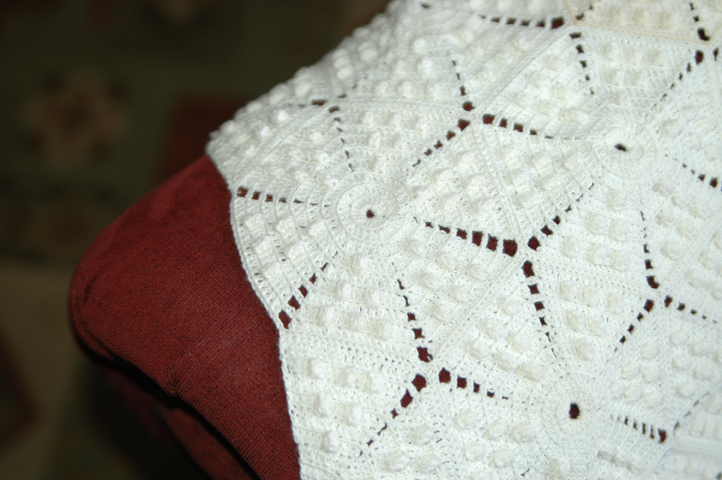 The slight scalloped edging on this blanket is so delicate and pretty. There's just something about the feel of cotton that is so warm and comforting. I've got another one on the way that's yellow and white! Won't that be lovely in someone's sunny bedroom or sitting area?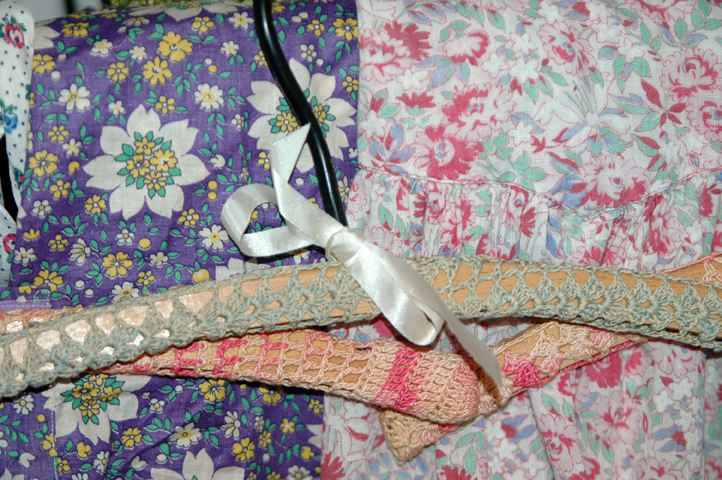 If crochet bedspreads and coverlets weren't ambitious enough, women made covers for wooden hangers too! I found a lot of 14 vintage crochet covered hangers and had to get them! I love the way they look and they're in tip top shape but they arrived with a musty odor.  Any ideas on how to clean them without ruining the crochet would be greatly appreciated!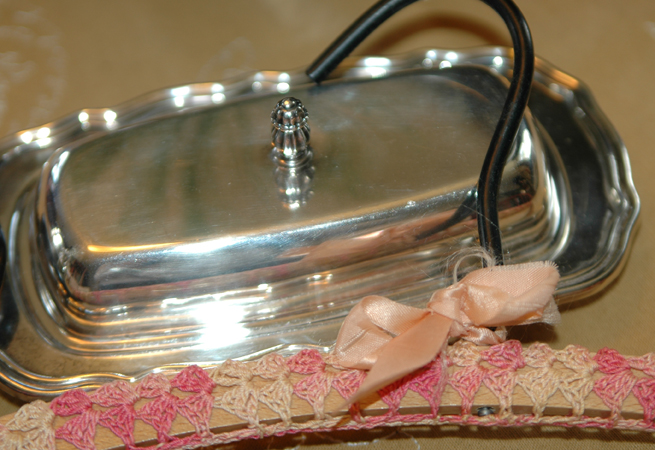 There's got to be a little bling among the faded charm of my yester-year finds! I'm picking up misc. silver and crystal pieces as I find them. I think a shiny silver butter dish can pretty up the plainest of table settings… They are just so elegant! Someone needs to talk me out of keeping this one though!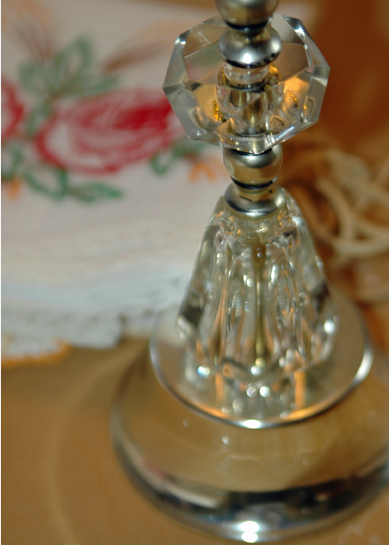 Crystal lamps add an elegant touch to any space. I found a lovely pair of crystal and silver lamps from the 1950's and snapped them up! They arrived in beautiful working condition and I'm so impressed with the quality. Not like what we get today at all! I've got a fun idea for shades that I'll share next time!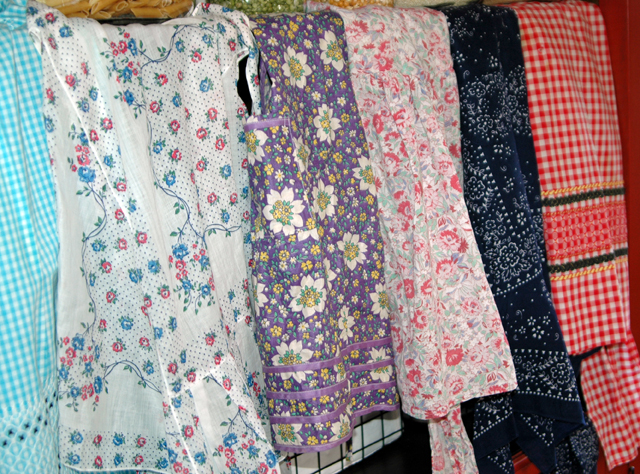 Naturally I had to get some vintage aprons! No one else in the antique mall is offering any so I figured I'm just the girl bring some farmgirl flair to the place!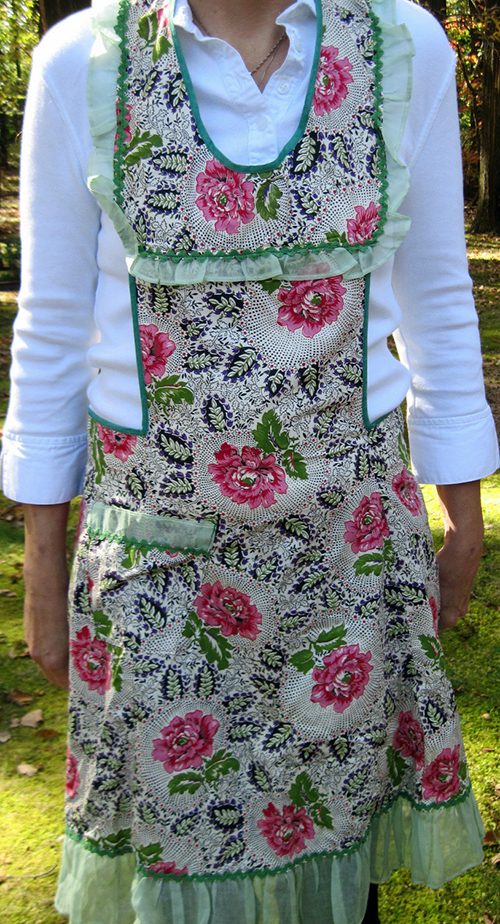 I just got giddy when I bid on this one and won! It's got everything an apron should have; rickrack, ruffles, flowers and a pocket for fresh picked eggs!
I've got a lot to learn still, but if I waited until I thought I knew enough to start this adventure I'd probably never do it! So, here's to jumping in, learning as you go and having fun along the road of life! Besides, that's the farmgirl way isn't it? I'll see you back here in a couple of weeks with picks of the actual booth!
Until our next shoreline visit~
BEACH BLESSINGS and happy living!
Much love,
Sister Deb # 1199
P.S. MaryJane, if you're reading today THANK YOU for the inspiration!