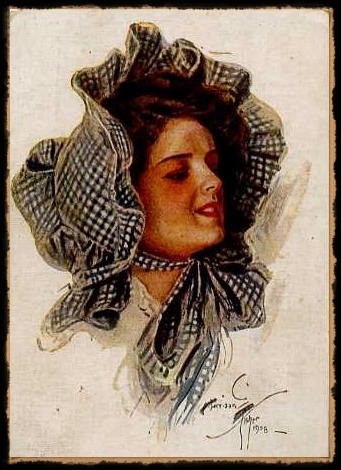 Having a "bee in your bonnet" is to be tenaciously preoccupied with an idea. The visual is humorous unless the bee is in your bonnet. Anyway, the old cliche`dates back to the 1700s and it is still with us because the situation it refers to is still very much a part of the human condition … and my own of late.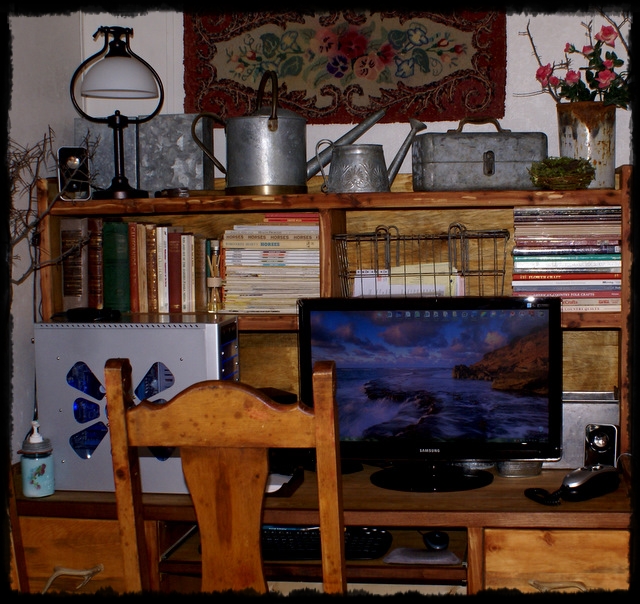 Some of you might have noticed that I've been "missing in action" for a spell. My absence was due to a brown-out/power outage that killed my old computer. I was computerless for about a month, but I'm up & running again and I've got a lot of catching up to do. If you're like me, I never feel like I get caught up. How about you? When I chose the theme for this blog entry, I was taken aback by just how much an average person does or is a part of in a month's time. It kinda made me feel better. Maybe I need to stop more often and reflect.
Last time we talked, I was fresh out of knee surgery. Still healing, haven't ridden all calving season, trying not to whine about not having ridden a horse since last fall. I feel like my life is 'skipping'. Those of you old enough to remember record players will recall when a linty needle skipped over part of the record. Here is the analogy: I've missed part of the song of my life routine and it is just plain weird. Calving season 2011 happened without me.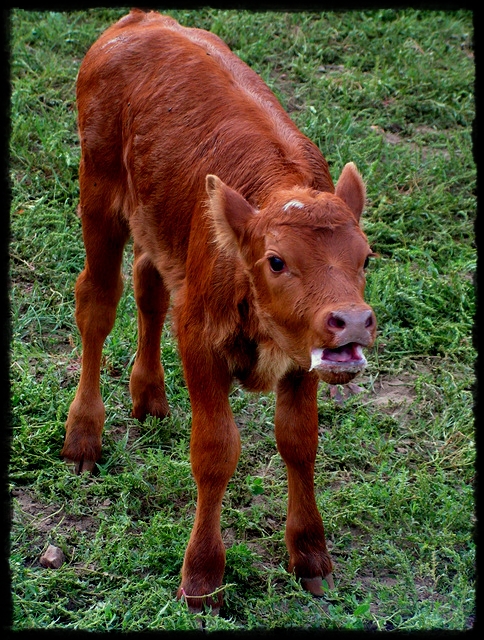 Onward and upward. The bee in my bonnet is this: Catching up. I have to keep my eye on the goal. No puttering or pondering, no frittering, just DOing. Ya know why? Here'z why: One thing is never just one thing. One thing is three things or more. You start a thing and before you can really get to it, you gotta do this, that and the other thing. And, oh by the way, as you go you notice other little things that need to be done before you forget about them.  I have a list of things to do this spring that has head on it like someone didn't know how to poor a glass of beer properly. BUT, let me just say that in the midst of all the things I/we have to do, ya gotta make time for a little soulfood and that is where my farmgirl pals come to the rescue.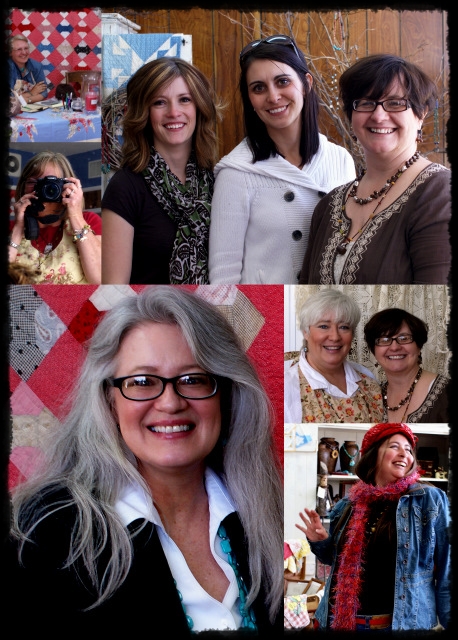 Last month, we had our first Farmgirl "handmade" show! Above: Anita, Lisa with her niece and daughter, Lisa and I, Michele, my sister, Beth (largest photo). Thanks to Jenny who took several photos; she also embellished antique bottles to sell. We had such fun and the show was well attended. What did we make/sell, you ask? Lisa made gourmet paper cards and booklets…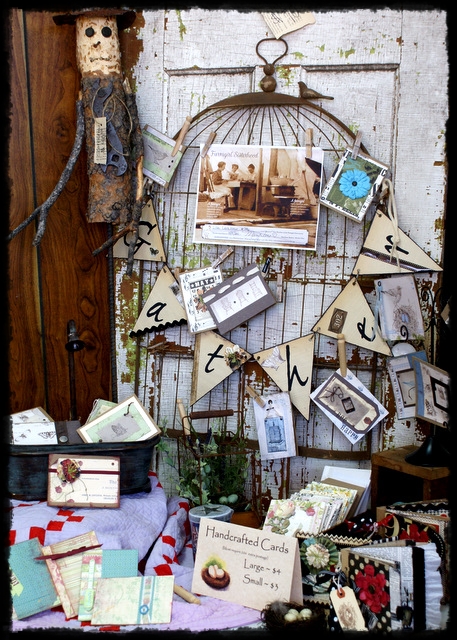 Anita made soap and gift baskets for them. Michele made birdhouses and washcloth/scrubby sets. She also knitted a large afghan that resembles an Amish quilt. I made potpourri and jewelry and my sister sold her jewelry too. Lisa's daughter, Melaynee, made baby blankets and she also brought some vintage goodies to sell. Jacki (Lisa's niece) sold Gold Canyon candles. Sharee (our pastor) sold gemstones, gorgeous scarves and she offered free massage therapy and Reiki.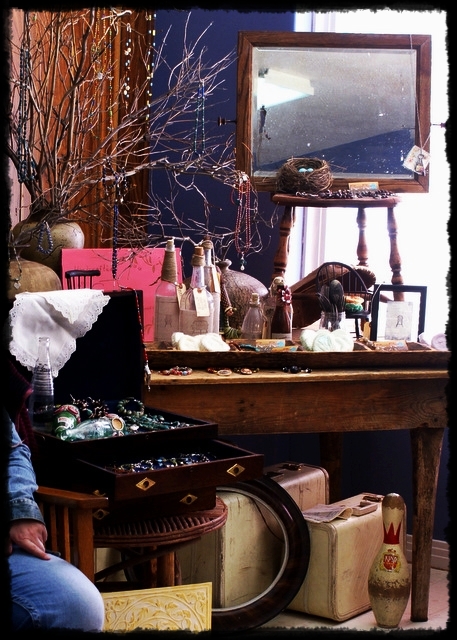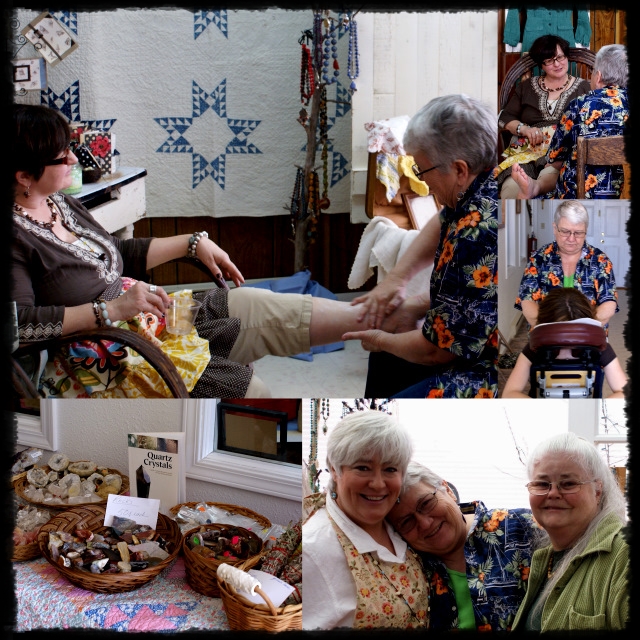 Above: Lisa enjoying Sharee's healing hands. Lisa had knee surgery a couple of months before I did. Also, Connie (bottom right) made the most charming bird nest necklaces and earrings.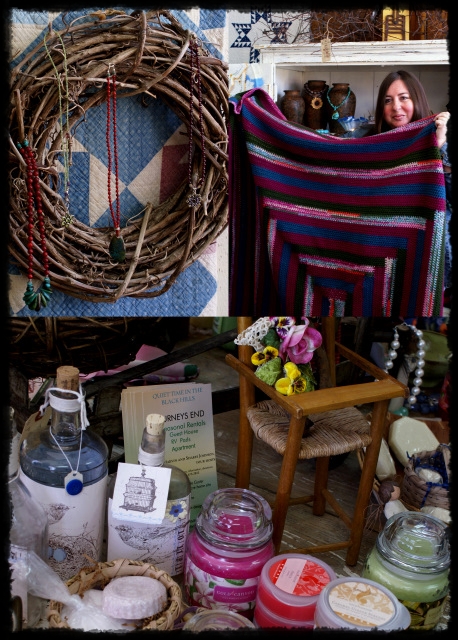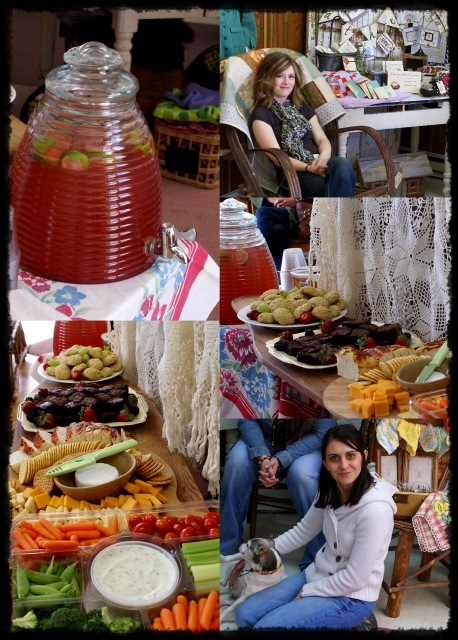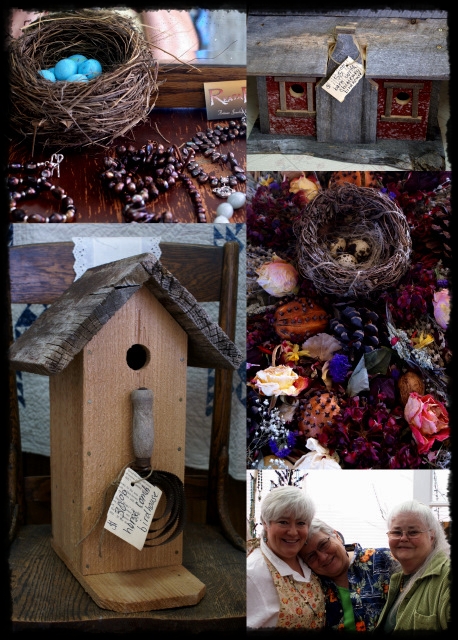 We didn't have a "regular" get-together last month. The show was our group project this time. Below is my Rat Terrier, "Dotty", she enjoys being a party girl – she was taking a break from working the crowd, lying next to her favorite mag.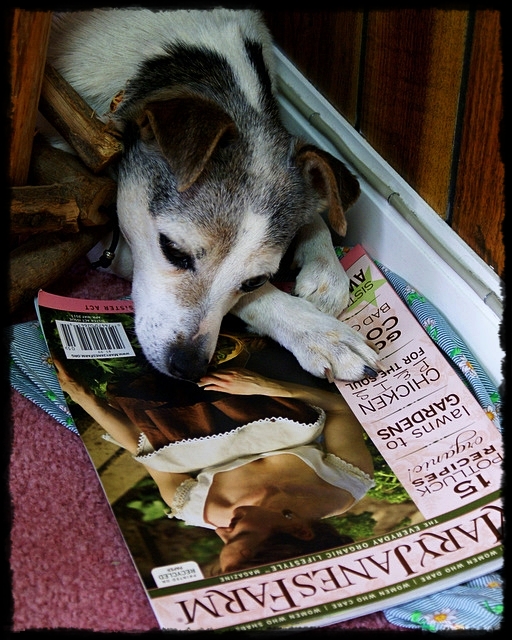 Meanwhile, back at the ranch … I finally got my hot little hands on some Buckeye chicks!! I read about them last year and placed an order, but the breeder over-booked. This year I put my name on the list early. Buckeyes are the only American breed created by a woman (in Ohio). These lovely chickens have a devout following. They look similar to a Rhode Island Red, but they have a pea comb rather than a straight comb. They might also be a little darker shade of that yummy mahogany red. Buckeyes are exceedingly friendly birds, gentle and easy to handle. They're good layers of brown eggs and are good eating too. In addition to their many appealing qualities, they take me back to one of my very favorite childhood stories, "The Little Red Hen."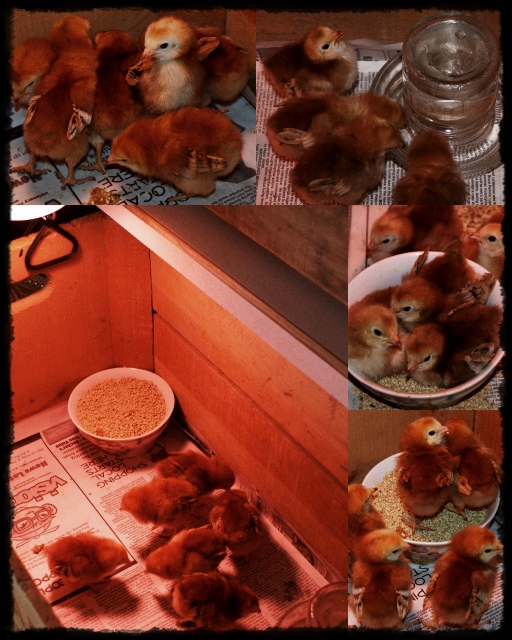 The most recent wild birds to return are the swallows. Oh, how I love them. I've got six birdhouses mounted on posts for the swallows and bluebirds.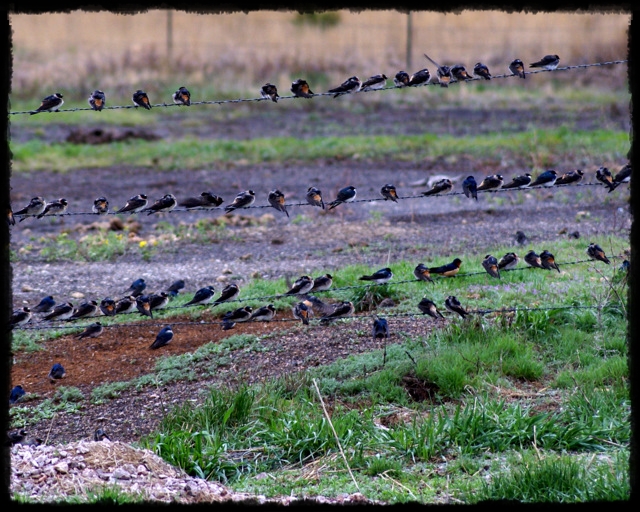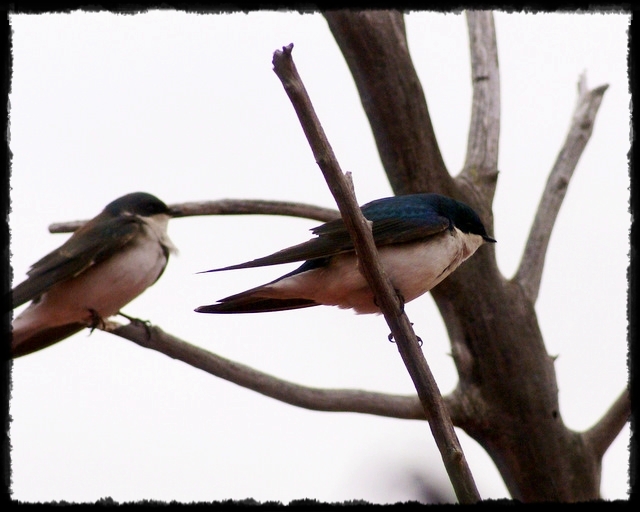 On other fronts, I planted garden seeds a week ago, but I'll wait for a couple more days to put plants & flowers out. Our spring has been slow to come and cold! I think it is actually a good thing and more normal than not. The fruit trees sometimes bloom due to an early warm spell in April and then we get a hard freeze which means no fruit. I potted some pansies for inside. They hold me over until I can get my hands in the dirt outside. What are your favorite flowers to plant? I love so many, but pansies and geraniums are list toppers. I bought some old-fashioned lovelies this year, Stocks. They are so fragrant. I think I'll plant them in the flower bed and around the rim of my garden tank.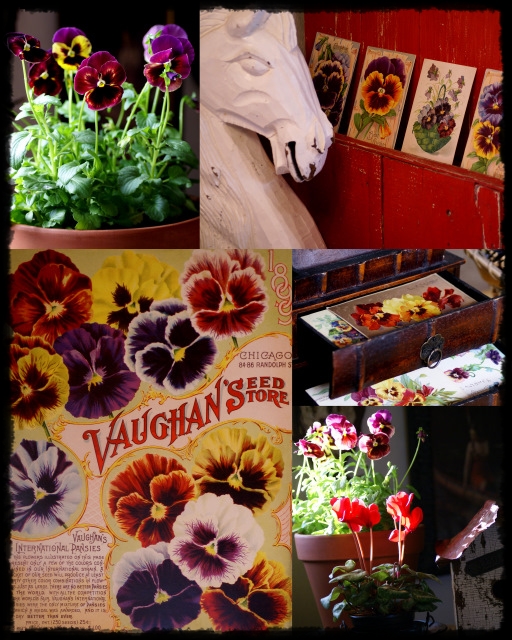 I experienced a first on Easter weekend. I became a great aunt for the first time. My sister's eldest son, Mac, is now a daddy and a proud one … he is so doting! He and his wife, Lisa, decided on the name Oliver Liam. My sister, Beth, is in Grammy-love and since she lives nearby, she'll get to spend a lot of time with Oliver.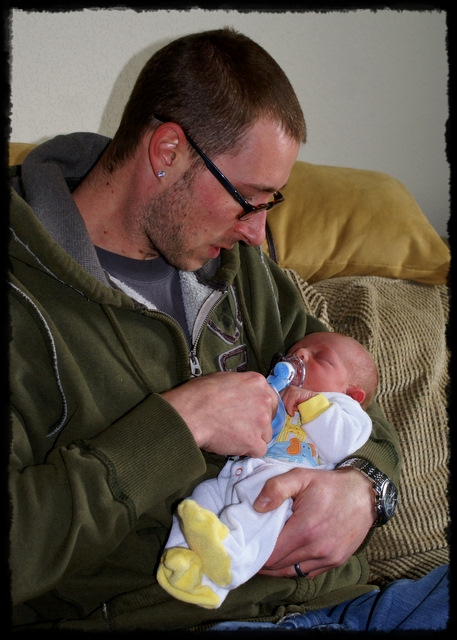 One last goodie. Do you like home-made egg noodles? We sure do. I made chicken & noodles recently. Served on mashed potatoes, ahhhh, now we're talking comfort food. Noodles are so easy. I make them on the thick side and cut them with scissors, then again into 2″ pieces.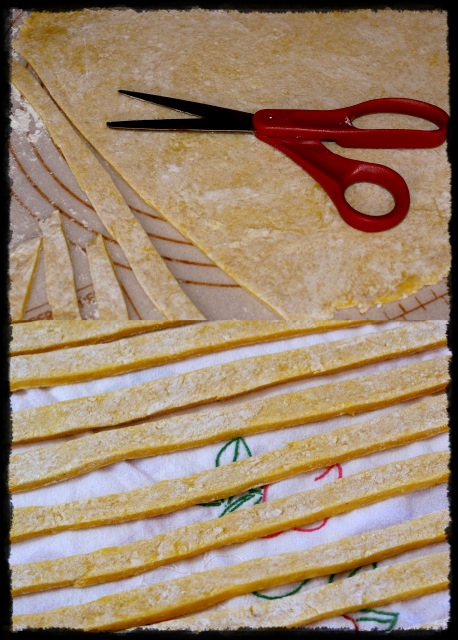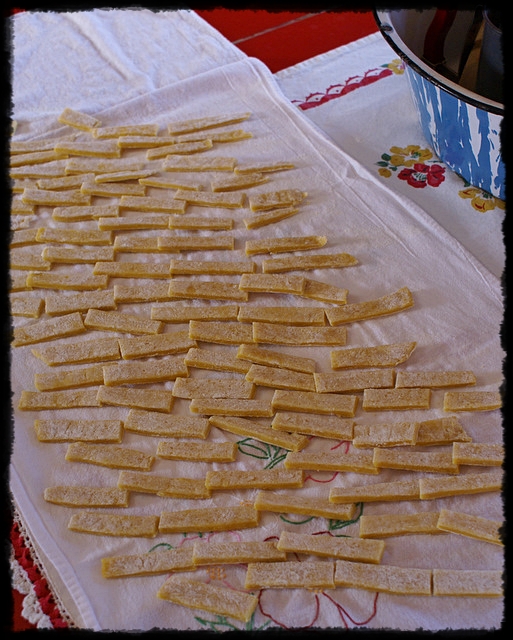 I'm about caught up with letting you know how I & my farmgirl pals are doing. Even though some of us don't travel very far from home, we sure "cover a lot of country" in a month's time. I bet you do too. If you were to look over your shoulder, what are the highlights and high spots in your little corner of the world? I love to hear how other farmgirls fill their days.