I could fill a phone book listin' all the ways that MaryJane Butters has influenced my life!  The biggest change has to be my family going organic in the foods we eat.  But, in these tough times, how does a typical Suburban family go organic yet stick to a budget? I'll tell you how…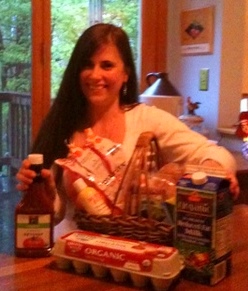 At first, I was skeptical when it came to organics, thinking, "If it's on the shelves, it must be fine!"  "Health" conscious, I thought we ate well, but after reading MaryJanes Farm Magazine, I became more aware of what really was in my food.  Pesticides, additives, and chemicals were in almost everything we ate!  I learned that with a Standard American Diet, once a child reaches five years old, he/she will have eaten seven pounds of additives!
Fate had a hand in me finding MaryJanesFarm early 2010.  For months, starting in 2009, I was sick – frequently. My family was constantly on antibiotics, "regulars" at the doctor's office, one illness or cold, one after another.  Then, I read my first MaryJanesFarm Magazine, and my life changed.
Going organic was gradual.  At first, I just wanted to earn a Merit Badge!  I hadn't planned on changing our lifestyle.  Not sure where to start, I went with produce.  Onions, of all things!  Cutting them, they looked good – no ring of residue I noticed inside "conventional' onions.  As I ran out of something, I'd replace it with the organic version…and as I did, we ate and felt better.   Now, we have more energy and are hardly ever sick.  Each year, my daughter missed up to three weeks of school being sick.  Since going organic, in a year and a half, she's missed ONE DAY!  Our pediatrician thought  we'd changed doctors since we hadn't been in for so long!
Soon, my home was 100% organic.  I also had to stay in my budget.  And I do.
I don't shop at one place, but don't run crazy, either.  By buying store brand organics, I save on basics such as canned beans, butter, and milk.  Most of my shopping's done at Shoprite, a mainstream store with a lot of organics.  Do your research.  Go to your favorite grocer, but buy organic whenever you can. Most stores have a savings card, and by using it, you are sending messages about what you buy. The more people buy organic, the more the stores will carry it. When I use my savings card, I get store coupons at the end of the sale with my receipt.  More and more, those coupons are for organics!  Costco also now carries organics.  I've found organic eggs, toast bread, organic granola bars, olive oil, sugar, and chicken to be inexpensive there.  Trader Joes, another store, has the lowest price on tomatoes, lemons, frozen spinach and organic mayonnaise.  I love Whole Foods for baking needs such as organic flour, and breads when I can't find the time to make my own.  The trick to staying on budget is knowing where to go for what.  On my fridge, I keep a running list of what's needed.  Don't go to a store just for one item.  I  go to Whole foods, the farthest from home, bi-monthly, but Shoprite and  Costco weekly, and on the same day.  I "stock up" on non-perishables, sales, or items  I can freeze.  You don't want to use up all your gas driving everywhere at once!  I recently found Fair Trade organic coffee on sale at Target.  Keep your eyes open and know what's a good price!  I love MaryJanes' beef, and order  in bulk a couple times a year.  In summer, I buy my produce at our local Organic Farmers' Market.  In an ideal world, I'd buy everything from small businesses and locally, but right now, I do the best I can.  For us, it's buying organic.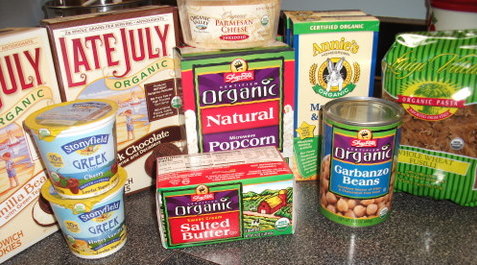 Use coupons, but only if it's cheaper than the store brand to do so.  Many times, there's a coupon right on the product!  I take advantage of the "Buy two, Get a Dollar Off Now!" coupons whenever I can.  Most brands have websites, often with printable coupons and offers. Try  http://www.organicvalley.coop/, and http://cascadianfarm.com/.
Eating organic doesn't mean being deprived – at all!   My daughter used to want those little packaged processed muffins she'd see other kids have.  I make my own little snack muffins, and she adores 'em!  I use the recipe for "Healthy Corn Doggies", page 83 of  MaryJane's Outpost, making mine with mixed veggies, baking them in mini-muffin tins. We  also like the occasional "sandwich cookie" from Late July brand, or indulge in organic tortilla chips and salsa.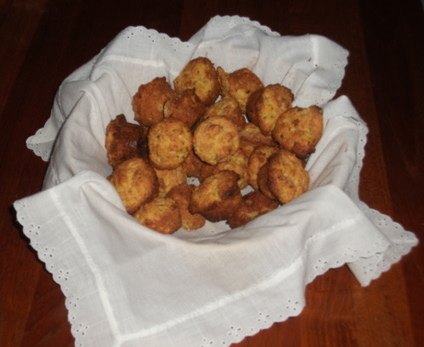 MaryJane's Healthy Corn Doggies – my daughter's favorite lunchbox or after school snack.
If you've wanted to eat organic, but thought it couldn't fit your budget, try it.  I bet before long, you'll be going, going… GONE ORGANIC!