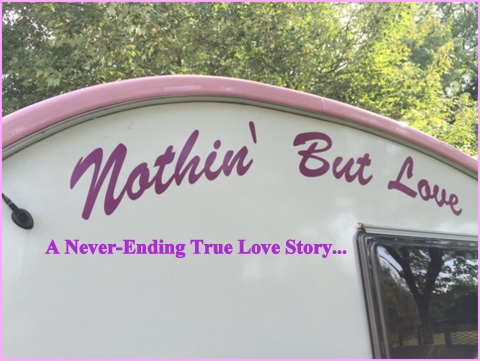 My husband and I dream of owning a camper, someday driving across the USA. Recently, I met a special glamper and "Sisters on the Fly" member who did just that with her husband. Now, she's traveling alone, on a special mission, carrying on her husband's legacy of love.
We mentioned Alison Miller in the Aug/Sept issue of MaryJanesFarm in our "Camp Like a Girl" article. (If you don't have a subscription to MaryJanesFarm, subscribe here.) I first noticed Alison in a Facebook group, "Glampers on the Loose." There, I'd dream, admiring glampers, but it was a post by Alison, the spunky, beautiful blonde driving a pink tab trailer and matching car, that moved me to tears. Ever watch a movie or read a book like Nicholas Sparks' The Notebook, and wonder if life is ever really that romantic?  A few moments with Alison and her love story, and you know it is.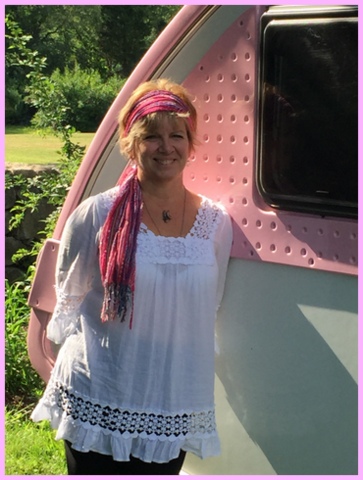 Born in Ft. Hood, Texas, Alison's family moved around, settling in New Jersey, where she graduated from high school. Alison first met "Handsome Husband" Chuck Dearing as a recently-divorced, single mom with three small children and living with her mother. Chuck, a neighbor, knocked on the door looking for a parttime babysitter for his young daughter. Alison remembers answering the door in her "ugly, government-issue glasses" and butterflies in her stomach.
A friendship grew between Alison and Chuck, but her mom could see the sparks between the two. Always thoughtful, Chuck once got friends at work at McGuire Air Force Base to pitch in for groceries for Alison and her children, putting the rest of the money into a signed card. Love grew, and they married, raising their brood of four together.
Their 24-year marriage was a fairy tale; they were very much in love. Photos show them staring into each others' eyes, laughing, kissing, dancing. Whenever they'd dance, Chuck always dipped his sweetheart at the end, making Alison weak in the knees. Instead of automatically answering "I love you, too," they validated each others' adoration with "I feel loved."  Alison and Chuck truly cherished one another. Chuck was incredibly romantic, and they loved romantic movies. Their favorite was "PS, I Love You".
Chuck also loved traveling. After he retired from the Air Force, the couple decided to sell everything and travel. (They traveled, not camped. Alison insists she's not a "camper.") Chuck was the planner, the route-mapper and adventurer; his wife happily went wherever he wanted, always feeling safe and protected by her husband's side.
While visiting their daughter in Oregon in 2010, Alison had a friend in New Jersey who was losing her battle with cancer. Chuck bought his wife a ticket to see her friend. Dropping Alison at the airport, he noticed a BB-sized lump under his wrist, which grew bigger in three weeks. Back in New Jersey to join Alison, he visited their doctor. Chuck had an aggressive form of cancer.
Treated with five surgeries and massive radiation, he seemed okay with his odds, which looked good. In between doctor appointments, they traveled.  While in Florida, Chuck made the decision for no more CAT scans.
It was blue skies under a sunroof, dancing under stars, and Willie Nelson on the radio. They traveled together four years until in Arizona, when Chuck started to feel sick with bad back pain. Alison thought they should stop traveling. Chuck felt it might be kidney stones or old injuries, but he eventually landed in the hospital. As friends called to say goodbye, Alison answered the phone, "Nothin' but love here."

They'd danced their last dance under the stars in Death Valley. Her love passed at age 60, with Alison and their children at his side.
Before Chuck passed, Alison asked him to call her phone. He ended his message, "PS, I love you."
Her son Nick, a firefighter in my town of Newtown, CT, texted Alison a song he thought she should sing at the funeral: "I'll Love You to the End." He didn't know then it was the song from the movie "PS, I Love You." At the service, Nick played guitar and Alison sang with a confidence she didn't know she had.
Alison had told Chuck she'd continue traveling, painting her car pink so he could find her. He'd replied, "I'll be looking for you."  He requested she return to four places they'd visited to scatter his cremains: Crater Lake, Oregon; Dry Tortugas in the Florida Keys; Chief Crazy Horse Carving, South Dakota; and Little Big Horn, Montana.
Alison had had a career in hospice and bereavement, and was a 9/11 volunteer. She knows grief is isolating. With no home base, she didn't want the loneliness of hotels without her husband, so she bought her glamper, a tab teardrop with a retro design. The pink paint was custom-made especially for her by a painter wanting to give her courage. It's named "Chuck's-Watchin'-Over-Me-Pink."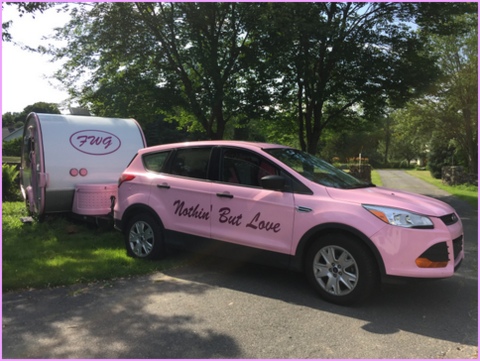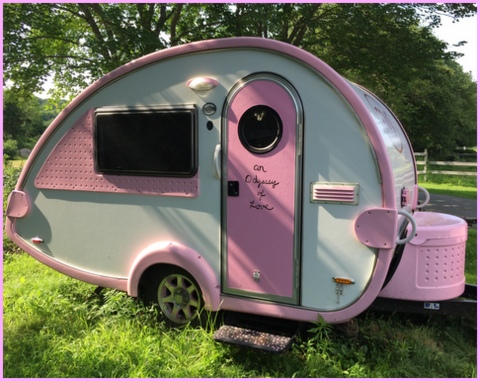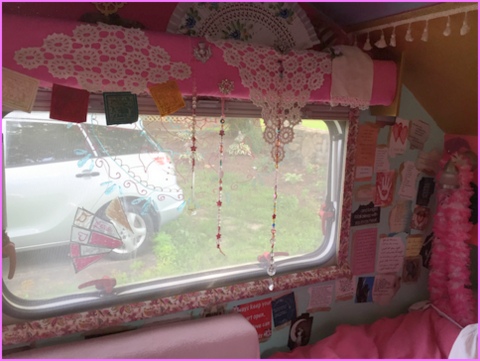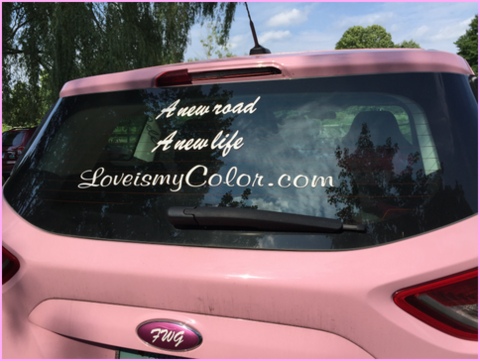 If she hadn't traveled with Chuck for four years, Alison wouldn't be doing what she's doing now. On a mission to honor his legacy, Alison's been on the road over two years so far. Each of their kids have joined her for a time on her "Odyssey of Love." She doesn't use a map, and remembers Chuck saying, "Whenever you're lost and you think to go one direction, take the other." The pink, a color of strength and joy, draws people. Once, a complete stranger approached, saying, "Chuck wants you to know he'd never leave you without a road map." She's met people everywhere, and feels the entire country is cheering her on. If you're lucky enough to meet Alison on her journey, you'll feel the love. It radiates from within her. With all the craziness going on in the world, Alison's message is truly "nothin' but love."  I believe there are angels among us … and I think Alison is one of them.
*Alison is collecting wedding photos and love stories after finding some old wedding photos in an antique store. If you'd like to share yours with her, send them to: odysseyinpink@gmail.com.
Until Next Time…Farmgirl Hugs, Nicole