We are fairly new at this business of raising cattle and even though I have a cattle background I don't feel that I know much.  My husband, being a retired Engineer, is a book learner.  He loves to read, learn and soak it up.  I'm more of an emotional learner.  So, I just learn by what I observe when I'm around the cows.  They've taught me a whole lot.
.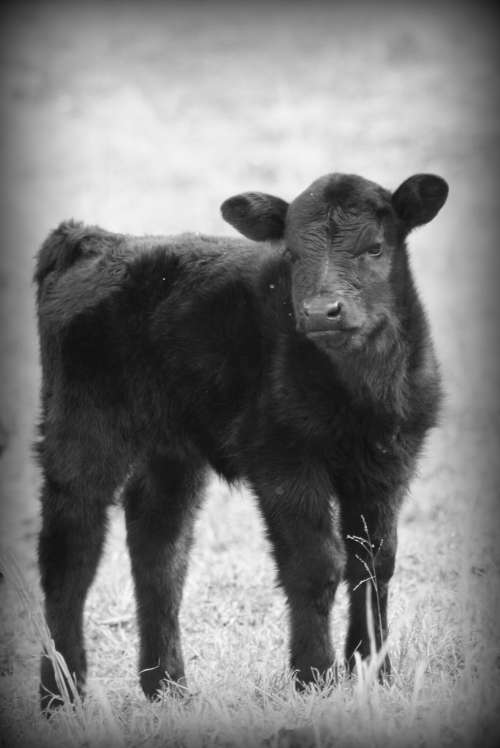 .
Being the kind of learner he is, my husband signed up to take an Advanced Master Beef class.  It is a seven week class, three hours every Thursday night.  I was excited for him.  And for me, because that meant that every Thursday night I didn't have to cook supper (a meal was included with the class)!
.
But guess what?  About that time he took a nine week Engineering Consulting job… and guess who is taking the class?  Yep, you guessed it.   There I sit, every Thursday night, with about 100 men.  And a few very sweet Farmgirls that are there with their husbands.  I'm the only Farmgirl all by myself.   People are nice and they smile at me.  And ask me why I'm taking the class.
.
They may ask that because I sit there for three hours enjoying my crochet.  It forces me to sit and slow down.  (Remember my New Year's Resolution that I wrote about here?!)  So I kind of look forward to Thursday night where I sit down, open my thermos of coffee, pull out my crochet work and relax.  Every week we have a different topic with a different Instructor and it's quite enjoyable.
.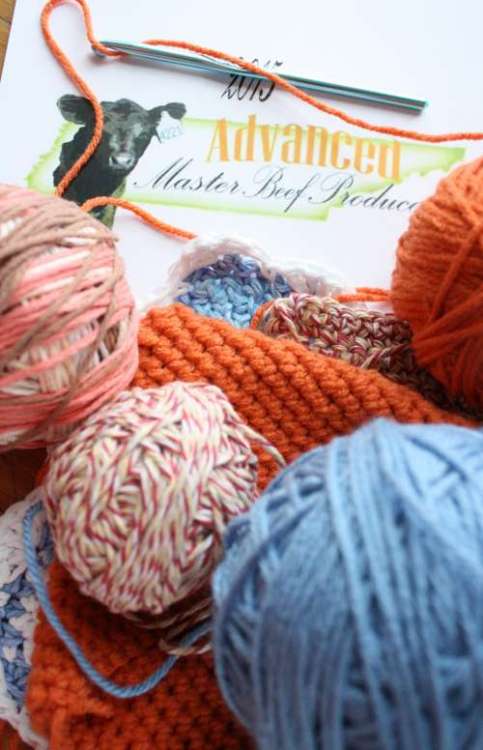 .
Because I'm not much of a sitter, I listen better when I have something to do with my hands.  I think some of the Instructors are surprised when they ask a question and I raise my hand (with the crochet hook) and have the right answer.
.
So what have I learned you ask?  I've learned things I never wanted to know.  Like all the diseases your cattle can get.  How to pull a calf (and not break their legs doing it).  How to understand the EPD's that come with your Bull (or hopefully they come with your Bull).  How to handle your cattle properly so you don't get hurt or killed.  Some Thursday nights my head is so full of information I'm a wired up mess when I get home.  (Or that could be the thermos of coffee I consumed during the three hours.)
.
I'd been thinking that I would share with you some of the things I've learned in this class about cows.  But it is just book stuff.  So, instead I decided to share with you the things I've learned about cows by watching and being with them.  The emotional stuff.  So here we go.
The birth of a baby calf is such an amazing thing to witness; probably the most incredible part is how quickly they stand up. Within minutes of being born the Momma is encouraging them to get up and nurse. I don't think I've ever seen an animal that is as maternal and nurturing as a Momma Cow. It makes me cry (and smile) every time.
.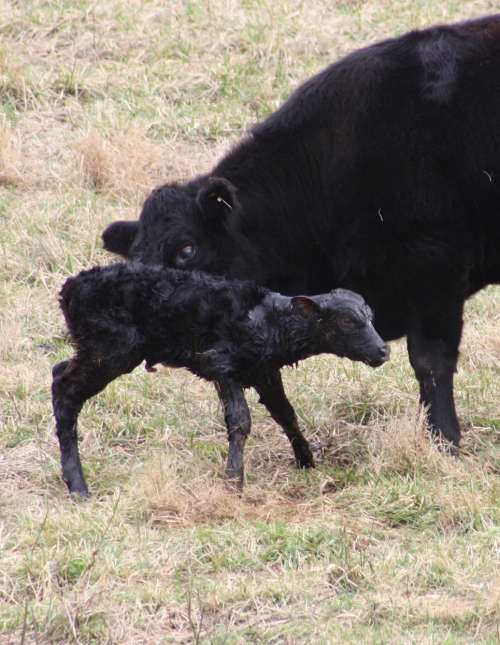 .
A very calm, friendly cow will turn into a different personality when she has her baby. She becomes a ferocious Momma Bear if she ever feels that her calf is threatened in any way. The dog that was her best friend the day before her calf was born becomes her biggest enemy the next day – especially when the calves are begging to play!  (Belle has learned to pretend she isn't looking at the calves!)
.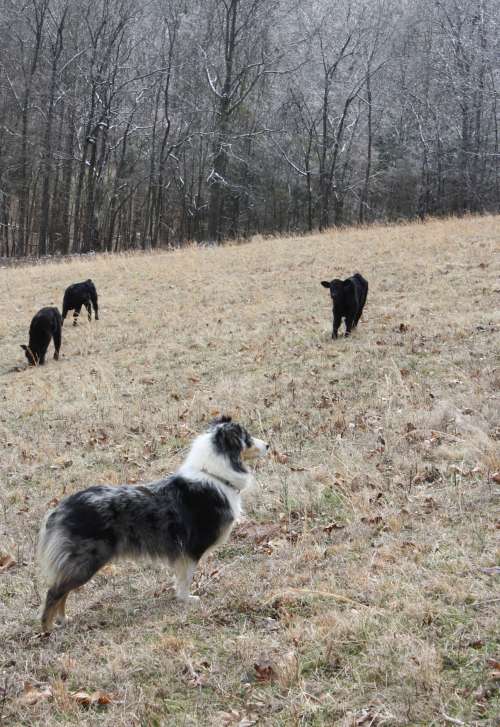 .
A Momma will often hide her brand new baby in a safe location so that she can go eat or drink. The baby will not leave the location, but will quietly wait for the Momma to return. And of course, they always do. (I don't have a picture of a hidden baby calf because believe me, they are hidden well!)  We had a Momma cow that I knew had delivered; all the signs were there.  But no calf.  I also knew that wherever the calf was, it was fine because the Momma was in absolutely no distress.  It was 4 days before she showed me her baby!
.
It is important to the Momma Cow to have a clean, nice looking calf. She will lick and clean her baby and have it shiny looking on a regular basis. The baby learns from the first few minutes of birth to stand still and let himself be spit-shined! We've had calves that were half the size of the Momma and they still stood to be licked!  (In the Advanced Master Beef class I learned the "technical" reason why Momma's lick their babies.  But I guess I just want to think of them wanting their babies clean and shiny so they can show them off!)
.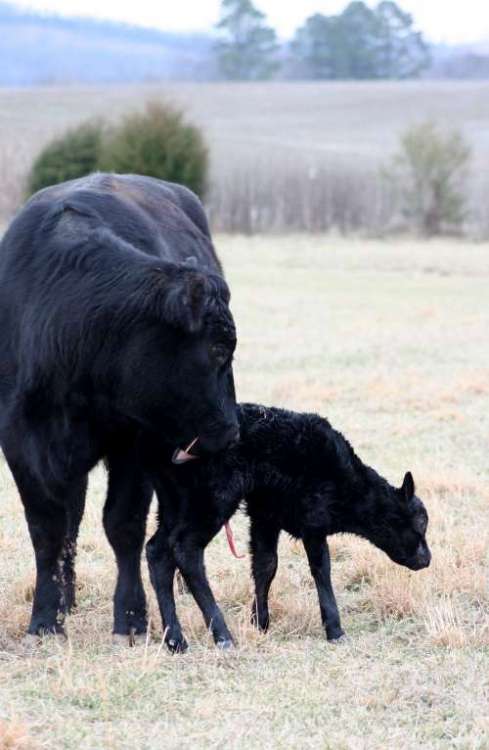 .
When a new calf is born the other calves love to come and introduce themselves. There is something really precious about one of the bigger calves softly nudging the newest baby in the herd. The big calf on the left in the picture below looks huge next the tiny brand new baby on the right, but she is really only 3 months old – they grow fast!
.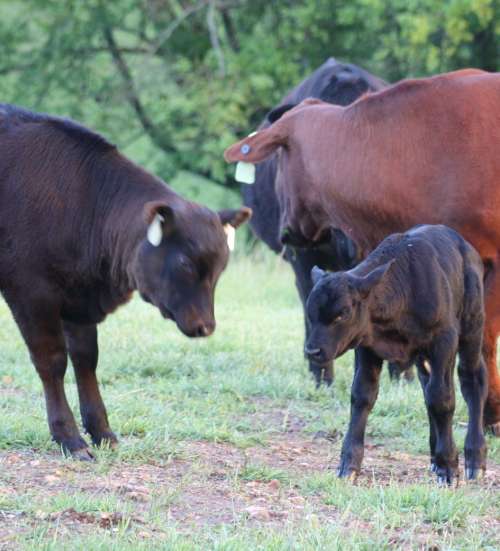 .
Cows are extremely sensitive and if a Momma loses her calf she will mourn for it like a human. Number 173, our Momma that had twins, mourned for days when she lost one of her twins. She was one of our very stand-offish cows, but when one of her calves died, she came to me and literally laid her head on my shoulder and bawled the saddest, most pitiful cry. And with tears rolling out of her eyes.  Of course, so did I.  Honestly, I cried until I thought I was losing it.
.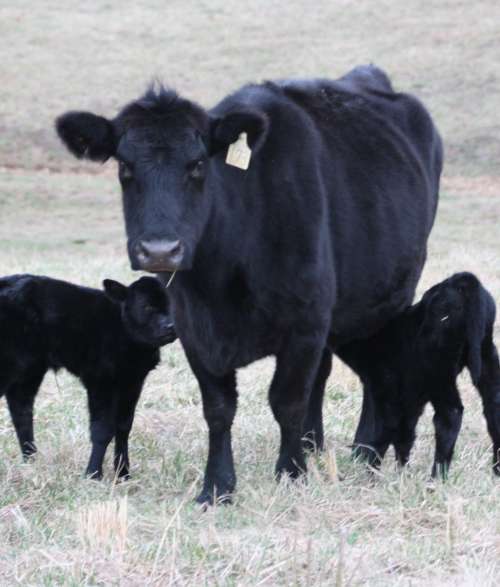 .
Calves grow up fast.  In just 3 short years they can be a Momma themselves.  However, one of the most special things is watching a calf born on our farm turn into one of the best Momma's around because she is so comfortable and happy with us!
.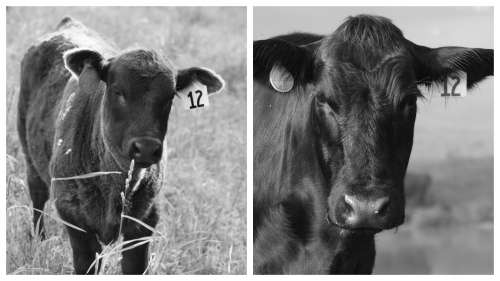 .
It's not a myth that Momma Cows will assign one of the other Mommas as a babysitter and leave their young babies while they go to the pond or to graze a little further afield. Its a very sweet sight to see one calm Momma with four or more babies!  (This is not as common here in the South where the cows don't have far to go to drink.  On the Ranch where I was raised in New Mexico we would see it daily.)
.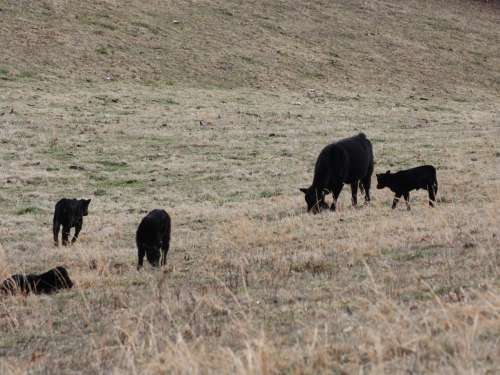 .
When Momma Cows have their calves they will hang out with the Momma that has the closest in age baby. They always remind me of human Mommies sharing in the stress and worries of having a new little one!
.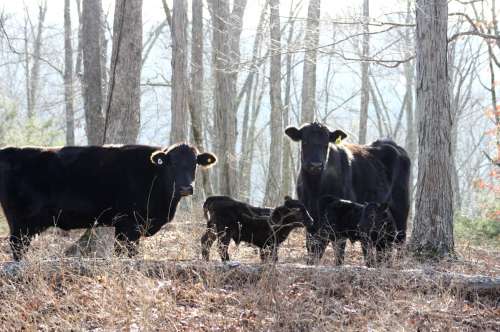 .
Every Momma cow is different in how protective they are of their newborns.  Some Momma's bring their baby out and introduce them to the herd immediately.  Others will keep that baby tucked away in the woods for weeks!
 .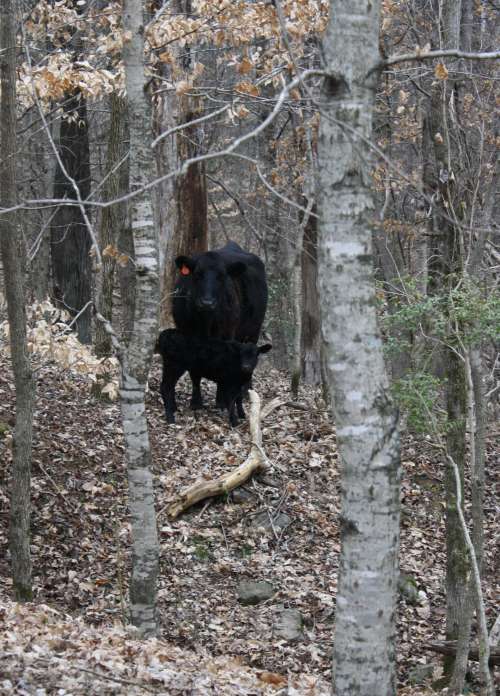 .
.
Cows love human companionship. The minute I drive down to my garden in the summertime they run to meet me there and will all stand around the garden fence watching me work.
.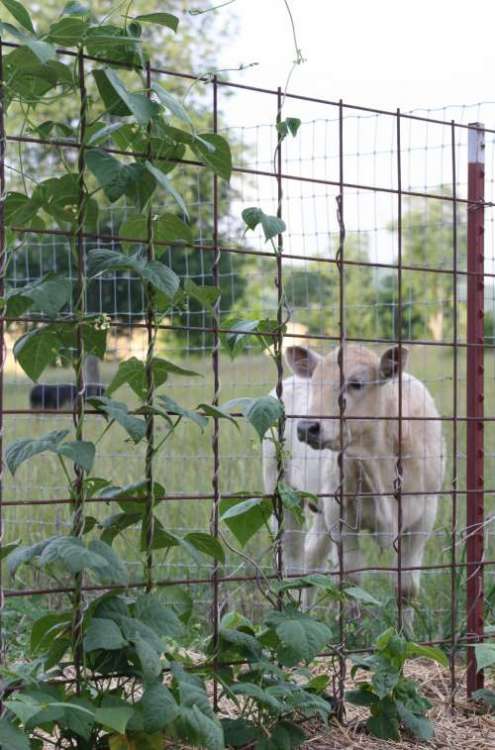 .
In raising our cows there is one thing that I've learned above all else and it is that cows are easy to love and extremely easy to get attached to.  And that I love every single baby that is born on our farm.
.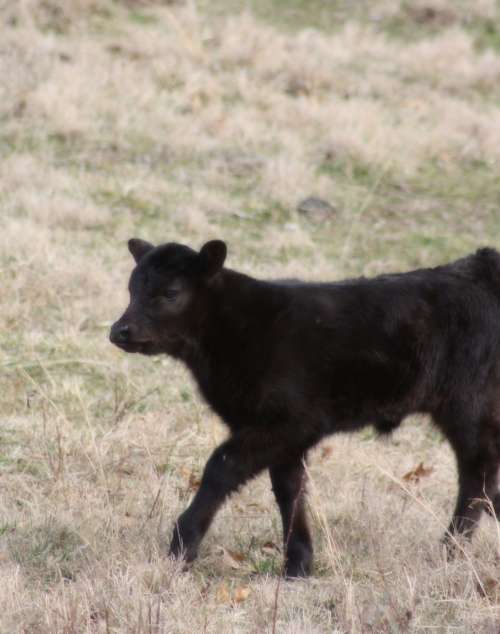 .
So, for those of you that might be thinking I am learning nothing in my class, I should set the record straight!  I have learned SO much and hopefully I will make myself proud and be a Certified Master Beef Producer at the end of the seven weeks.  I'm thankful for all the book knowledge and all the technical things… I just never want to let that rule my thinking in raising cattle.  I want to raise our cattle with knowledge… but with a heart too.  
.
As always, I'm eagerly awaiting your thoughts on my ramblings!
 .
Until our gravel roads cross again… so long.
.
Dori