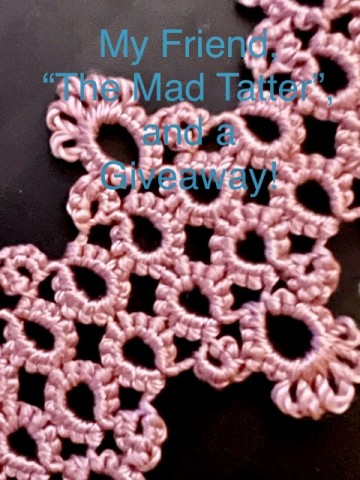 Don't you just love beautiful, handmade items? Something that I have always loved about "all things MaryJanesFarm" is  the devotion to sewing, knitting, embroidery, and other homesteading "arts". I myself am an expert knitter, and have taught classes for over a decade. I love keeping the art of knitting alive. My dear friend, Judi, is an expert of another art, bringing her "modern "spin" on an "old world" craft. Let me introduce you to my friend, the "Mad Tatter"!
I first heard of the art of tatting, through MaryJane, in her wonderful book, MaryJane's Stitching Room.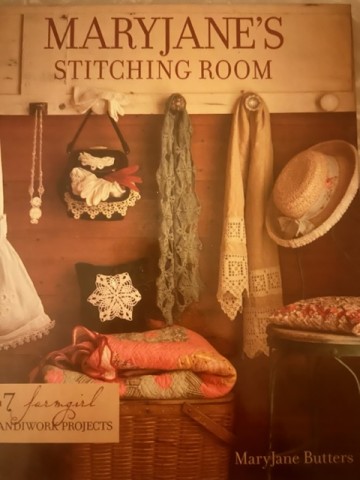 I was fascinated! I had seen tatting, not realizing what it was, mostly on pieces in my collection of antique linens – on the edges of vintage handkerchiefs, tea towels, and aprons. I marveled at the beauty – small, lacy loops of the tiniest thread coming together with the perfection of an intricate, perfect spider web; feminine charm married with the strength of knots.
I first met my friend, Judi, over ten years ago when we were paired together in a tent at our local Arts Festival. Over the years, we became close friends. She is a hoot – we always have fun when we get together. Tiny in stature, Judi has a big personality and an even bigger heart.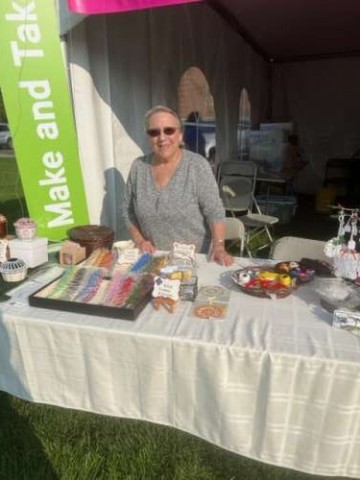 Judi is an amazing gardener, having retired a few years back from a career at a local nursery. She also shares my love for all things vintage!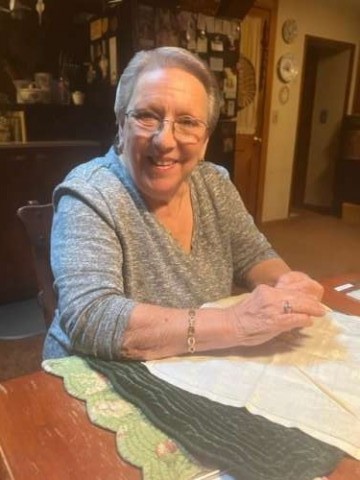 However, it is Judi's amazing expertise, skill and talent in tatting that always has me in awe. 
Judi first learned the art of tatting, when friends who had just gotten engaged visited Judi and her husband for a weekend back in 1978. Eileen first taught Judi how to do calligraphy. Later in the weekend, Eileen pulled out a box of thread and shuttles. Before heading back home, she left Judi with a shuttle and a spool of thread in case she wanted to practice. Judi loved the art, and has been making beautiful tatted treasures ever since.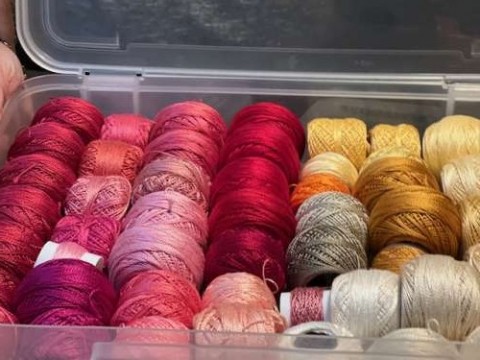 The type of tatting that Judi does is Shuttle tatting, done with a shuttle and DMC cotton perle thread #5 or #8, depending on the project. Judi says DMC brand thread has the best sheen.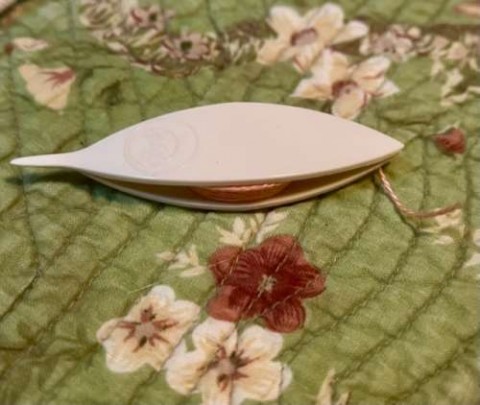 Not to be confused with Needle Tatting, which showed up circa the 1890's, shuttle tatting dates back to ancient Egypt, found in some of the ancient tombs, as well as ancient China. The pilgrims brought tatting to North America, and Australia was the latest country to adopt the art of tatting.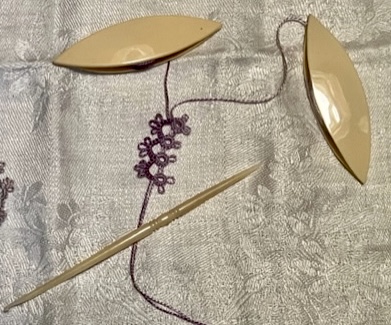 Using shuttles that come in all different sizes, shuttle tatting involves the looping and knotting of threads into knotwork to circles and rings, creating beautiful lacework.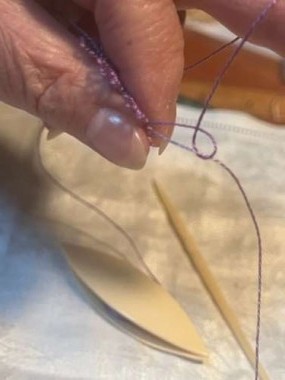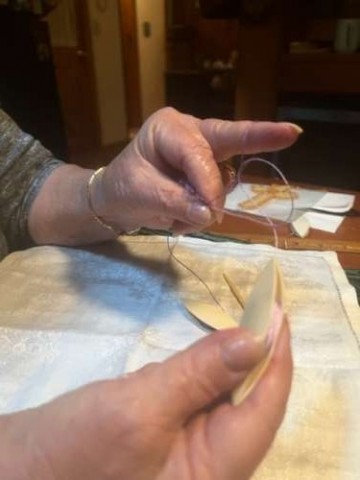 One of my favorite things that Judi does, in true "Farmgirl" fashion, is to repurpose cups, vases, and other vintage pieces into beautiful pin cushions.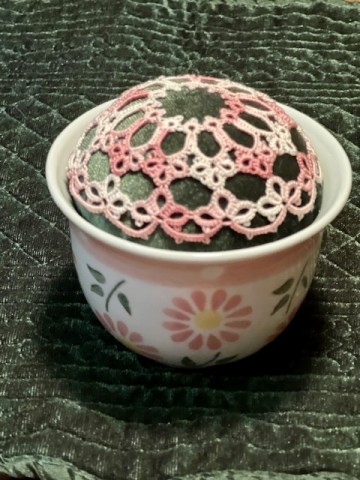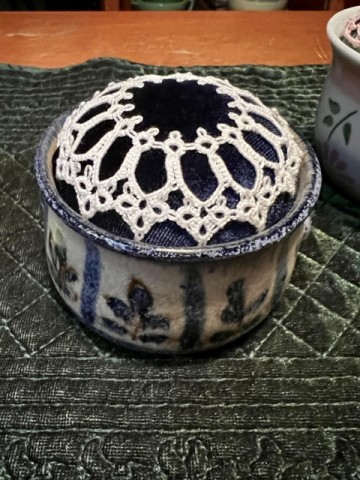 She made a special one just for me, from a vintage child's "Bunnikins" cup. When she saw the Bunnikins cup featuring "knitting" bunnies, she thought of me. I think of her whenever I sit at my sewing table.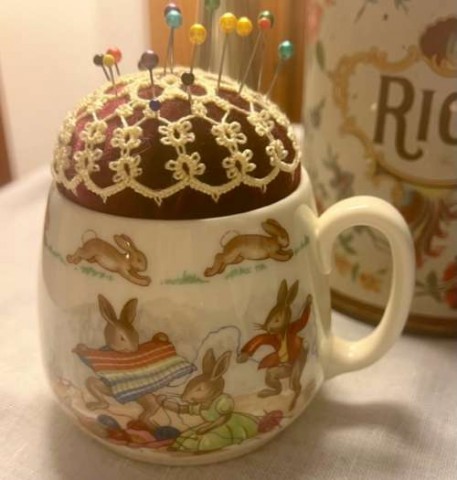 Judi takes her beautiful skill to a new level, with a "modern" twist. Instead of just tatting lace edges typically found on tablecloths, lace trims, pillowcase edgings, or vintage round doilies, Judi designed a pattern of tatting to "turn" a corner, allowing her to use straightline trim to create something new. 
One of Judi's special art pieces are her stunning bookmarks, which have become "The Mad Tatter's" trademark. Judi's bookmarks are destined to be heirlooms.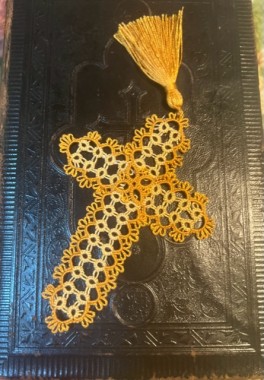 I love the one she made me for my 50th birthday last year. I think of her every time I read. I also sent one to my mama, which she cherishes, as well.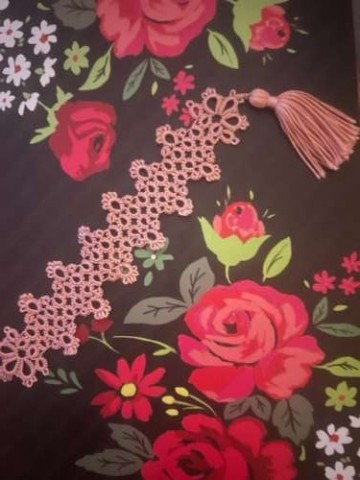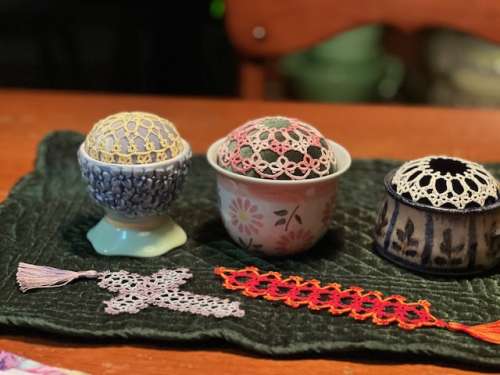 Would you like a beautiful tatted piece? Just in time for the holidays, I am doing a giveaway of one of my favorite samples of Judi's beautiful, talented work, a lovely holiday wreath pin.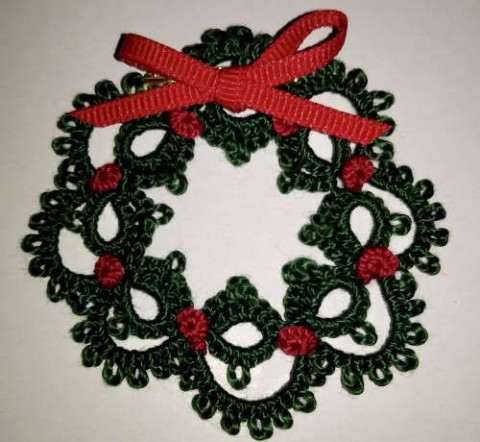 One lucky winner will be randomly picked and announced in next month's blog post. Everyone who leaves a comment will be entered in the drawing.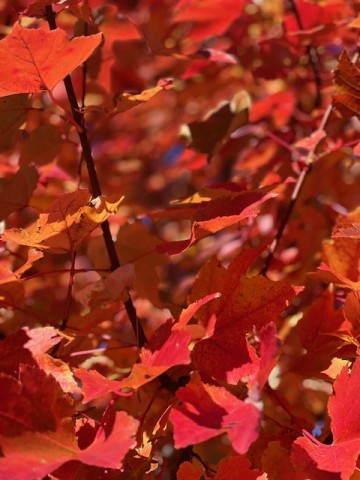 It's been a beautiful Autumn season here; hope you've had a nice fall, too! Wishing everyone a wonderful Thanksgiving, and start to the Holiday Season!
Until next time…Farmgirl Hugs, Nicole