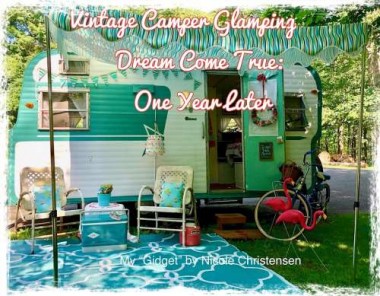 Last summer, my family found our "dream-come-true" vintage camper- a 1966 Skyline "Nomad", that we christened "Gidget" (thanks to dear readers who helped with a name in last year's blog). We were so happy and worked hard to get ready to debut her at our first "Vintage Camper Rally" last August. We've certainly learned a lot since then, and one year later, the decor's finished! Come take a tour and see the transformation!
Unfortunately, we haven't been able to go camping again since last year, but we enjoy spending time at home in the camper (except for winter, when she's winterized and put away). We drink coffee, eat dinner under the stars, and spend time "vegging" – often in the driveway! We love hanging out together and with friends in our little glamper (of course, we also LOVE camping)!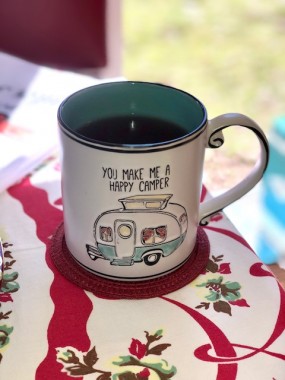 There's many ways to restore and decorate campers; we decided to go as original and "vintage" as possible with period accessories to match. Last summer, we painted the walls and cabinets to preserve the wood and brighten the interior. There were lots of details to tend to – plumbing, checking gas lines, and replacing things like missing lights and a broken closet shelf. With a vintage camper, there's also plenty of FUN stuff to do – decorating and making a cozy place to spend time! It looked cute even a month later, but now it's been a year, and Gidget's transformed! Outside it's 2018, but inside, it's 1960-something!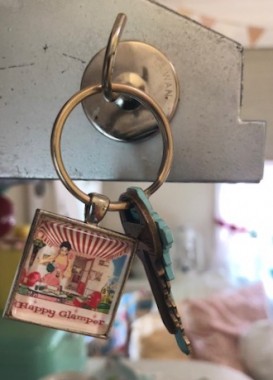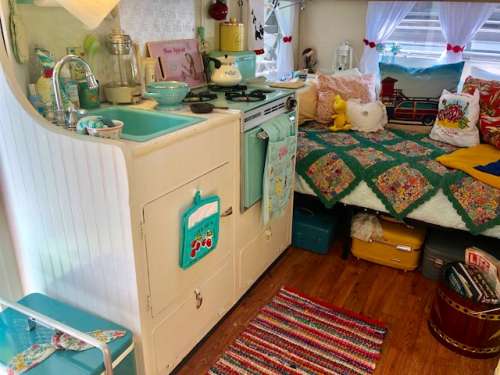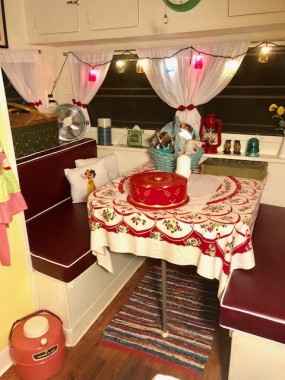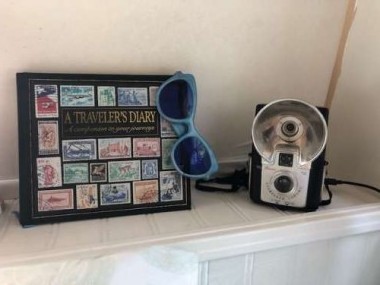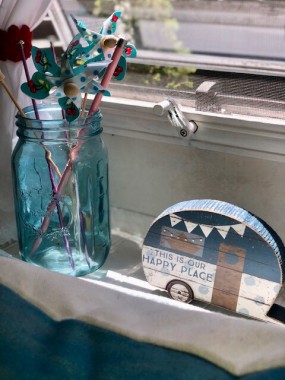 Outdoors, we've added an awning and bunting, purchased from Pink Flamingo Awnings. Awning rails were already in place, so attaching the awning is a snap! Hobby Lobby carries pink flamingoes made from the original Don Featherstone molds.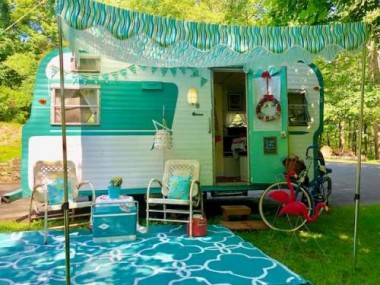 An outdoor rug, a vintage "lawn light" and other vintage camping items like a matching aqua cooler create a relaxing outdoor retreat. (If you can't find a vintage cooler, Coleman makes a very cute "retro" model).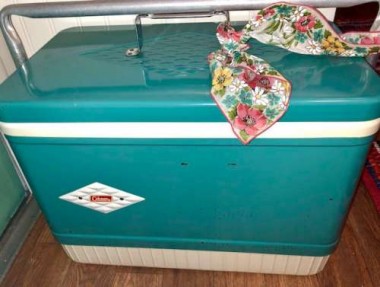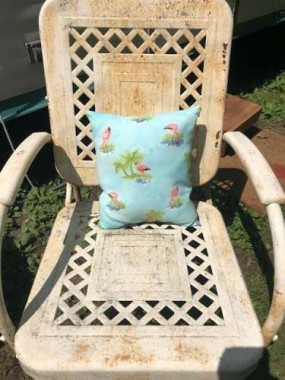 This spring, I found vintage "motel" chairs on a tag sale, cheap! I just need to sand them and will prime and repaint glossy white. Super heavy, they stay at home; for camping we use lightweight, retro-style webbed lawn chairs from Target.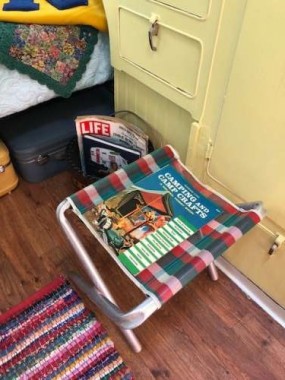 My friend Andrea gave me a vintage camping stool that was hers as a child. Its colors match and it serves as a great occasional table when topped with a tray. The 1960's camper book was 25 cents and is a hoot to read!
Our original camper steps aren't usable (yet) but a sweet 1940's stool is charming instead.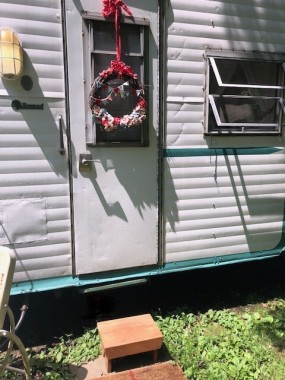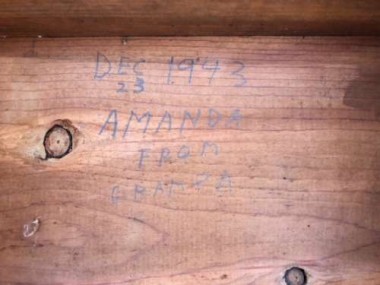 To display the model, year and our name, I used a child size antique chalkboard, attached to the door with Gorilla tape and small 3M hooks purchased from our local hardware store. These work great for a variety of things, indoors and out, and because they're clear don't "show". Outside, we applied them to the door for a wreath and our bunting; inside we've used them to hang large kitchen utensils in the pantry and for wall decor. It's a great way to keep from nailing into walls; just make sure you're using the right strength hook and tape for your items.
I believe in comfort, so we bought a new bed and memory foam mattress last year, which also serves as a daybed and had custom cushions made for the dinette which becomes a bed as well. I love how vintage linens bring all the colors together! I had so much fun sewing up all the throw pillows you see.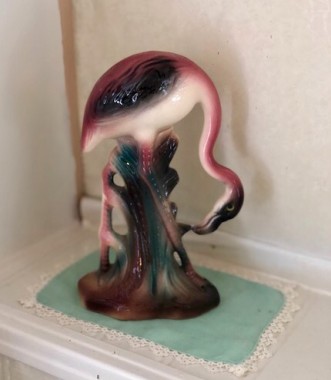 A nod to the "flamingo" camping theme of days gone by is found in the glass flamingo statue from the 50s. I found mine in a church thrift sale for $2.00. Similar ones can be found on Ebay and Etsy, and TJ Maxx and Homegoods have modern, small flamingo figurines each summer for around $6.00.
Displaying the camper year and our home state on the fridge are a vintage calendar tea towel and antique linen "Connecticut" post card.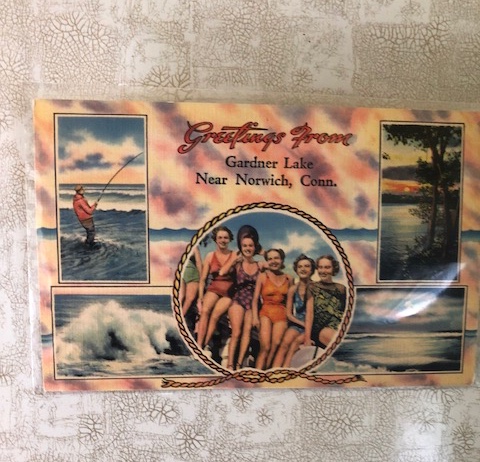 I also used a vintage postcard in the bathroom to disguise a flaw in the original wall.
At the Country Living Fair in Rhinebeck, New York this year, I stumbled across a mint-condition calendar apron in camper colors (doin' a happy dance)!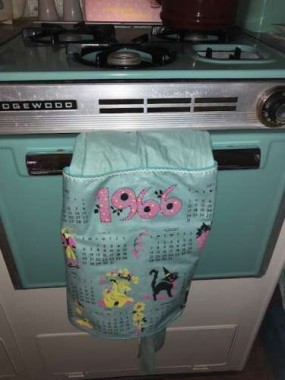 The bathroom is now done! We found that showers at the campsites are nice, so we decided not to reinstall the shower that was original to the camper. (Hot water and steam don't sound like a great combo inside. If needed, a portable shower can be used inside or out in a pinch, which charges using USB)! However, I'm thankful for a potty, especially in the middle of the night!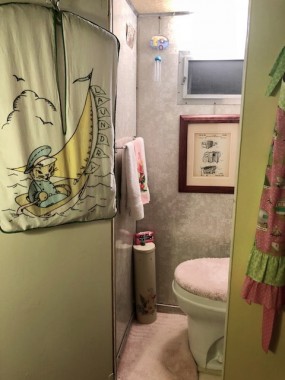 I pulled up the flooring found in the rest of the camper down to the "original" pearly flooring in the bathroom. Lots of scrubbing and the bathroom gleams to back to its 1966 original glory. I decided to go with a kitschy vintage flamingo theme.
A vintage Hawkeye picnic basket offers charm, and storage. I love the teal color of this one, complete with cheery yellow divided dishes.
My family and I love our little camper so much. I also love the "friends" represented inside: gifts from dear friends that fill my camper: MaryJane, Andrea, Julie, Val, Rose, Rachel, CeeJay,  Linda, Erin…I think of you all every time I step inside!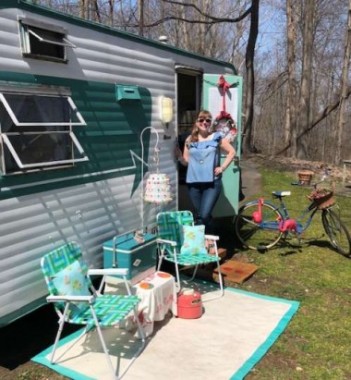 Of course, it's not all fun. Like owning an antique house, maintaining a vintage camper brings work and expense. She'll always need something done to her to keep in shape. A labor of love, the camper is truly our "happy place". Thank you, MaryJane, for inspiring me to be a vintage-glamping farmgirl!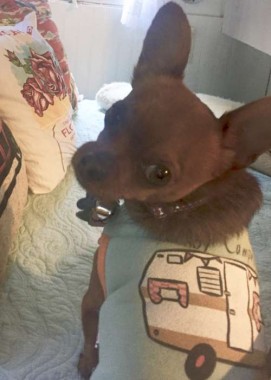 Hope you enjoyed our tour; remember to leave me a comment so I know you stopped by!
Until next time…Farmgirl Hugs, Nicole