It's January again…Happy New Year! I hope you had a nice holiday season, a time of warm greetings and sharing with family and friends.  The start of the holidays in late November marked my second anniversary sharing with all of you as the Suburban Farmgirl blogger. It seems as though Father Time has new running shoes, because time's just flying!    I'm so very thankful for all my farmgirl blessings!  Won't you join me in wishing Happy New Year, and a big Farmgirl "THANK YOU" to our darlin' Queen Bee, MaryJane?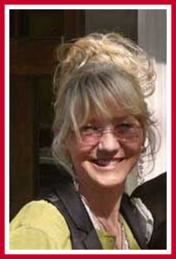 We  farmgirls sure are a lucky bunch! There's so many "gifts" that being a  farmgirlsister brings…
The Farmgirl Forum's been my go-to for so much…advice on everything from gardening to cooking to everyday matters. I love seeing what all my fellow "sisters" from all-over are sharing.  I've made so many friends through the forum; I can't begin to name you all. You've been there for me in some very tough times, especially last month!  And there's my farmgirl pen pals, dear Marlene from Iowa, and  Amy from Minnesota…we're always lamenting that we wish we lived closer!  Not long ago, I had the wonderful blessing of getting to meet my sweet pal Joey, all the way from Florida! She and her husband were on the East Coast, and we met them halfway in Massachusetts for lunch one afternoon. We'd become friends through the Farmgirl forum, but the minute Joey and I met in person you'd thought we'd known each other forever! Had it not been for MaryJane, Joey and I would never have crossed paths! An open heart and friendship are two very special gifts!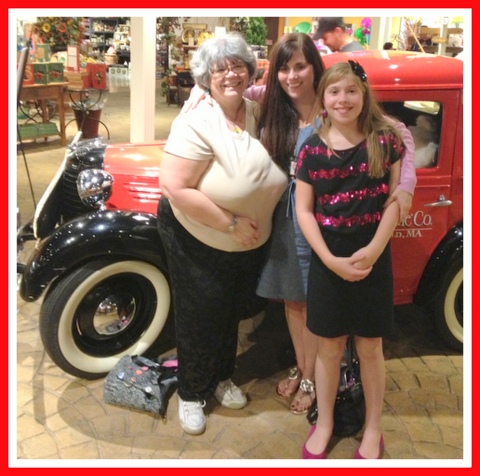 Joey, Nicole and Audrey.  Farmgirl Sisters!
We  farmgirls are kindred spirits…crafting up a storm, being creative, and cannin', cookin' and bakin' to our heart's content (in cute aprons, to boot)!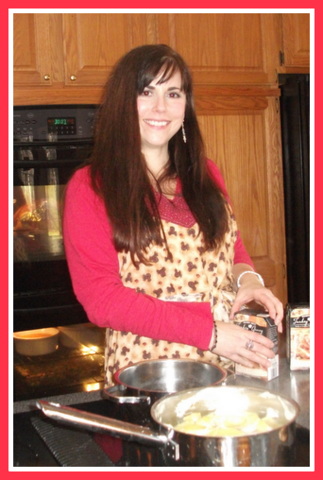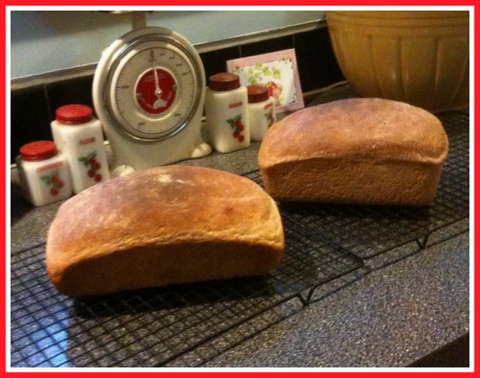 Happiness can always be found in the kitchen…
MaryJane also reminds us of the
importance of living an organic lifestyle
.
 Our households are healthier and happier without nasty pesticides, preservatives, or toxic chemicals.  A
healthy lifestyle
is an important gift.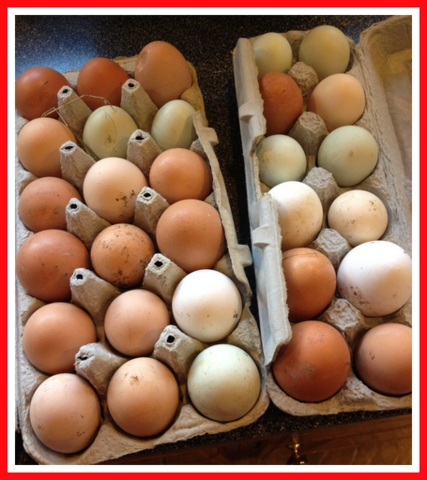 Organic, fresh-from-the-farm eggs, is there anything better?
Because of MaryJane, I'm composting and gardening with gusto!  We reuse, recycle, and re-purpose, looking at everything in a different way than before. We farmgirls have an "I can do it" attitude!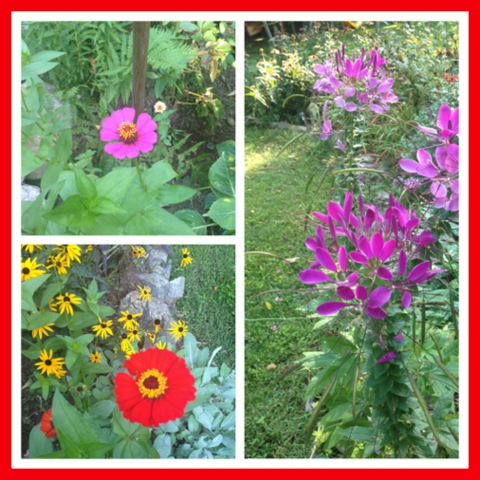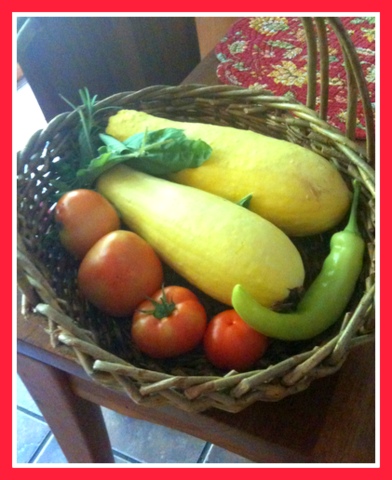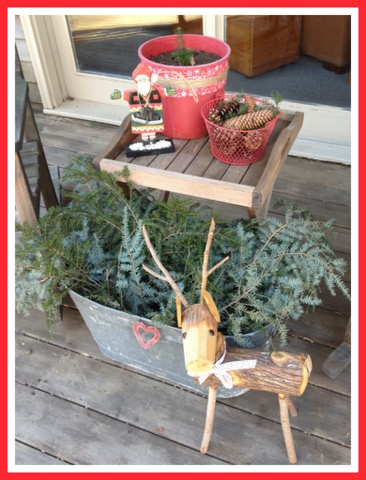 My holiday display at my back door this year featured many re-purposed items. I now look at everything differently, finding new uses for things all the time. Here, the washtub was someone else's cast–off.  For the holidays it's filled with simple greens.  There's a red egg-basket filled with pine cones.  To decorate my plants, like the baby spruce pictured here, I simply attach a fabric strip with a touch of hot glue, and tie with ribbon, raffia, or string.  Easily removed, it can be done with any fabric for any season, indoors or out, and burlap also looks great!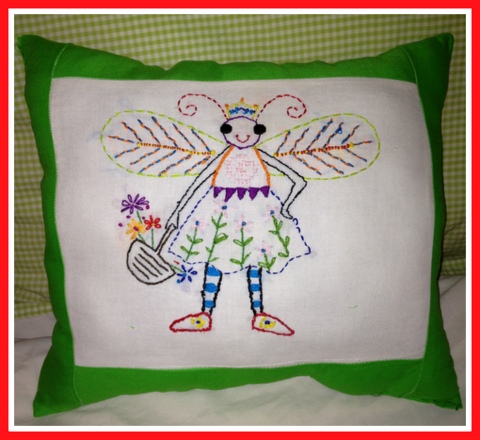 "Handmade Christmas" was one of my favorite Farmgirl Sisterhood Merit Badges to earn.  I've been inspired ever since to do more heart-felt, handmade gifts each year.  This was this my "Christmas 2012" gift to my daughter, a "bug" for my "bug"… a throw pillow embroidered and stitched up.  I found the embroidery pattern in the spiral-bound "Klutz" book, Simple Embroidery, edited by Marilyn Green.
Blogging as the Suburban Farmgirl is one of my best blessings ever. I receive such joy with what you all share with me!  I've learned to do so many different things, and look forward to sharing more with all of you in the coming year. And of course, I'm humbled to be in the company of my amazing, talented blogging sisters!  
MaryJane and her daughter Meg are just as sweet as can be…down-to-earth, and brimming with inner and outer beauty. MaryJane, you've enriched my life and the lives of so many others in countless ways! You're always an inspiration…in your lifestyle, your ideas, your grace, your creativity, and your family.  The world's a cozier, much better place because of you, and we farmgirls are eternally grateful.

  Thank you,  MaryJane, you are a blessing!
We Farmgirls all love you!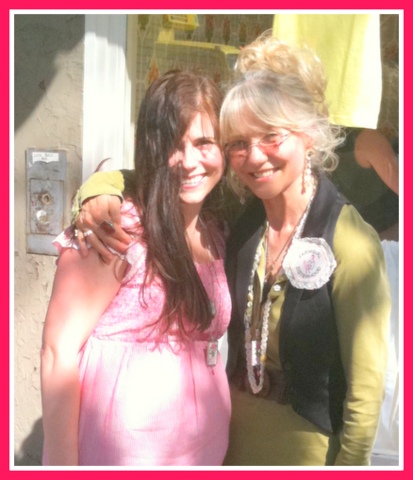 ****There's so much "negative" in the world, but being a farmgirl brings so much "positive". I'm a firm believer in Christmas magic. Farmgirls get to have some of that magic all year round.******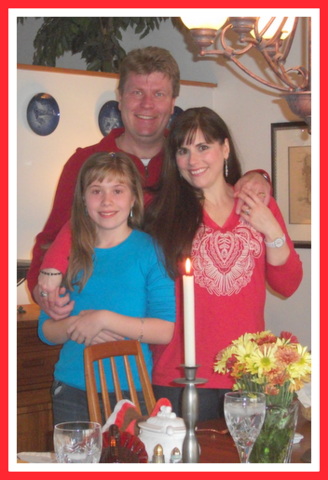 Join me in saying a big "thank you" to MaryJane

by leaving a

comment

below.

 

F

rom my family to yours,  Happy New Ye

ar

everyone! May 2013 bring much peace and happiness

.

  -N

icole