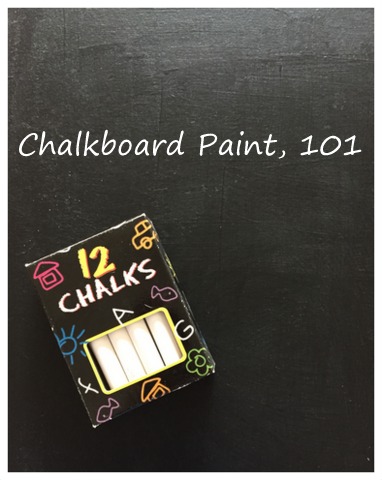 "French country", "shabby chic", "vintage" – my kitchen has a theme with two favorite things: chickens and cherries. I adore the bright, happy red of cherry-themed items. Much of the decor is antique and vintage, but it was a chalkboard with hand-painted cherries that I ordered from a charming catalog over a decade ago that made me smitten with a cherry-themed decor. As a kid in the seventies, we had a bright red rotary phone on the wall in the kitchen; next to it was a chalkboard. Mom would write phone messages on it, and the family grocery list. (Remember the Brady Bunch? Catch re-runs and take a peek at Carol Brady's kitchen…there's a blackboard in her kitchen, too). Through the years, my little cherries chalkboard has been the place we scrawl quick notes, to-do lists, doodles, and of course, the family grocery list. However, after over a decade of use, it no longer was writable. The surface wore out, and chalk no longer would make a mark. Before letting my cute little board go, I wondered if there was a way to bring its writing surface back to life. Could it be revived? Hence, my new love affair with Chalkboard Paint.
I didn't want to drive all around looking for chalkboard paint, so I called a few local places. I was surprised how many people had never heard of chalkboard paint. I'm talking about chalkboard paint, not to be confused with chalk paint. Chalk paint is a paint trademarked by Annie Sloan in 1990, which has a "chalky" finish and makes it easy to distress a piece of furniture (think shabby chic). I'm not talking about that. I mean chalkboard paint, paint that when it is applied to something, the surface becomes writable with chalk, just like a classic, slate chalkboard.
Chalkboard paint comes in spray cans, paint cans, and in plastic "squeeze" bottles. I knew I didn't want to use the spray form, since my chalkboard has a border and a decoupaged center I was afraid might get damaged if taped. 10-ounce cans can be found in paint centers and mass merchandise stores for about $10.00 to $13.00. I didn't want that much paint, so I went to my local craft store, Michaels, and with a coupon I bought an 8-ounce bottle for around $3.00. The clerk I spoke to was very helpful. Though she had never heard of redoing a chalkboard, she suggested for my use I purchase a multi-surface formula, which is water based, non-toxic, dishwasher safe and weather-resistant.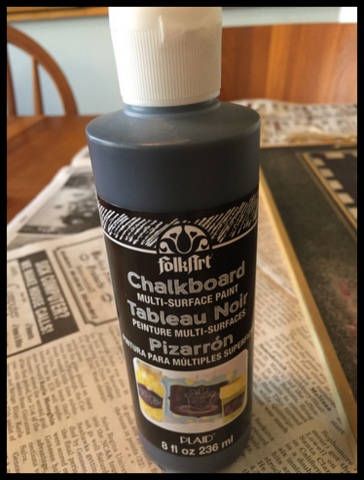 Chalkboard paint is available in a vast array of colors, as well as in a clear form. For my purpose, I wanted classic black. The paint is thick, with an almost tar-like consistency. Using a sponge applicator instead of a brush is better, because it goes on smoother and with more control. (Also, try to contain your excitement at a new craft project and maybe wear gloves. I can still write my grocery list under my fingernails).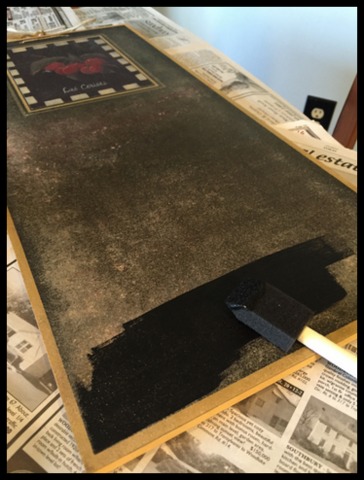 To use, first paint whatever you are painting horizontally, allowing to dry one hour between coats.
For the second coat, paint in a vertical direction. Allow the piece to dry for 24 hours.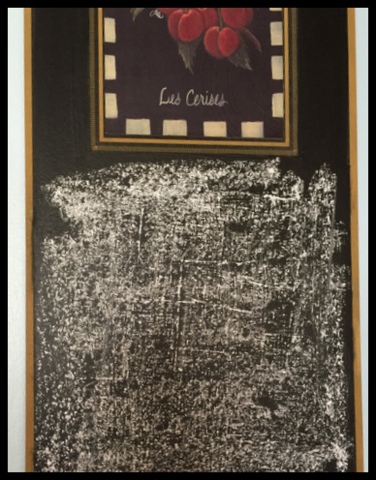 Once dry, "season" your chalkboard area, by "coloring" it completely with chalk, with one layer colored vertically and one layer horizontally. I remember doing this in elementary school with my favorite teacher when our classroom got a new chalkboard. Seasoning insures that whatever you first write on the surface won't "imprint" on it. Erase it or use a damp cloth to clean and your surface is ready to write on.
My chalkboard looks brand new!
Once I saw how easy to use and (cool) the paint is, my creative juices started flowing. I was inspired to clean up the area by our garage door. I always love the quote from the Oprah Winfrey show years ago, "Your house should rise up to meet you". I've decorated the entrances and porches on both my front and back areas of my home, but the door by the garage where we all usually go in and out was a depressing mess – leaves from the wind in the corner, spider webs on the glass, and a garbage can – that was the door that greeted us.  I spruced up the area, and using just "found items" I had around the house, I decorated a grapevine wreath I  made last summer when cleaning out brush. Using the chalkboard paint, I painted a scrap piece of wood for a rustic touch.. Right now it says, "Welcome Friends", but I can easily change the wreath and saying with the seasons.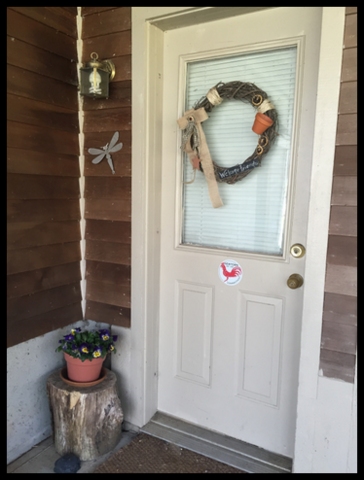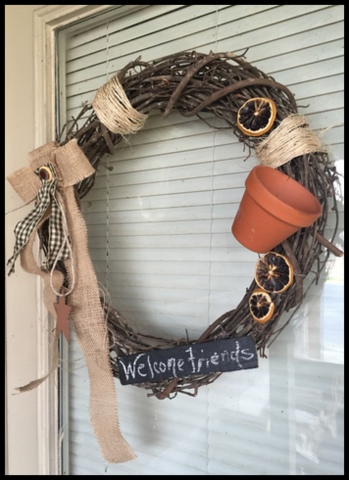 Chalkboard paint works on all sorts of surfaces. You can paint in directly on the wall (think fun playroom), on furniture, cabinets, appliances, or use it for organization or inspiration.
Many classrooms no longer have classic blackboards in them, replacing them today with dry-erase whiteboards or fancy smart-boards. To me, there's just something about the simplicity of chalk and a chalkboard, the non-permanent, reusable nature of it mixed with just outright charm. Chalkboard paint brings a new, modern twist to an old classic, with endless creative possibilities and charm – perfect for all sorts of Farmgirl projects!
Until Next Time…Farmgirl Hugs, Nicole