.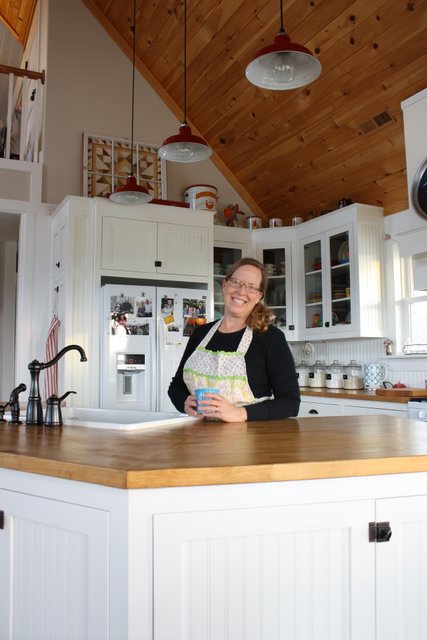 .
Sometimes as I ponder what I am going to share with you, my Farmgirl friends, I struggle with the words.  This is one of those times.  In my frustration, I walked over to the railing of my upstairs Barn Room to look out the big windows in the kitchen and living room below and I thought, "If only I could just invite all of you to visit me in my kitchen for a cup of coffee and a piece of pie I would know what to say".  So here it is, Farmgirl friends.  Get your coffee and join me.  I'm going to share my kitchen; my favorite room in our Farmhouse.
.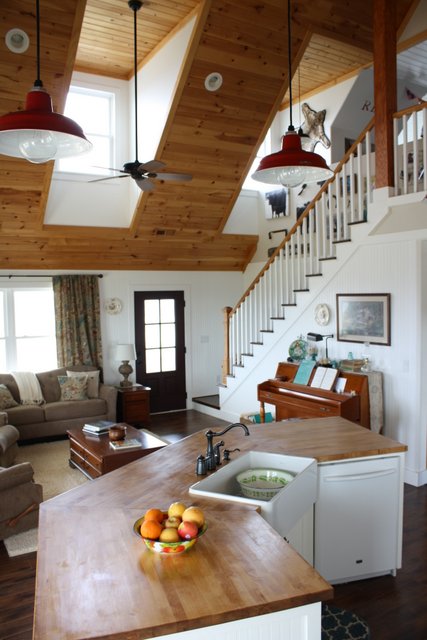 The view of part of my living room standing in my kitchen.
First of all let me just say that my husband I waited a lot of years to build our Farmhouse.  It is not a big, fancy house.  Quite the opposite actually.  We built it ourselves to cut costs, as we were at a stage in our life (newly retired and in good health) that we could take the time to do it.  And when I say that we built it ourselves, I mean exactly that!  But I had a vision for my kitchen and my husband was so kind to allow me to design it.  There was a lot of drawing, discussing and way more give and take than I can even go into in this short visit today!  But the bottom line is that my dream was that our kitchen would be the center of our home. The place where love and comfort would flow to the other rooms.
.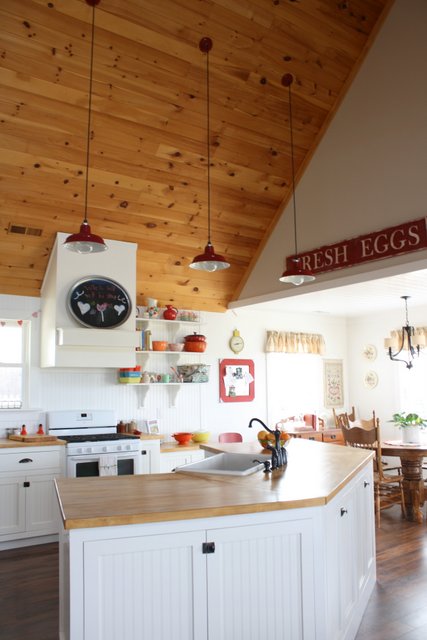 The view of my kitchen from the living room.
I wanted it to be light, bright, and happy.  I wanted it to be a place where family and friends would want to be and would be comfortable here.
.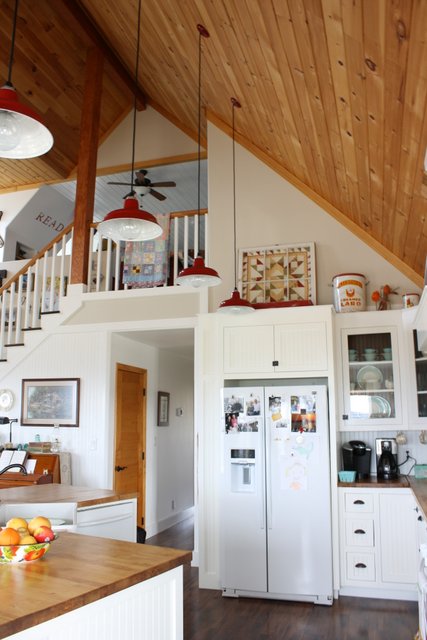 .
We both loved that this house plan had the kitchen space located where it was open to the living room and the barn room upstairs.  Anyone in the kitchen doesn't miss out on interaction and fun times going on in the living room!
.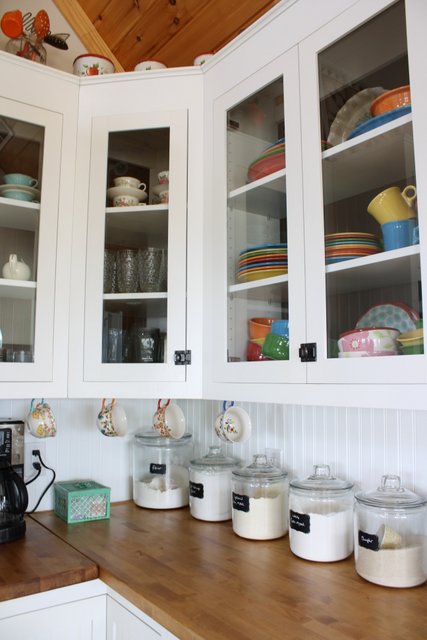 .
I wanted white cabinets with a lot of glass doors.   I have loved filling them with my bright colored FiestaWare dishes.  We had originally planned on building the cabinets ourselves, but when we started pricing all the necessary equipment to do it properly, my husband had me get several quotes from local cabinet shops.  Then we sat down together and found areas that we could cut the costs.  For example; they would build and deliver but we would do the installing.  That actually cut a lot off the original estimate.
.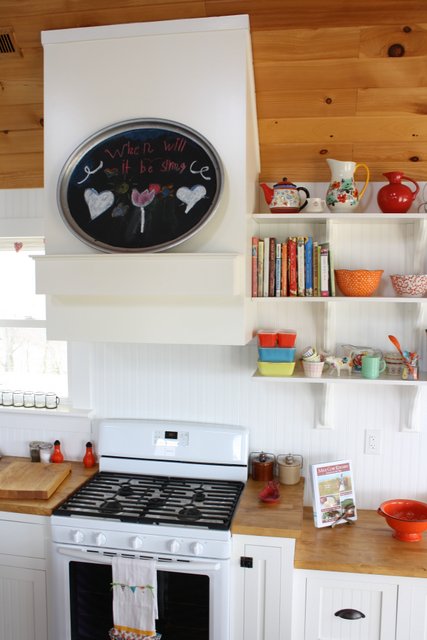 .
I originally planned to have a microwave with vent hood over the gas range, but in the drawings it just never looked right.  About mid-way through the construction of my cabinets I changed course and decided that since I really don't use a microwave anyway, I wasn't going to even put one in my kitchen. (Luckily the microwave cabinet hadn't been started yet.)  Instead, my daughter helped me design the large Range Hood.  It was a bear to install, and I was second guessing myself the whole time.  And my husband was saying, WHAT IS THIS THING?! Smile!  But we both love it now.  And the funny thing is that it ended up being WAY cheaper than a microwave cabinet!  The old stainless tray that I painted in chalkboard paint and propped on the shelf of the Range Hood is always decorated by my grand-girls! (Can you see what it says?  Jillian wrote, "When will it be Spring"!)
.
And as for the Range itself, I always had this dream of one of those big, beautiful Viking or Wolf Ranges.  But even though I actually had that in my original plan, I learned that it was okay to cut things that were not affordable, practical or even necessary at this stage of our lives!  By cutting that out, we able to do a little extra elsewhere in the house.
..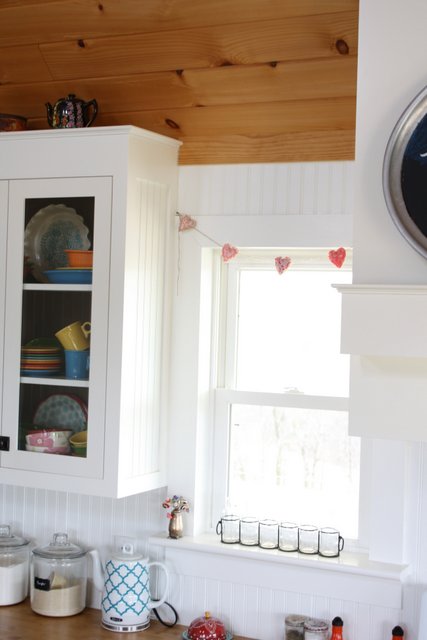 .
This little window to the left of my Range ended up being an after-thought and my husband built it with a darling ledge that is my favorite place to keep fresh flowers from my garden all summer long.  It's not a big window, but just the perfect size to see outside to my back porch.
.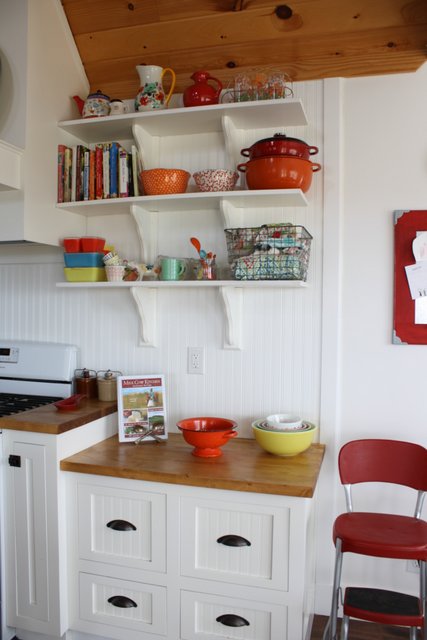 .
I designed this little baking area because when I roll out bread dough and pie crusts I like a short counter top.  I also planned the drawers to be the exact size to hold my Bosch Mixer and all my baking utensils.  With my vintage red stool right next to it, this is where every guest that ever enters my kitchen sits and visits while I cook.  I also love the open shelving where I keep all my favorite things!  Most of those things have been given to me as gifts and I use them all the time.  One thing I've learned about open shelves in your kitchen is that if you don't use the things on the shelves they get covered with dust, so the key is to only put things there that will get used and washed constantly!
.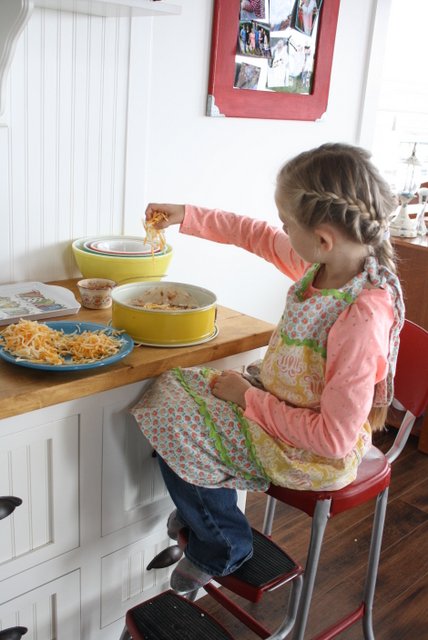 .
And when my grand-girls are here? That's right where they are!  A favorite spot in the kitchen!
.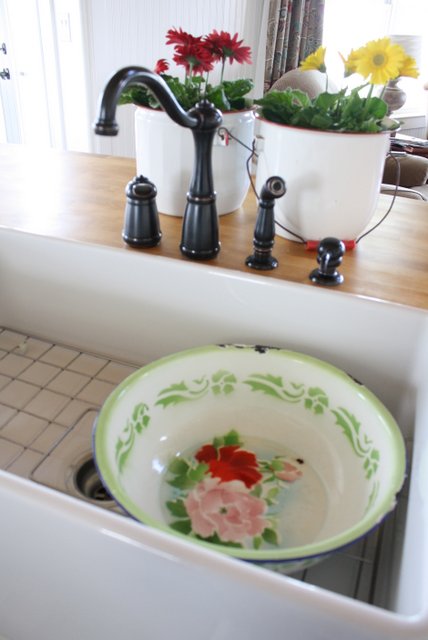 .
It took me awhile to love my large Apron front farmhouse sink.  Since it is one basin and very large, there is rarely ever a time that I use it in that way.  However, a friend said, "Use one of your old enamelware bowls as a basin" and that is what I do and it has made all the difference!  I have a super large sink when I need it (canning season!) and a small sink to use every day!
.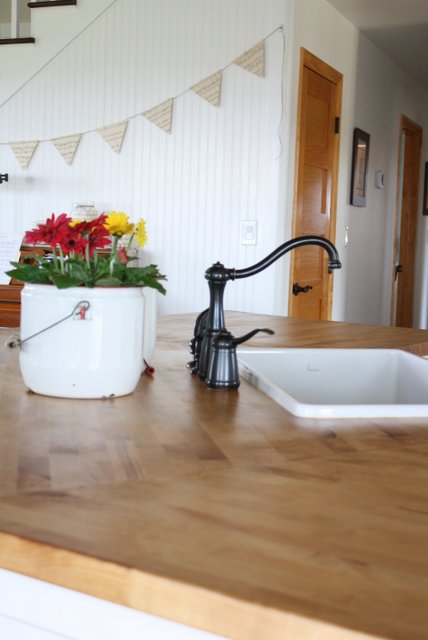 .
I wanted Butcher Block counter tops so badly in my kitchen.  But the quote that the cabinet shop gave us was so atrocious that my husband and I sat down and went over every other option for counter tops.  About that time I found out that IKEA carries Butcher Block and we were so very lucky that at that time they carried extra wide that would actually work on our island. And affordable?  Oh my.  There were no other counter top options that would have been as affordable as these.   My husband did all the measuring, cutting, and installing and I did the sanding and oiling.  They are lovely, forgiving, and only get more beautiful with age.  They add a very warm feeling to the kitchen and are a perfect balance with the white.
.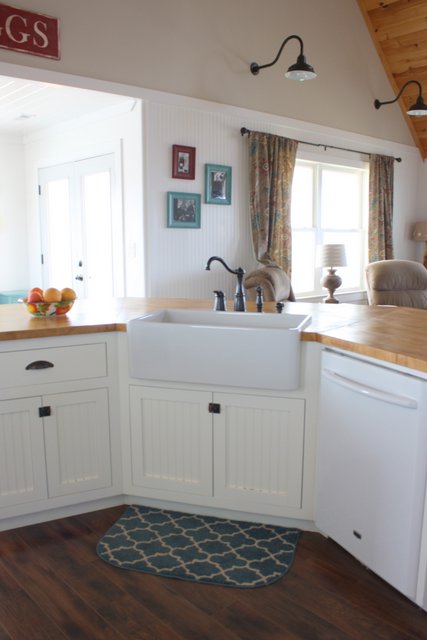 .
I will admit that the Island ended up being larger than I pictured it in my mind and there were a few hours of anxiety when we were installing it.  But it has turned out to be the best and most useful thing in my kitchen.
.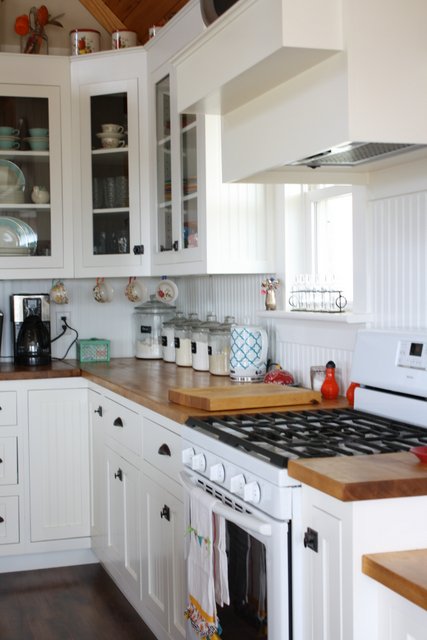 .
All my cabinet doors are the Shaker style and have latches instead of knobs.  Numerous people tried to talk me out of the latches because they don't hold up to the wear and tear of opening and closing.  In my research I found that if you are going to use latches, only use quality ones.  When I talked to the folks at the cabinet shop about it, they were so good to help me find very good ones at a fraction of the cost that we would've paid if we ordered them ourselves.   Three years later they still work like a dream.  I'm so glad I didn't let anyone talk me out of them and so thankful for the relationship that I developed with the folks at our local cabinet shop that they helped me out in that area!
.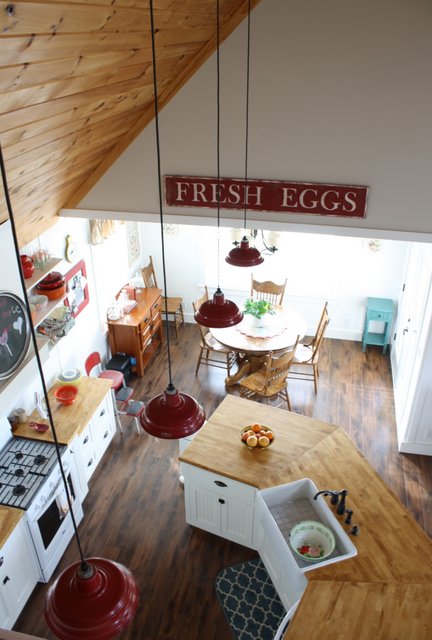 .
I want to close this post by saying that I recognize how lucky I am to have my sweet kitchen.  There is not a day that I take it for granted.  In building our home, I do believe that we spent more time planning, stressing over expenses and weighing out every option in this kitchen than we did in any other area of our home.
.
It truly is the center of our home.  The place where family gathers.  The place where special meals are prepared and served with love.  The place where we pile mail, projects and junk!  The place where my husband and I stand to look out the windows at our farm that we dreamed of for many years.  It is the place where hard (and easy) conversations are held.  The place where friends mingle when they are here.  Most of all, it is the place that I love and cherish because I know every single bit of work and sacrifice that went into it.  It is my happy place and I am thankful.
.
And thank you, Farmgirl friends, for joining me today!  I only wish that it hadn't been "virtual"… I wish you had been sitting with me in my little Farmhouse enjoying a cup of coffee and telling me about all the things you love too.  So, please leave me a comment and tell me what it is that you love the most in your home!  I can't wait to hear.
.
Now the winner of the pack of home-made cards is….  Michelle J!  (I've sent you an email, Michelle!)
.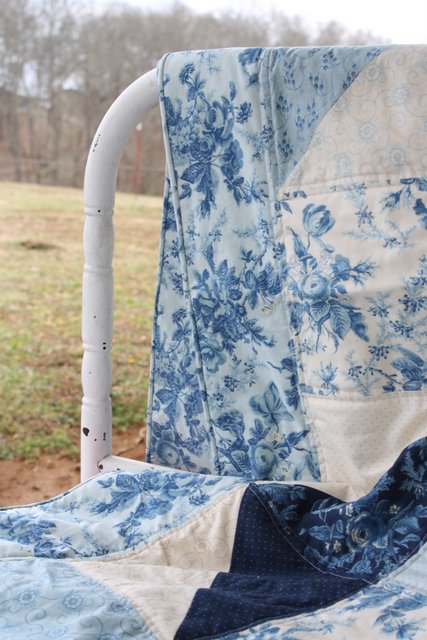 A glimpse of one of my finished quilts in February!
And finally!  For those of you that jumped in and joined my Quilting Challenge about a month ago (if you missed that post, you can read it here), I will be dedicating an entire post to pictures of your quilts here on April 14th.  That gives you a little more time if you need it! Please submit your pictures to me via email at:  redfeedsack@gmail.com.  The picture does not need to be a completed quilt – just your progress is great!  And if you didn't join in the challenge before, do it now!
.
And one last bit of news is that, sadly, all five of us Farmgirl Bloggers will now only be posting once a month instead of twice.  To make sure that you never miss a post, be sure to subscribe to receive an email alert here.
.
Until our gravel roads cross again… so long.
.
Dori