.
These are quilts I've made through the years, as well as a couple vintage ones passed down to me from family and friends.  I keep them scattered throughout my house.
.
As so often happens between us Farmgirl Bloggers, our minds are on the same things!  I was writing the post for this week (in my head, as that is how my writing starts) and then I read the Suburban Farmgirls' post on her friend and her quilts.  And I had to just start laughing as my post for this week is also on quilting.  Instead of changing course mid-stream, which I almost did, I decided there must be a reason we are on the same track.  So the writing continued… and hopefully you other Farmgirls will take inspiration from both Nicole's and my posts and jump into this quilting frame of mind with us!
.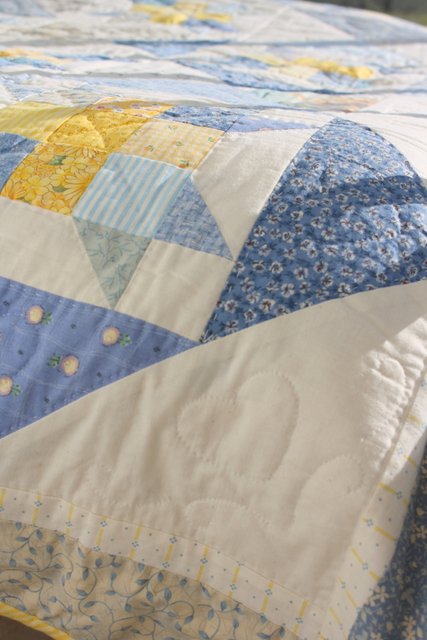 This quilt I made for daughter when she graduated from high school.  I hand quilted it with the help of my mother and my two best girlfriends.  It is a treasure.
.
In the late summer last year, I decided that no matter what, this winter I was going to make a quilt (or two or three!).  I've made numerous quilts in my life and I will not kid you into thinking they are quick and easy.  But there is something so very satisfying about starting and finishing a quilt.  From choosing a pattern, to purchasing the fabric, to the cutting, sewing and quilting.  Every step is vital in the beautiful end result.
.
To this day, the above quilt is one of my favorites that I've made.  I made it for my grand-daughter for her 2nd birthday.  She is almost 8 now and it is still on her bed and still just as beautiful.  I did not hand-quilt it.  After I got it all pieced I paid someone to machine quilt it for me.  
.
So here is my challenge to you, my wonderful Farmgirl friends!  Let's make a quilt!  I decided that a great way to keep myself motivated when this quilting journey gets long and hard is to do it together.  So, my plan is to do a blog post here in six weeks sharing my progress on my quilt(s).   What I would love to do is also share your quilting journey.  If you have the courage to take the challenge along with me, you can email me pictures as your progress goes and I will share them on my blog post here in six weeks (March 18th).   Remember that a "quilt" doesn't have to be for a bed.  It can be a baby quilt, a lap quilt for the recliner, a tiny quilt to hang on the wall, or as small as a one block quilt for a potholder!  If you can sew; you can make a quilt!  (This challenge is for accomplished quilters too, not just beginners!)
.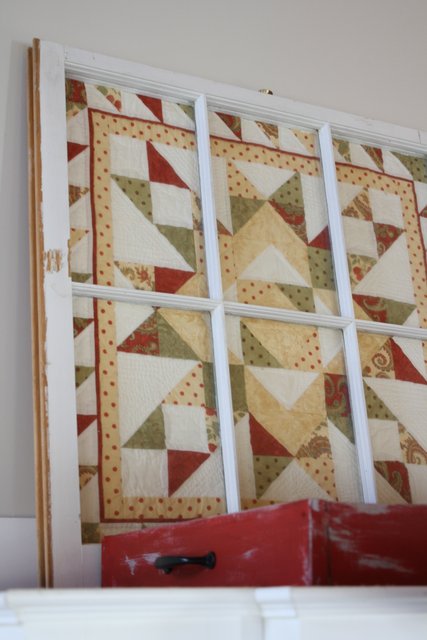 One of the wall hanging quilts I've made, tacked in an old window and propped on top of my refrigerator cabinet. 
.
So now I'd like to share the start of my Winter 2016 Quilting Journey!  (It needs a name to make it official right?!)
.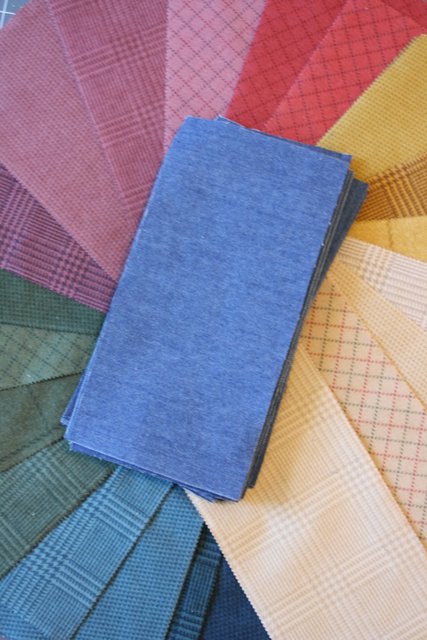 Flannel and Denim for my son's quilt!
.
I decided to start with three quilts.  They are not full size.  Two of them are what I am calling "Couch Quilts" – basically 48″ x 68″.  One is for my son and the other is for my daughter-in-law.  I had a pile of old blue jeans that I cut up (yikes) to use along with some flannel for my son's quilt.  And I purchased what is called a Jolly Bar in the quilting world and it is pre-cut fabric in 5″ x 10″ rectangles.  Amazing huh?  I found the perfect flannel Jolly Bar for his quilt and the pattern I am using is called Brickroad.  Getting the pattern figured out, the fabric purchased and the denim cut in 5″ x 10″ rectangles was a big job in itself.  I've completed that and set it aside for now.
.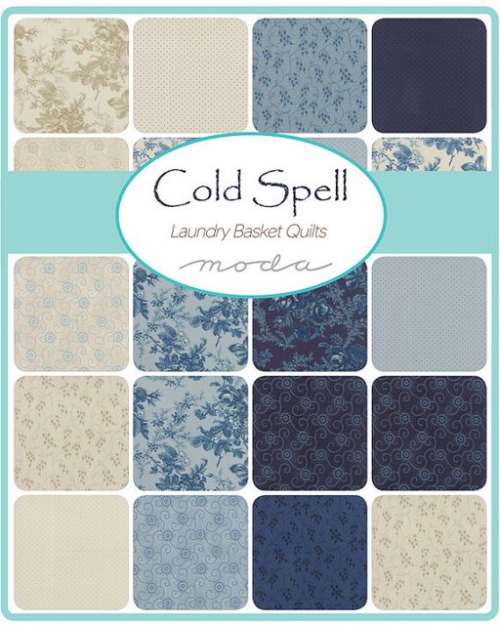 ..
My daughter in law loves blue and so I narrowed my focus down to blues and found what I feel is the perfect fit for her.  It is a fabric line called Cold Spell and I was able to find it in pre-cut 10 inch squares, called a Layer Cake!  I am not following a pattern for her quilt, as I decided to sort of wing it by cutting some of the squares into triangles and leaving some of them square and sort of figuring it out as I go.  I'm making hers first.
.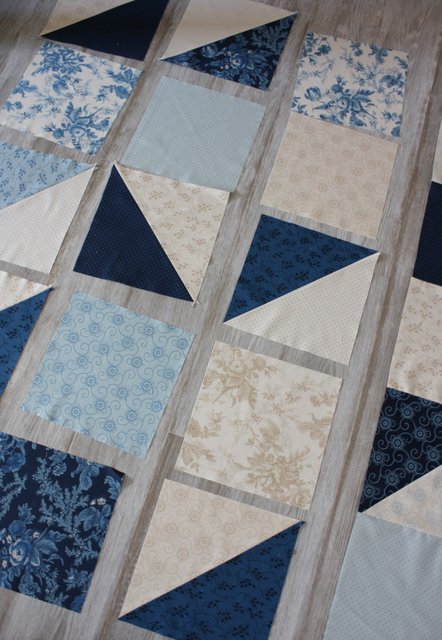 .
I laid all the squares on the floor where I could really get a good look at the prints, shifting things around until I got the perfect weird random look I wanted and then I decided which ones I wanted to make triangles and which ones to leave square.  Once that was finished, the sewing started.
.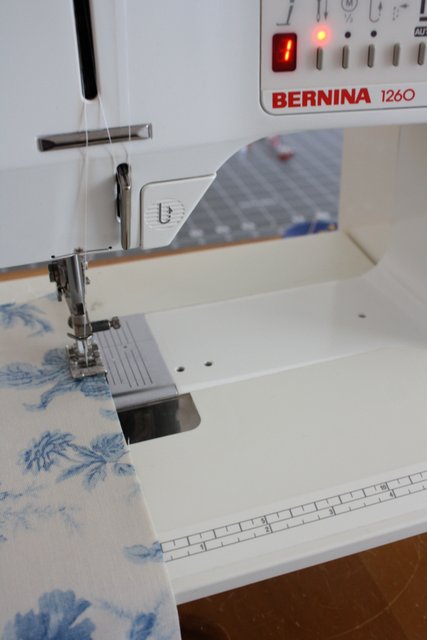 .
I sew with a very careful consistent 1/4 inch seam as I've got corners that need to match up exactly, which can be very tough if you aren't consistent with your seams.  Keeping my iron and iron board handy to my machine it is a constant juggle between sewing, pressing my seams, and sewing again.  (And yes, I have an old Bernina sewing machine that works as good today as it did when I bought it brand new 25 years ago!)
.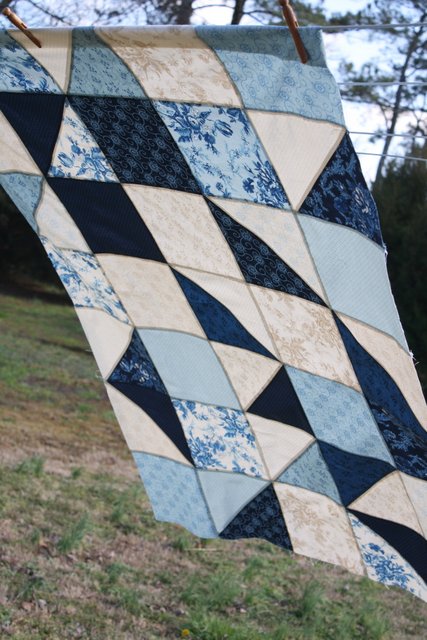 Completed quilt top.  Now to move on to the backing, batting, and quilting.  Although honestly, after looking at this picture I think it needs a border around it!  
.
It really didn't take much time at all to get her quilt top finished.  Next in the journey will be the batting, backing, quilting and binding.
.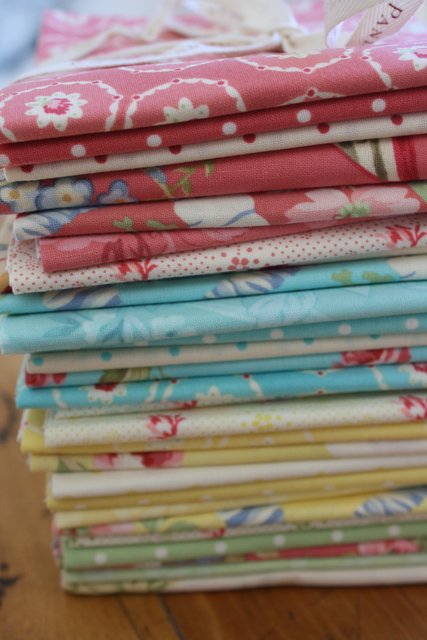 Bon Bon Bebe fabric… have you ever seen anything so sweet?
,
And the third quilt I'm going to be working on is a baby quilt.  I have a very close young friend that is having a baby girl in March.  I've determined that this quilt needs to be very special, as hopefully it will be hers for life.  So, I've been on the pattern and fabric hunt for weeks.  I finally found exactly what I wanted.  I have not begun this quilt yet, but I did get my fabric purchased.  Isn't it absolutely lovely?  I can't wait to dive into this beautiful fabric stack!
.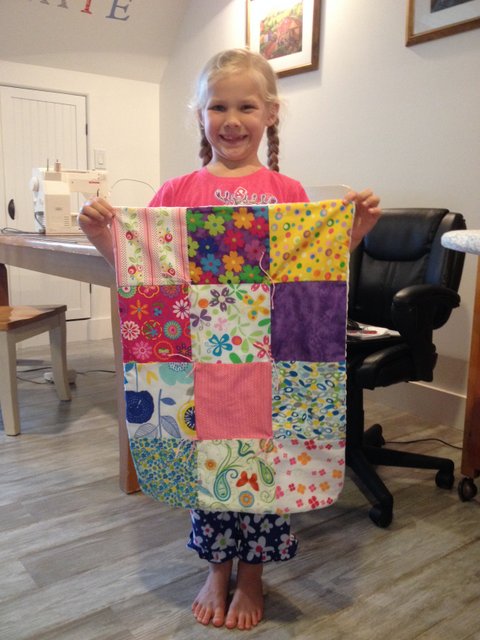 My grand-daughter, Jillian.  Her first doll quilt made mostly by her! If she can do it, you can do it!
.
So, a few pointers to share for those of you that want to follow along on this challenge with me and are new to quilting.  I am by no means what you would call a "quilter" but these are a few things I have learned along the way.
1)  Use quality 100% cotton fabric.  It really does make a difference.  You can get "cheap" fabric but after all the time, work and money involved you will want your project to last!  It also makes the whole process easier when you are working with quality fabric.
2)  Use good thread!  I use 100% cotton thread.
3)  Same thing with your quilt batting.  All three of the quilts I'm making will likely be washed a lot and so I want batting that will not get lumpy through the years.  I purchased Quilters Dream Natural Cotton.
4)  Start very simple. Find patterns that are for beginners.  Even the simplest of quilts are positively gorgeous.  In choosing a pattern, it is great if you can use patterns that are geared towards pre-cut fabrics.  There are many sizes and styles.  Cutting fabric for piecing can be very tricky for the beginner as the pieces must be exact.  So these pre-cut fabrics are an amazing invention!  They also make it less expensive because there is no waste.
5)  If you have a local quilt store, shop there.  And talk to them.  Quilters are amazing and are always so willing to help answer questions, point you in the right direction and help where they can.  I've also discovered that with there being so many online quilt stores, keeping a quilt shop open is very difficult.  So I give my local quilt shop my business as much as I can.
6)  A great source of learning are YouTube videos.  My favorite quilting ones are found on the Fat Quarter Shop YouTube channel here.  They have all sorts of videos for the beginning quilter with easy patterns that use pre-cut fabrics. They also have videos for every step of the quilting process.  And if you do not have a local quilt shop to purchase from, I do recommend purchasing your fabric from the Fat Quarter Shop here.
7) Start small, start simple, enjoy the journey, embrace the mistakes, keep going, expect it to take longer and be harder, allow help if you need it, don't get frustrated with the amount of time it takes, and then?  Celebrate!
.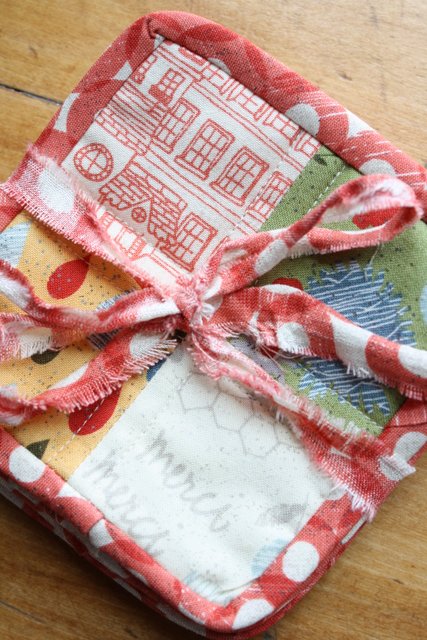 Remember, your quilting project can be as simple as four little squares sewn together to make a coaster.
. 
So are you ready to take the challenge?  Lets do this together!  You can email your pictures of your progress to me at redfeedsack@gmail.com.  Even if all you have to document your progress are pictures of your local quilt shop, send it!  In six weeks we'll have a quilting story to tell!
.
..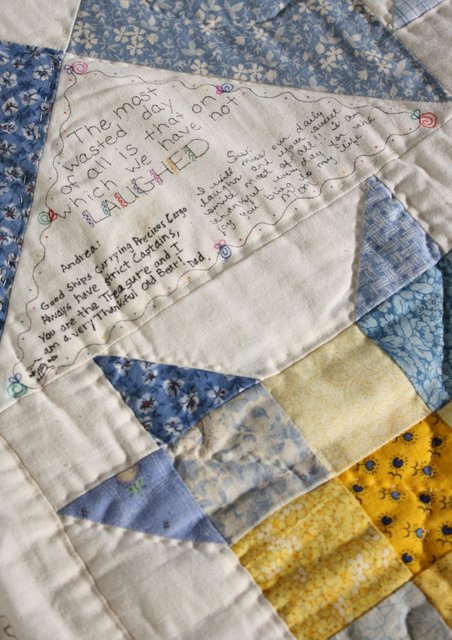 The quilt I made my daughter when she graduated high school was signed by the special people in her life.  It truly tells a beautiful story.
.
Most of all remember that making a quilt is kind of like our walk in this life.  It is a journey.  Not to be rushed, but to be savored.  Not to be discouraged in the tough times, but to be thankful for the ups and downs that make us what we are.  Not to compete with what others are doing, but to enjoy our own milestones.  Not to beat ourselves up for mistakes, but to appreciate how far we've come.   You won't ever regret the time it took to make your first quilt!  Let me hear from you!
.
Until our gravel roads cross again… so long.
.
Dori