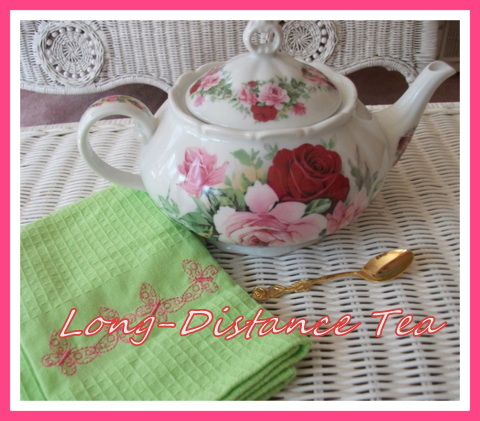 Mothers have a special bond with their daughters. My mother and I have been no exception. When I was little, my dad was a traveling salesman. Mom was a stay-at-home mom, a "homemaker" as she was called back then.
On days she had housework (our house was always sparkling), Mom would send me out to play with my little next door friend, calling me inside for lunch and again when it was getting dark. Other days, my mom would play softball in the backyard with me, read to me, take me to the park or library, or sit at her sewing machine sewing while I played nearby, always intrigued by her big box of buttons. Other days, we'd drive to my grandparents' house to take my grandmother (who never learned to drive, in Houston, of all places) to the big farmers market, where Mom would always get me a cold Icee. We'd come back, car trunk bursting with colorful, just-picked fresh veggies and fruits. When it was time to go, my grandparents would stand at the curb, waving, until we were out of sight. I can still see them standing there, blowing kisses, and would give anything to see them there one more time.
As I got older, Mom would take me out to lunch, shopping or to movies. I wonder which movies my daughter will remember seeing with me, something we often do together. My mom was also my scout leader, and taught me how to cook and bake. I owe a lot of my best recipes to her. She also taught me about keeping fit and taking care of myself. She still looks years younger, though she's in her seventies. Going for lunch is something we still like to do, or shopping in quaint little shops; she delights in picking things out for my daughter who's now a teenager.
Living in New England, with my mom down south, we don't just don't see each other much. When my husband and I first moved up North, it wasn't a big deal to fly down to see family, even for a weekend. Nowadays, air travel's expensive and stressful- a real hassle. Our schedules are packed, my daughter has school, and it isn't easy for my mom to get away for long, either.
We got to see mom for a short time at the holidays. We drove sixteen hours from Connecticut, and my brother and niece drove up from Texas, driving up the day after Christmas. It was a surprise for my mom and Richard, as Mom hadn't had both her kids staying under the same roof in close to thirty years. My mom was thrilled. We were only able to stay twenty four hours, but it what worth it to see everyone. It was a short visit, but one of the best times ever!
Other than that quick visit, unfortunately we haven't gotten to visit with each other much the last few years. So, Mom and I have started doing "Long Distance Tea".
As a busy mom, I'm always running around doing something: chores in the house, the garden, or chicken coop, driving my daughter to where she needs to go, teaching a class, or doing something involving my interests. Often when Mom and I would call each other to catch up, we'd both be doing something else, distracted. We weren't giving each other our full attention on the phone. Mom would often sound disappointed when I told her I'd need to hang up and go.
Now, we text each other in the morning, with a "tea time". Often it's in the afternoon, after my daughter gets home and I have time to take a break.
I make a cup of tea or decaf; Mom does the same. Sometimes we'll have a little treat, too. We call at the designated time. I sit, drink my tea, and chat with my mom – uninterrupted with my undivided attention. We catch up, laugh, and trade recipes. I don't forget to tell her things I want to share with her, something I'd often do when we'd talk "on the fly". It's scheduled time, not face to face, but it's quality time.
As women, we're hard-wired to multi-task, and keep busy. With smartphones, people have gotten in the habit of less human interaction, always looking at their devices. Nothing breaks my heart more than seeing a family at a table in a restaurant, silent, not looking at each other but staring down at phones. Loved ones are a blessing!
**Here's my challenge: Schedule "Long Distance Tea," drink a cup of tea with someone, and use the phone – as a phone.
Until Next time…Farmgirl Hugs, Nicole