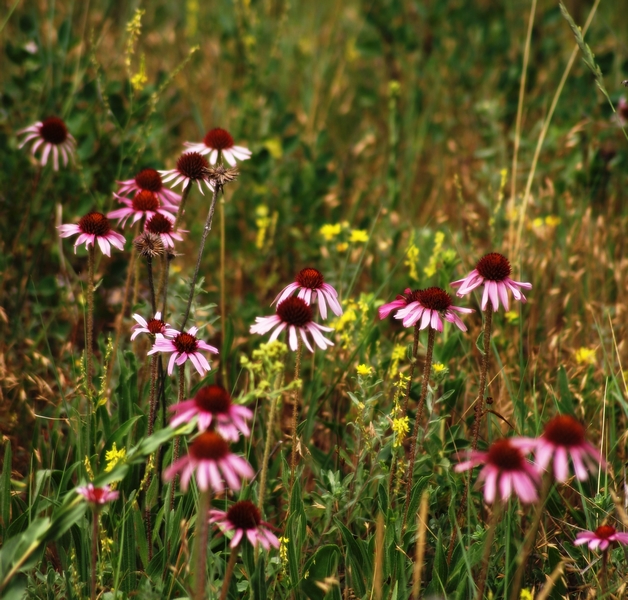 'Summertime' is a matter of going from one thing to the next in an effort to squeeze all of summer's bounty into the short span of time we're given to enjoy the hundreds of things we want to do and need to do. No wonder we're bone tired at days end … but what a fine kind of weary it is. C'mon in and take a look at my to-do list … and please leave a list of what'all you've been busy trying to keep up with.
The above photo was taken when we were moving cattle. Echinacea is in full bloom and it was everywhere!
Below, we were helping friends move their yearling cattle and then we went back home to gather and move our pairs to summer pasture. With this summer being humid [for a change], we ride early so to avoid the heat of mid-day.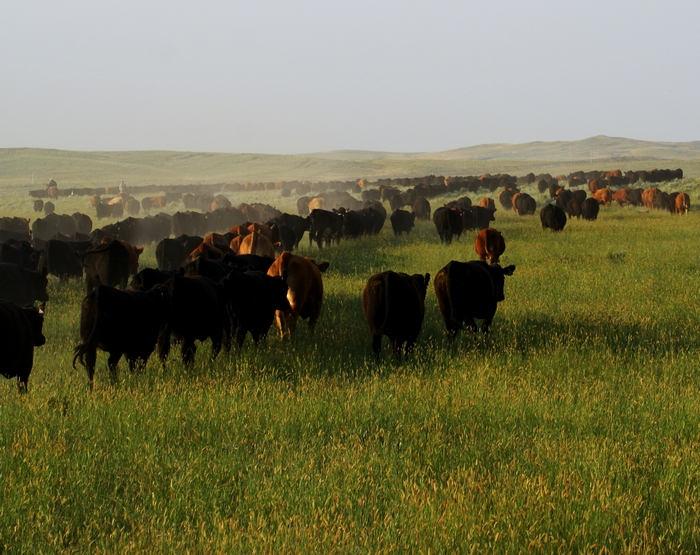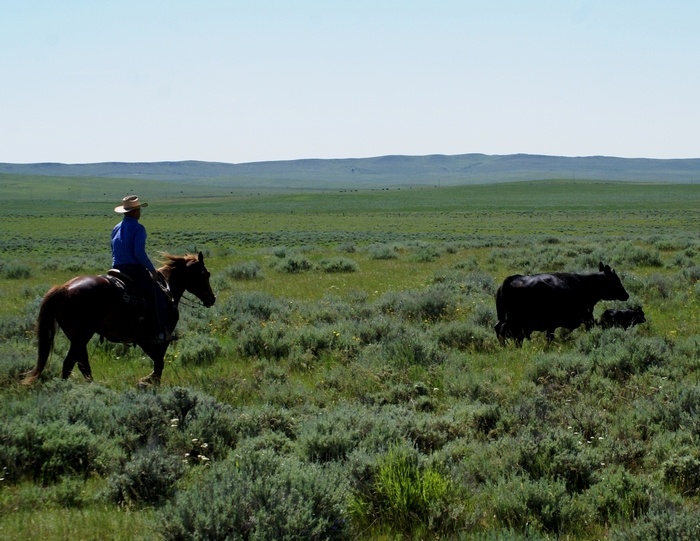 My farmgirl pals and I went on our first glamping trip a week ago, what fun we had. After getting our 'glamp sites' set up, we dangled our tootsies in the stream.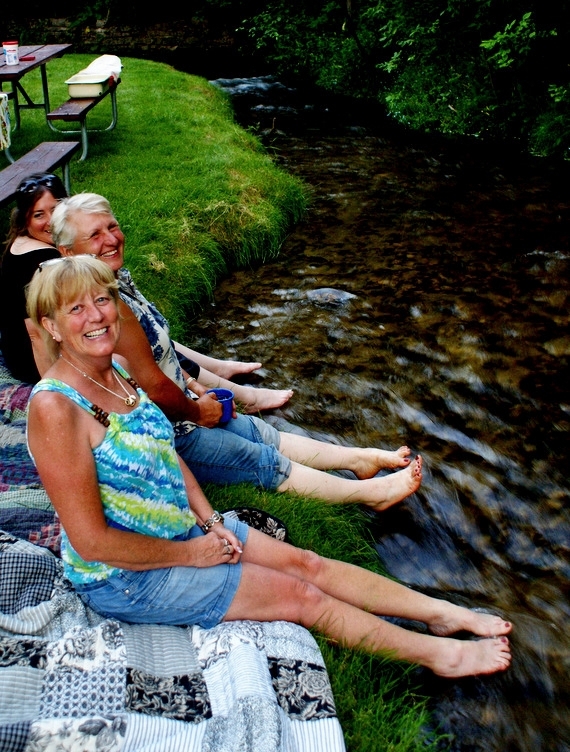 When darkness fell, we built a fire … a 'glampfire'.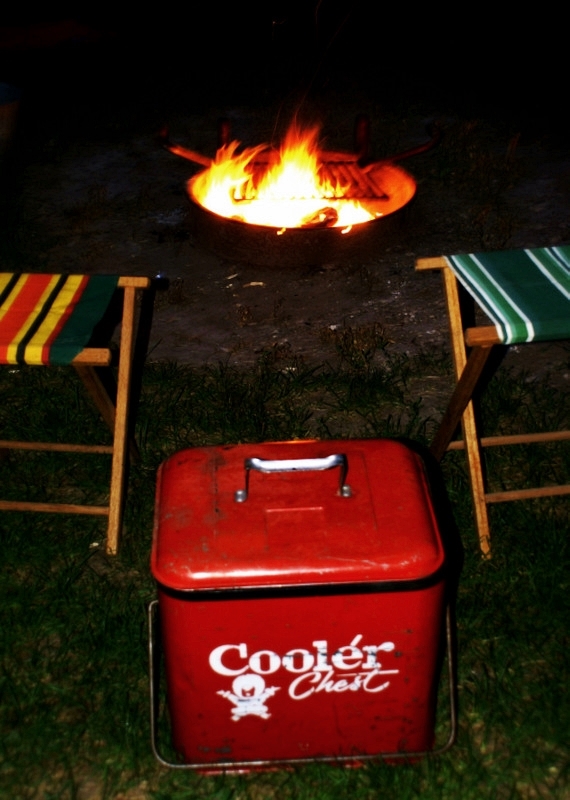 While on our 'glamp out', we went shopping at our favorite nearby antique shops during the heat of the day. Among other things, Michele found a few vintage aprons to cover her camper windows. Make-Do awnings.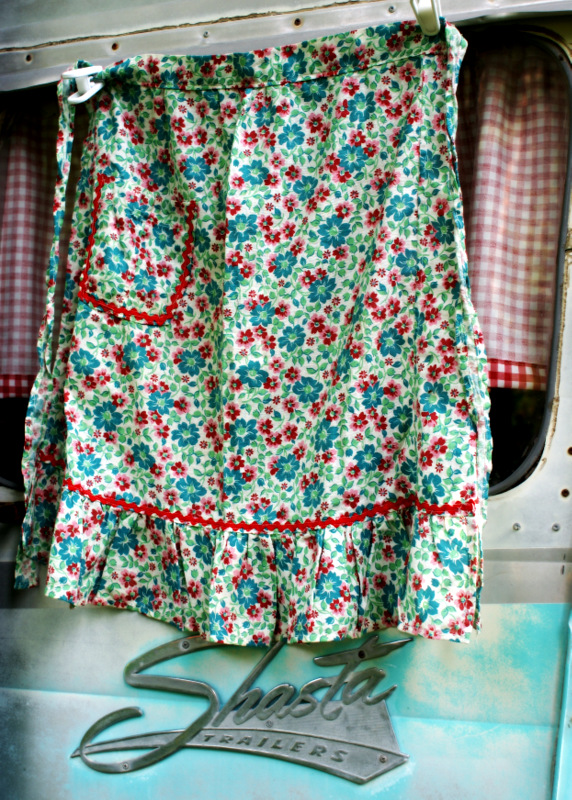 I found a vintage umbrella in mint condition and it goes with my plaid theme for glamper goodies!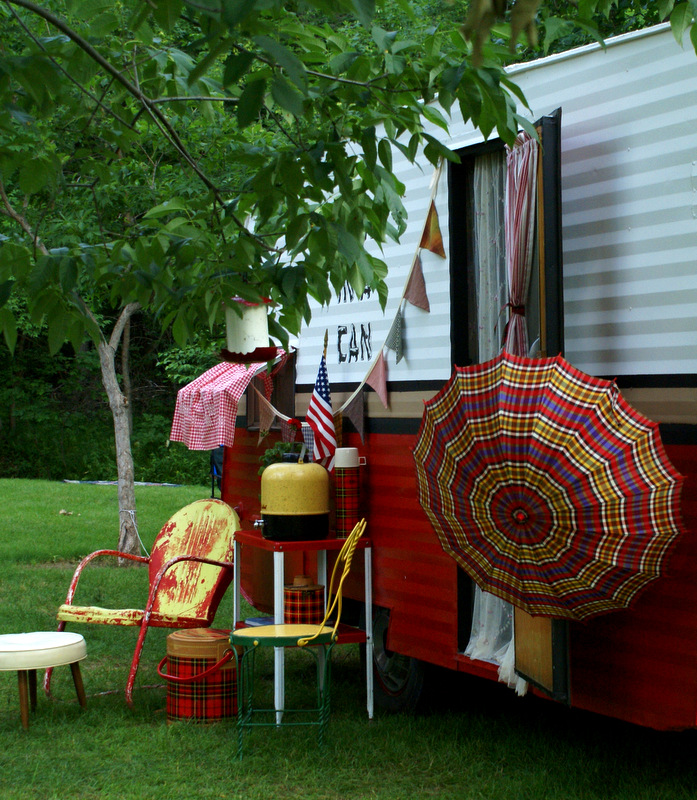 I like to decorate for Independence Day during the month of July … inside and out. My garden yard wore a couple of buntings.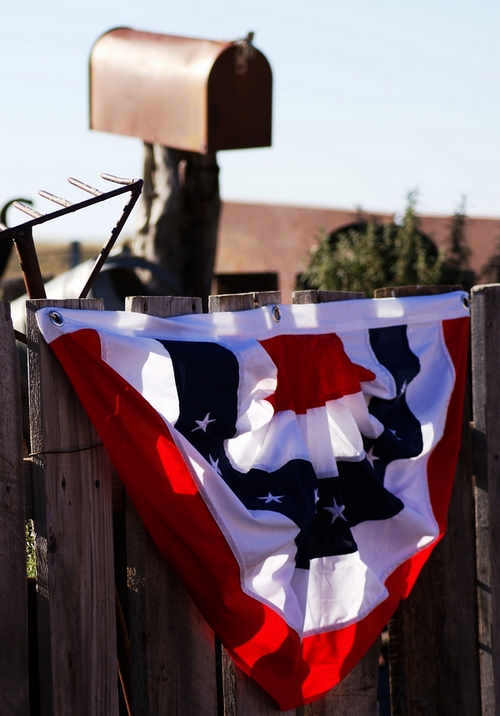 Mid July is also the time when our little town holds it's annual "Fun Days" which is an all-weekend party. An old-fashioned main street parade kicks off the celebration. Below are pics of a young friend on her pony [carrying the flag at the front of the parade]. Here in The Cowboy State of Wyoming, we still fly Old Glory with patriotic pride … anywhere and everywhere!!!!!!!! Long may she wave!!!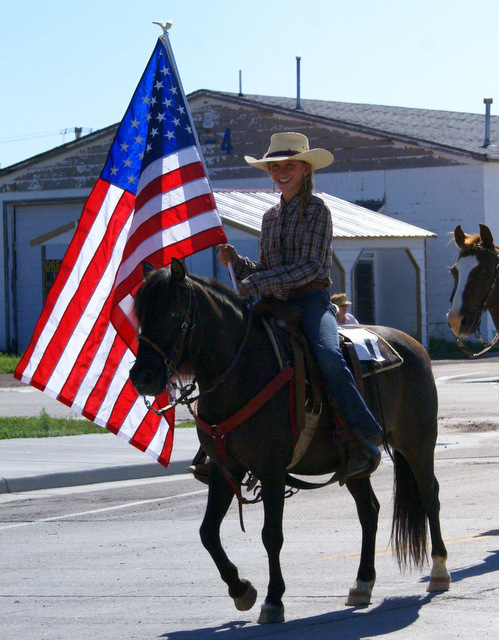 My Dad always pulls a flatbed trailer in the parade with his 1953 Ford pickup. His classmates [class of 1953] are seated on the trailer. He and my momma were high school sweethearts.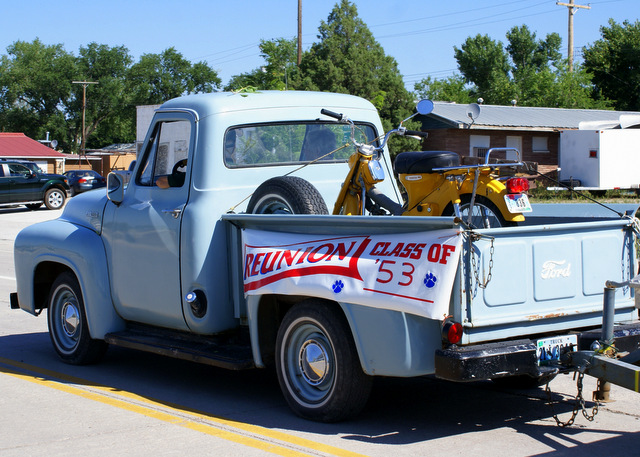 Our local history society is very active and there are many restored and named family wagons & buggies entered in the parade.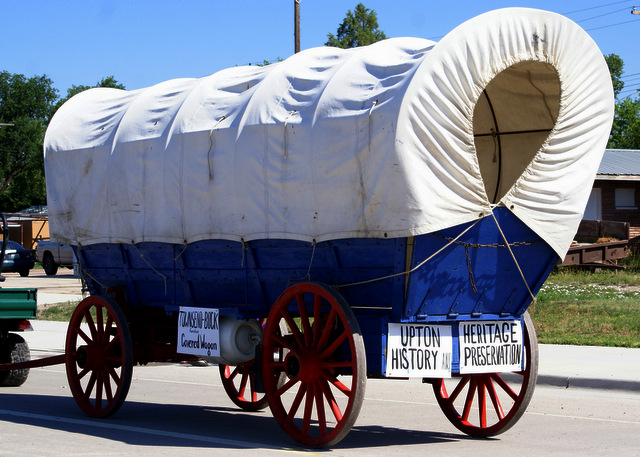 In the summer, old wagons and such are parked outside in historic "Old Town". All of the log cabins were hauled in from local ranches and reassembled on-site. Here is one of the sheep wagons.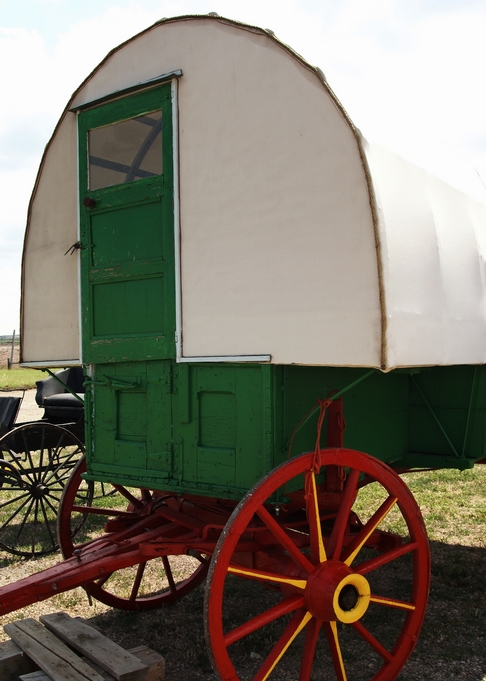 Last week was the first farmer's market – located also in Old Town. Local gardeners peddle their produce and other home-made items. My pal, Anita, is a regular vendor. She has a big greenhouse and so her produce gets off to a much earlier start.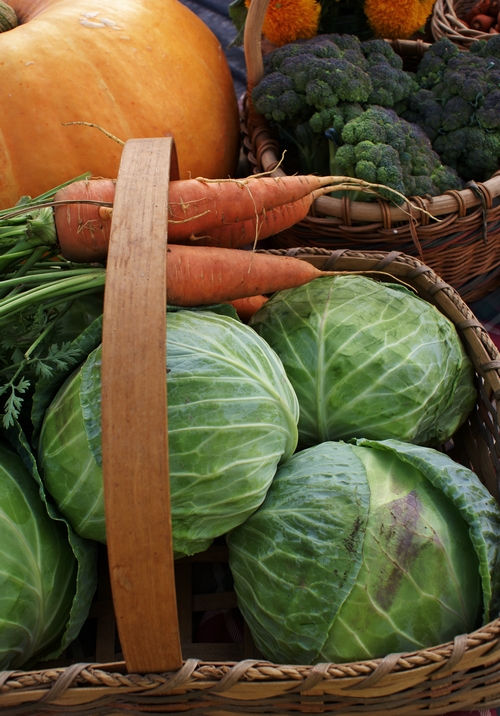 I'm starting to do a little canning. A must-do each summer is sweet pickled beets.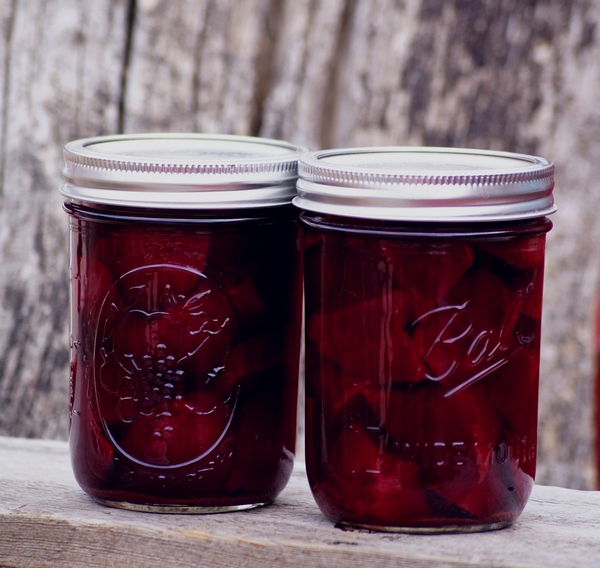 Now the wait is on for tomatoes. Lots of green ones, but nothing to eat yet.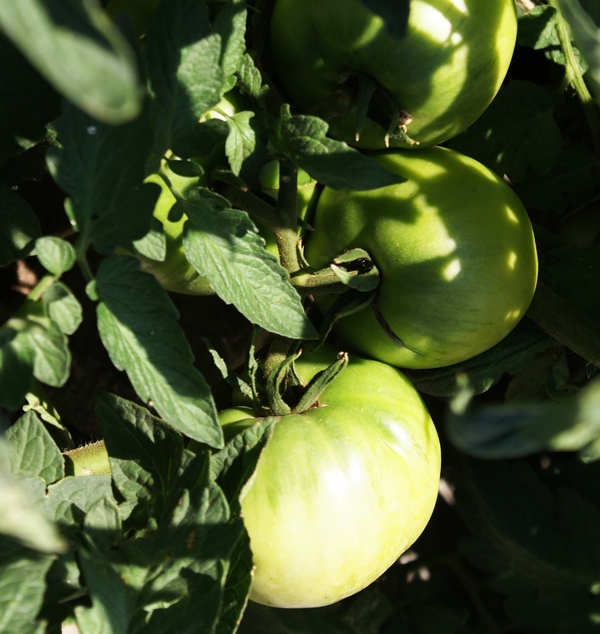 This year is soooooo incredibly GREEN. We just keep getting rain at the right time. Bee Balm and wild Snapdragons [aka Butter & Eggs] are blooming still and the water plants are thriving. Every dent in the ground is a puddle or a pond. Just goes to show you that seed is always available and things will grow IF they get enough water … LOTS of things!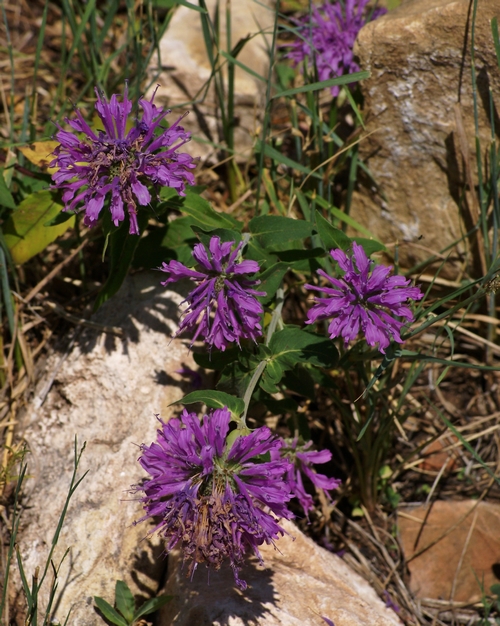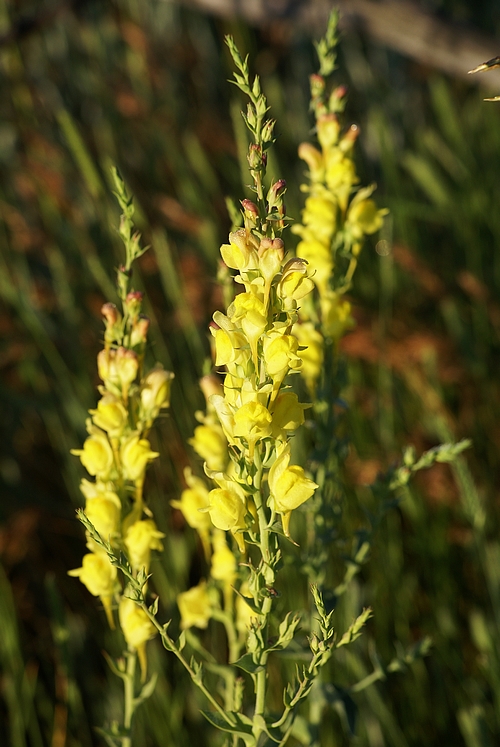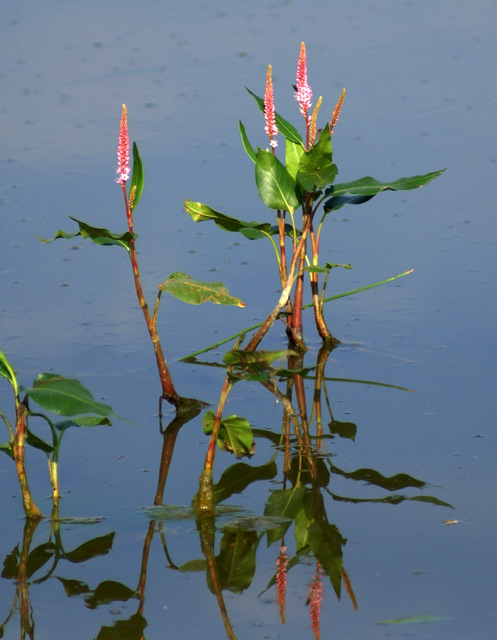 The vivid green of the prairie landscape a month ago is now a swirly mix of other earthy pastel shades as the heads of grass are mature. A dusty rose hue splatters the plains canvas of green; Brohm grass being the most colorful of the grasses. Their heads flutter to and fro in the breeze and while we're riding, the horses need only snag a mouthful of seed heads – not needing to bend down. The grass is shoulder high in many places.
The horses are shiny and fat. Ribbon's color is my all-time favorite and I never dreamed I would own a horse of this color … much less breed one. She is a gift from above, right down to the custom paint job :o) The color is commonly called "chocolate palomino". This color variation occurs when the "sooty" gene comes into play and darkens what would otherwise have been a golden palomino. To keep her humble, I refer to her as being a mud-puddle palomino. She's kind of a purty thang and I don't want it to go to her head.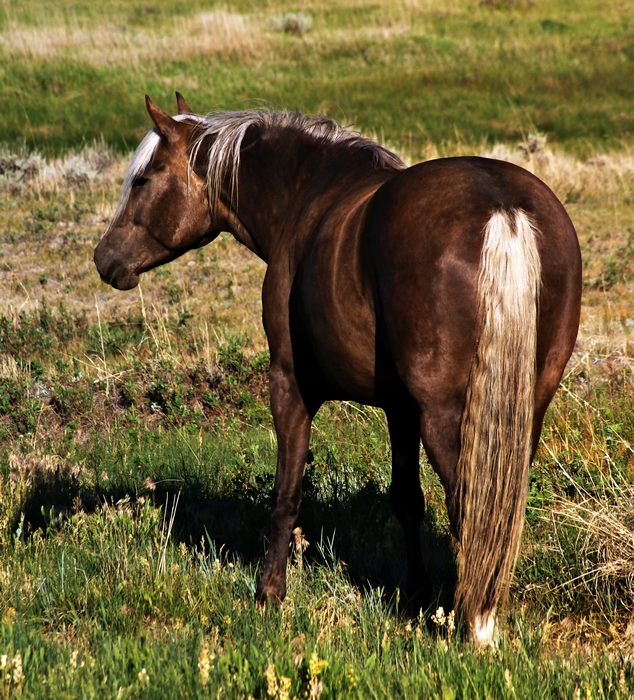 It may have something to do with my age – I'm a 'Menopausian' – OyVay, I've never sweat so much in my life as this summer! The unusual humidity contributes to the problem. My farmgirl pals in the same age group agree. So, my sun tea jar has being working overtime. I sure like Stevia 'sweet drops' to sweeten tea – no stirring required.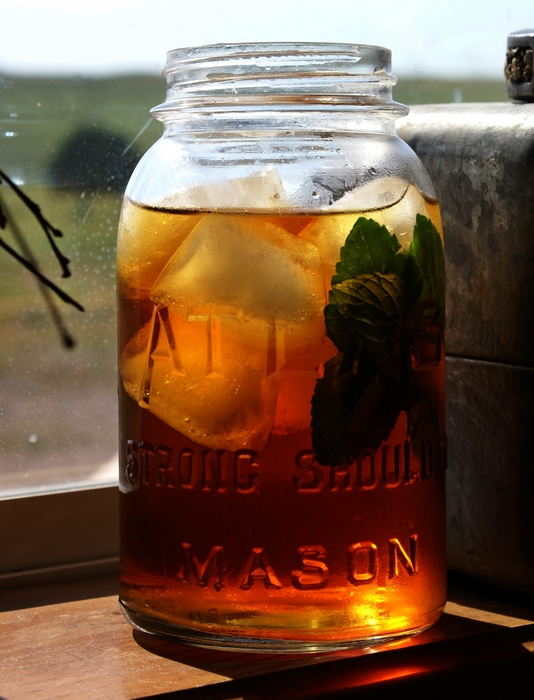 Lastly, I'm considering getting a new baby. A friend has a passel of newborn puppies – mini Corgis. I've long admired the breed. I first noticed them in Tasha Tudor's books. Tasha was a pioneer in the area of being a farmgirl before the term was born. So many of us farmgirls are long-time fans of her art work, books and writings. So, although I'm still in the 'thinking about it' mode, I'm leaning hard into becoming a Corgi owner. I don't know why I even bother saying that I'm thinking about it. My heart has made up her mind. My head is just trying to make logic of the whole thing. Three dogs? Oh Why Not! One of the other farmgirl bloggers [Debbie Bosworth aka the Beach Farmgirl] has a standard size red Corgi. Mine will be a girl and she is a black tri-color. I even have a name picked out: Sally O'Malley. Corgis are famous for making their owners smile and so I wanted a name that did the same! Baby 'Sally' won't be able to come live with us until September. She's still just a wee lassie toddling along on her ittybitty short legs. Any other Corgi lovers out there?? I didn't know that Corgis are the oldest of the herding dog breeds. Well, she'll get to put that instinct to work here.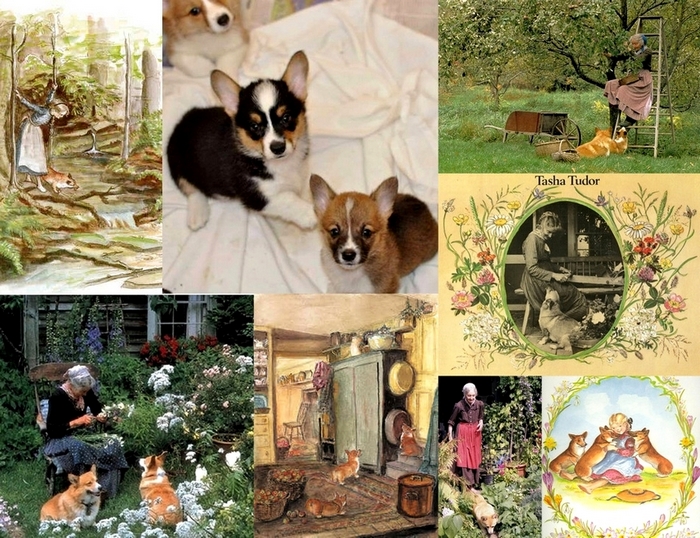 So, that is MY mid-summer catch-all report. How about YOU, what is on YOUR list this summer? ~ Shery