~Heaven's a Little Closer in a Cottage by the Sea~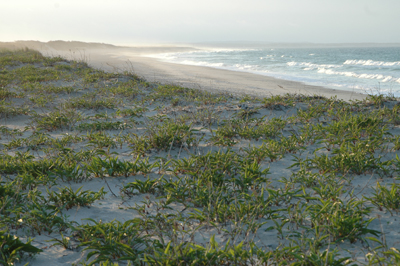 Sweet reader DeAnn left this comment during our last shoreline visit: Love your photos! Please, please do your beach cottage next. Some of us are living vicariously through you!
Well, DeAnn, you talked me into it! This blog is for you and anyone else who has ever dreamed of a getaway to a seaside cottage!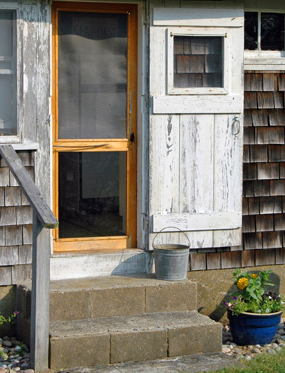 Come with me to a simpler time, where the sound of a slamming screen door and children's laughter floating in the air reminds you of a time when life was full of wonder and memories were made to last a lifetime.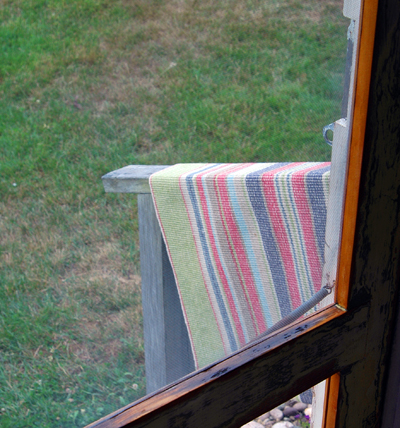 The word "cottage" conjures up all sorts of images doesn't it? Do you imagine a small building with weathered shingles nestled in the dunes, or a sun baked stucco casita high on a hill? Maybe your mind wonders over the pond to a rose covered stone cottage with a thatched roof sitting atop a grassy knoll with its own private peek at the ocean? They all exist and not just in our imaginations. Oh, how I would love to visit one of each! To me, the word cottage simply means home.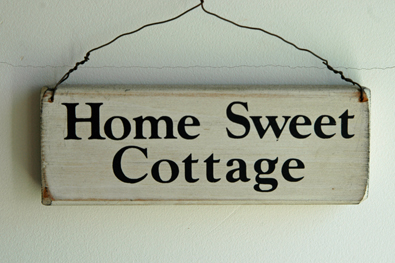 Ours is a three season cottage run by solar power and propane. We call it the Sea Horse, but sometimes joke that we ought to change the name to Tiny Pony because of its size. The square footage is right around 371 square feet but somehow it sleeps us 4, Max the corgi and would you believe our guinea pig quite comfortably? So, what's the secret to living large in a space that small? Well, it helps a lot that we are only there during the summer months. This makes everything we do as far as housekeeping much easier. Summer time invites lighter living. We live with less, although, if you ever saw our car before we unpack you might wonder if anyone really knows the meaning of less is more in our family. We are an hour from a store of any kind so it's important we start out with everything but the kitchen sink… And, we usually do! Speaking of the kitchen sink, let's take the kitchen tour.
Don't blink!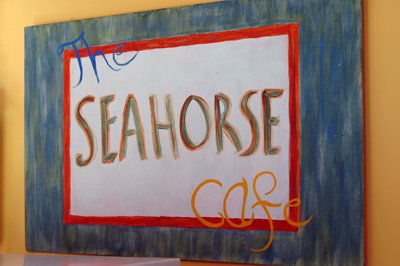 Not much has changed in our cozy cottage kitchen over the last 23 years. And that's a good thing! I've brightened the walls with Kayak Yellow paint and changed the window coverings from dated slate blue cafe' curtains with ruffles, to something a little more Seaworthy. Recently, I stripped off the old bright blue contact paper (circa 1970-something) that covered the AGED TO PERFECTION wooden countertops. Now, glass stains, cuts and dings shine through!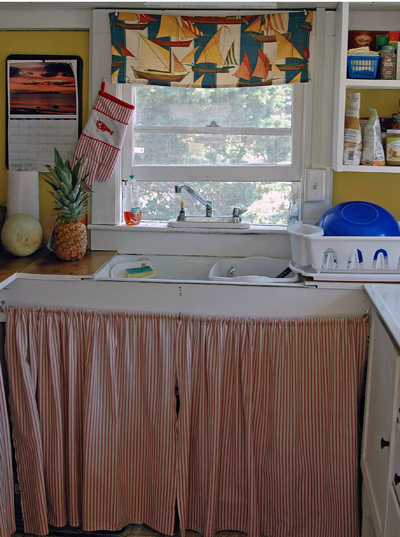 We manage to make the most of the fact that we have no running hot water, microwave or electric coffee pot. You won't find an electric mixer or can opener either. With our Hoosier cabinet, four burner gas stove, hand- held cheese grater, egg beater and bottle opener we do quite well. A tea kettle which does double duty heats water for doing dishes once a day in the old farmhouse sink and again at bed-time for washing up cottage style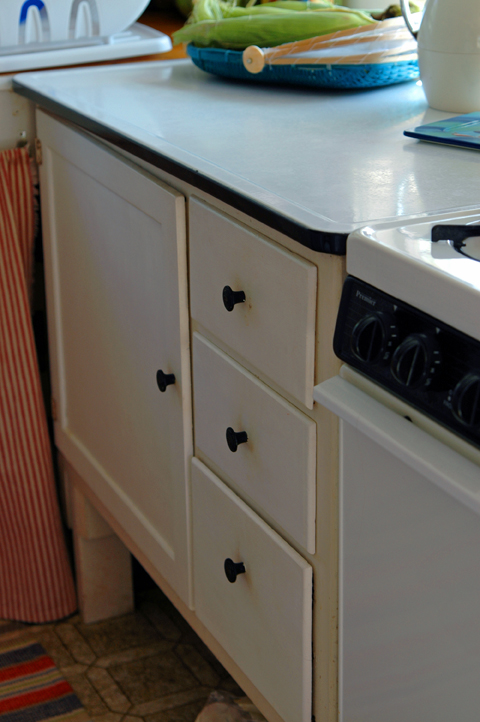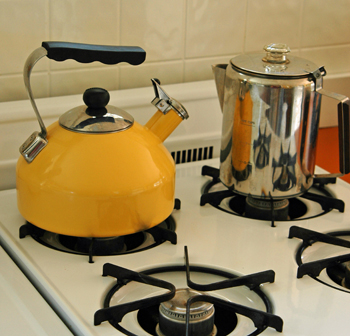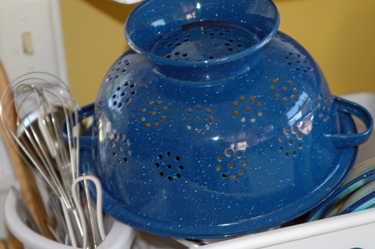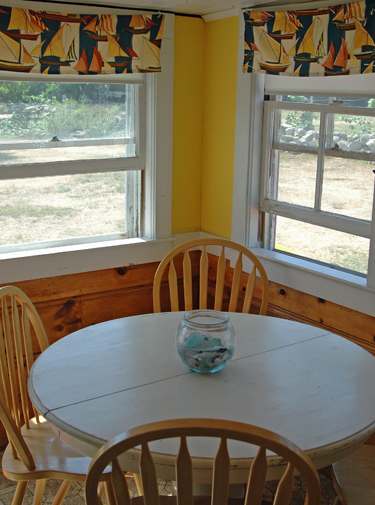 MaryJane has found her way into our humble cottage kitchen! Her Budget Mix is a perfect match when I need an easy, healthy, quick meal at the beach.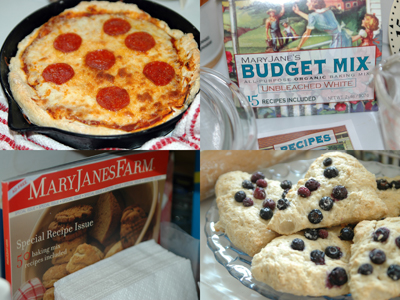 Pan Bread from the Farm Kitchen recipe issue and Blueberry Scones from the recipe booklet inside the Budget Mix box. Both of them are YUMMY!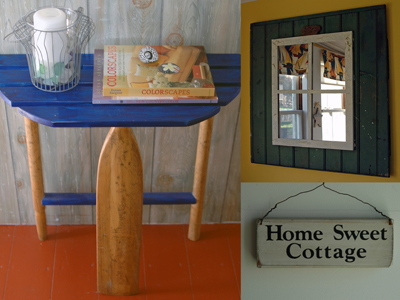 Our cottage is minimally furnished, with comfy futons on the sleeping porch and a few born again creations made from cast offs that nod to beach life. Instead of nightstands beside our bed, we have two book shelves which allows us to store books, magazines, and a few beachy knick-knacks like my husband's trophy for biggest striper caught in the annual fishing tournament. My husband created the blue table using an old weathered oar for the legs, a discarded hockey stick for the frame and some pine strips he had laying around. We created the "window art" from an old shutter, once used to cover the windows in the off season. I purchased the window with mirrored panes from a local discount store, then crackled it for an aged look. Learn how I did it here!
I can't finish this post with out mentioning my brother in law. He is the man behind anything and everything solar in our beach community. Largely self-taught, he brought us into the 21st century by installing a solar system ten years ago, which allowed us to go from gas lights and flashlights to solar electric light inside. Someone is always in need of his mechanical talents at the beach. One thing we have always had is an outside shower and we love it! Water is pumped into barrels on top of the shed and then heated by the sun all day. When we get back from a long day of boating or beachin' it, we've got a refreshing shower waiting!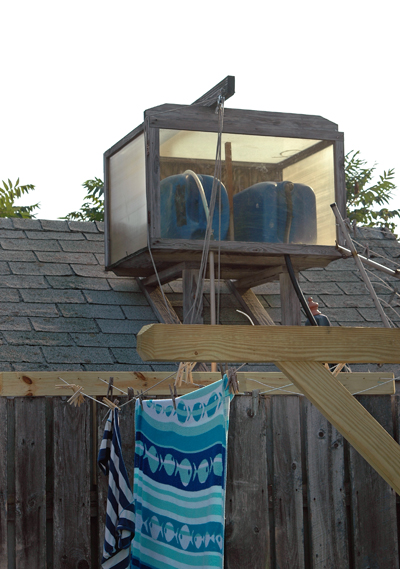 The clothesline is attached to the shed for easy access to hanging beach towels and bathing suits to dry for more fun in the sun later.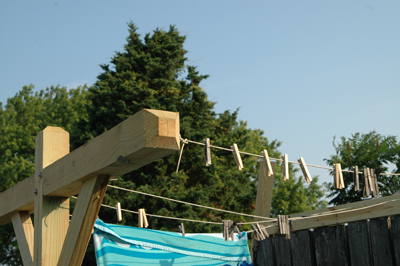 Our drinking water comes from our well and our flush water is piped in via a solar powered electric pump from a holding tank that captures rain water. This is fancy living compared to some cottage dwellers that still use an outhouse or a keeper.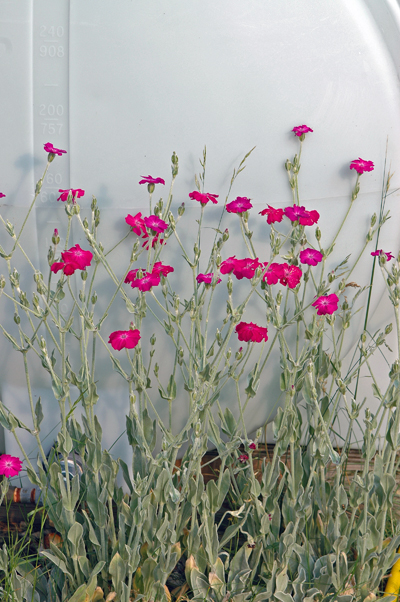 I didn't plan to end this post in the bathroom. Somehow that's just where it ended up! I hope you enjoyed your little peek into our vintage cottage by the waterside.
I'll see you on the shorelines for Memorial Day!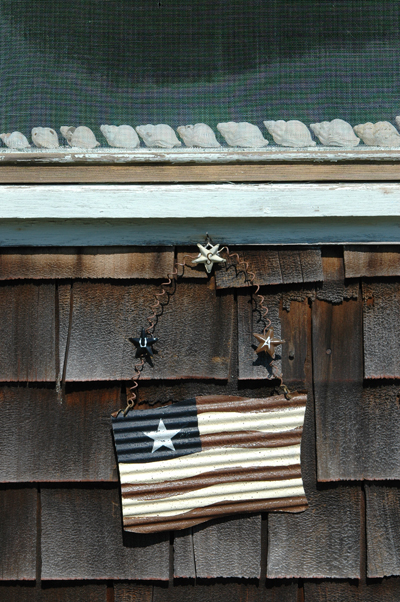 Until then, here are a couple of my favorite beach books:
"Touch the earth, love the earth, her plains, her valleys, her hills, and her seas; rest your spirit in her solitary places. For the gifts of life are the earth's and they are given to all, and they are the songs of birds at daybreak, Orion and the Bear, and the dawn seen over the ocean from the beach."
~ Henry Beston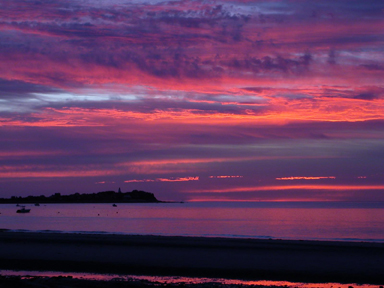 Beach Blessings to all!
Love, Deb