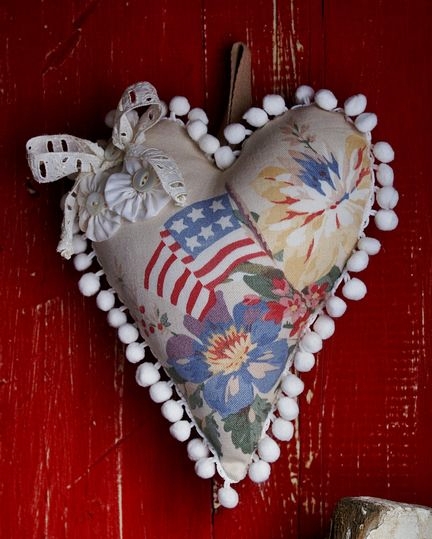 "A good heart is better than all the heads in the world." ~ Edward Bulwer Lytton
I really did try to write about something other than "lovey-dovey" (what with Valentine's Day right around the corner), but the 1965 hit song by Jackie DeShannon was right. It was right back then and acutely true today … "What the world needs now is love … lovesweet love."
Here, take a fresh listen to the love anthem of the 60s. If you were there, you remember it well … and fondly. If you weren't there, you'll remember it as if you were. I still can't listen to it without my eyes moistening. Jackie was so right when she sang about having enough mountains to climb. There are enough mountains. What we really need in this old world is LOVE. http://www.youtube.com/watch?v=tMS2uMUQNnQ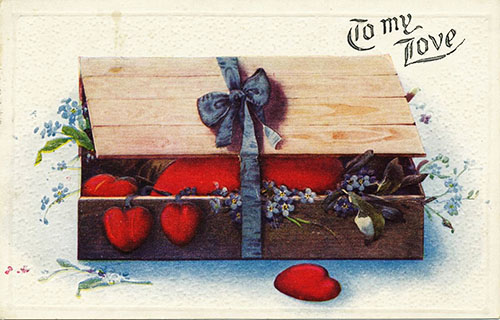 Ok, now that we're sufficiently softened up, let's get on with this project.
I love hearts, always have. I thoroughly enjoyed making them as a schoolgirl to decorate my Valentine party box. Remember cutting out red and pink heart shapes to decorate your box? Oh, and white paper doilies to make them extra fancy. The other day, I wondered if the tradition of making valentine boxes had fallen out of fashion. Then, just yesterday, I stopped to see a young friend of mine (she's a mother of five children under the age of nine) and she showed me the valentine boxes that she was helping three of her sons make. I was delighted to see that we haven't lost another quaint holiday tradition. Seeing those cute & crudely made handmade boxes brought back such fun memories. Oh, how I adored St. Valentine's Day, there was just something about it that stirred my little cowgirl heart. Each of the kids in my class opened 20 or so cutesy valentines that wore pithy sayings designed for children. Only a few boys acted reluctant to join in the fun. For the rest of us, it was sheer heartfelt delight. We got high on pink frosted cupcakes and red koolaid … and acted more giddy than wild. Remember?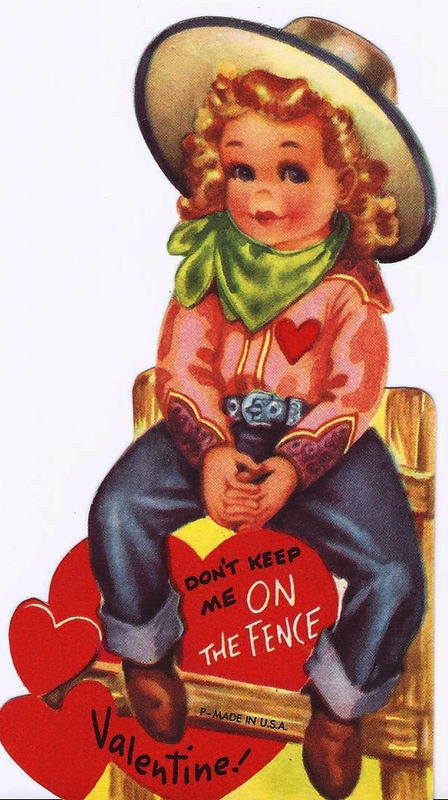 When I picked out valentine cards for the kids in my class, I tried to choose cards that I knew 'So & So' would like. My friends did too. I especially loved the cards given to me that sported ponies, kittens or cowgirls! I wish I would have saved them. Did you?? Many old ones survived and today they fetch a nice price on eBay.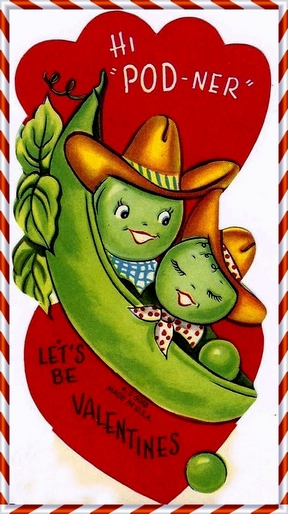 Have you ever had a little pet project plan that lived on your to-do list for almost a decade? Well, for me, it was making a herd of heart ornaments. Obviously, they were never a priority. There were a million and seventeen 'real life' things that were a million and seventeen times more important than making valentines. But, about a month ago, I sank my teeth into my old 'to-do' list, and BoyHowdy, did I have fun. Frivolous fun … playing with fabric and embellishments and tickling myself. The thing that motivated me to finally gather up my herd of hearts was this: The roundup would result in them being corraled in the February MaryJanesFarm sisterhood newsletter (The Cluck). If you're a MaryJanesFarm sisterhood member, you recieve the monthly newsletter via email. Well, it is much more than a newsletter … it is an online magazine … filled to the brim with goodies. if you're not already a Sisterhood member, join in the fun at http://www.farmgirlsisterhood.org.
I'll share a few of the hearts from the herd with you – should you want to use them for inspiration to make up some valentines for those special names in your heart. There are lots more in the newsletter. The basic how to is simple: fold pieces of paper to make the heart patterns and then stitch them, stuff them and embellish them as you please. The hanging pillow at the top of this page is a member of the herd, as is this accent pillow below.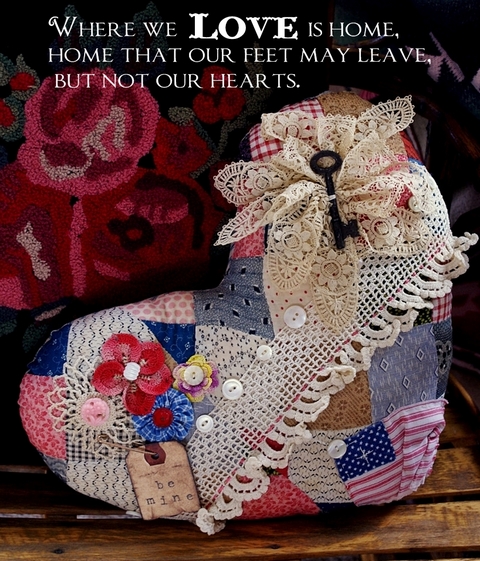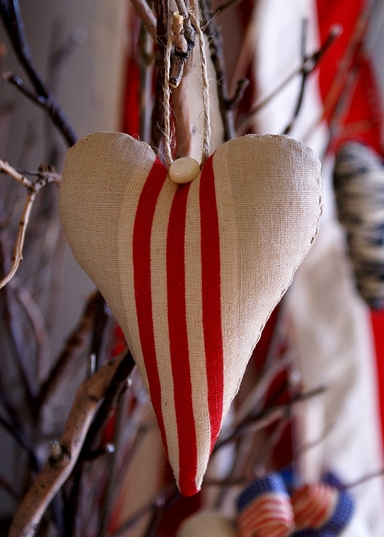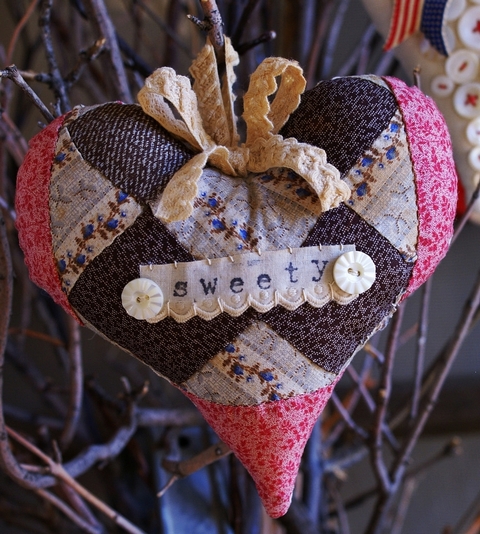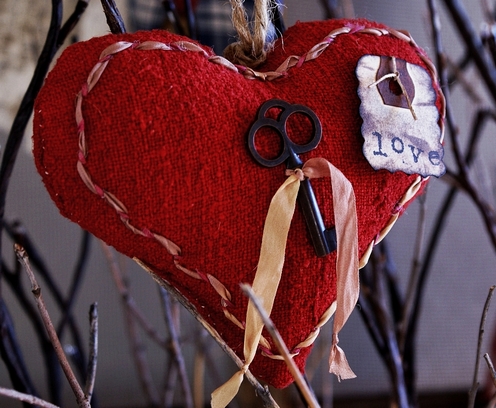 About midway through making my herd of hearts, I had to make an emergency run to the Veterinarian. An old doe deer attacked my 12 year old Rat Terrier when I let the dogs out to tinkle. The doe mauled her, I mean really beat her up — slashing Dotty with her hooves. I admit, I was very shook up. Dotty is my doggy-darling … the dog of my heart. I was heartbroken watching my dear little friend in such pain. She couldn't be stitched up because of anesthesia being kinda iffy on a dog of her age. So, she's healing up on her own with the help of antibiotics and Veterycin. I'm happy to report that my doggie sidekick is doing well and I finished my herd of hearts with her lying at my feet. When someone you love suffers, it rips you up inside. That is the downside of love. But, is is better to love and lose than not to love at all. I know that the dog I adore may not be long for this world. So, I love her a little more every day she's here. The greater and much larger loves in my life, my aging parents, come to mind also. As I've gotten older, I've become acutely aware of lingering a little with loved ones, in thought, because you never know when you will see them again … in this life. Love holds them safe in your heart, but it can't keep them here.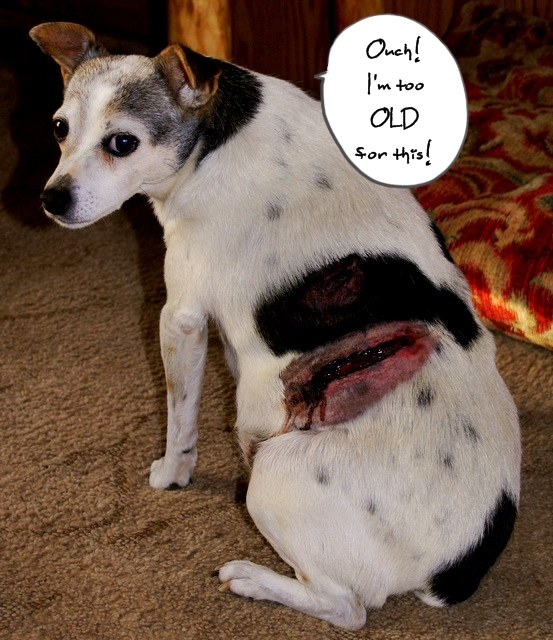 Then, there are the pleasant surprises. When I stopped to visit my friend (the young mother) in her 2nd hand store/florist shop, she gave me a pair of roses 'just because' and offered me an early valentine hug. Ya know, I needed one too. Love is funny that way. It sees a need and finds a way to meet it.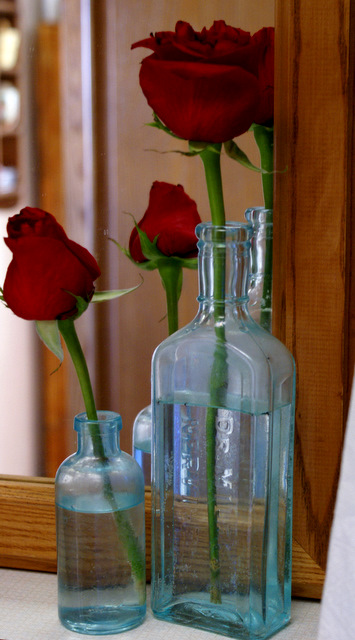 Oh, and I have another pleasant surprise to share with you. I'm going to be getting a new horse! A dear friend of mine, Linnea, bred her and I am told she is a near clone to my beloved "Dolly" – being very closely related to my 22 year old mare. Her farm name is "Apple", but 'on paper' she was named after my Apple Pi Dolly Rose. My new horse's paper name is ML Meadowlark Dolly Rose. I don't have a photo of Apple to share, but you know I will later ;o) . At one time, when we were raising horses, we had anywhere from 15-30 or so horses here at all times. But, now I have just three and I've not bought a new horse in several years. Blessed I am to live in a place where I can enjoy one of my lifelong loves – horses. It wasn't always so in my young adult years and I confess that I quietly ached for horses. I went on with my life as it was, but horses were in my dreams. Even so, I couldn't bear to be near them … and not have one. They're in my blood, my heart and my soul. Sometimes, oft times, it is good to stop in your tracks and put a number on all the things we should be thankful for. Love feels the need and hears those prayers we're never brave enough to utter. Heart-prayers are the good Lord's specialty.
I know this to be true because I've been blessed with 55 years to figure it out. Some folks figure a lot of things out sooner, but hey, I'm not the sharpest knife in the drawer. If I was, it shouldn't have taken me so long to find true love. Actually, it found me. 'He' came into my life riding a horse, literally. Love is the most powerful force in the universe, the most creative force, the most important force, and the most determined force. Hate can create horrors beyond our comprehension, only love can stop it … and – it – does. Sometimes it just takes longer than we think we can hang onto our faith. But, in the end, nothing trumps love.
Love is big, love is small. Little love finds little cracks in you that need to be filled … the tiny cracks that only little love can see. Last night at Youth Group (our church's), I was given a handmade valentine (below). Before I could get a grip on myself, I sighed deeply and tears rolled down my cheeks. Those of you that are mothers might wonder at that. You probably have boxes of child-made paper gifts. I do not. Until last night, I hadn't been given a handmade paper valentine for about 45 years – since I was a schoolgirl. You see, I never had children. I surprised both the kids and myself with an emotional response. The sweet words and the time it took to make the gift filled a little crack that I didn't even know I had. So, should you get hand wrought valentines from your kids or grand kids this year … try to receive them with this thought in mind: You might never have been given the precious gift of the little hands that made them. But, you were given that gift.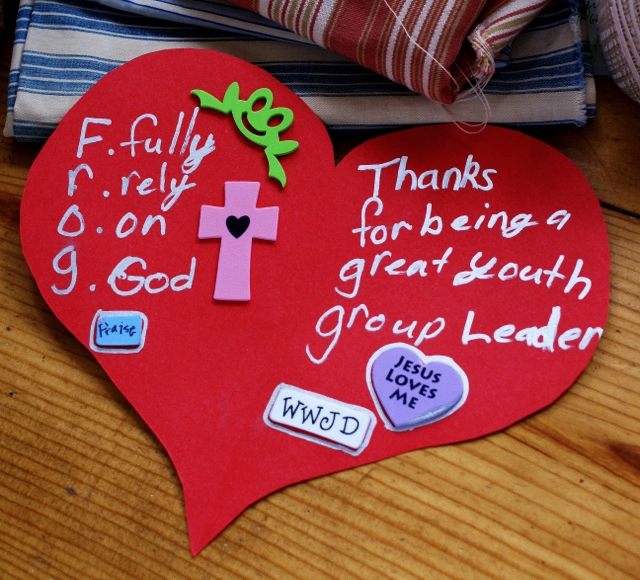 Love can be a mushy thing, but lightening it up has its place. That, too, is part of Valentines Day. Love sinks into the pores of everything good in life. The best humor includes love. Love teases us in the most delightful ways. Love is playful and not just deeply kind. Love is the puppy that romps around making a fool of himself for no other reason than to show you in the only way he can that he Loves you more than he understands. If you do any good thing, it is a loving thing. You cannot do good without love being right in the middle of it. Doing good in small things and in great things is true success. Love is success, real success anyway. I think that is what Ralph Waldo Emerson was getting at when he penned this …
"To laugh often and much, to win the respect of intelligent people and the affection of children, to earn appreciation of honest critics and endure the betrayal of false friends, to appreciate beauty, to find the best in others, to leave the world a little bit better, whether by a healthy child, a garden patch … to know even one life has breathed a little easier because you lived. This is to succeed."
To get through this life doing what you should be doing, loving what you're doing, making the most of what you have to work with takes love. A lot of love. That is why we need it every day. A young cowboy in the late 1800s figured that out too. He had time on his hands while he watched over the herd … to compose a love letter, a poem for "Susie". That was the era in which young couples weren't just building lives together, they were building this country while the thing was still close to the ground. This unknown cowboy poet and his lady-love were setting out to do the very thing many of you young farmgirls and your husbands are doing today – "homesteading" – trying to create a healthy lifestyle and an honest life. And, what is the first building block, the cornerstone? Love.
A Cowboy's Sweetheart
Oh, the last steer has been branded
And the last beef has been shipped,
And I'm free to roam the prairies
That the round-up crew has stripped.
I'm free to think of Susie …
Fairer than the stars above …
She's this cowboy's sweetheart,
My little turtle dove.
Sometimes I think I'm loco
And only fit for herdin' sheep,
'Cause I only think of Susie
When I'm awake or dead asleep,
I'm wearin' Cupid's hobbles,
And I'm tied to Love's stake-pin,
And when my heart was branded
The irons sunk deep in.
I'll ride to see her on Sunday,
A'wearin' my wooly chaps,
I'll take a good horse for Susie
So'z we can ride & talk o'er our plans.
– 1900s poem, cowboy author unknown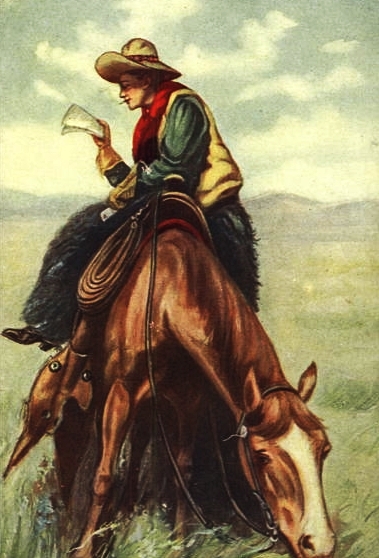 Just one more thing from me … and Jack Johnson, one final reminder that "we" are better together. Love can't operate alone. So, I'll end this with my most recent favorite song … and it is a love song. Enjoy!