As room mom of my daughter's fourth grade class, I'll help plan and attend the class Valentine's Day Celebration! The parents are sending in treats. We'll play "Valentine Bingo," using "conversation hearts" as markers, and the kids will stuff Valentine cards into each others' "mailboxes". Two years ago, my daughter and I made homemade Valentines for all her friends, and last year we found adorable Vintage re-printed ones. This year she's chosen to go with classic "Snoopy and the Gang" valentines. Remember those grade school Valentine days?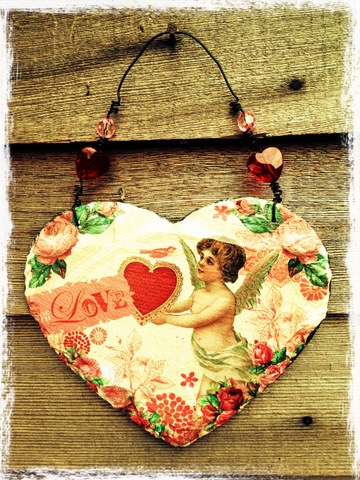 I don't think I've ever grown out of them! I love hearts, Valentines, and romance! I wouldn't call myself a hopeless romantic, but I do enjoy a good romantic movie from time to time! One favorite is Hallmark's "The Magic of Ordinary Days," about a young mother-to-be, banished to a farm and an arranged marriage. Set in the 1940's, it's a sweet movie. I can certainly imagine worse places to be sent to than a farm! My sweetheart, whom I've been married to for twenty years this year, gave me the DVD one Valentine's Day. He doesn't always do "traditional" Valentine's presents, and our first Valentine's together, my newlywed heart sank when he let the day go by as a "regular" day. His excuse was that they didn't celebrate it in Denmark (although now I think the holiday's caught on). Let's just say he's never forgotten February 14th again…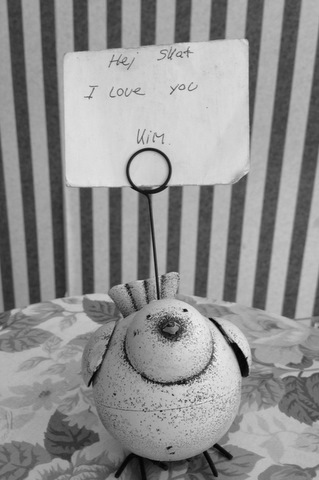 I'm certainly sentimental! I have a small card, carried in my wallet the last twenty years. For my twentieth birthday, my sweetheart sent roses with this handwritten note attached. "Skat" is the Danish word for "Sweetheart". We also call each other "Mus", pronounced "moose", Danish for "mouse". Do you have a sweet name you call your darlin'? Do tell…
Valentine's is a day to celebrate friendship, too. Nothing warms the heart more than love in the mailbox! I'm mailing out Valentine cards, and am thankful for my wonderful friends, especially those in my Sisterhood. This coming week marks the "anniversary" of when I joined the MaryJanes Farm Sisterhood, something that turned out to be life-changing and inspiring. The women on the Farmgirl Forum have become my "other" family, my soundboard. So many of you there have become close friends, no matter the miles between us. And, my Sisterhood Chapter, Connecticut Simpler Life Sisters, has found me surrounded by amazing, warmhearted women! 2012 marks our third year, and I've realized we're no longer a few friends, but a true "sisterhood", with a wonderful, strong bond, and the common thread of "Farmgirl Spirit". I get asked frequently about how I started my chapter. If you've been thinking about it, go for it! You've got nothing to lose! (Get started here: http://maryjanesfarm.org/Chapters/Join.asp).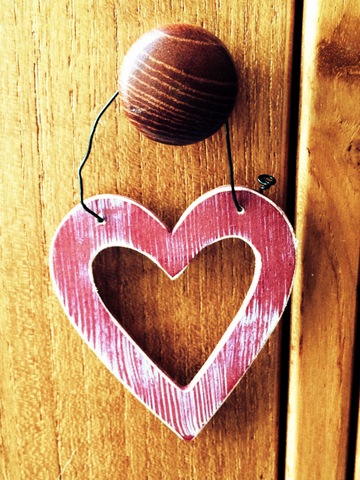 Our chapter's January Get-Together got postponed due to a bad snowstorm. What would have been a large group of most of our members, turned into a smaller, more intimate dinner for four! Last year, we did a "Soup Swap" (read about it here: http://sfgblog.maryjanesfarm.org/default.asp?Display=45). This year, we changed it to a "Casserole Klatsch". The invitation read:
It's Winter and it's coooooollllddd.  Let's get together with warm friends and warm food!  Please come to "CT Simpler Life Sisters Casserole Klatsch"!  Bring something for our potluck dinner, either a main dish, side dish, or dessert…but here's the catch:  it must be something made in a casserole dish!  Crack open those cookbooks and get those creative juices flowing! 
I set the table "Farmgirl Style" with plenty of red and roosters! I chose a bouquet of Alstroemeria, which symbolizes "friendship and devotion". It's fun to get together with the "girls". (Kristen's hubby affectionately refers to us as the "Ya-Ya's"). The evening brought lots of laughs, and the dishes everyone brought were so good!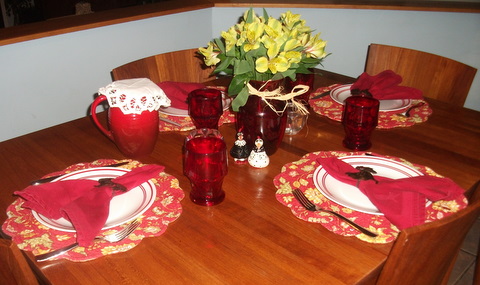 For my contribution, I made MaryJane's "Farmgirl Saturday Cake", as well as my Momma's "Chicken Broccoli Casserole". The original recipe, as shown below, calls for two cans of Condensed Cream of Mushroom soup. I'm devoted to eating organic, so I substitute the two cans of conventional soup for 1-½ cartons of the Organic version.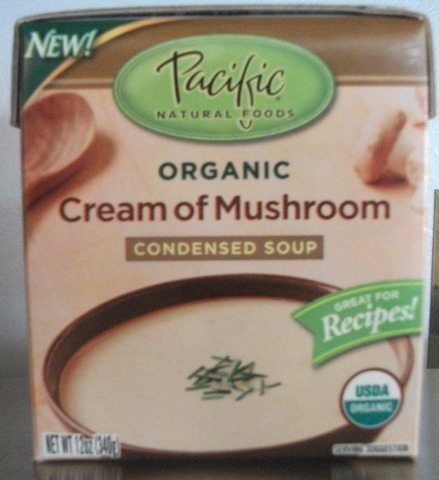 Chicken Broccoli Casserole
2 cups cooked, chopped broccoli, drained

2 cups cooked rice

3 cups cooked chicken, cut up in bite-size pieces

2 cans Cream of Mushroom soup

1 bunch green onions, chopped (about 3 or 4)

½ tsp pepper

1 tsp salt

1 cup grated cheddar cheese

½ tsp paprika, for top
Mix all ingredients together (except paprika) well and turn into a greased 13X9 casserole dish. Sprinkle top with paprika and bake at 350 degrees for 30 minutes.
Valentine's this year falls on a Tuesday, so I'll make a special dinner. Food's one of my favorite ways to show love. Don't walk into my door and not expect to eat something!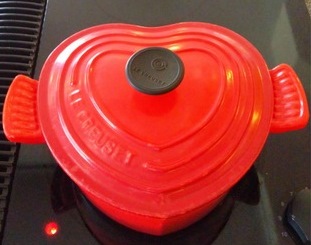 We won't forget our "fur-baby," either. She certainly gives us so much love. Here's a photo of her waiting for the school bus. You can just see the love!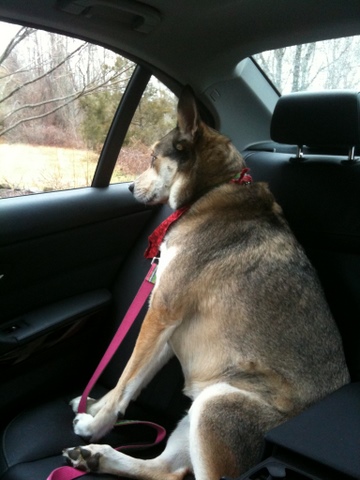 I'd love to hear from you. Are you doing anything special for your loved ones on Valentine's? Do you belong to a Sisterhood Chapter, and if so what have you done with your 'sisters' lately? Whatever you are doing…
 Happy Valentine's Day from the Suburban Farmgirl!