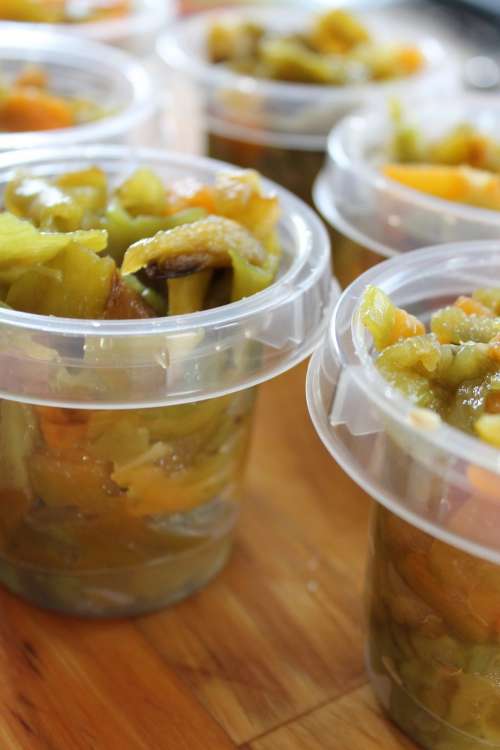 .
There are certain times of the year that I miss New Mexico, the place of my childhood, so much.  This is one of those times… green chile time!
.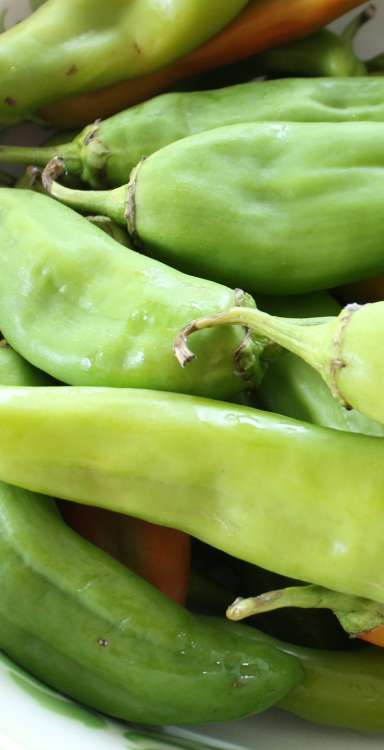 .
You've probably heard about the green chile referred to as Hatch Green Chile?  The name of the chile is not Hatch… that is simply because they are grown in Hatch, New Mexico.  However, some of the best green chile you will ever taste comes from Hatch.  I have asked my mother and different family members why Hatch puts out such amazing green chile?  I get varying answers!  But nevertheless, Hatch Green Chile is the best you'll every buy!
.
My mom gave me some Green Chile seeds from a farm in Hatch a few years ago and I grew them in my garden here in Tennessee.  The plants were gorgeous, the chile peppers not so much.  I just don't think it is hot and dry enough here in the South to grow them like they grow in the New Mexico low desert country.  The funny thing is that I will hear people here in the South say, "I grow green chile and it does excellent".  And it does… if you don't know what those Hatch, New Mexico Green Chile's look and taste like!
.
There are websites where you can order the chile, and I was thinking about it until I heard that Whole Foods in Nashville gets Hatch Green Chile in by the truck load.  I was in Nashville anyway, so I stopped at Whole Foods and sure enough I caught them as they were unloading the boxes.  I even recognized the name of the farm that was stamped on the box!  Yay!!!  I bought a whole bunch and brought them home to roast and freeze so I can enjoy good Hatch Green Chile all winter!
.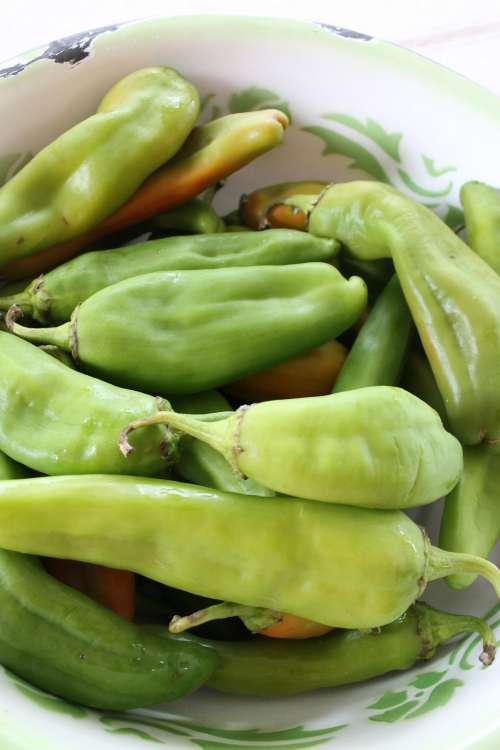 .
For those of you that are not familiar with Green Chile and how to roast and freeze them, this little tutorial is for you.  And the next time you get a chance to buy the real deal, do.  I promise you, you will never go back!  So, here we go.
.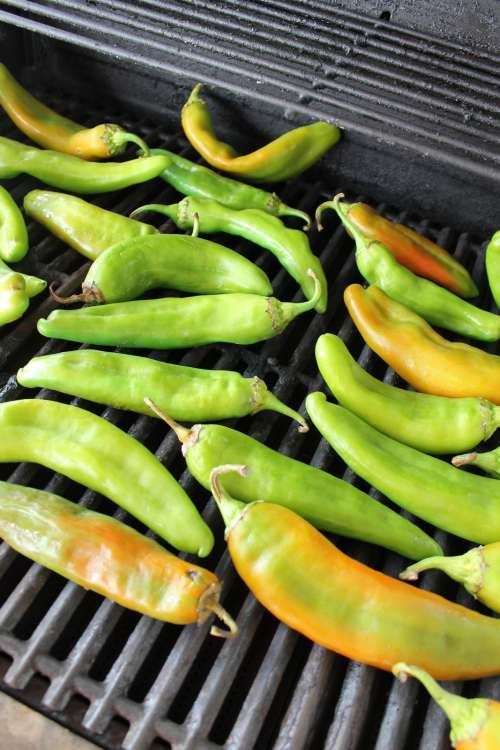 .
After washing your peppers, pierce each one a few times with a knife (to keep them from exploding) and place them on a very hot grill.  You can also do this in your oven on broil, but I prefer the grill.
.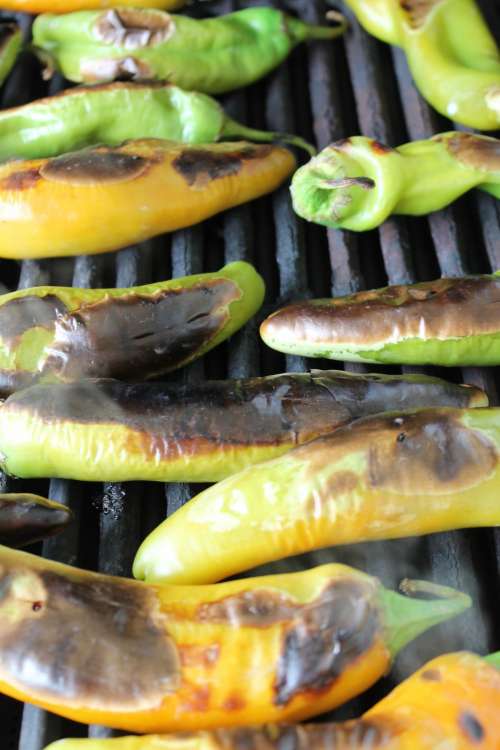 .
You want to grill them until the skin turns black and blisters.  Then turn them over and do the same on the other side.  This doesn't take but a few minutes on each side if your grill is very hot.
.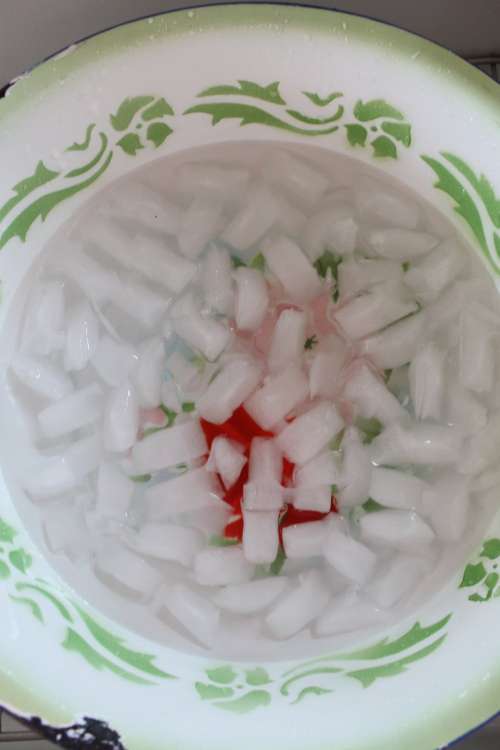 .
While the peppers are grilling, fill a large bowl with ice water.  I use my very large enamelware bowl for this and it works great.
.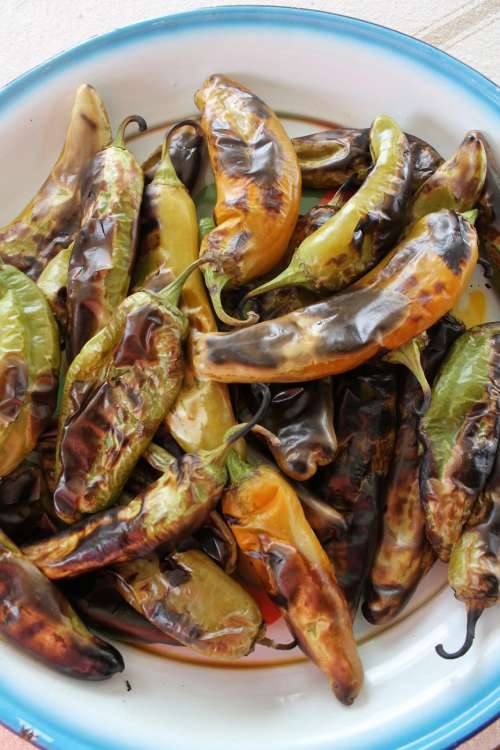 .
Load your peppers up on a platter.  (An enamelware platter works great for this too.  Surely you know by now how much I love old enamelware right?!)  They will be soft and smell divine.
.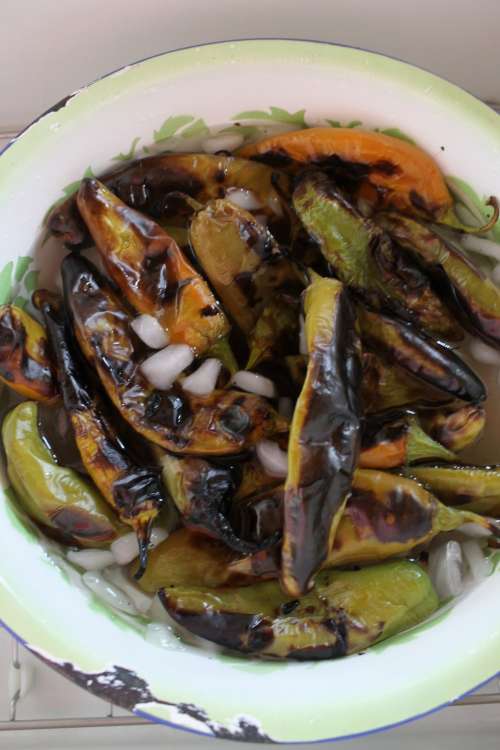 .
Place them carefully into the bowl of ice water for just a few minutes. The ice water shocks them so that they stop cooking.  You want the skin to be cooked but you don't necessarily want to cook your chile.  Some people place the cooked chile in a bag to steam them after cooking, but my Mom taught me to put them in ice water to keep them from cooking.
.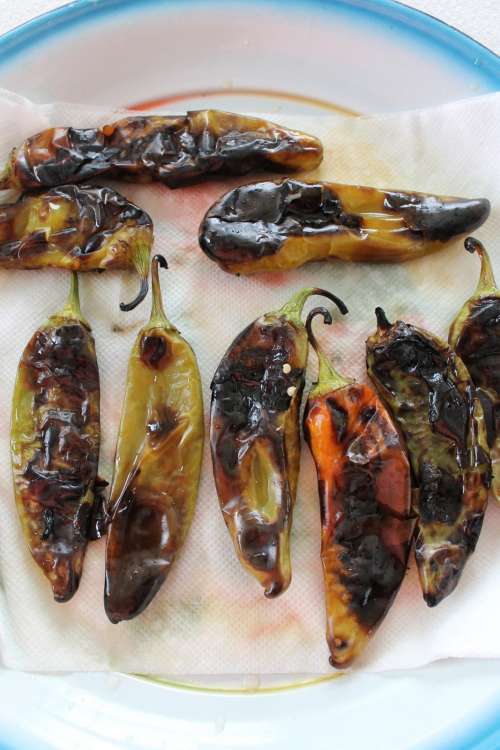 .
Remove them from the ice water to a platter with a paper towel and pat the water off. You can place them in a zip-lock freezer bag and freeze them whole with the skins on.  When I was home in New Mexico caring for my Mom after a hip replacement (if you missed that post you can read it here), I pulled so many whole green chile out of Mom's freezer.  You just run them under warm water and the skin literally falls off.
.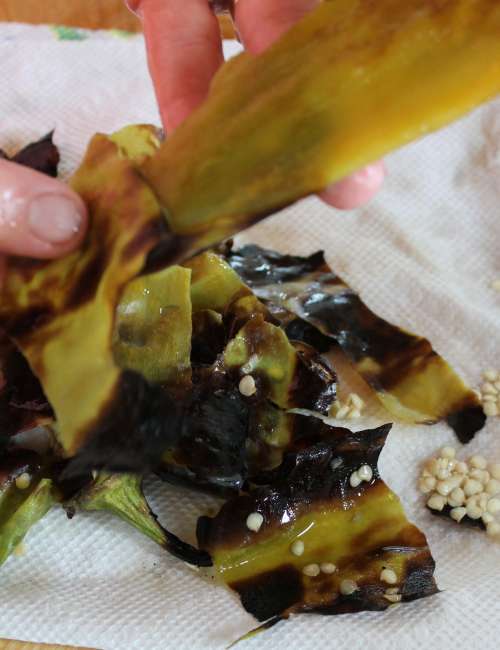 .
Or, if you want to freeze them chopped then you proceed to remove the skins.  Which is a very easy process of just peeling off the charred skin.  I also remove the stem and rinse under cold water to remove the seeds.
.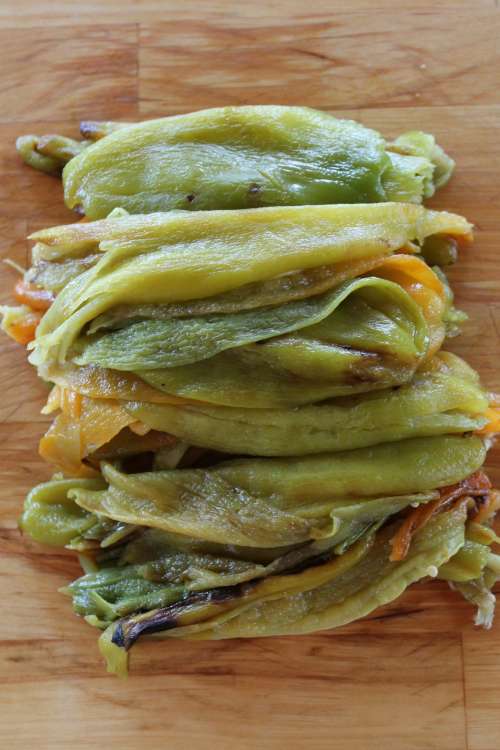 .
Stack them up on a cutting board.  (And it's okay if you don't get every piece of skin off.)
.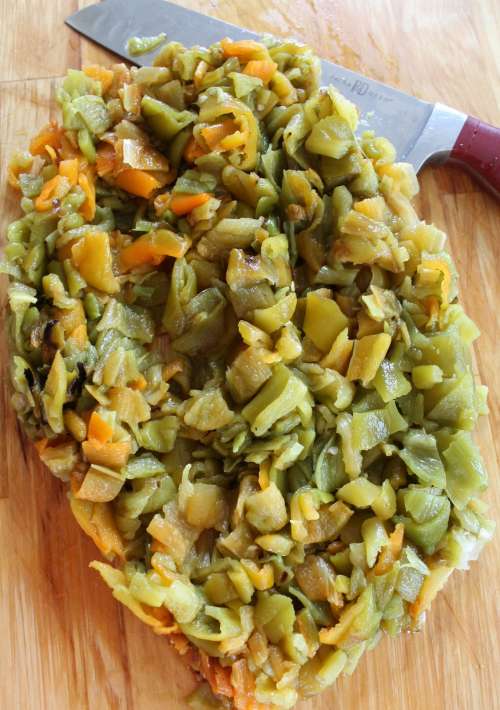 .
Chop them up into nice little chunks.
.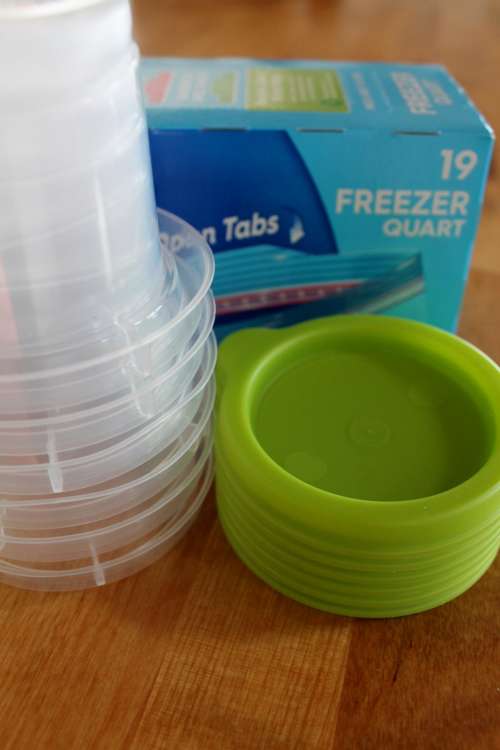 .
You can then freeze them in either zip-lock freezer bags or little plastic freezer containers.  I prefer the little containers.
.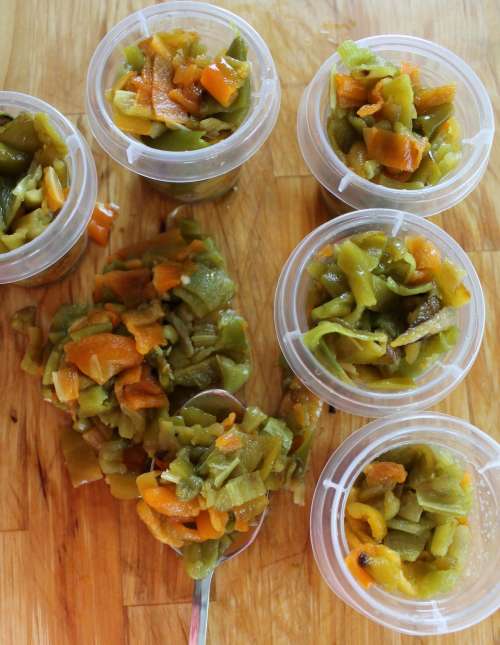 .
Simply spoon the chile into the little containers and pop them in the freezer.  I do not write the date on them as I know that they will all be eaten this winter.  And if not, they will last for another season in the freezer.
.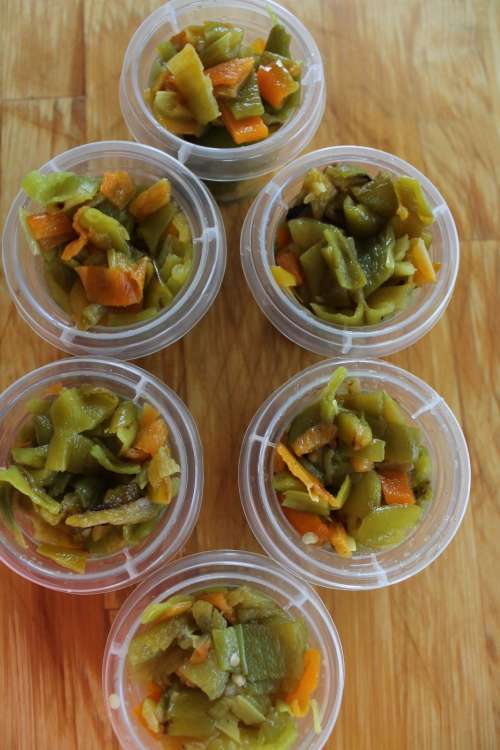 .
Totally, amazingly, incredibly good in everything!
.
So, now.  The question you've been waiting for.  How do YOU spell chile?
.
I was always taught that green chile was spelled only with an 'e' at the end because that is the correct spelling in Spanish!  If you want to Americanize it then you spell it with an 'i' or an 'ie' on the end!
.
No matter how you spell it, Green Chile from Hatch, New Mexico is the best.  Hands down!
.
I found this little YouTube video that I just loved.  I thought you might enjoy it too.  My favorite part is the quote at the end.  The key to growing old and healthy…
.
 "Work hard and eat a lot of chile"!
.
I think my Momma and Daddy could attest to that… there isn't a meal that they don't have green chile on the table!
.
.
Until our gravel roads cross again… so long.  (Maybe this winter I'll do a post on my Mom's wonderful Green Chile Enchiladas!)
.
Dori