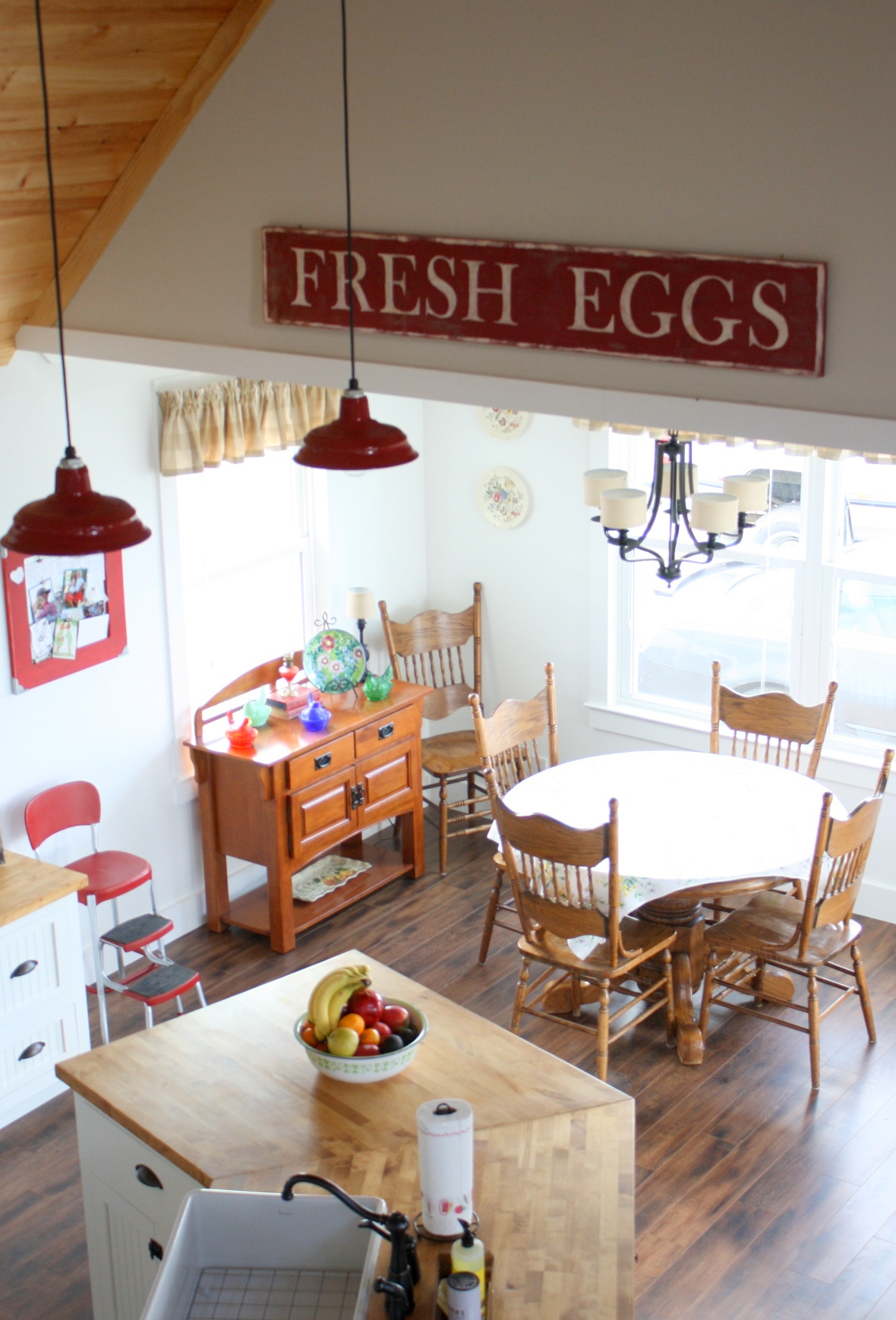 My Fresh Eggs sign hanging in my kitchen is still my very favorite.
.
I'm in love with vintage wooden signs.  The problem is that the ones I've seen that I really, really want I can't afford.  There is a very large wooden sign that hangs in a cafe on the square of our little local town and I've eyed it for years.  One day I thought, "Why can't I just make one"?  So I did.  Since then, I've made numerous signs, a few for myself and a few for gifts.
.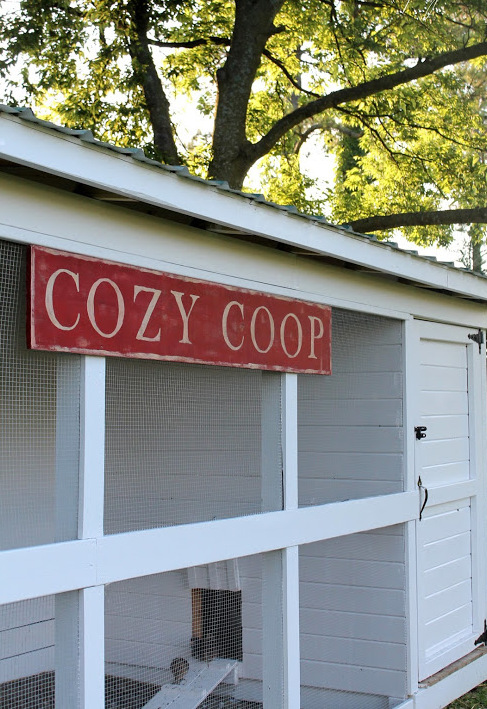 I made the Cozy Coop sign for my daughter's chicken house!
.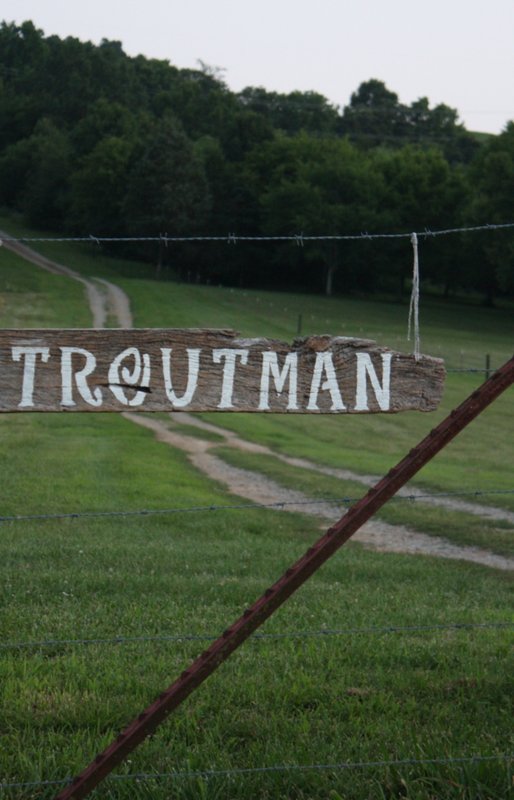 .
The sign at our farm entrance.
.
I've painted directly to old barn wood and that is a super fast and easy project.
.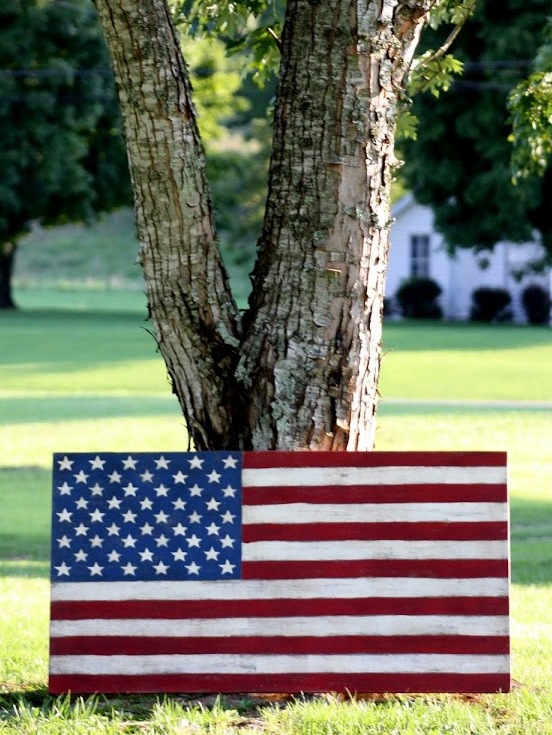 This flag was one of the most enjoyable projects I've ever painted on wood. 
.
They don't have to be signs with words.  I'm not very artistic but I can do most anything if it  is straight lines or a stencil!  I used my Cricut cutter to make star stencils for the above flag.
.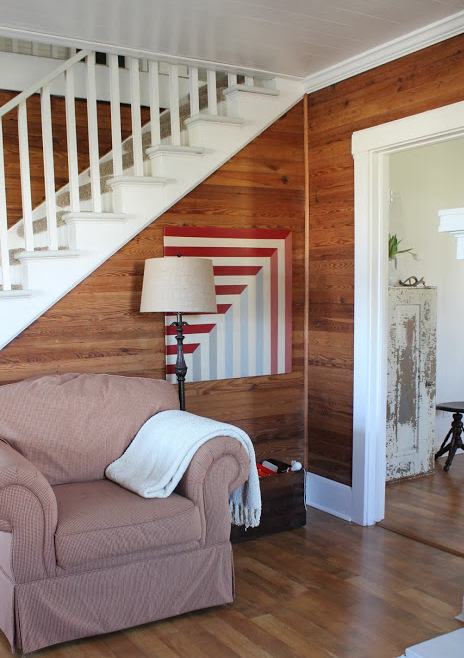 .
I dabbled around a bit with painting a wooden quilt and made the above sign from a drawing that my daughter found in a magazine.  She loves it in her country home.
.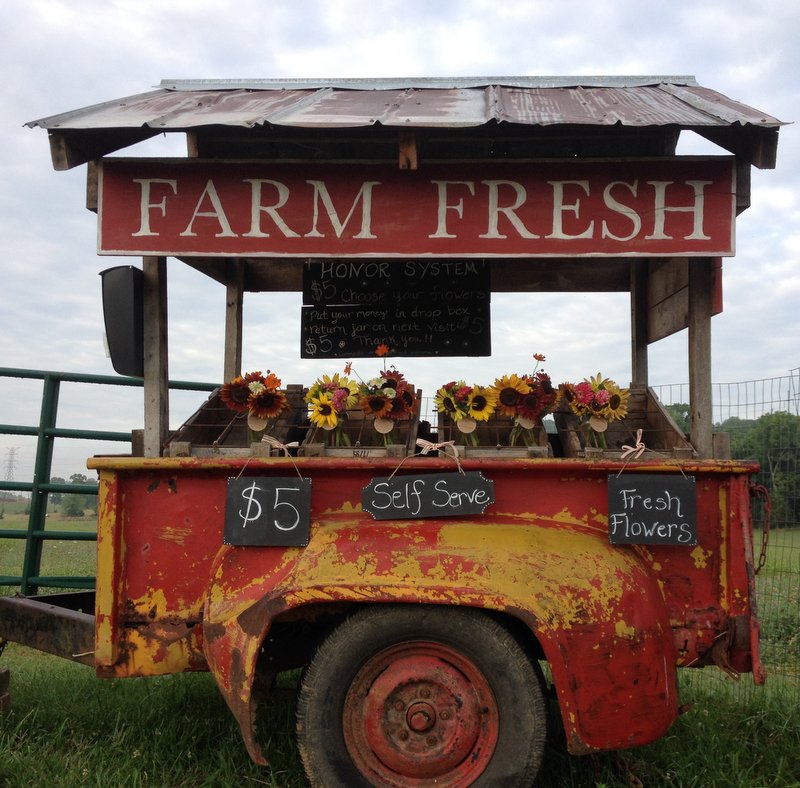 Our little roadside flower stand. We kind of love it!
.
I think most of my readers here know that my daughter and I are flower farmers on a very small scale.  Well, our husbands took pity on us working in the hot sun of our garden as we arrange our bouquets for our roadside stand each morning, and they built us a great little open air work shed.  We've been talking about prettying it up a bit and I decided to start with a sign.  The sign duplicates the one I made to hang on our farm stand, pictured above.
.
I took pictures of the process so that I could teach you how to make a very fun vintage look wooden sign.  So here we go.
.
Step One:  Buy your board.  I like long word signs, especially if you are going to be painting more than one word.  The board I purchased for this sign is six feet long by 1 inch thick.  Some lumber yards have boards that are split or damaged that they will sell you very cheap, or even just give to you.  The more splits and dings, the more authentic it will look.
.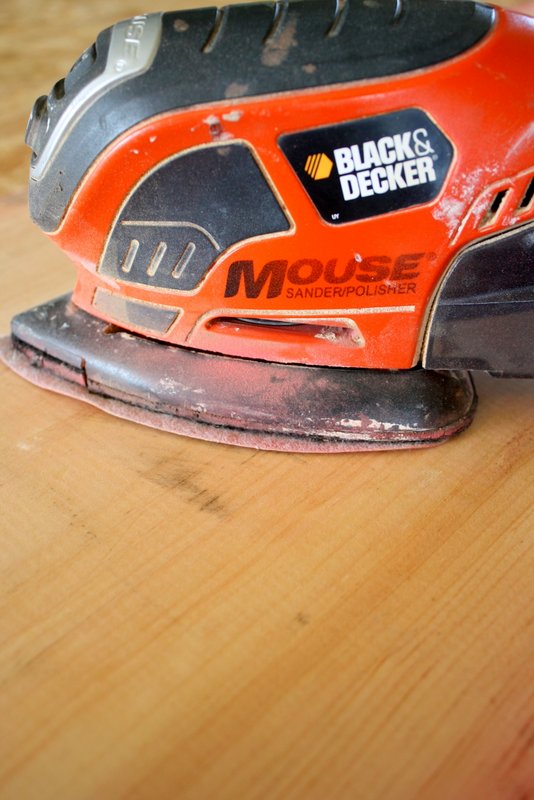 .
Step Two: Sand your board.  If you have a little mouse sander give the board a light sand to remove any splintery wood.  (If you don't have a mouse sander, buy one!  They are inexpensive and helpful in so many projects.)
.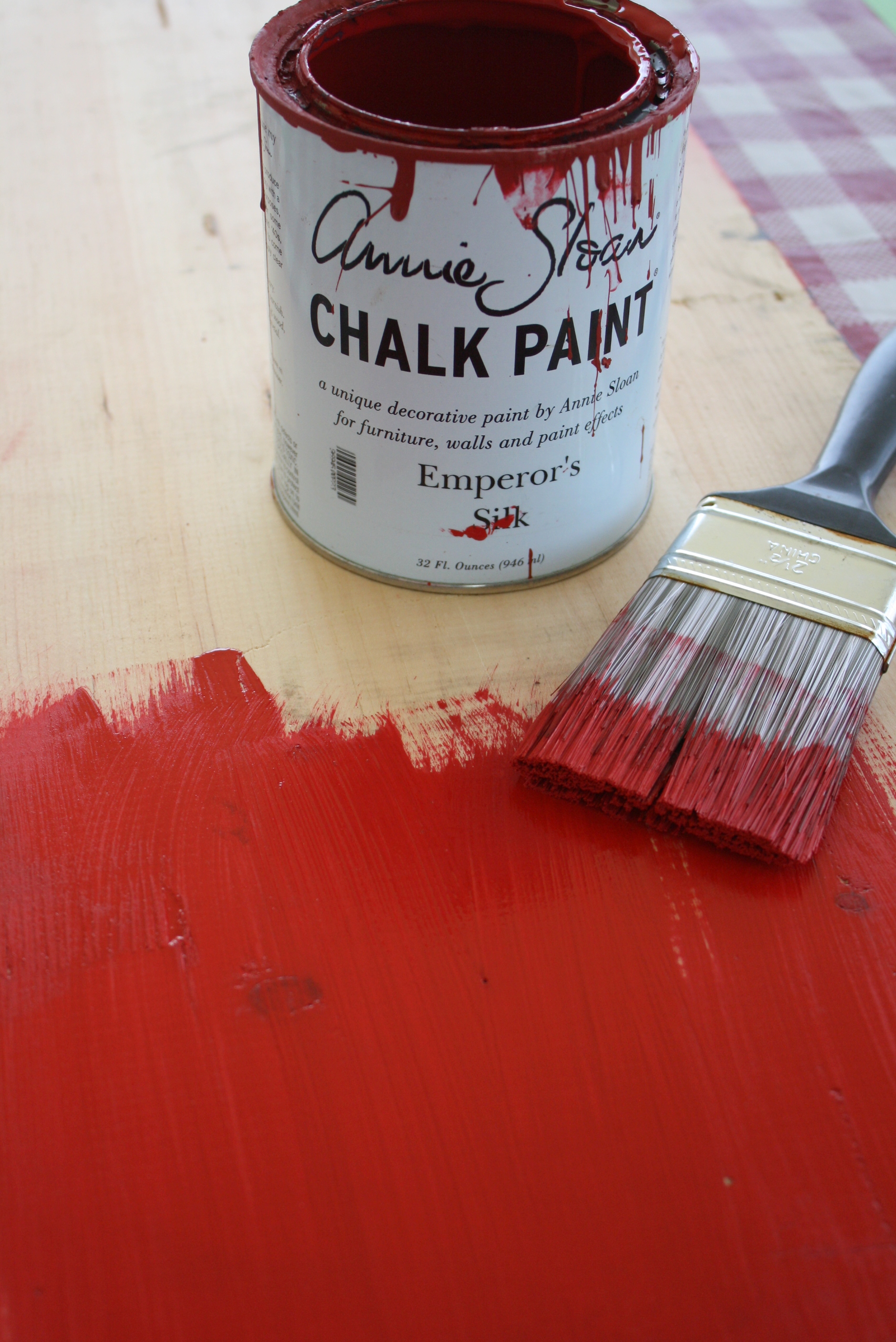 ,
Step Three:  Paint your board.  I like to use Annie Sloan chalk paint; however, you can use ANY paint you want.  The main reason I like the chalk paint is that it dries very, very quickly so once I've got my first coat of paint on I only have to wait 15 minutes or so to start on my lettering.  But, you seriously can use any old left over paint you have.  Just make sure it is the color you want!  I love red.  I honestly end up painting so many of my signs red because the color is just so perfect.  You do not need to cover every single bit of the wood; it is okay if some of it shows through the paint a bit.  The look we're going for is rustic and worn looking.
.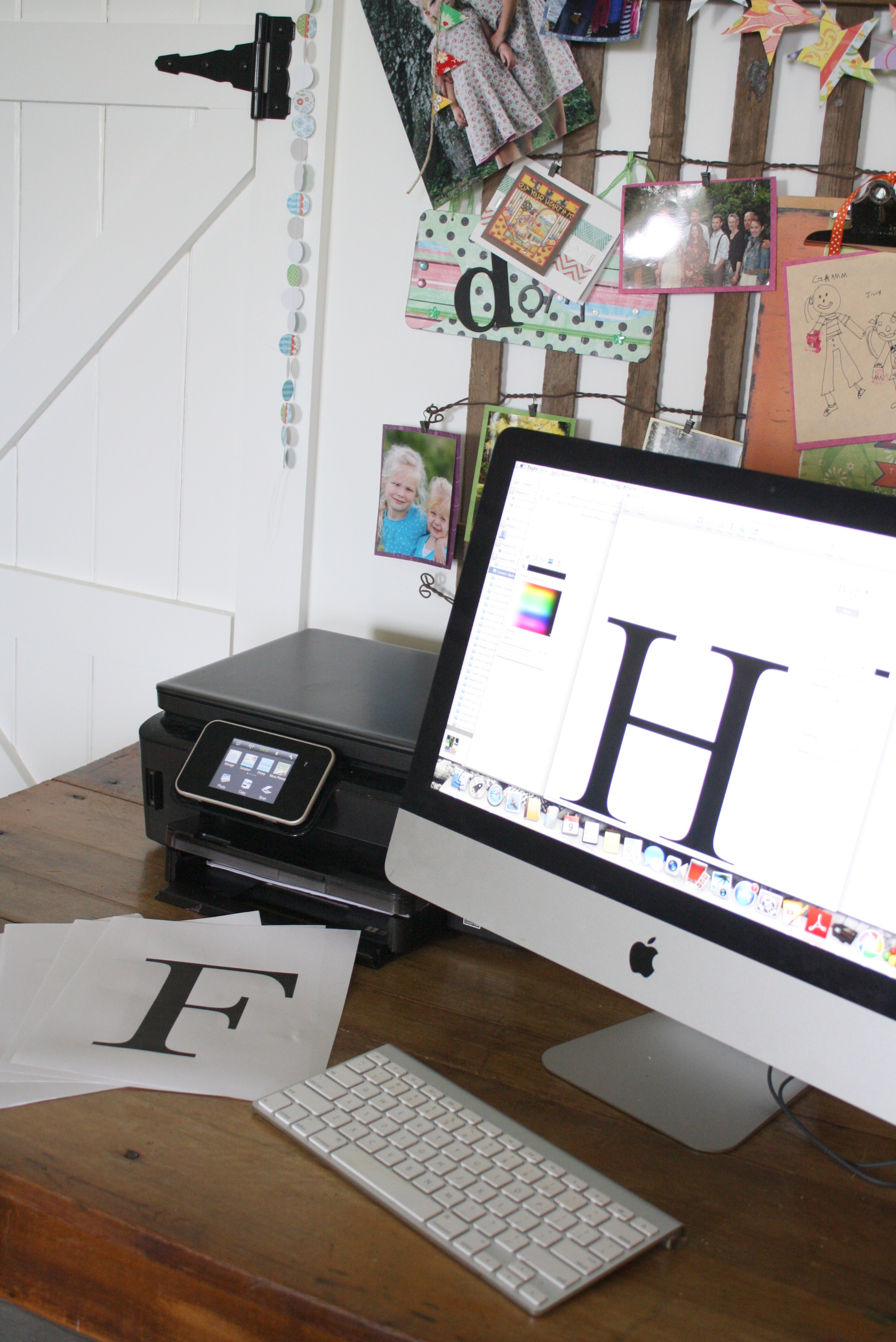 .
Step Four:  Print your lettering.  While your paint is drying, sit down at your computer in a word processing program and find a font that you want your letters to be.  I like a block type of font as it is so much easier to paint.  You will have to do some figuring on letter size to determine how large your letters should be in order to fit on the board properly.  In my case I'm using the font Baskerville at 700 pt because I want it very large.  Once you've got that figured out, print your letters.  Mine printed at one letter per page.  (You can also free hand draw your letters.  I've done that, but wasn't very happy with the results.)
.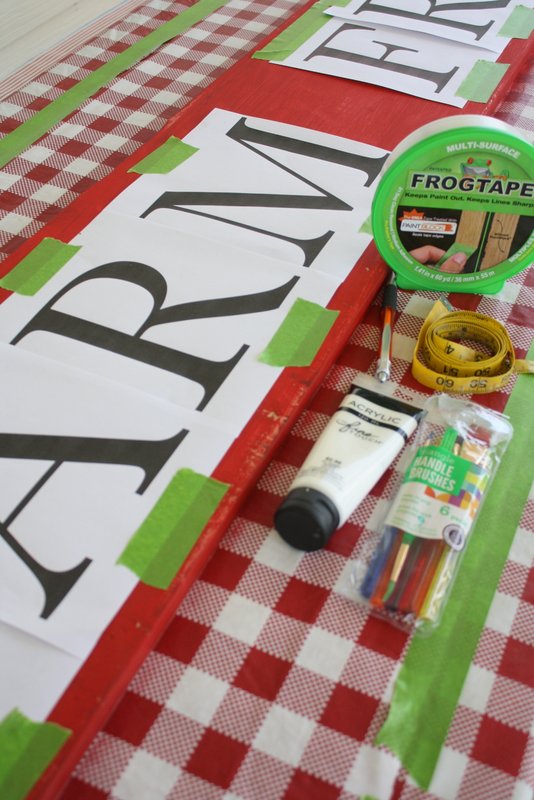 .
Step Five:  Tape your letters in place.  You will lay your letters onto your sign, adjusting as needed.  You may want to trim your paper so there isn't any overlap between letters.   Use Frog painters tape to lightly tape your letters into place.  I tape to the wood at the top and the bottom of each letter.
.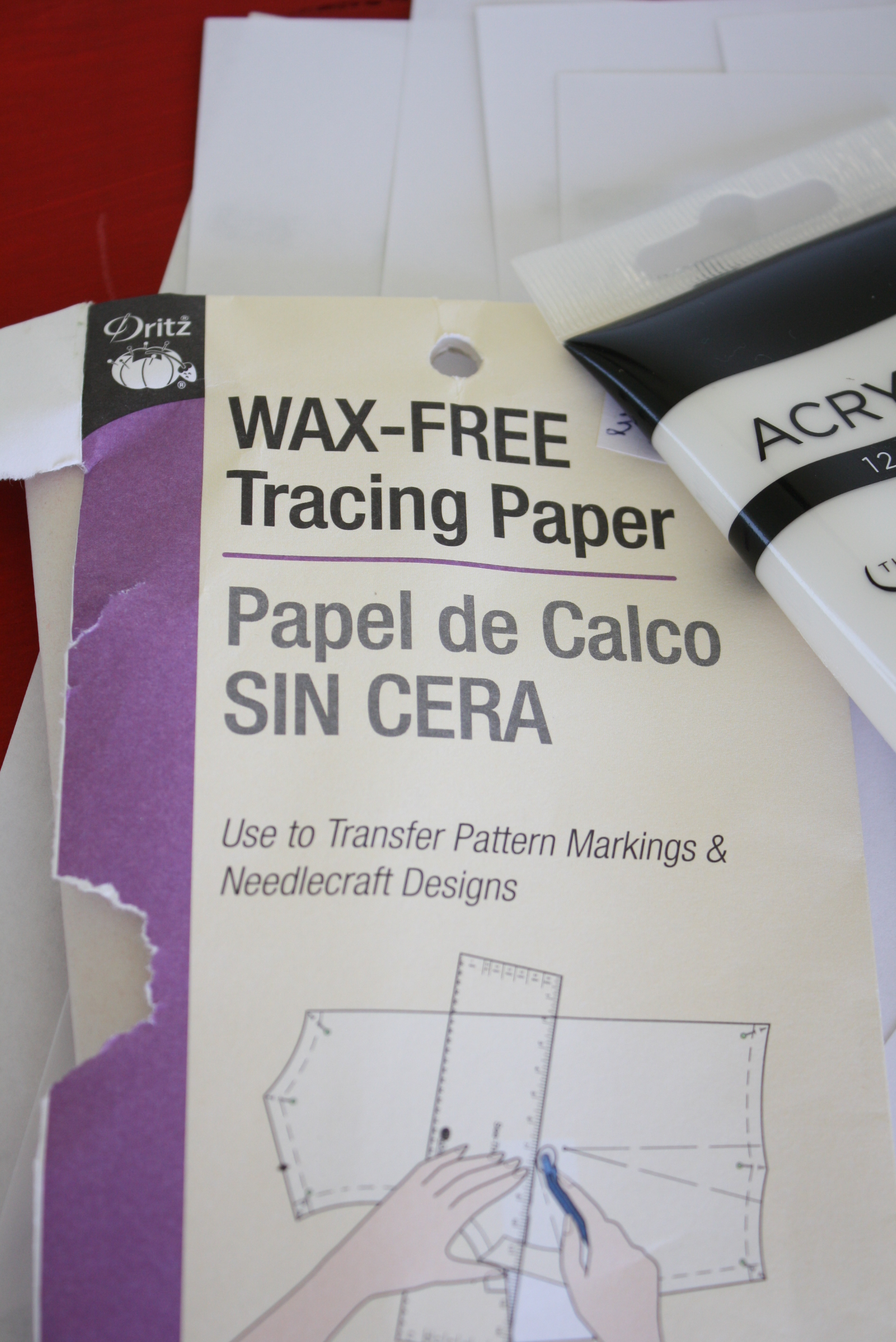 .
Now, there are many ways that you can transfer your letters to the board in order to paint them, and I've tried a lot of different methods but the one that works the very best for me is dressmakers tracing paper.  (You can buy it at any fabric store.)
.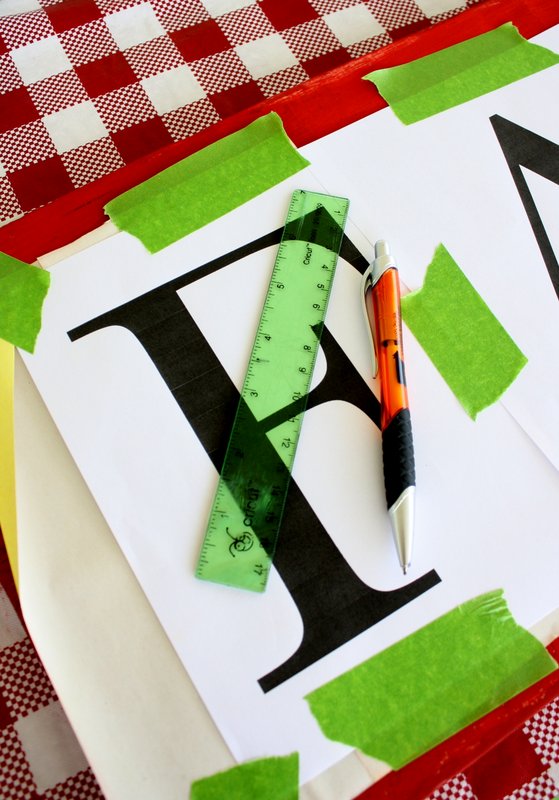 .
Step Six:  Transfer your letters. Take a small piece of the tracing paper, a little smaller than the size of your printer paper, and lightly lift up one end of your first letter, place the tracing paper underneath and tape your letter in place again.  Take a pen and trace your letter, being careful not to move the paper.  Do this process one letter at a time until you've traced all the letters.
.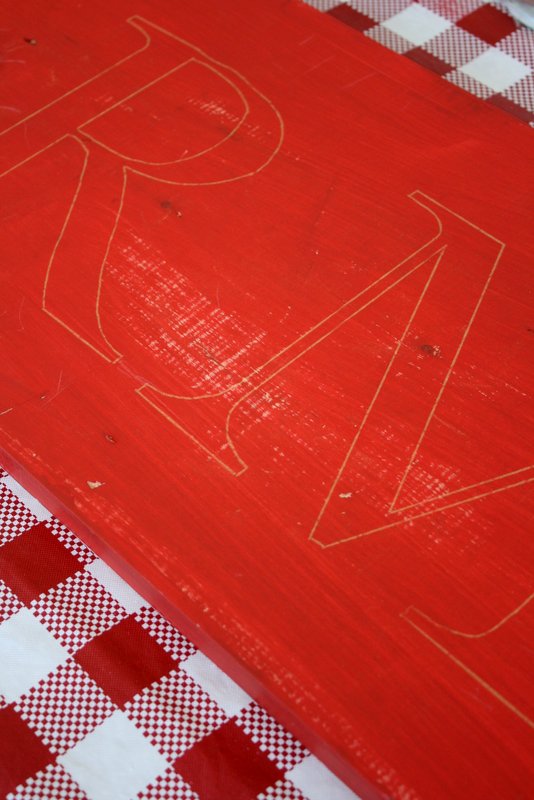 .
And you end up with perfectly transferred letters.
.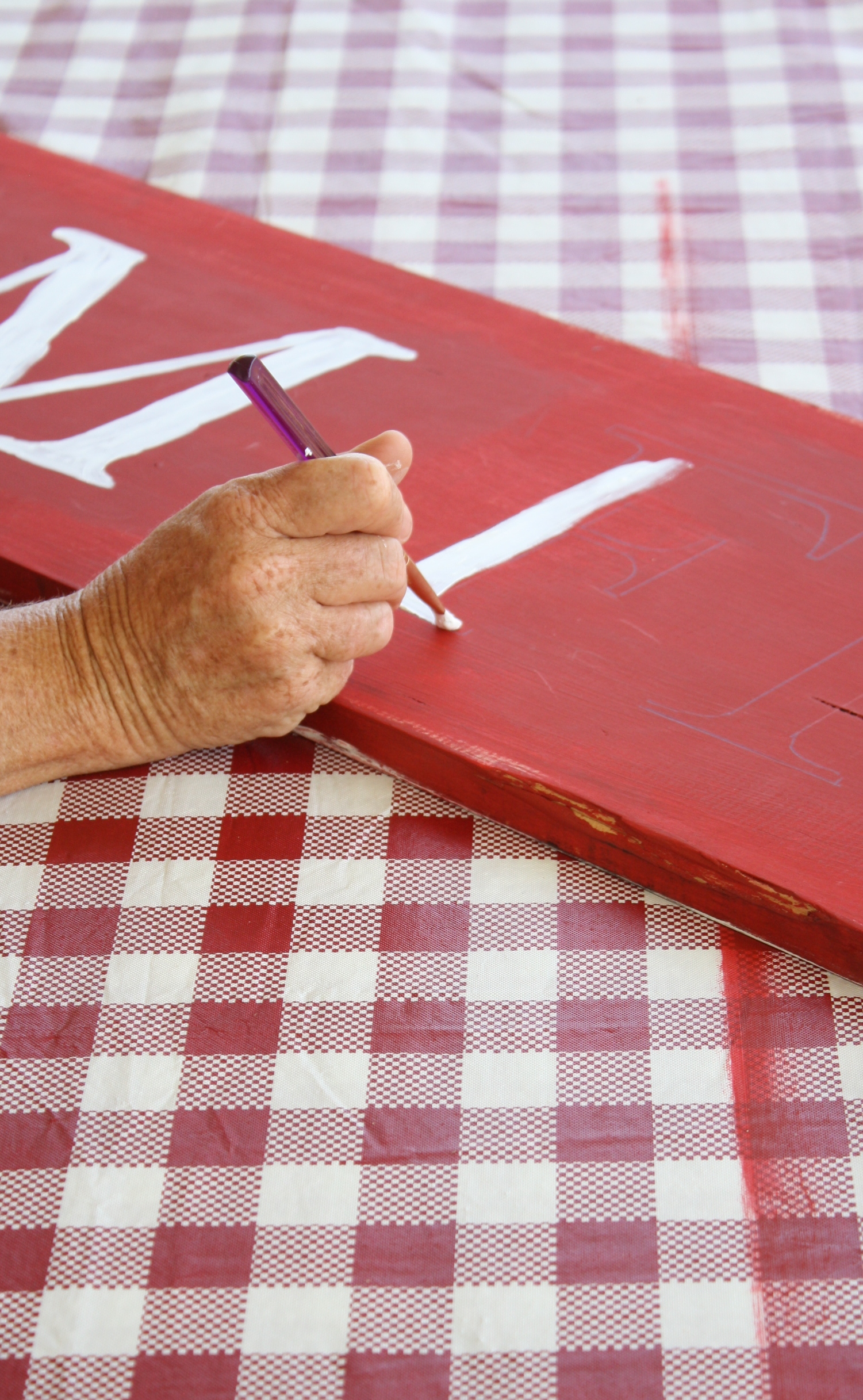 .
Step Seven:  Paint your letters.   I am not a perfectionist and I tend to do things very quickly and so I just take my little brush with some white paint and I fill in the letters.  Sometimes it will take two coats to cover the undercoat of paint completely.  Don't get discouraged if your letters are smudged and smeared.  It adds character.  (And yes, I am a redhead that spends a lot of time in the sun so my hands are freckled and wrinkly.  But I DO wear a lot of sunscreen!)
.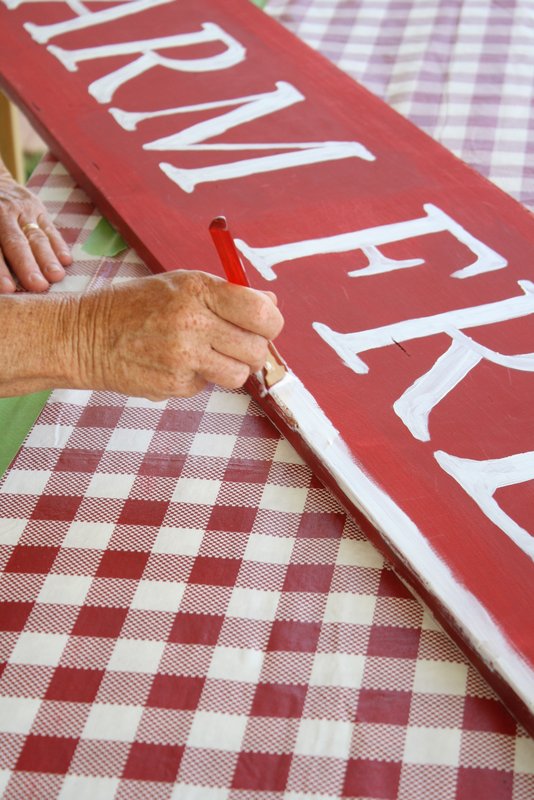 .
Step Eight:  Paint your border.  Then, using the same little brush and white paint I free hand a border around the edge of the board.  You can vary the size, on this sign it is about 1/2 inch.  I definitely do not make this border straight and perfect.  It is very rough looking.
.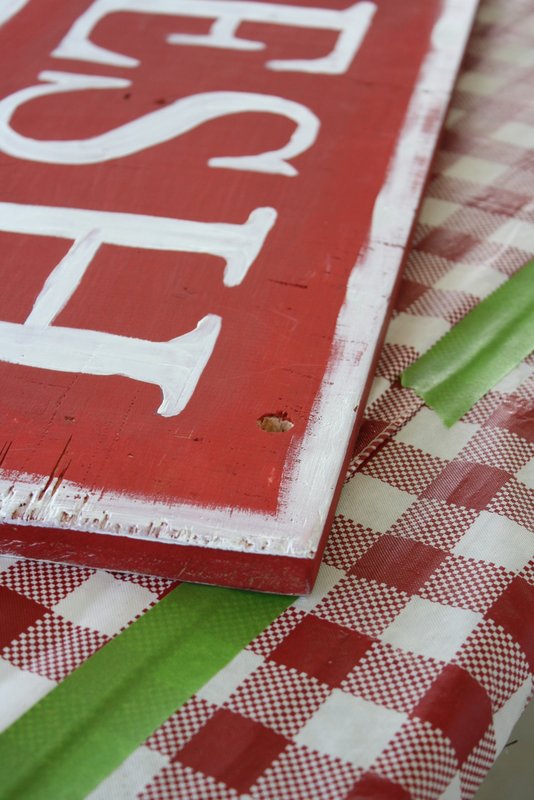 .
You can see in the above picture that I'm not at all particular with my painting!
.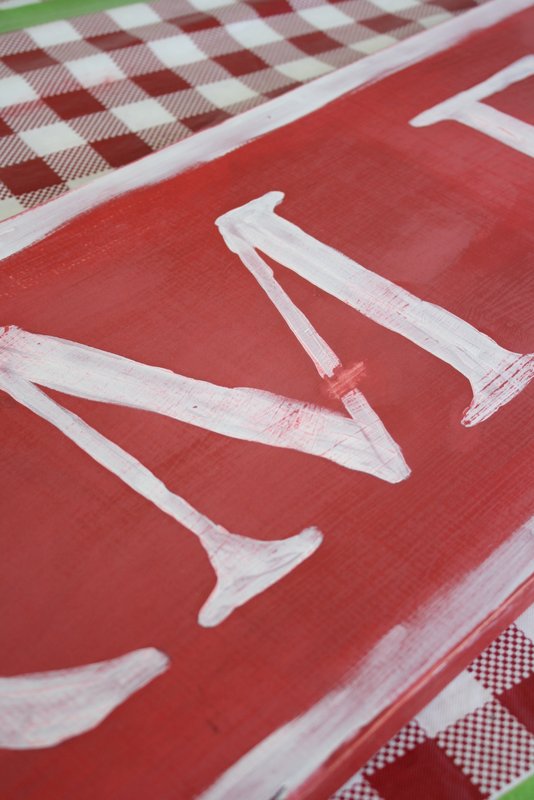 .
Step Nine:  Sand your letters.  Once my lettering paint is completely dry, I take my mouse sander again and I lightly sand the entire surface.  In some areas, I actually sand off an edge of a letter, or part of the border to make it look old and worn.  Using an old rag or t-shirt wipe off the sign and sand again until you are happy with how it looks.
.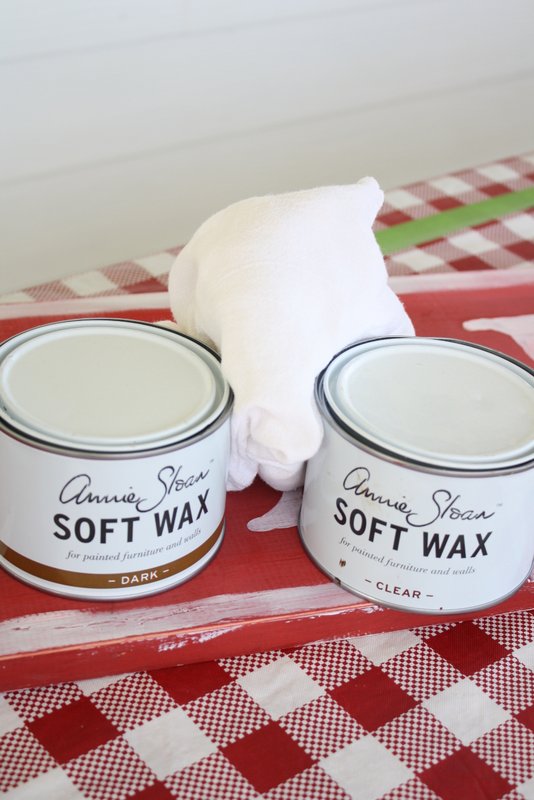 .
These final steps are the ones that really, really make your sign come alive.  You need furniture wax!  Once again, I use Annie Sloan but there are many wood waxes on the market that would be less expensive and would work just as well.
.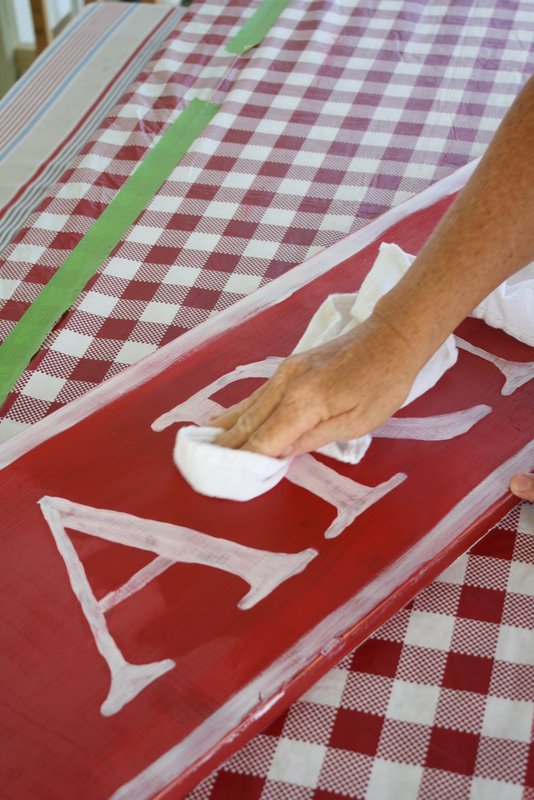 .
Step Ten:  Apply light wax.  Using the light wax first and an old t-shirt, apply a very light coat to the entire sign.  Buff it until it is dry and smooth.  You can't really see in the above picture, but the purpose of the light wax is to create a barrier so that the dark wax adheres smoother and more uniform.
.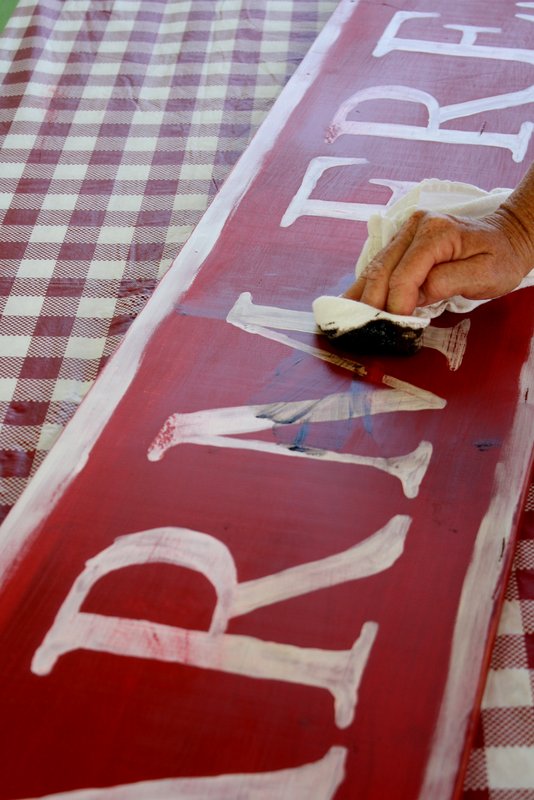 .
Step Eleven:  Apply dark wax and buff thoroughly.  Now, for the grand finale.  You will want to switch to a dark wax and apply in the same way as the light wax.  It takes very little dark wax to give it the vintage look we are going for.  Just apply in small sections and with your soft rag or t-shirt rub it in.  Once you have waxed the entire sign buff it with your rag until it is as smooth as butter.  One of the big advantages to waxing is it waterproofs your sign if you are hanging it outdoors.
.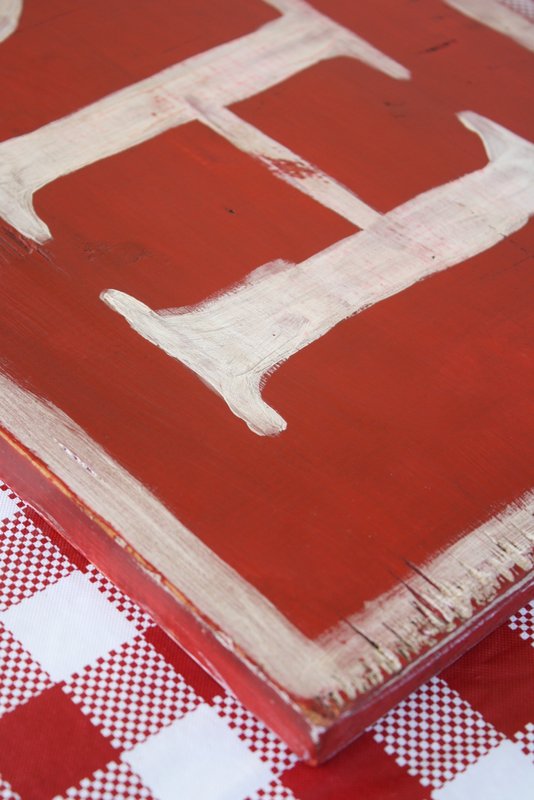 .
And also the dark wax really gives it the old vintage look.
.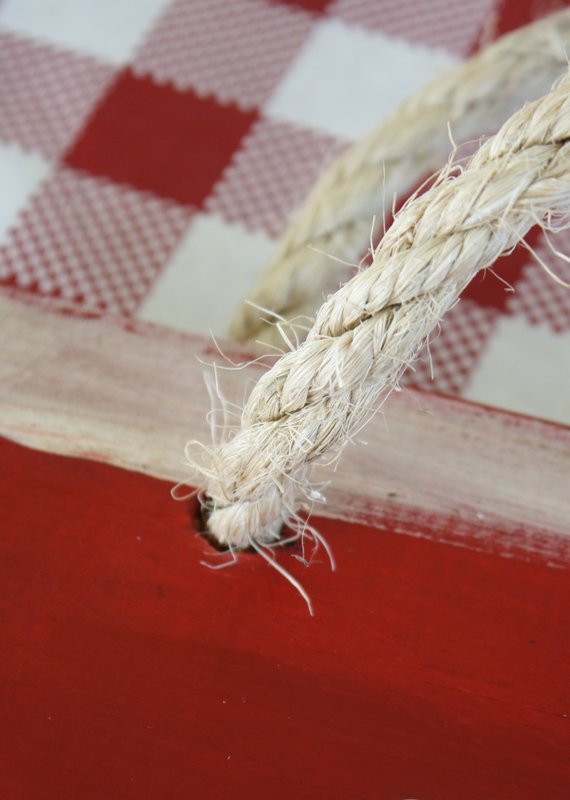 .
And that is it!  You can attach a picture hanging hook to the back if you are hanging on a wall.  I drilled holes in mine and threaded a rope through in order to hang from the top of our work shed.
.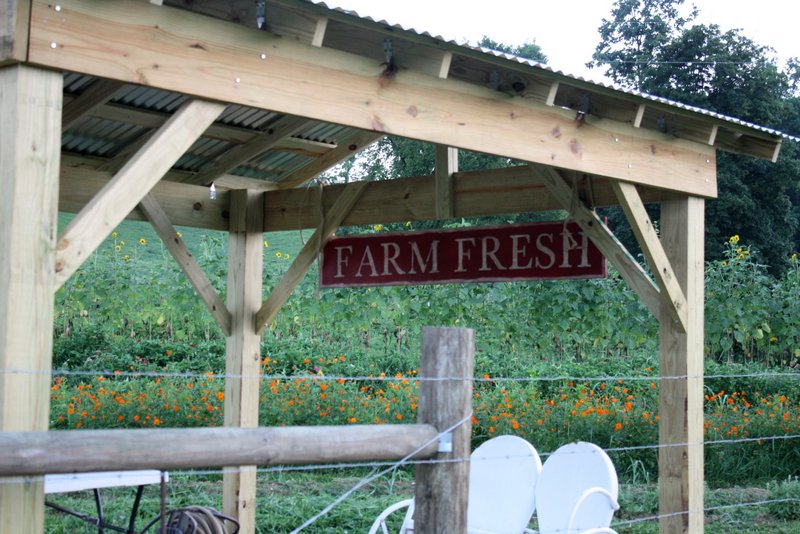 .
I made the sign two sided so that we can read it from inside the work shed…
.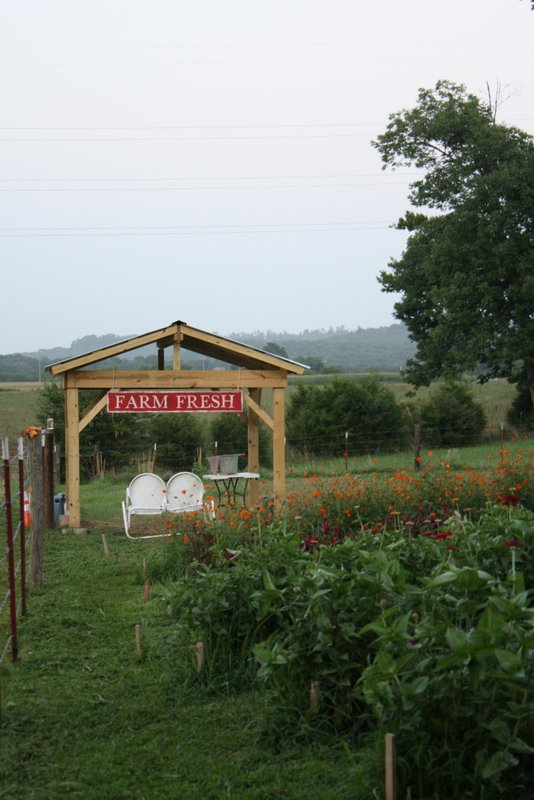 .
…and from the outside!
.
We've got a lot more prettying up to do in there and that just might be a future blog post!
.
When you make your own vintage look sign, be sure to email me a picture!  I can't wait to see it!
.
Until our gravel roads cross again… so long.
.
Dori