It's apple picking season and all I've been able to think of lately is home made Apple Pie!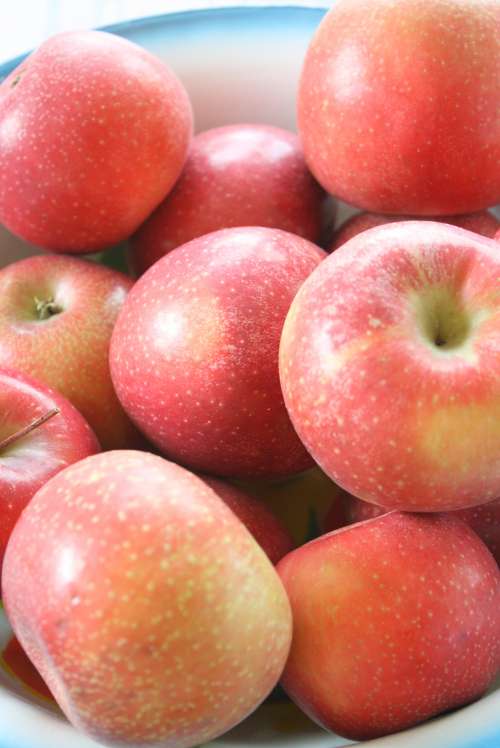 I just happen to love making pies and I think possibly Apple Pie is my favorite to make.
So this week when I grabbed my pyrex bowl and my ingredients, I grabbed my camera too so that I could share my recipe with all you other Farmgirls.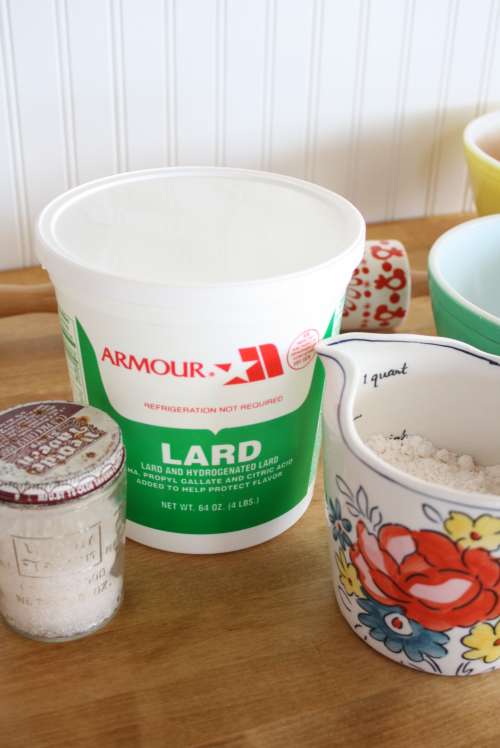 I don't know about you but I love using lard for my pie crusts.  It seems like the dough is the perfect consistency to work with and it bakes up flaky and beautiful!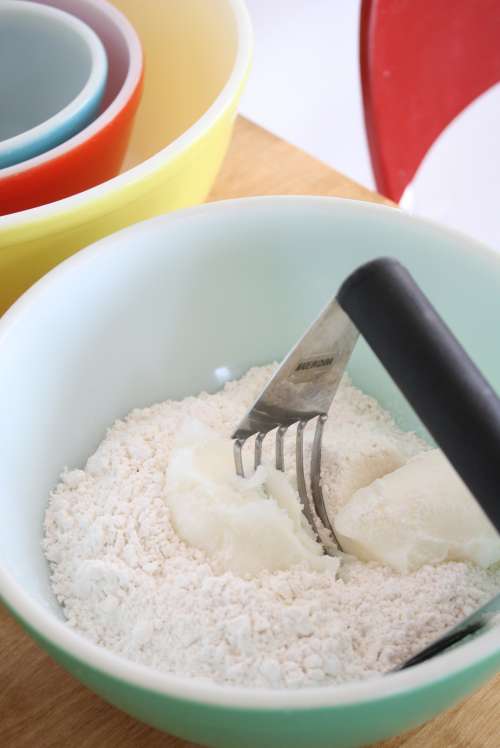 Step One:  Place 2 cups of flour, 1 teaspoon of salt and 2/3 cup of lard in pyrex mixing bowl.
(I love my vintage pyrex!)
Do you have one of these handy pastry cutters for cutting in the lard to the flour?  I've been known to use a fork, a knife or my fingers but nothing works like a pastry cutter!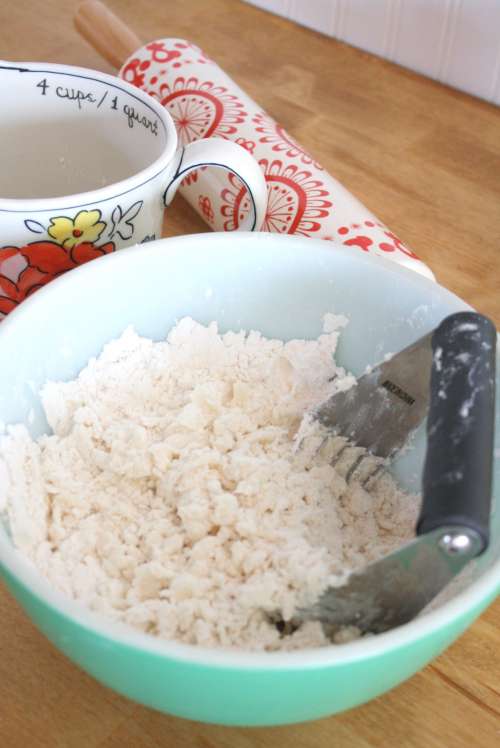 Step Two:  Cut lard into flour until is forms nice pea size crumbles.
It just gets the dough to that perfect consistency.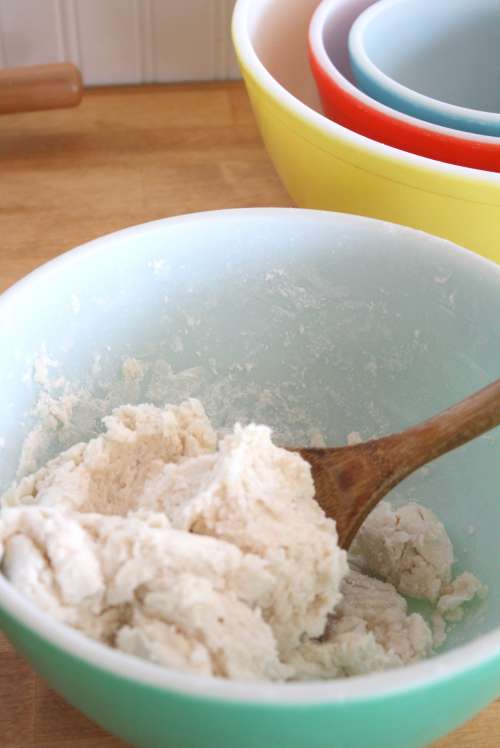 Step Three:  Add about 3 – 5 tablespoons cold water, just a little bit at a time, stirring dough until it holds together nicely but is not wet.  Add more or less water as necessary.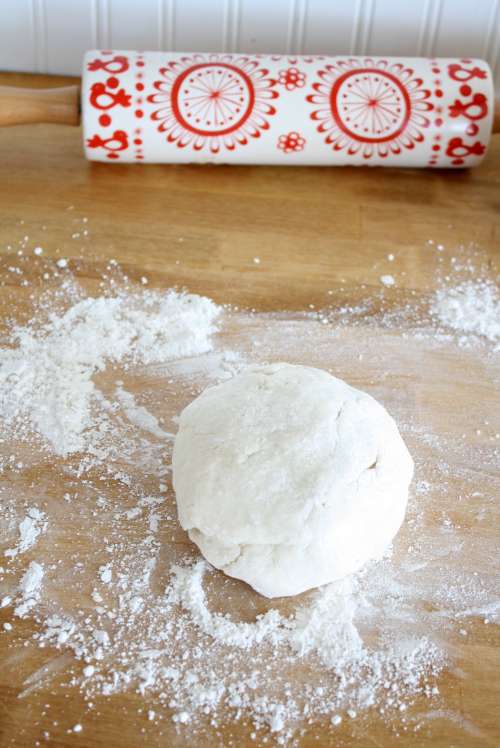 Step Four:  Lightly form dough into a ball and place on floured surface and let dough "rest" while you prepare your apples.
My mother always said, "Do not overwork your pie dough, it will make it tough".  This is always a little hard for me because I want to knead it like bread dough.  But literally all you do is lightly form it into a ball and set it aside.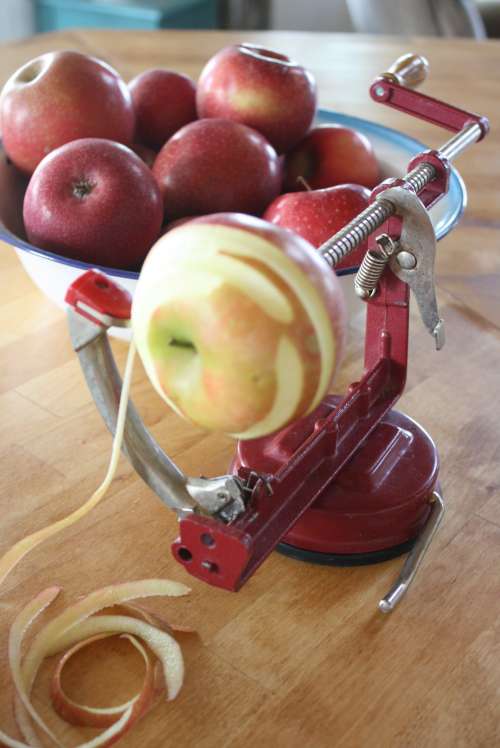 Step Five:  Peel, core, and slice 8 apples.
Here's another tool that you need if you don't already have one.  I love my apple peeler.  It is a bit overworked and unfortunately is jimmy rigged in a few places to hold it together.  I really need to buy a new one!  But, even "broken" it still works better than peeling by hand!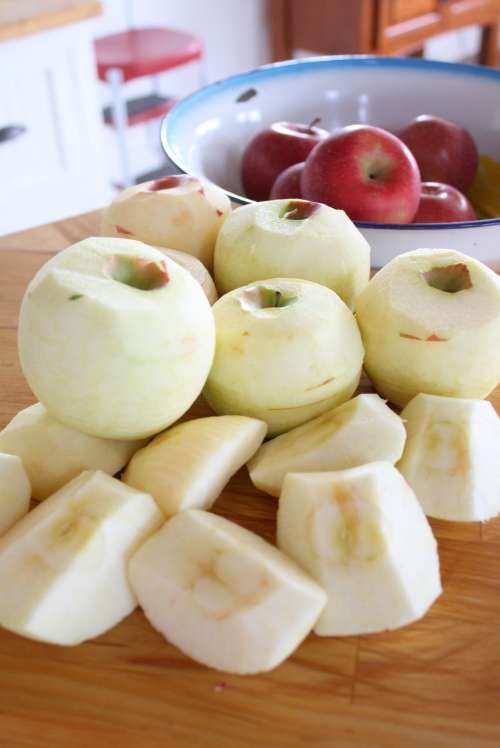 I'm not a big apple connoisseur but I do know what I love in a pie.  And I love Honey Crisp, Braeburn and Pink Lady apples the best.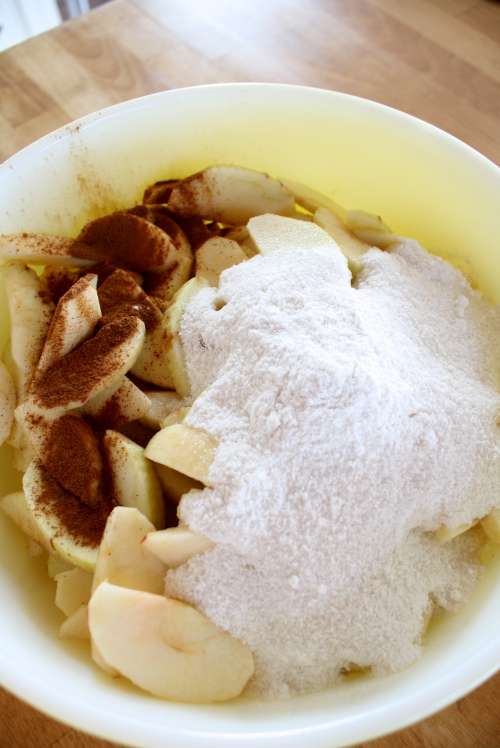 Step Six:  Throw sliced apples in a large pyrex bowl.  Add 4 tablespoons of flour, 3/4 cup of sugar, 1/4 teaspoon of cinnamon and nutmeg.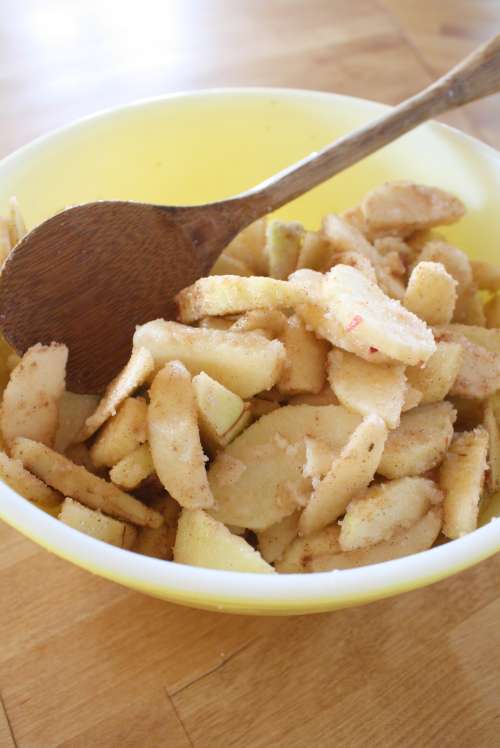 Step Seven:  Stir together very thoroughly.  Set aside to allow the juices to start flowing.
This will seem like A LOT of apple slices for one little pie.  And it is.  I love a pie that is positively piled with apple slices!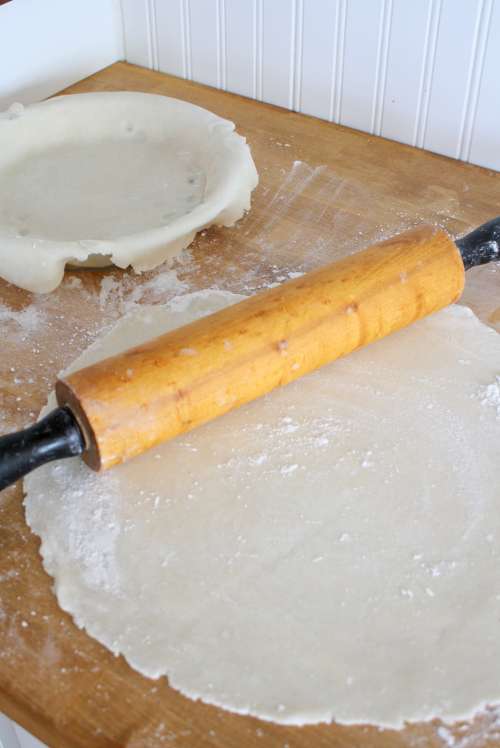 Step Eight:  Now go back to your pie crust and divide it into two portions – one being a little bigger than the other one.  Roll the smaller dough out on a floured surface to a nice large circle and place in a nine inch glass pie pan.  Using your fingers press it into place, adjusting as necessary.  It doesn't need to be pretty!  Roll out the larger dough.  You will want this circle of dough to be quite a bit larger than the first one.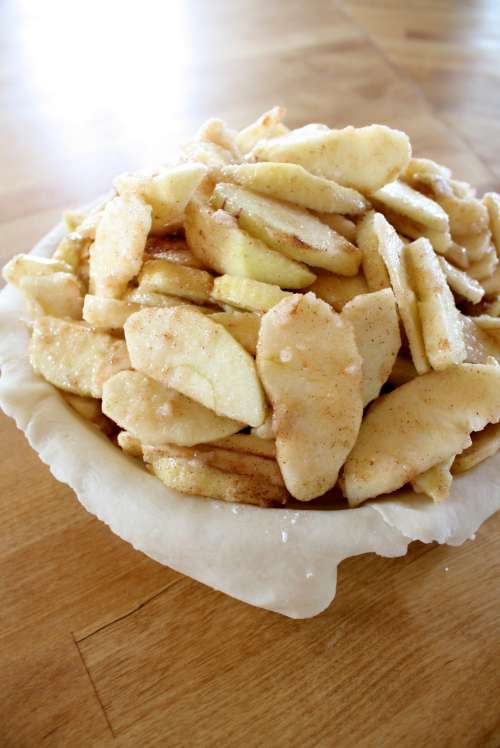 Step Nine:  Gently pour all your apple slices into the pie pan. Put a few teaspoons of butter on top of the apple slices.
You want your apple slices to be a fairly large mound in the pan.  Don't worry if it looks a little huge!  They will cook down.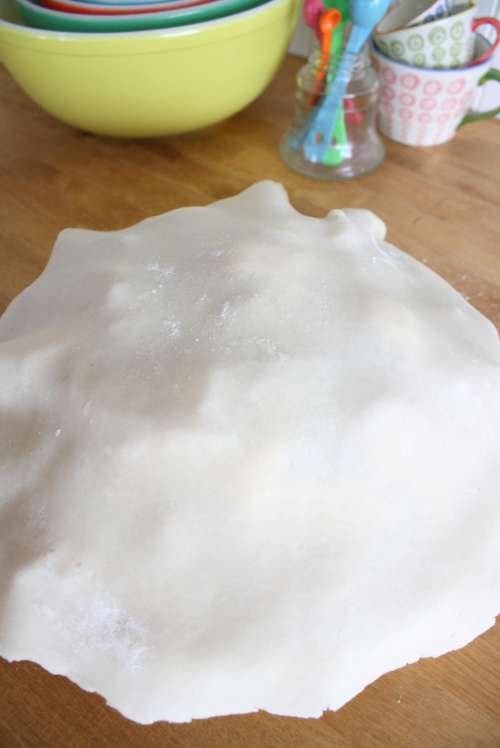 Step Ten:  Gently lift your large dough circle and set it on top of the apple slices.
It's okay if it tears or doesn't fit evenly.  It will cook up beautifully no matter what.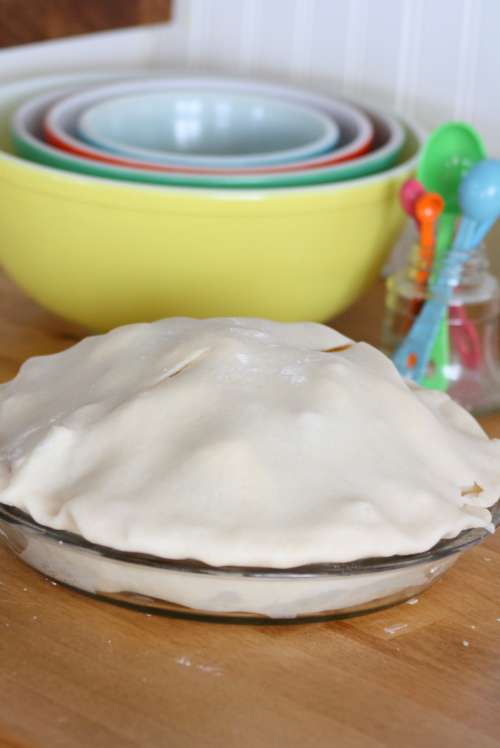 Step Eleven:  Fold the top edges of the dough down over the bottom crust, tucking under as you go.  (You may need to trim some of the dough first.)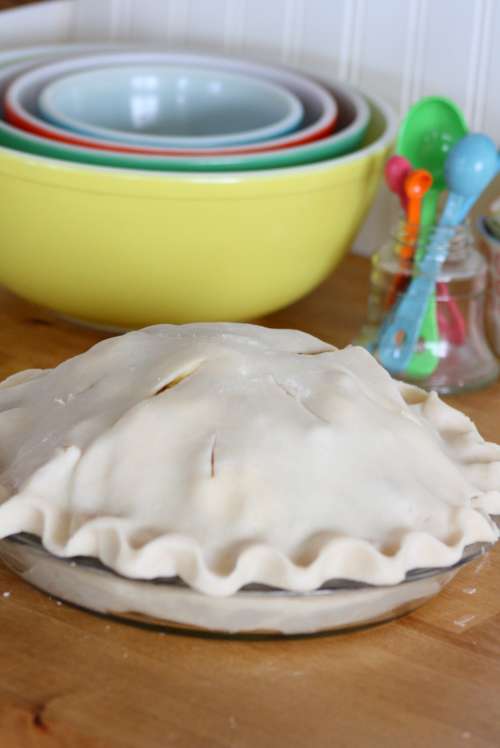 Step Twelve:  Crimp the edges with your fingers to seal the crust.
Step Thirteen:  Cut steam vents in the top crust.  Beat one egg with a fork in a small bowl and using a pastry brush, brush the egg on the entire crust, even the crimped edges.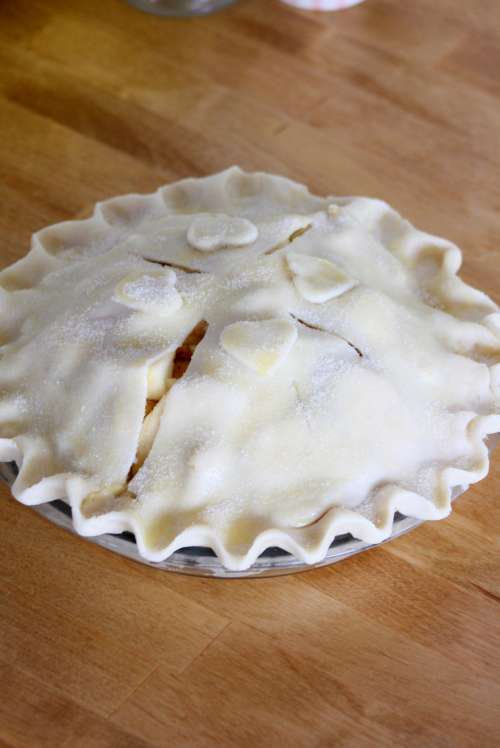 Step Fourteen:  Sprinkle generously with sugar!  (I used some of the dough scraps and cut out hearts that I placed on the pie.  Just for fun!)
Your pie is ready to pop into the oven.  Now listen close because this next step is the important part.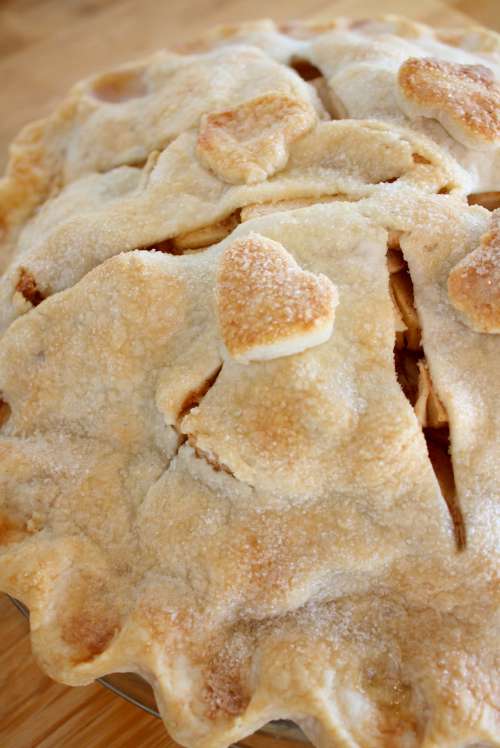 Step Fifteen:  Bake in a pre-heated 400 degree oven for 20 minutes.  Lower oven temperature to 350 degrees and bake about 30 – 40 minutes more.  
Baking at the high temperature sets the crust so that it doesn't get soggy.  Then baking at the lower temperature cooks the apples without burning the crust!  (It's a trick that I learned from a very special elderly lady – it was her wedding gift to me 32 years ago!)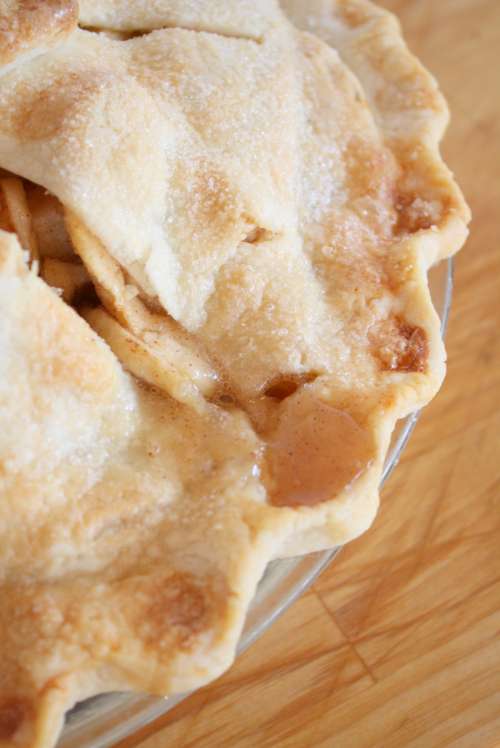 You should end up with these luscious juices flowing out of the steam vents.  You can also take a knife and cut into the apples through one of the vents to make sure the apples are soft.  You don't want them soggy, but you also don't want them crispy.  If they seem a little hard you can put your pie back into the oven for a few more minutes.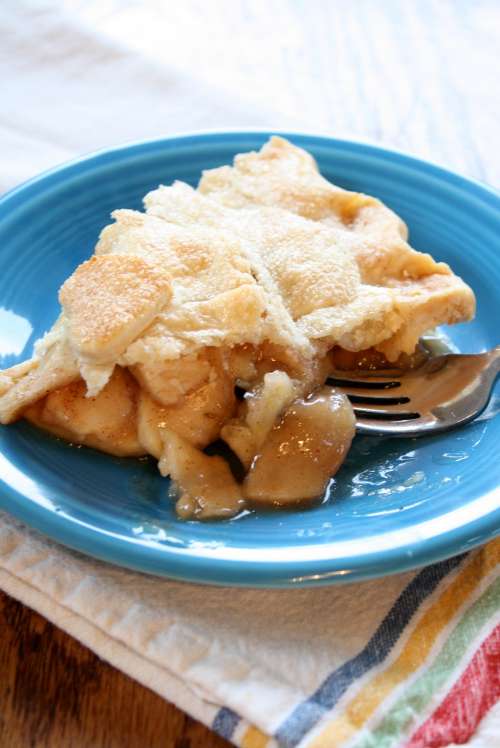 Cut yourself a slice and eat it hot, right out of the oven!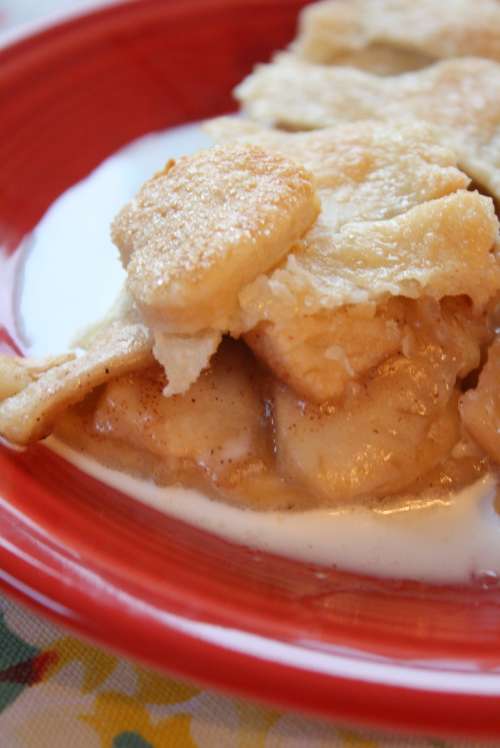 Or wait a little bit, pour some cream over the top and eat it warm.
Place the left over pie (if there is any) in the refrigerator and eat it for breakfast the next day!  That's what we did with this one!
What is your favorite pie to make this time of year?  I'd also love to know if you use lard, butter, or shortening in your crust!  Please share with me and all of us farm girls!
Until our gravel roads cross again… so long.
Dori