Since my last blog post, we've added a new member to our family!  Come meet the little guy who's captured our hearts, and has us wrapped around his tiny little paws!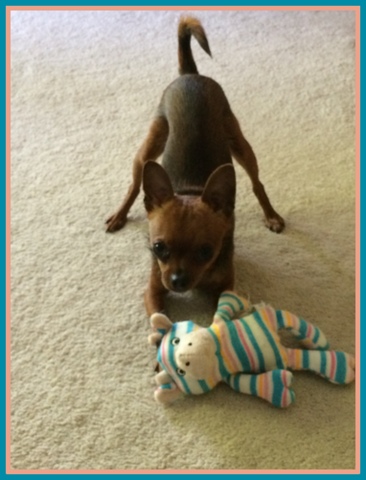 It's been several years since we welcomed a new dog to our family. Hopeless dog lovers, the last year or so, we've tossed around the idea of adding another dog to our happy family of pets. We've always had "rescues".  Once, we had a "pack" of four dogs, each with their own personality and each having left a permanent paw-print on our hearts. In our almost twenty-two years married, this is the longest my husband and I have gone having only one canine member of our family.
Our daughter's just like her parents, turning into a pool of mush at the sight of a dog. We were so proud of Audrey last month, when she received the 4-H "Good Character Counts" award for our county, honored for her efforts to aid pets and their owners after the horrific tornadoes in Oklahoma last year. She loves all animals, but dogs and cats top her list. As this school year came to an end, we decided it was time. Ready to add a new fur-baby to our family, we mentioned it to friends, and checked local adoption websites.
When we adopted Bonnie, our beloved "German Shusky",  it was pure magic; a perfect match. She's my daughter's buddy, my husband's "girl", and my shadow. Bonnie's personality "fits" us; she's such a big part of our family. She loves us all with her whole heart, and we feel the same. Would we be lucky enough to find that kind of magic again?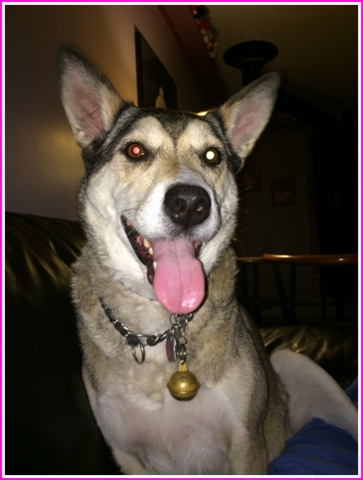 Having owned all sorts of breeds of dogs before, we were pretty open-minded to what kind and age dog we'd adopt. Friends would email us links and photos to pups in our area in need of new homes, but none seemed to be the "one". Then, a few weeks ago, a photo of the cutest little pup jumped out at me on my Facebook feed. It was posted by the same rescue organization, Pawsafe, that we'd adopted Bonnie from. Here was a five-year-old chihuahua with huge bat ears and the cutest face ever!  We were smitten.
After contacting Pawsafe, and speaking several times with Pip's foster mom, Sharon, it sounded like Pip would be a perfect match with our family. We were so excited when the time finally came to meet Pip and see if he was right for us, and we for him. It was evident how much Sharon and her family loved him; I give her so much credit and appreciation for what she and the other volunteers do. While I have friends with great dogs from reputable breeders, and friends who are wonderful breeders, there's something extra-special about giving a fur-ever home to a shelter or rescue dog. They know they've been rescued, and the love they give is immense.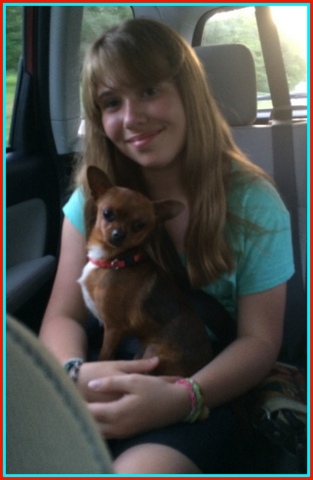 Pip's the best little boy! From day one, he fit right in. Introducing him to our other fur-babies was the easiest transition ever. He's a "snuggler" but also playful. He only barks for good reason, and is so affectionate. He's one of the most mellow, balanced dogs I've ever met, and certainly breaks the "yippy, ankle biting" stereotype that one sometimes hears in reference to chihuahuas.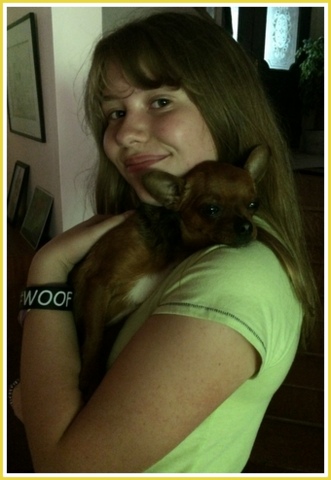 My big girl Bonnie and wee little Pip bonded effortlessly. Bonnie was happy to meet charmer Pip, as if she knew right away he'd be her buddy. They play, they snuggle, and are both sitting "frog legged" on the floor next to me as I write this. Bonnie sleeps in the master bedroom, while Pip brings his favorite stuffed toy to Audrey's room and snuggles with her for the night. In the morning, he comes in and snuggles on our bed with Bonnie while we drink our morning coffee, offering sloppy kisses and happy tail wags to everyone.
At only five pounds, Pip has brought us tons of happiness already.  It's like he's always been here, another perfect "fit". He's a reminder not to judge a book by its cover, that stereotypes don't always hold true…and that sometimes the best things in life do come in the littlest packages!
*If you are in the Connecticut/New York area and are looking for a "fur-ever" canine friend to adopt, I suggest checking out www.pawsafe.org.  Thanks to all their volunteers for everything they do.
Until Next Time…Farmgirl Hugs (and Wagging Tails), Nicole