And the winner is:
VALARIE in California!!!! Congratulations! Email me!
update: I got your info Valarie-thank you!-(I'm probably in your spam box)
Mine are green. I say "hazel" when I'm called upon to classify them. Like on my driver's license. I now know that I've been wrong all these years.  "Hazel" eyes are green-brown.  Mine are green-blue. Totally not hazel then. As it turns out, there's no special name for green-blue eyes. I wonder if I could start using "teal"? 'Tis my name afterall.
My father's eyes are the bluest-blue. And they twinkle. I always wished I had his blue eyes. Not because I wanted blue eyes particularly; I just wanted to match him.
His are so blue and oh so sparkly. You see lots of blue eyes, but not many have that special twinkle. I have a feeling the twinkle comes from the inside. Yes, if I had to guess, I'd say my father's eye twinkle comes from inner happiness. And peace. And hope. He's like that. I guess I have a chance to share his twinkle, then. When I accomplish all that inner bliss stuff. 
Now, my daughter did get my father's blue eyes. They are a deeper blue, but she already has his eyes-that-twinkle-ness. When she was a little thing, riding in the "baby Bjorn" baby carrier on my chest, a woman in the grocery store leaned down and looked directly and intently at her. Then looked up at me and pronounced that my baby's eyes danced. Oh, I loved that. Danced. She's right too. They Twinkle and Dance.
Anyway. I'm talking about blue and eyes because it's getting close to spring and because we brought home that tawny, sweet dog named Blue a few weeks ago. He's got the warmest and the coolest eyes. One is brown. One is half blue and half brown.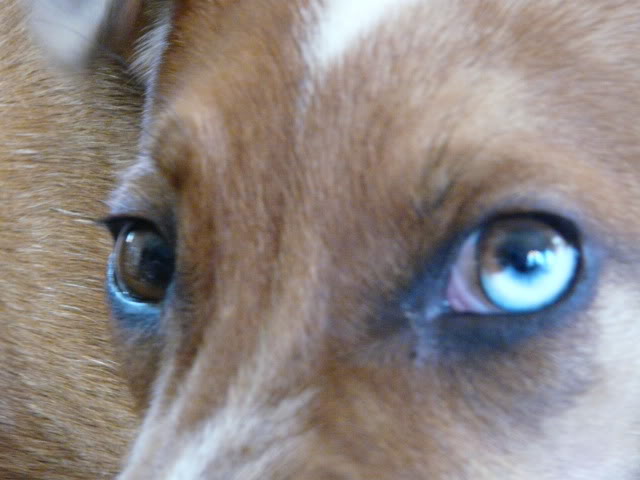 He's such a sweetie.
Before last week, I'd never thought much about decorating with the color blue. But when I saw these pillows, I was immediately drawn to them. I really think Blue the dog had something to do with that.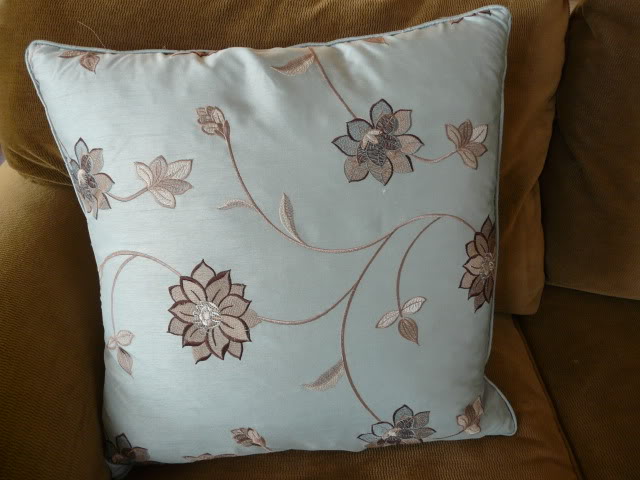 When I got home and put them on my boring brown-tan sofa, it popped. Lovely.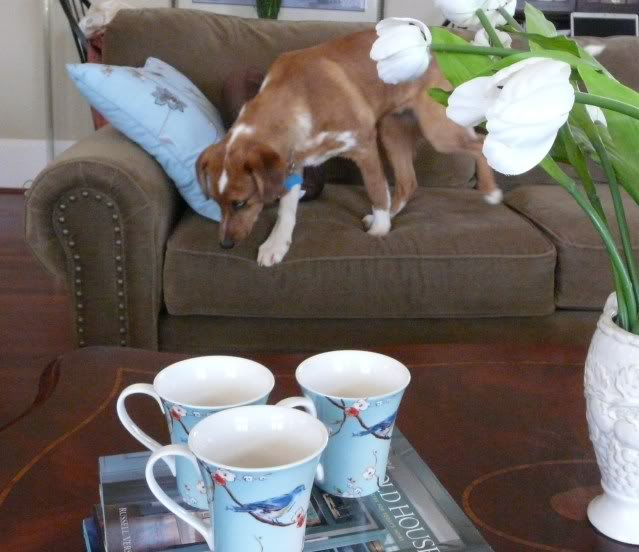 When I added my new blue pillows and my dog named Blue, the sofa was almost perfect.
All I needed was Strudel. Strudel?! Come here, Strudel!
Never mind. She's exhausted. Blue keeps her happy and tired. She's not going anywhere right now.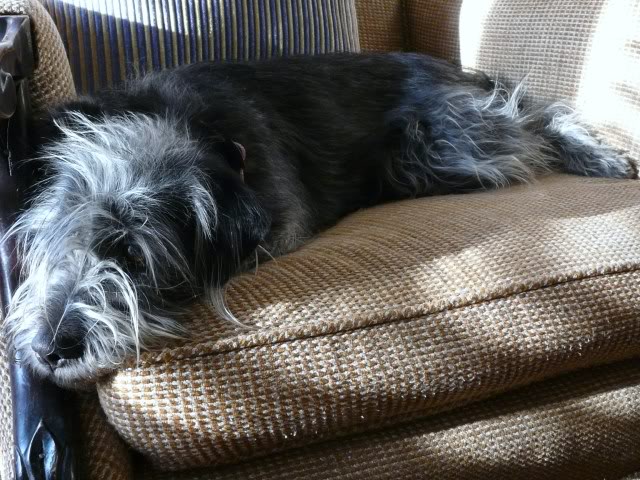 (By the way, that is Strudel's chair. She claims it as hers and only hers for always and forever. I bought that blue striped pillow behind Strudel for her chair.)
So let's talk about our favorite blue things.
I'll tell you about and show you some of mine; and then you tell us some of yours.
Hydrangeas.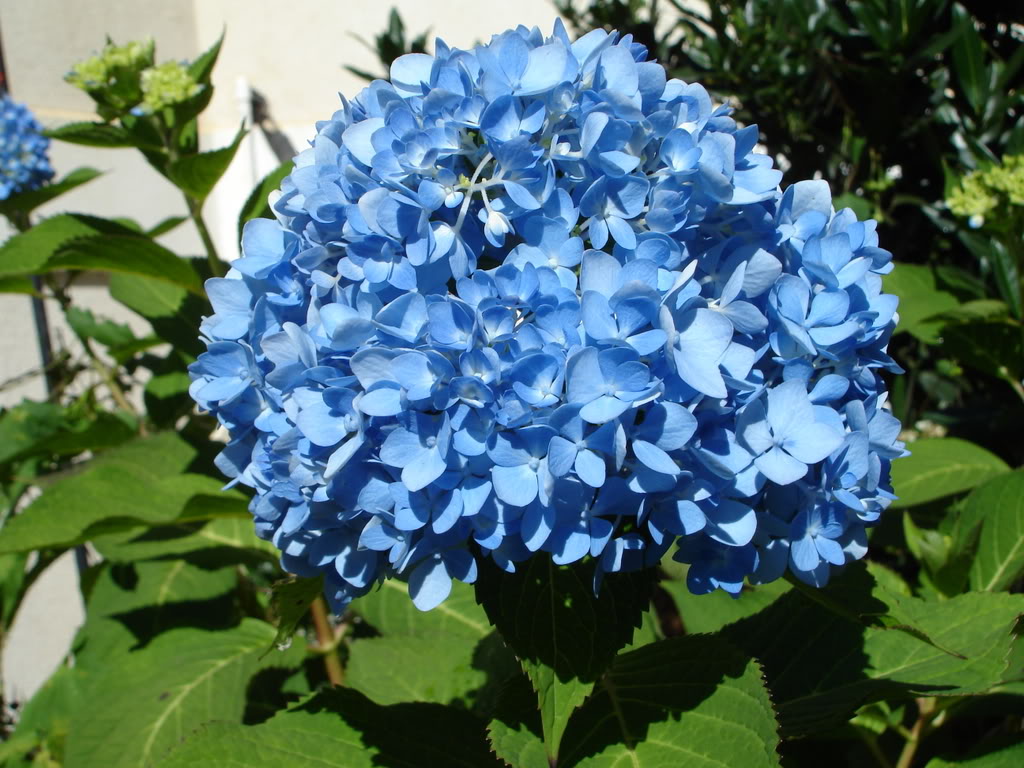 Blue candles.
They smell so fresh, breezy, clean, light, cottony.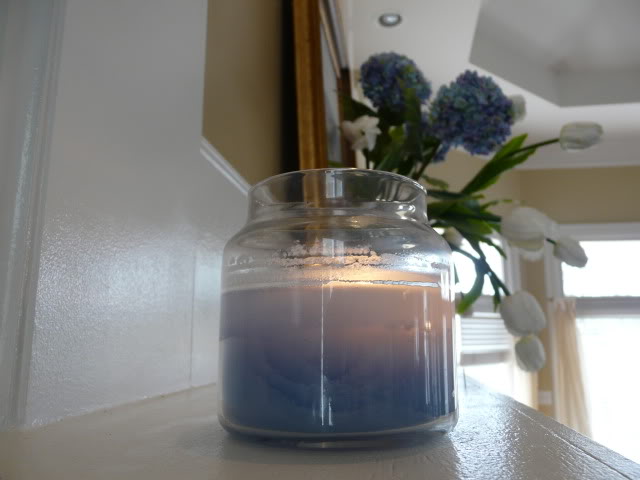 My favorite silo.
Yes, my favorite silo of all time. I know, I know, who has a "favorite" silo? I can't explain it. I just do. It makes me smile when I drive past it to get to our mountain farm. It's just so—-cheery. If I ever had a silo, I'd have one just like this.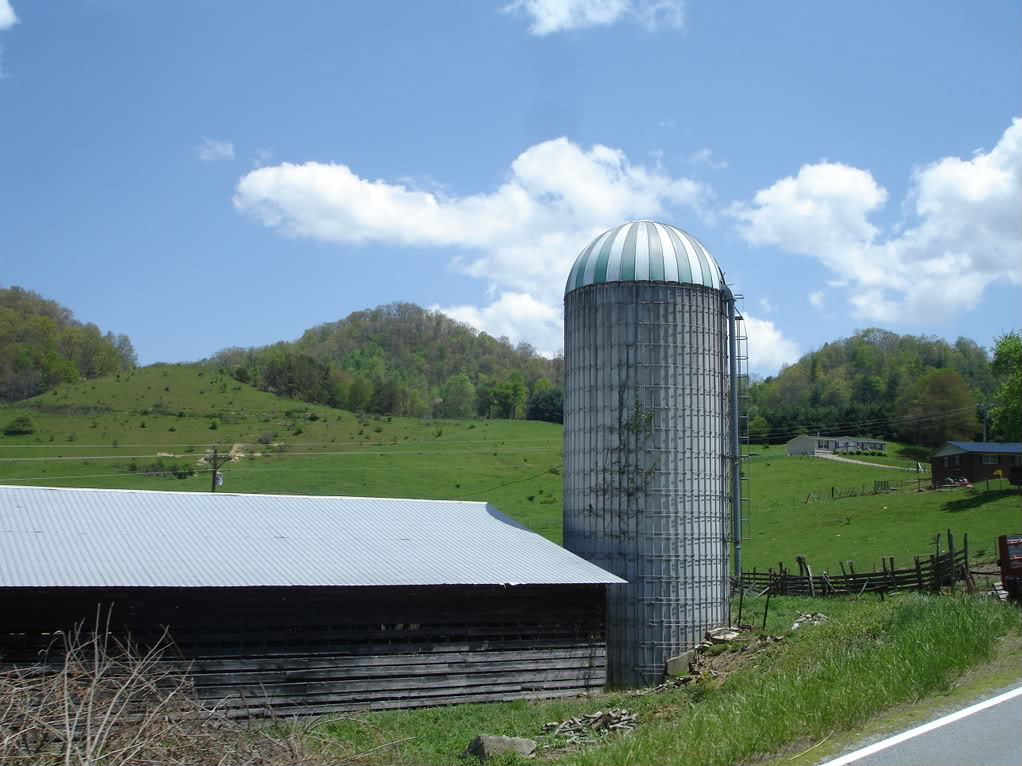 Blue Cheese Dressing.
Home-made blue cheese dressing on crisp just-picked lettuce. Yum.
Blue Lake. Blue Sky.
Calm blue lake greets blue sky.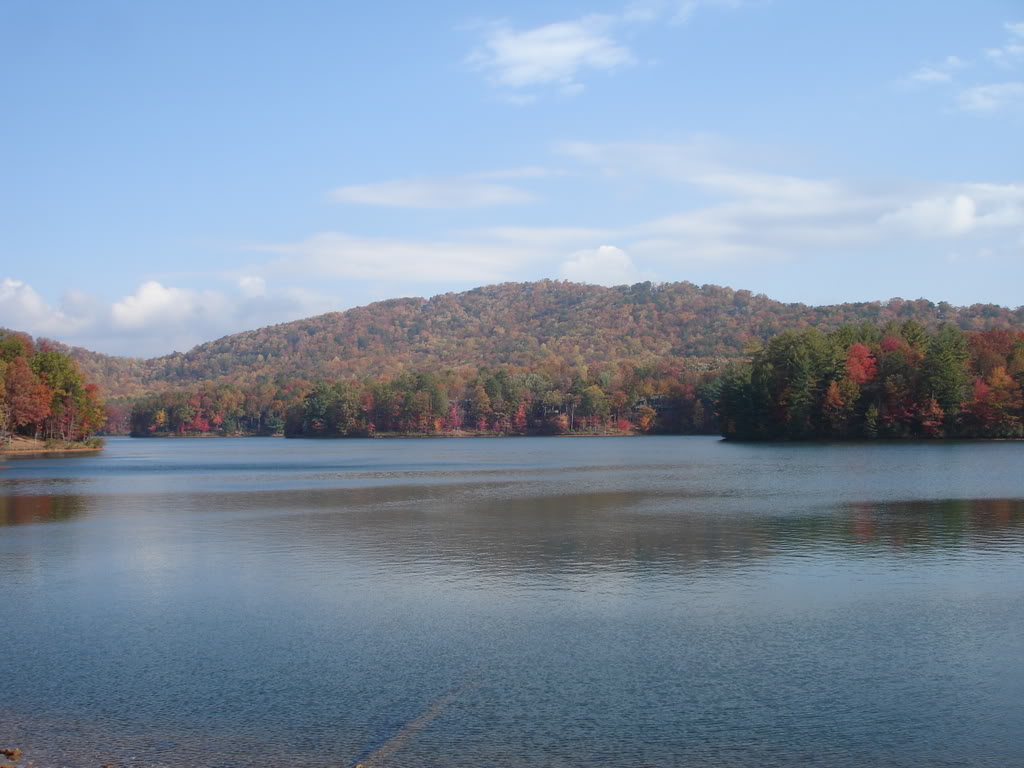 The Blues Brothers.
Here's a favorite Blues Brothers' clip. I still miss Belushi.
Blueberries.
I don't have a picture because they're not in season yet. Not-in-seaon-yet-blueberries taste like fake, plastic grapes. You know, those little plastic, hollow, squishy fake grapes your mom or grandmom had in a bowl on her dining room table when you were growing up? I happen to know that blueberries out of season taste just like that. How? You ask? Well, for some weird and wacky reason I can't articulate, I'd occasionally sneak in my mom's dining room and pick off one of those plastic grapes and chew on them. It's a taste you don't soon forget.
The Ball Blue Book.
A life saver for those of us still learning how to can.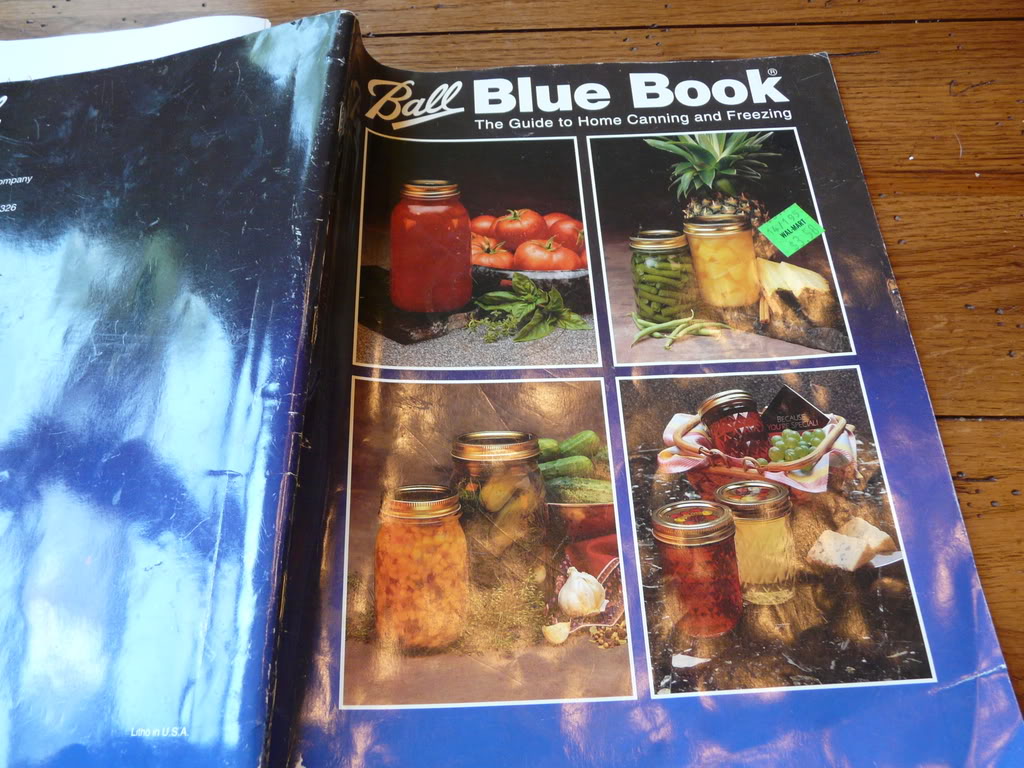 Blue butterflies. Blue flowers.
Blue butterflies light upon blue chickory flowers in the meadow at our Farm.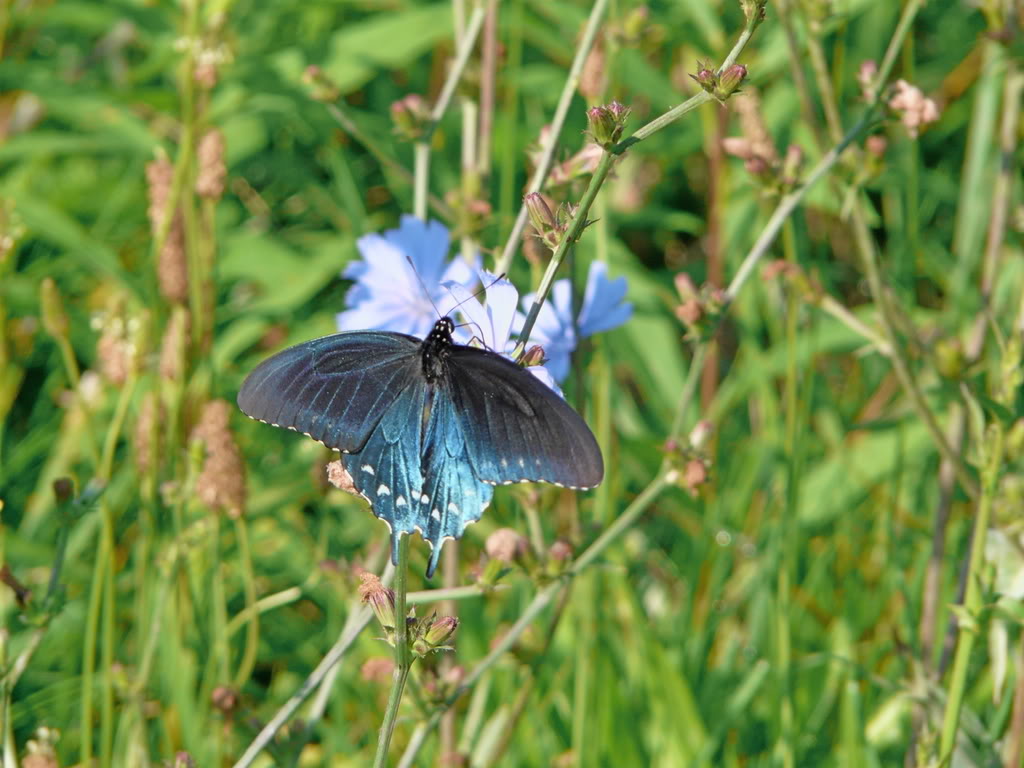 Blue Mountains.
The Blue Ridge Mountains.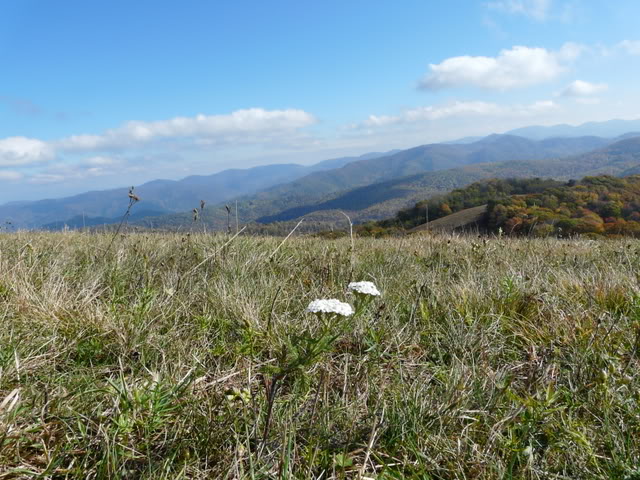 Blue Jeans.
Wait, wait let me be more specific. Old, soft, roomy blue jeans.
Blue Trucks.
My old blue truck. There's nothing like having an old truck. I love to drive it. It makes me laugh when I see the looks I get. It's kind of beat up and needs a new paint job. It's really not that old, 1989, but it really needs new paint. That's not a priority right now though. It is scheduled to go to the shop this week. Not for new paint, but because it doesn't currently crank. My poor truck. I've got to have it towed to Sammy the mechanic. I miss driving my truck. It's always an adventure. You have to roll down the windows whether it is cold or hot outside because it has an exhaust issue. And the window crank fell off, so it takes two hands to roll down the driver's side window. The interesting thing is that I can't drive that truck anywhere where someone doesn't want to buy it off of me. I wish I knew something about working on trucks. I'd fix that blue baby up.
Mules named Blue.
My twinkly blue-eyed Daddy just told me that his father had a mule named Blue. I like that. If I ever have a mule, I'll name him Blue too. (I've already named my "if I ever have" horse as well. Dan.)
Blue tortilla chips.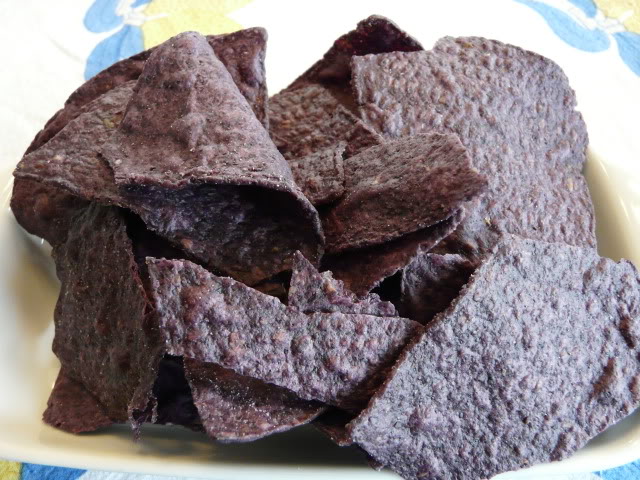 My old blue coffee cup. I've had it more years than I even remember. I can't explain why I like it so much. I have newer, prettier cups. But this is the one I grab every morning.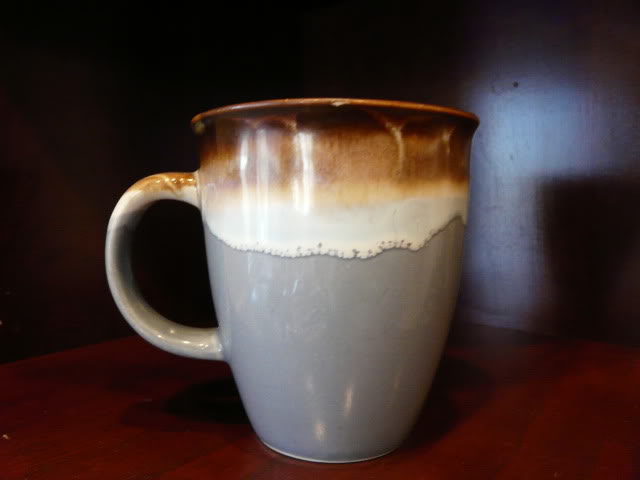 A Song. Or Two.
That Elton John song. "Blue Eyes." Love that. And some blues. Really like Robert Cray. And Eric Claption when he's all blue-sy.
Blue Suede Shoes.
Why don't I have any sky blue shoes? Can that be true? I need me some sky blue shoes. Either sky blue or electric blue.
Bluebirds.
Oh, how I love bluebirds. When we lived here before my life became intertwined with the lives of the bluebirds that lived in our bird house. Here are some of my "tenants." Mom and Dad with babies.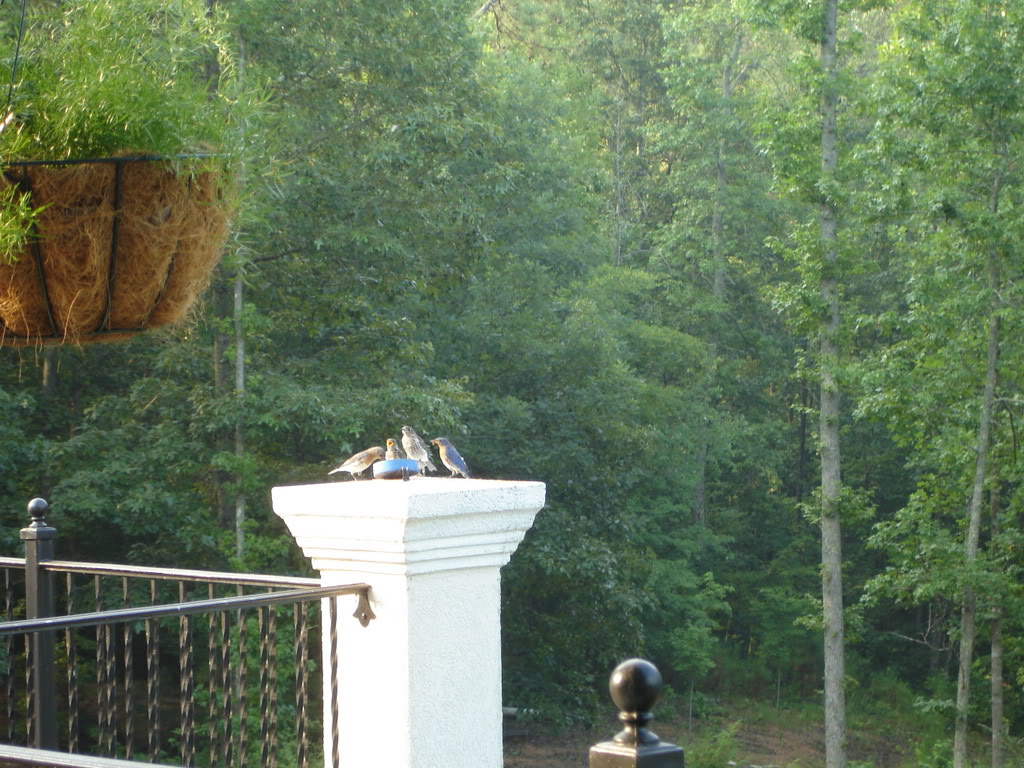 There was a male here when we moved back and he hung around all winter. Here he is on a rare snowy day, on our rooftop.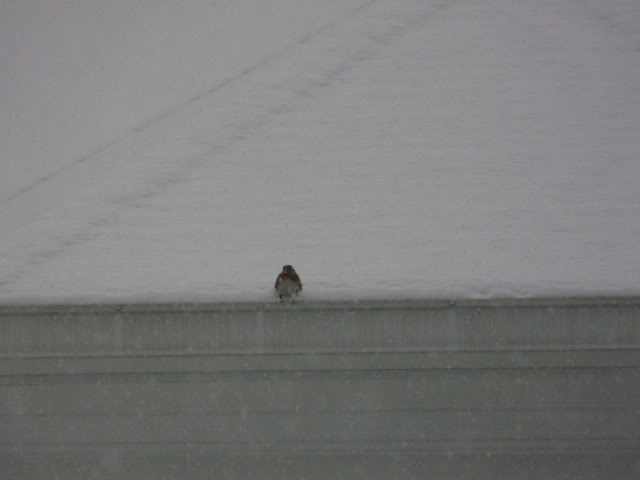 He recently found a mate and brought her here to check things out. I think of this process as inspecting the real estate. The male bluebird scouts out some possible nesting homes early. Around here, he's out and about in February. Once he narrows down some good choices, he brings the female. When he brought her by, I was a gracious host. I offered the bluebird pair fresh water, fresh mealworms, and a clean, dry and safe house. It's about six feet out of the dog fence he's perched on. Too far for a predator to jump to the house from the fence.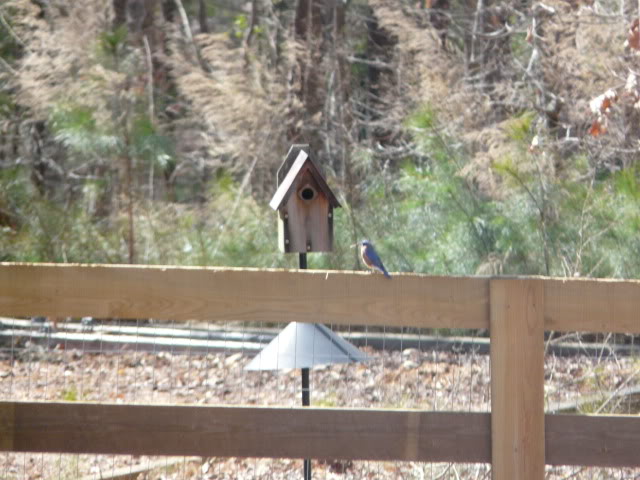 You'll also notice the baffle on the pole. A good landlord must provide that. Otherwise, you're just feeding the raccoon and snake population little blue eggs or little bluebird babies. Believe me! I learned the hard way. Baffles are an absolute necessity. I've had no loss due to predators since I added that.
The female bluebird ultimately makes the house decision. I checked my house again yesterday. Bluebird experts say the female will put a few strands of pine straw in the chosen house when her mind is made up.
Here's what I found. Just a little pine straw.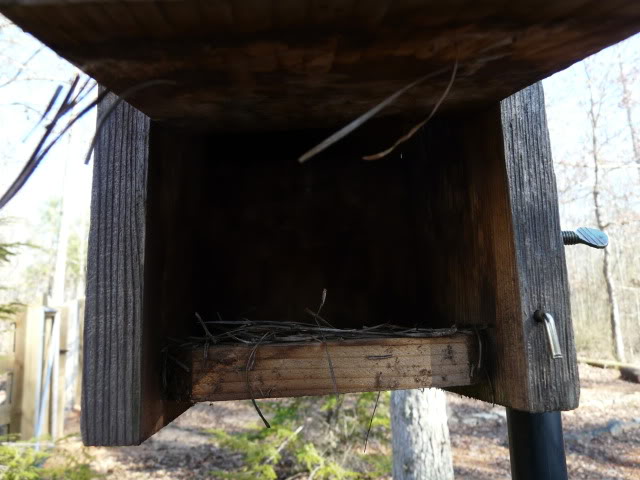 Hope that means what the experts say it means. Pick me! Pick me!
Has anyone ever painted a room blue? I've decided the color is soothing and calming. I've decided that I like it. What took me so long? I've always avoided blue. Except for trucks. Obviously.
And blue reminds me of springtime.
And springtime reminds me of gardening. Getting gardening is the opposite of getting the blues to me. Like Pooh said, "No one can be uncheered by a garden."
Mine will be modest this year, but I'm just happy to have my garden again. For the last few years, I've been restricted to planting seeds in pots on a too shady porch.
Let's talk seeds. I told you about my new favorite seed company last fall, Botanical Interests. I love everything about this family owned company.
Their seed packets are simply beautiful. The front of the packet is nothing short of art. It's beautiful. That's what first attracted me to this company. Those beautiful seed packets. Here's their display at my local store. What's this?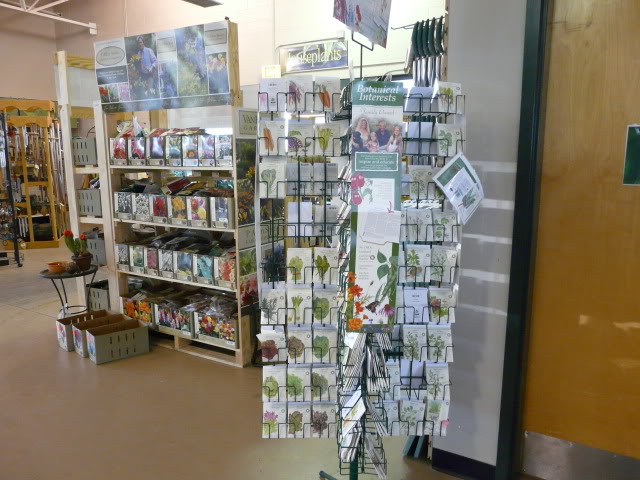 A closer look.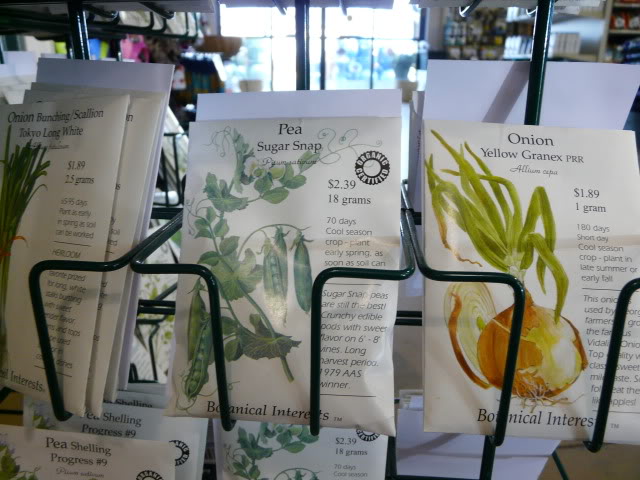 And, as if that loveliness weren't enough. There is tons of information provided inside the seed packet. There's no need to have a gardening book.
Take a look.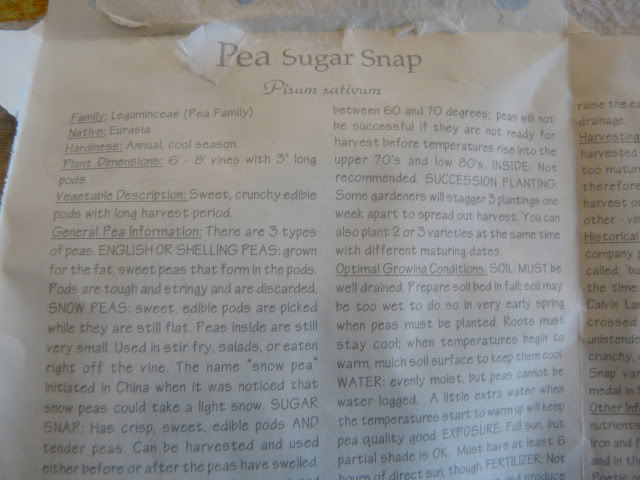 Well, guess what? Botanical Interests is going to give one of you lucky guys a seed collection!
I learned about their seed collections on Valentine's Day. Check them out at http://www.botanicalinterests.com/store/search_results_sample.php?select=09000
Aren't those fantastic? They make such a great gift. Just leave a comment here or over at www.rebekahteal.com  and tell us which collection you'd pick. You have until March 8th to put your name in the hat. Make sure to check back here to see if you won. I'll announce it Tuesday morning, March 9th. Thank you, Botanical Interests, for such a wonderful gift!
I'm lucky because my local nursery carries Botanical Interests seeds. I headed there this weekend to not only buy seeds for myself, but I hoped to pick up one of those Botanical Interest gift collections for a Happy Spring gift for my daughter's teacher. They didn't sell the collections, so I'll order it online, but I did a-okay in buying my own seeds.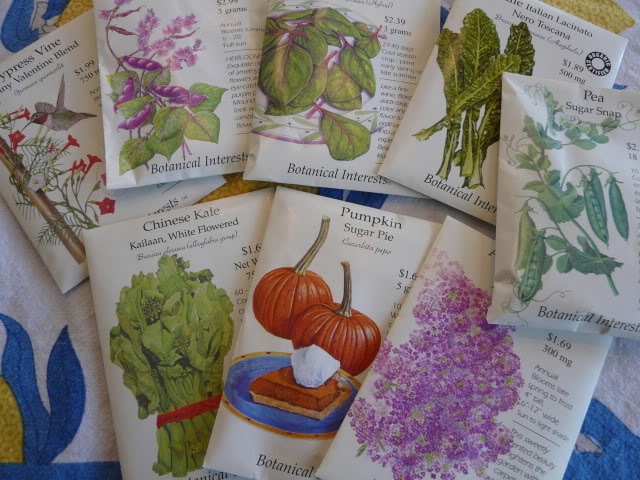 On Sunday I planted the sugar snaps in a sunny spot beside my house. I'm hoping the deer will leave them alone, being so  close to the house. When I lived here before, I planted them down in the "main" garden and between the deer and the bunnies, I was barely able to enjoy them.
And if the deer clean out my pea patch, well, that would make me seriously blue.
Seriously. Blue.
Until next time, Friends, savor the flavor of life!
Lots of love, The City Farmgirl, Rebekah