I've always found that the first step is the hardest to take.
And so, I issued a challenge on FaceBook. And now I'm challenging you too.
Move yourself up on your priority list. Do something just for you.
Walk everyday for 31 days….for YOURSELF.
We are walking every single day FOR OURSELVES for the 31 days of May. We walk and then check in with each other. Some post photos of the walk. And beautiful photo collages. One walker shares her walks with photos and poetry. We encourage each other.
You can start today or tomorrow. Just let me know and we can take our walks together. I'll push you; you push me.
The motivation behind this walk is YOU. It's not for your dogs, or for your kiddos, or for work (like mowing the lawn), it's for YOU and YOU alone. It's not for your friend with cancer, or the local band fund-raiser, but for YOU. Period.
That's huge. If you're like me, you find it very hard to do something JUST for YOUrself. Instead, you're running around ragged, doing for everybody else.
Just taking this tiny step and lacing up your shoes and head out the door FOR YOU is a small step, but has grand results. See, what you're doing is making yourself a priority in your day. That's a habit that is worth forming.
The instant you decide that you're worthy and deserving of doing something just for you, your life will change. For the better. Small steps, grand results.
And see. Maybe at the beginning you're just going through the motions, maybe you don't quite believe how awesome you are yet. Take those motions every day, for 31 days, and whether or not you believed it when you started, you'll believe it at the end. It's kinda magic.
After a month of daily walks, your brain will thank you. Your mental health will thank you. You'll be less grouchy. You'll be easier to live with.
And. Walking every day is good for your heart, your legs, your hips, your everything. Movement will keep us moving.
Walk with me…here are some photos from my walks the last 5 days: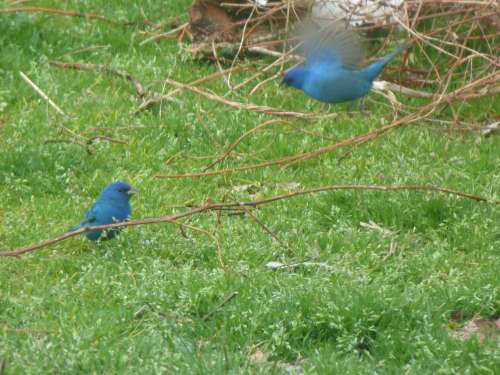 Indigo Buntings at play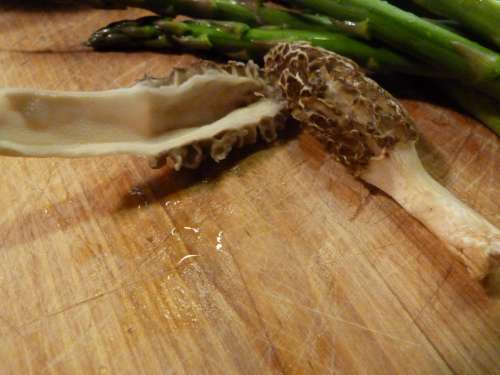 I found a Morel Mushroom on one walk. Yes, ONE. I wasn't even sure it was a Morel, but I picked it and brought it home. A mushroom website said if it is hollow in the middle it is a Morel. If not, it is a toxic look-alike. Hollow! So I put it in an omelet.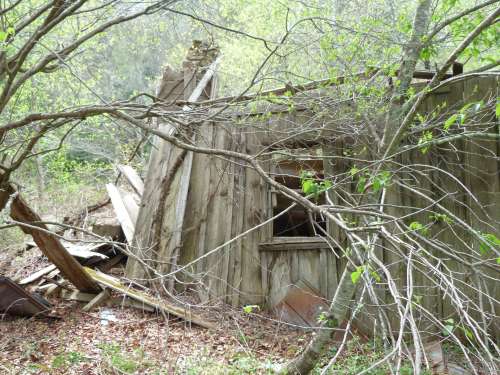 A fallen down one room home.
I see potential here.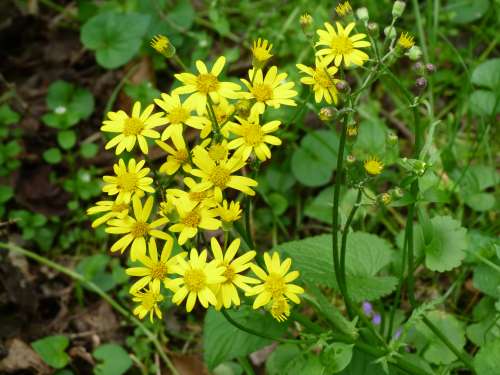 Don't know what they are, but they are all over the place here.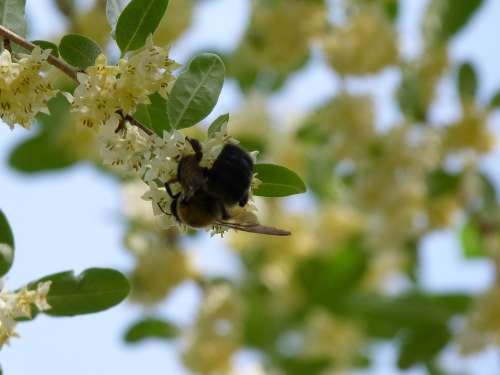 Bees, Bees, Won't you please. Stay and pollinate my garden.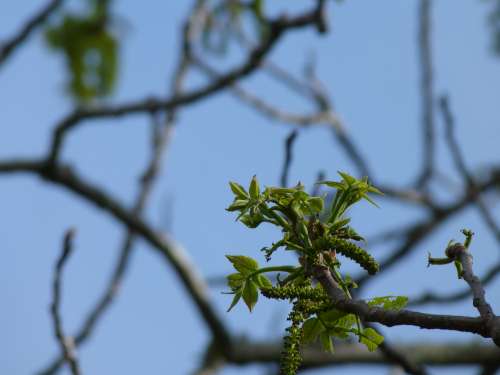 Can't remember what kind of tree has these little thingys on them?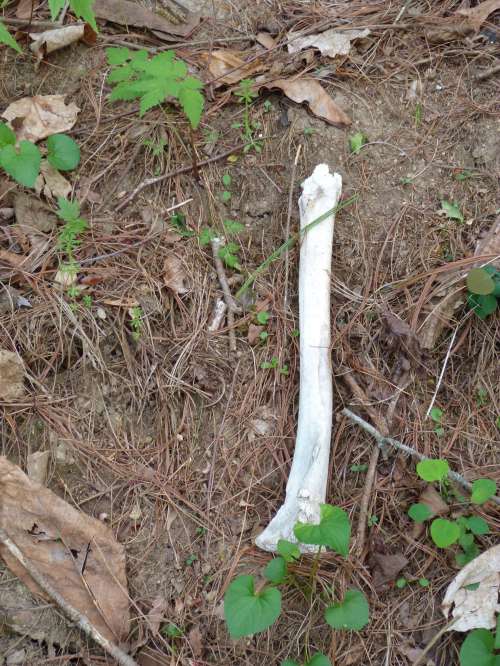 A bone. Don't know whose. Not mine, for sure.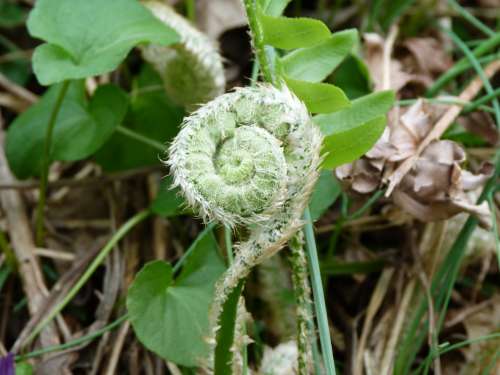 Ferns unfurling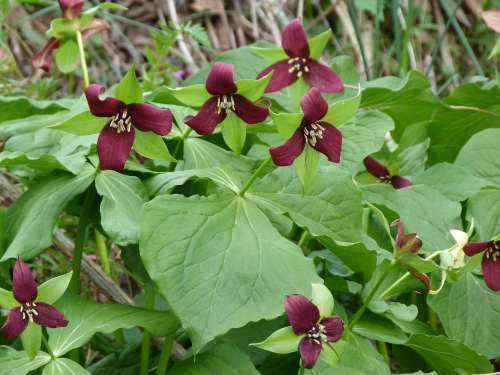 Trilliums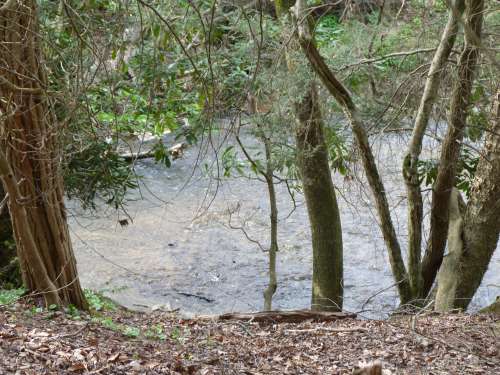 My Mountain Stream
Last July I fell and messed up my knee and my neck (I'm sure I had whiplash.) It was a crazy kind of fall: I was freaking out because I had just picked up a long black snake and placed it in my arms on top of the long black sticks I had picked up. When I scrambled and ran, I fell. I'm sure I told you all about it. It was crazy and freaky and messed me up big time.
Well, after that I just went……lethargic. And apathetic. About me. I mean, I was still on board for everybody else, but I checked out for me. I felt crummy. Non-movement leads to non-movement. Blah. That's how I felt. And then some yucky times happened and I just got blah-er.
And then. Everything began to change on May 1st when I took the "YOU Challenge!" How can that be? I don't know; it just is.
It's a simple thing: get out there and walk for YOU!
Doesn't matter if it is for 5 minutes or 50 minutes.
Doesn't matter if it is slow or fast.
Doesn't matter if you stop and sit down whenever you want to.
Doesn't matter if you are alone or not.
Doesn't matter if it is prayerful or playful.
Doesn't matter if it is rain, shine, foggy or hot.
Doesn't matter if it is inside or outside.
The only thing that matters is that YOU do this thing every single day for YOU.
What I've discovered and/or re-discovered in the five days I've done this for ME:
I'm a braver person than I used to be.

My mind is stimulated by time alone.

I meet God in the thick woods and moving water and strong winds.

I'm worth it. I'm worthy.
It's not too late to join us! If you'd like to take the "YOU Challenge!", then find me on Facebook and let me know. Or if you don't "do" FaceBook, you can post your daily walks here, or via email with me (rebekah at maryjanesfarm dot com), or with your friends. The main thing is thing is that you have accountability and encouragement. Because some days are easier than others. And it's nice to have a friend along for the ride.
Come walk with us! Just for YOUrself. Every day for the next 31 days.
If you took the "YOU Challenge!" already, won't you take a few minutes and leave a comment as to how this little step of walking every day for YOU is impacting you and your day so far? You can encourage someone who needs encouragement to take those little steps that will lead to grand things.
Let's do this thing TOGETHER. YOU deserve it!
Until next time, Friends, savor the flavor of life!
Lots of love, Rebekah, The City Farmgirl