"Of all the paths you take in life, make sure a few of them are dirt."
John Muir
"Of all the paths you take in life, make sure some of them are just for YOU."
Me
It's almost time to get your MAY BLISS on!
In a few short days, on May 1st, the 4th Annual YOU Challenge will begin! And for 31 days, you're going to do something just for YOU, YOURSELF, AND YOU!
May is a month rich with celebration. May Day, Cinco de Mayo, Mother's Day, Memorial Day, and my birthday (the 17th, which also happens to be the National Pack Rat Day—no comment on that). But for all of us here, we're adding another celebration to the month of May again this year: ourselves! It's the month we are going to do things a little differently. We are going to put ourselves on top of our priority list. Gasp. Argh. What? No, really! We are.
I know many of you are tired of working, chauffeuring, gardening, cooking, cleaning, rushing around trying to be superwoman. You take care of your careers, your families, your house, your yard, your kids, maybe your parents, your church, your community, your friends, and basically, the world. Who has time for SELF with all that?
Well, during May you are going to resign as manager of the universe.
How are you going to do that? What are you going to do?
You're going to TAKE IT outside. For 31 days, every single day in May, you're going to take a few minutes (or longer) to get outside, take a stroll, and find joy. Research now supports what we've known in our hearts forever: outside is good for us. It lifts our spirits. And movement gets our "happy hormones" going.
Also, last year during our YOU Challenge we began our day by drinking a glass of water with fresh lemon first thing in the morning. Before the coffee. Let's do that again. It's a great way to hydrate our bodies when we first wake up.
YOU IN???
Now, here's the answer to the question that always comes up: yes.
The answer is yes.
The question is something like, what if I'd rather do something other than take a stroll outside, can I? Does that still count?
Yes. This path is YOURS. YOU are in control. YOU, my friend, get to decide. Yep, U-pick.
So if you want to be a part of the YOU Challenge, make a commitment right now. Write it down on a piece of paper and hang it on your refrigerator or your mirror. Or put it in your calendar. And then tell your family so they'll help. Sure, they will be shocked at first because you don't usually do things for yourself, but they'll get over it. And then they'll pitch in because they'll have to.
You need this. You deserve this.
If you'd like to share your journey, come over to the Facebook group. It's a private group, so you won't be able to see the postings unless you join. Here's the link. We have a great time sharing photos of and stories about our walks. We encourage and motivate each other to do it on those days when we don't feel like it. It's a positive group of supportive women.
We're already psyched, stoked, and hyped about beginning. If you don't do Facebook, then feel free to post here in the comments.  We'd love to hear about how you are finding your MAY JOY.
So buy the cut flowers for your desk or table, light a candle with your favorite aroma, finally start that book you've been meaning to find time to read, and take a loooooong bubble bath. Do all these things for yourself in May.
And every single day, step outside and walk.
This morning, I accompanied Hoshi, the cat, on his "morning constitution" so I could take some photos of his walk for you. Most of the paths he chooses are, indeed, dirt.
Hoshi's Walk.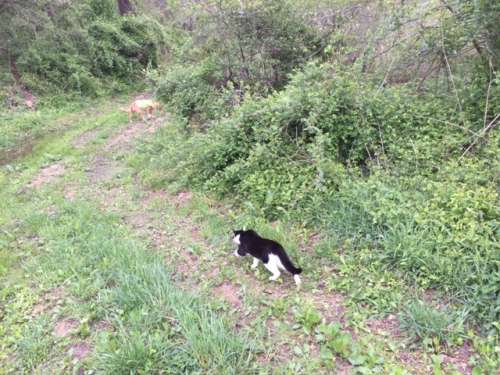 In front of Hoshi you can see Blue, the dog, who also came on Hoshi's walk.
Hoshi strolled along and stopped to check out some wild violets in bloom in the middle of the path.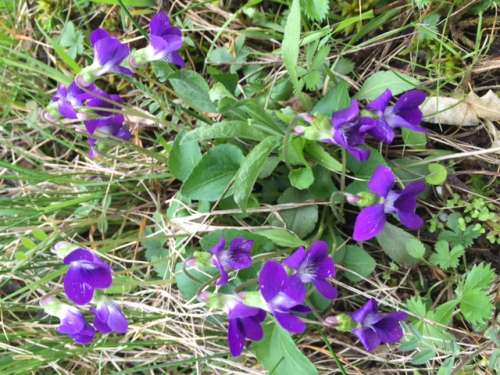 A fence post? Perfect!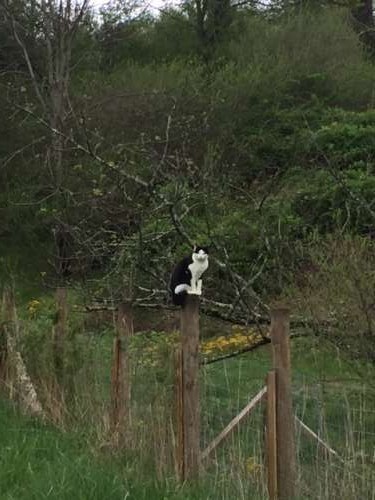 Hoshi, are you going to sit there and watch birds? Or, are you going to walk?
His reply: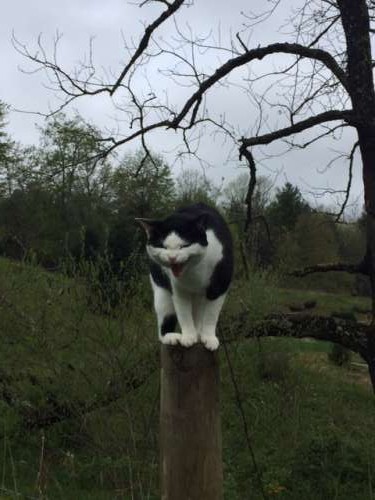 He jumped down at my prompting and continued his stroll.
Soon, he stopped to inspect this little mushroom.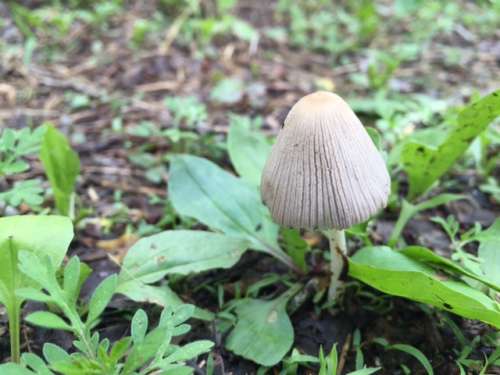 Wait! A tree! I've got to climb this tree! I think Hoshi may have CADD, Cat ADD.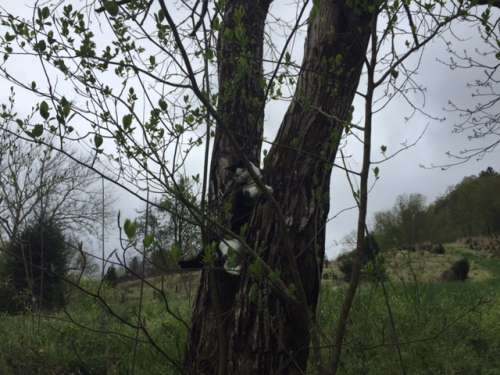 These yellow flowers were everywhere today on Hoshi's walk.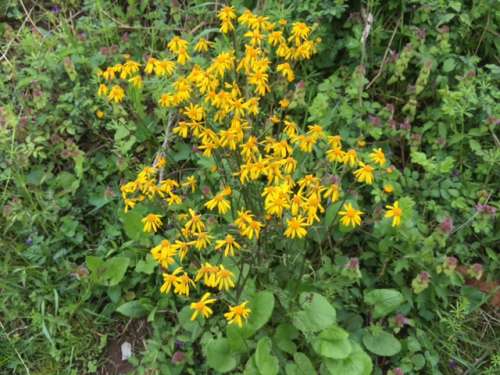 I kept going when Hoshi climbed another tree. He finally came running, meowing loudly the whole time, fussing that I had left him.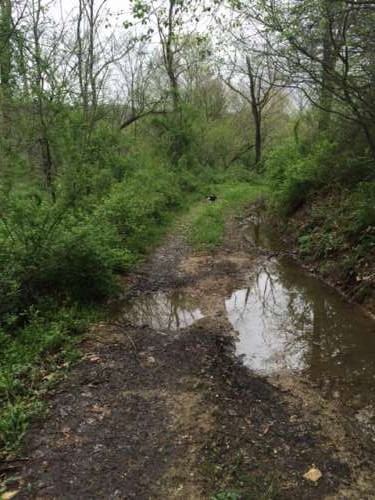 I pointed out the trilliums in bloom on the bank by the creek.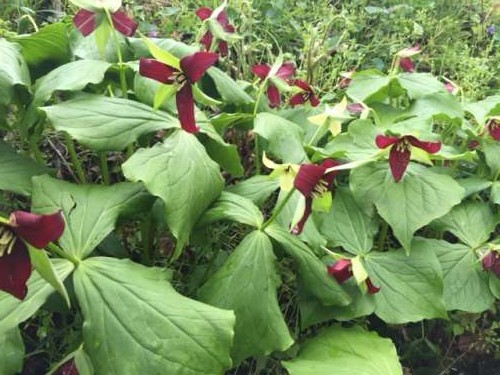 Christmas tree balers. Hoshi jumped on one of these when we walked by, but I wasn't fast enough with my camera.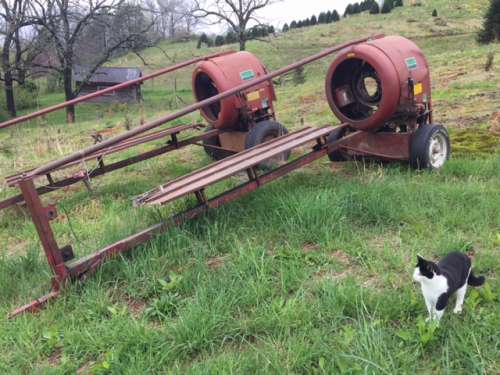 So, I hope you'll take the YOU Challenge and do this just for YOU.
May will be here in a few days,
so get ready,
get set,
and…..
GO!
Until next time, Friends, savor the flavor of life!
Lots of love, The City Farmgirl in the Country, Rebekah
Need more information or inspiration?
Here's what I wrote when we started this in 2014:
Just taking this tiny step and lacing up your shoes and head out the door FOR YOU is a small step, but has grand results. See, what you're doing is making yourself a priority in your day. That's a habit that is worth forming.
The instant you decide that you're worthy and deserving of doing something just for you, your life will change. For the better. Small steps, grand results.
And see. Maybe at the beginning you're just going through the motions, maybe you don't quite believe how awesome you are yet. Take those motions every day, for 31 days, and whether or not you believed it when you started, you'll believe it at the end. It's kinda magic.
After a month of daily walks, your brain will thank you. Your mental health will thank you. You'll be less grouchy. You'll be easier to live with.
And. Walking every day is good for your heart, your legs, your hips, your everything. Movement will keep us moving.
And here are some words from my YOU Challenge blog post in 2015:
It's a simple thing: get out there and walk for YOU!
Doesn't matter if it is for 5 minutes or 50 minutes.
Doesn't matter if it is slow or fast.
Doesn't matter if you stop and sit down whenever you want to.
Doesn't matter if you are alone or not.
Doesn't matter if it is prayerful or playful.
Doesn't matter if it is rain, shine, foggy or hot.
Doesn't matter if it is inside or outside.
The only thing that matters is that YOU do this thing every single day for YOU.
And from last year's, 2016:
This small step of deciding to put yourself first this month will operate as a huge step in your own mind. Expect great things. Because something great happens when we (finally) flip that switch from "I come last" to "I come first." Did you just cringe when you read that? The very thought of putting yourself first? Then you NEED this 31 days.
No, it won't be easy at first. We're not used to putting our needs or desires before others.
We are empty; we are exhausted; we are discouraged. The month of May is our opportunity to replenish ourselves and to practice extreme self love.
For some reason, our society teaches females that self-sacrifice and martyrdom is appropriate when it comes to our families, our churches, our jobs. Everyone comes BEFORE us. To be worthy, we have to be exhausted. Well, not during May.
If you want to read the entire blog posts from the previous years, here are the links.
Last year's post. http://www.farmgirlbloggers.com/9794
2015 post. http://www.farmgirlbloggers.com/6347
The first one. http://www.farmgirlbloggers.com/2375#more-2375
See you on the trail!