Happy May to all my Farmgirl Friends!
Do you remember the tradition of May Day?  Where on the first day of May you celebrate spring by secretly delivering a little basket of flowers to a friend; like literally knock on the door and then run?  Smile!!!  Do you keep up this sweet tradition?  Or are you like me and every year on May 2nd you remember that you were going to do that and forgot???  (I'm the worst for having great ideas AFTER the fact.).
.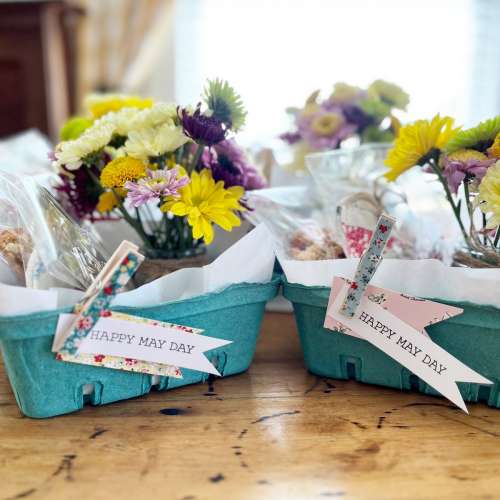 .
.
This year I actually marked it on my calendar on April 1st to put together an idea so that I would actually follow through on it!  And I did it!!!  I put together a sweet little basket for five of my special friends and my daughter.    It was such a joy and brought a smile to my face all day long.  It got me thinking that this would also be a wonderful thing to do for Mothers Day.  So…. in case you'd like to deliver a sweet little basket to your nearby farmgirl friends for Mothers Day, I'm sharing a little inside information with some links to help you put it together!  (I did not take pictures as I was assembling mine, because I had no  idea I  was writing this post; so my photos are not completely thorough.)
.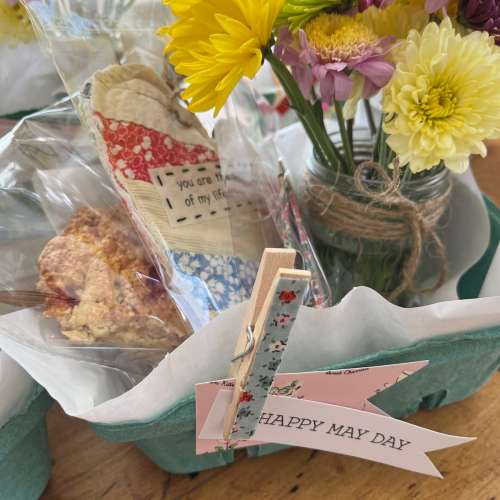 .
The first thing I did was purchase some berry baskets.  (Lesson learned:  when I purchase fruit and veggies from the farmers market this summer, I'll be saving the berry baskets!)  But for now, you can purchase them here.  You get 12 baskets and they are 1.5 quart size so there is plenty of room to add a few extra goodies!  They amount to about $1 a basket.
I lined the berry baskets with white freezer paper.  It is great for this because it has that waxy side to it so it creates little protection if water drips out of the flower jars.  (I always keep freezer paper on hand… it is so useful for so many things!)
.
I purchased flowers from my local grocery store as I just did not have enough spring flowers blooming in my flower beds.  (I already have good intentions of planting more bulbs this winter so that I can fill May Day baskets with my own flowers!).   I used little pint size canning jars and make little bouquets that I stuffed pretty full of flowers.  I then used twine that I wrapped a few times around the jar and tied in a bow.  Super simple little trick that makes it look special!
.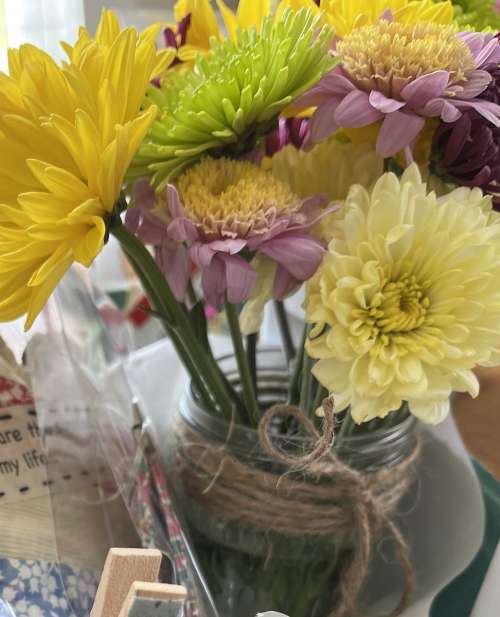 I've been loving my sourdough starter again this past winter so I made some Sourdough Strawberry Scones and put two of those in a little bag.  The recipe I used is here.  If you do not have a sour dough starter, thats okay… there are plenty of scone recipes out there that do not call for sour dough. It is strawberry season here in Tennessee so it was really nice to use some fresh local strawberries!   (I do not have a close up picture of my scones… but if you look close in the picture below you can see the corner of one!)  
TIP:  I do not  frost my scones… I simply sprinkle raw sugar on them as I slip them in the oven.  I think they taste better, and in this situation you do not have frosting smeared in the bags.
.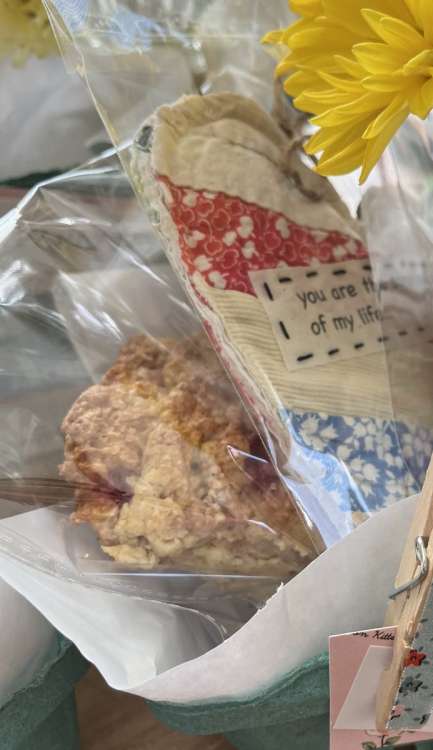 .
I was recently gifted a very old, falling apart (holes and stains everywhere) quilt.  The person that gifted it to me said, "please cut the good parts of the quilt up and make something creative"!  So that is exactly what I did.  I had more fun making what I call Hanging Hearts with sweet words hand sewn to each heart.  (I actually wrote a tutorial all about how to do this on the Clover Sewing Blog and you can find that here.  Perfect step by step instructions and pictures.)   So I slipped a heart into a clear plastic sleeve and put one in each basket.
.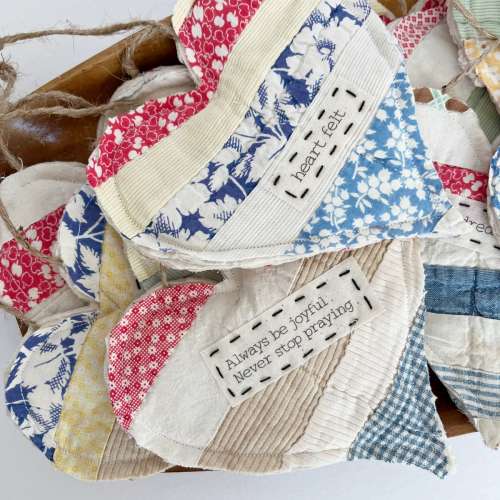 .
And the last little thing I put in the basket is my home made key fobs.  I wrote a tutorial for those here on the Farmgirl Blog and I've made so many of these I've lost count!!!  You can find that post here.  The ones I made for my May Day baskets had the name of each friend on them.  But you could even make them without words of any kind.
.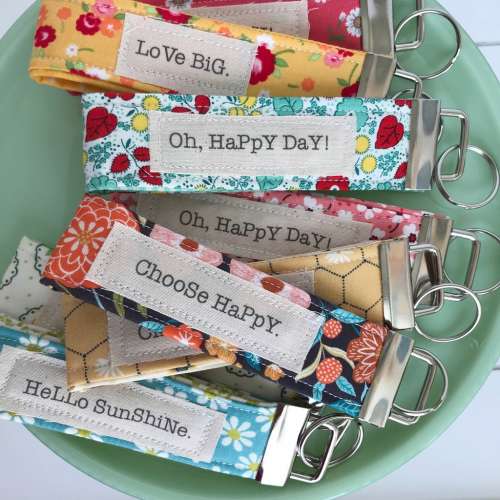 .
Once I  had all my goodies in my basket I made the tags.  To make it simpler for you, I've made a PDF file with Happy Mothers Day tags all ready to print and cut out.  You can find the link to that here:  Mothers Day File
.
I printed my words on card stock and simply cut them out with a little bunting cutout on the end.  Super simple.   I used a pretty post card that I had and cut it out the same as the words.  I then cut a tiny strip of fabric (you could also use paper) and glued it to the clothes pin.  It is the perfect way to dress up a clothes pin!
.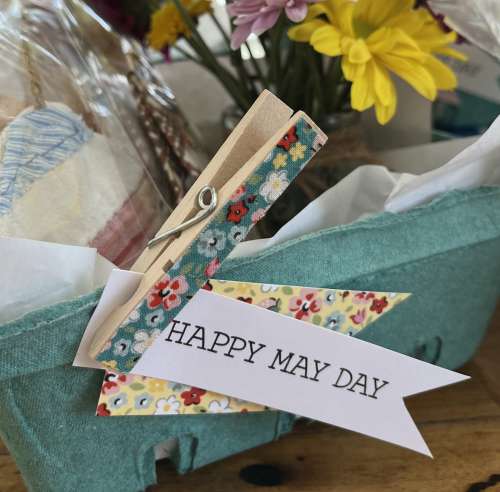 .
Attach to the outside of the basket and you have the perfect little Happy Mothers Day (or next year… Happy May Day) gift to deliver to the special Farmgirl friends in your life!
.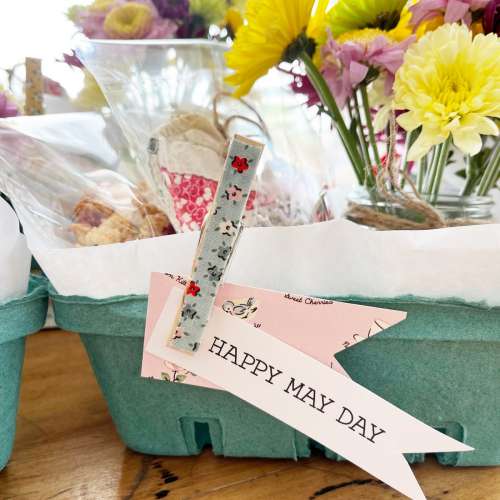 The best thing about delivering these baskets is that one of my grand-girls went along with me and we had such fun.  We did not drop them and run; instead we texted each friend and said we were dropping by for a minute!  That way we were expected and took a few minutes at each house to chat briefly.  We had the best day and I wish I had taken pictures!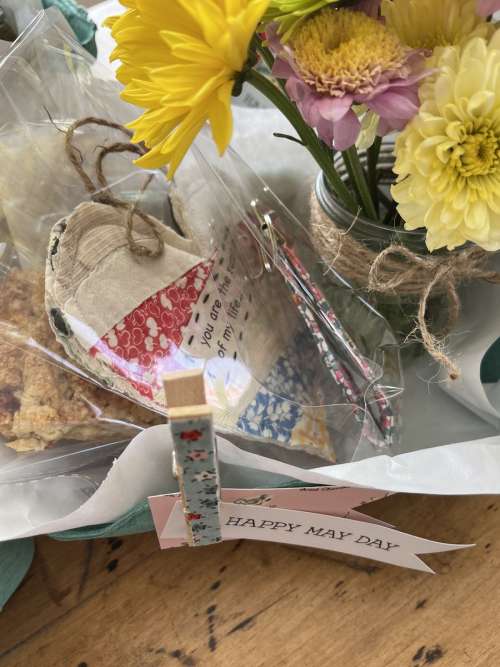 .
Happy Mothers Day to all of you wonderful friends!  I wish I could deliver baskets to each of you!  But maybe you can use some of my ideas and pass it on to your special friends!
.
Until our gravel roads cross again… so long.
.
Dori