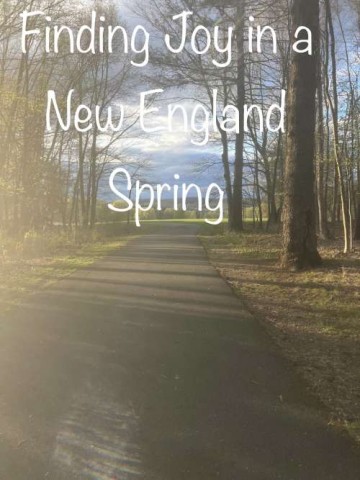 Hi Farmgirl Friends! This time of the year in New England, things get busier than ever. There are festivals, restaurants put their patio tables out, kids play outdoor sports, things are bustling all around, and each day brings new blooms. There's a lot of joy to be found in a New England spring, something I have lately needed a big dose of! 
I hope your spring is off to a great start, and you are not being affected by the extreme weather we have seen lately on the National news. Unfortunately, this has not been the best spring for us. Everyone has little stresses in life, but sometimes they just seem to pile up! I have joked that with all the bad luck I have experienced lately, I could write a country song!
Worst of all, since my last blog post, our little elderly chihuahua, Pip, has sadly crossed the rainbow bridge.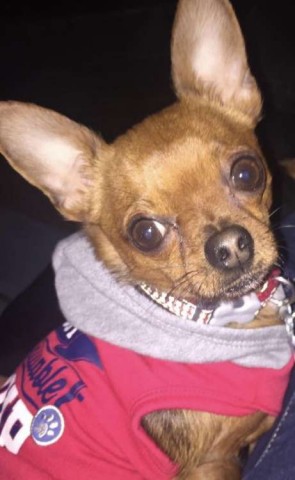 Even though we knew he was at least fifteen years old, losing a pet brings on an awful grief. My family has cried buckets of tears, as we get used to a new "normal" where he isn't here. We have lost loved ones, friends, and pets before, but losing this little guy was especially difficult. He was a part of my daughter's childhood, and it seems like losing him was like a closing chapter in that wonderful time of life. "Smaller than a squirrel", he was my little baby boy, and I will always miss him. I am so grateful to the rescue that we adopted him from. We were so blessed to have him as part of our family for ten years. 
I had someone say to me, "That's why I don't have pets. It is too hard when we lose them". I disagree! Pets are one of the greatest joys in life! To me, grief is something that finds us, but joy is something we have to find, even when things are less than rosy. 
My heart is broken – I'm mourning my dog, but I'm still finding joy. For one, I am reveling in the changing seasons. Spring in New England is amazing. Every day there is something new to notice. Nature is one of those things that brings joy. One life lesson that my little five-pound pup taught me was to stop and "take notice".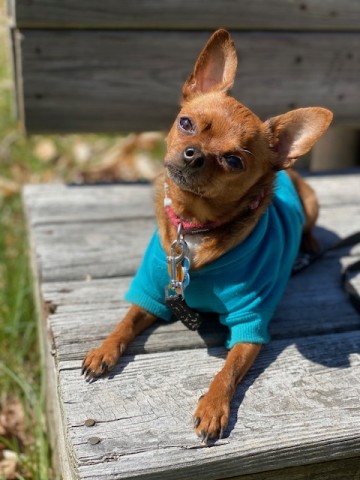 Pip LOVED warmth and sunshine, and on sunny days, he would often pull me with his leash over to the rocking chair on the porch, wanting me to sit down so he could jump on my lap. It was as if he was saying, "Come on, Mama, just take a pause." He taught me to pause.  This time of year, I love to notice what is going on in my surroundings.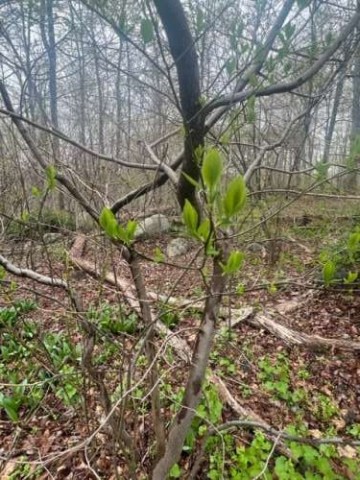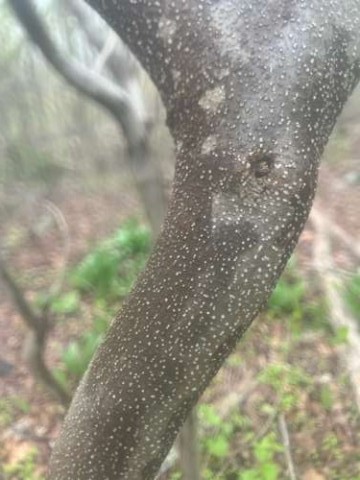 In Connecticut, native spicebush is one of the first things to bloom. One day, it's blooming yellow, the next covered in lush green leaves. I love the trunk – the wood reminds me of a salted, yummy soft pretzel.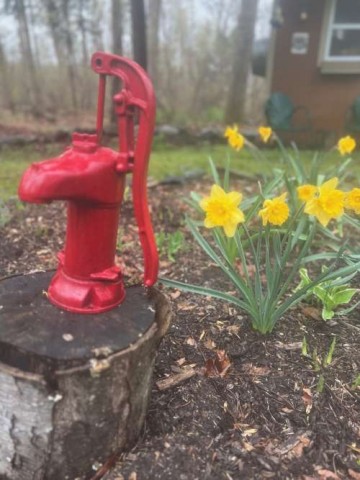 Bulbs, like daffodils, show their faces next, and things all around start to "green". The beauty of Connecticut is especially joyful in the spring season.
Things are so beautiful at my favorite walking trail, as well.
Not one to sit still for very long (even on days off), staying busy brings me joy. Spring clean up is a chore, but at the end of the day, we sleep soundly! We just got what seems like a mountain of mulch delivered. It's hard work to put it down, but my husband and I will work on it together, and when all is done, everything will look so nice! (I will also be happy in having less weeds to pull, and it helps keep my plants from drying out in the hot summer sun).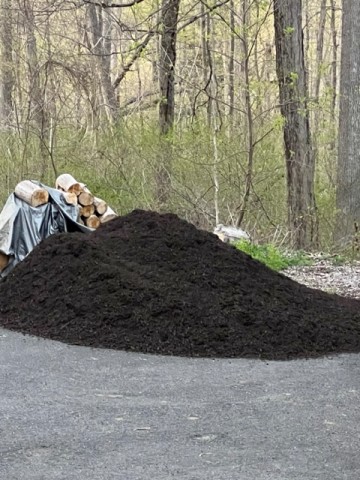 It's important to prepare beds before putting down mulch. Putting new mulch on top of old mulch can cause molds, mildew and other plant issues.
I am so happy with my new "Rugg leaf scoops" I picked up this season. After seeing them first at the Connecticut Garden show, I forgot to go back at the end of the day to pick some up.  I was thrilled to find a pair at a local store! Amazon also carries them. Those leaf scoops made one of my most difficult gardening jobs a piece of cake!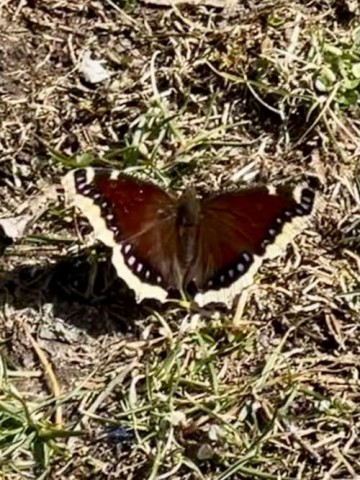 We finished cleaning out the flowerbeds, waiting until now to remove any leaves or leftover debris, as butterflies might be hatching. The first butterflies I saw were Nymphalis antiopa, or Mourning Cloak butterflies. They emerged on a chilly spring day to dry their wings in the sun, which made my heart so happy to see!
Gardening brings me such joy. In New England, we have to start our seeds indoors. Turning the grow light on each morning and seeing my little seedling babies makes me happy. I can't wait until the soil is warm enough and it is time to plant everything outdoors in the raised beds. Can't you just taste that juicy tomato, warm from the sun and fresh off the vine? One of life's little joys!
My little backyard flock is happy now that it is spring. With longer days, the girls are laying lots of beautiful, fresh eggs. My hens make me laugh with their antics.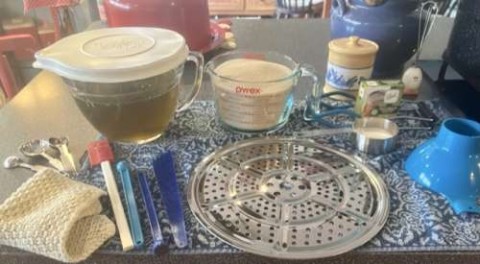 Joy is also something you can give to others. I find joy in making things, and love to give away things that I make from the heart. I took advantage of the bumper crop of dandelions to make my favorite jam, Sunshine or Dandelion jelly. (Find the recipe in my past blog post, "Hooray For Weeds").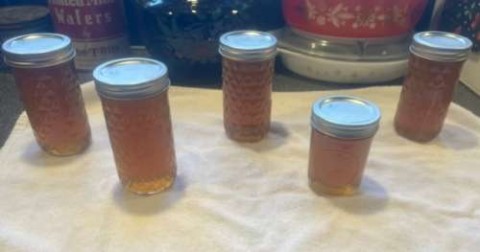 Like a cross between marmalade and honey, it's so good on a cracker with a slice of sharp cheese and a dab of jelly on top. 
I am so proud that my daughter, now a licensed hairdresser, works for an organic salon. I recently got to join my daughter on her lunch break. Her lovely boss, Nancy, motioned me toward the back of the salon.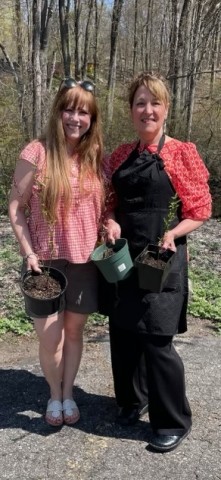 In honor of Earth Day, she was giving out peach tree saplings from her trees at home! I was so excited to be gifted four new baby trees for our little "orchard" that we put in last year! Nancy was giving out joy! Imagine, when each year those trees bear fruit, that the joy will continue!
What's the best part of joy? It's contagious! My dear knitting student, Barbara, recently celebrated her 90th birthday!
Barbara's daughter baked the most delicious vanilla cupcakes with scrumptious buttercream icing to celebrate with everyone in class. Look at the joy in Barbara's smile! You can't help but feel joyful, too. Barbara always lights up a room. She's always smiling, and she often makes me laugh. She is a ray of sunshine. Happy Birthday, Barbara, you are such an inspiration! 
When we feel joy, we carry it with us. I hope this post brought you a bit of joy, too! Leave me a comment so I know you dropped by (and please remember to do the "captcha" so your comment goes through).
Until Next Time…Farmgirl Hugs, Nicole