Hello Farmgirl Friends!  For those of you that have been following me for years you know that every April I run the Oak Barrel Half Marathon in Lynchburg, TN.  I've written about it here numerous times… I have no idea why exactly except that when something goes around in my head a hundred times I have to write about it!  Smile!  So of course… here we go again!
.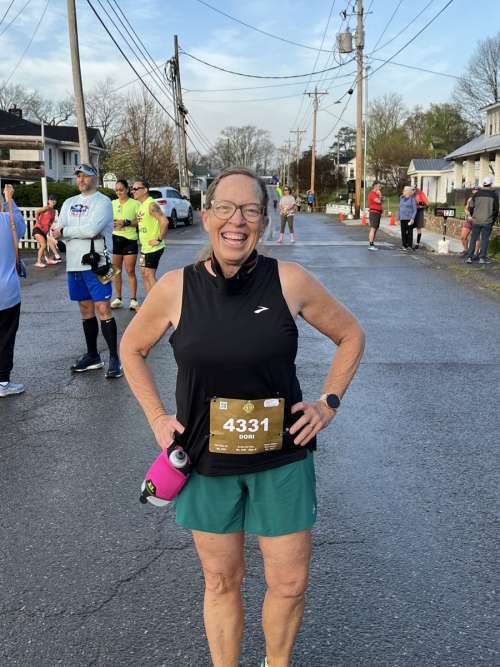 I have no great success story about the run this year.  I can literally sum it up in three words:
It was HARD
I can come up with so many excuses:  it was hot, I was exhausted… (we had been up half the night in our tornado shelter due to spring tornadoes in the area), I felt completely unprepared to run even though I'd been faithfully training for months, my husband had been dealing with a bit of a health crisis the previous few days, my daughter had a weird injury flare up the week before and wasn't going to run….  So honestly, I started the run feeling very "off".  Right away I decided the best thing to do was to enjoy the gorgeous scenery (seriously, it  must be the most beautiful part of Middle Tennessee… rolling hills, old barns, beautiful farms…) and not worry about my time or how miserable I felt.  And believe me, I was miserable.  By mile 9 I had the worst charlie horses in my legs I've ever had and walking made them worse so I had to just keep slowly running through the pain.  I cried.  Quite a few times I cried….
BUT…..  I also laughed!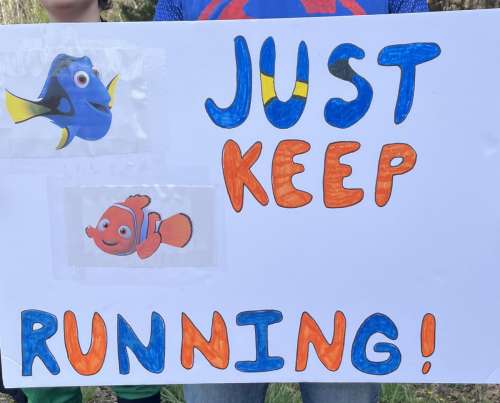 .
Most of you know that my name is Dori (like the fish in the movie Finding Nemo) and so I'm often reminded in life to "just keep swimming"!  And as I was coming through an aid station there were a couple kids holding up this sign (with Nemo and Dori) and I had to stop and take a picture….  it made me really happy, made them laugh as I told them my name, and it really helped me keep pushing.  I believe this was about mile 10; one of the hardest miles on the run for me!  I kinda just really wanted that sign!  Smile!  
(Side note:  If you ever get the opportunity to cheer people on in a race… do it!  And make a sign!  We really DO read the signs!)
Some race day back story for you……
..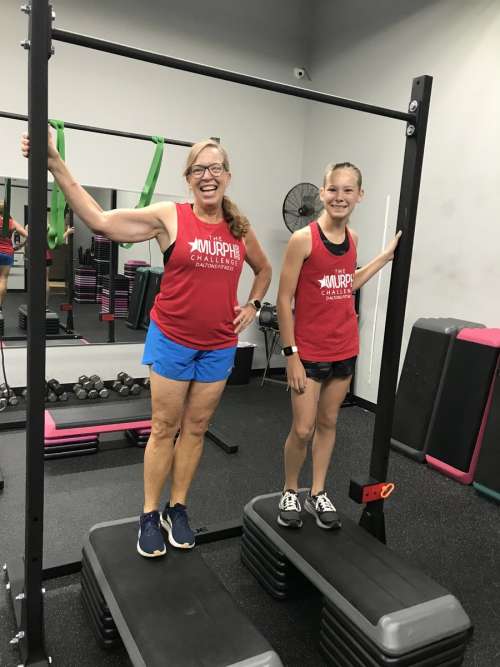 My grand-daughter Jillian and I competing in the CrossFit "Murph" challenge
.
My grand-daughter Jillian is almost 15 and for the last 2 years she's been attending fitness classes with me and she is absolutely incredible.  In our High Performance Weight Lifting class she has moved up to the Advanced Division and she has learned perfect form and consistency.  She is also an excellent Cross Country runner and all the strength training we do in classes has helped her become a stronger, better runner.  We are constantly challenging each other with things and so last October when I registered myself for Oak Barrel I asked my daughter and son-in-law if I could register Jillian too.  It would be the longest distance she'd ever run and would take some serious training but they agreed.
.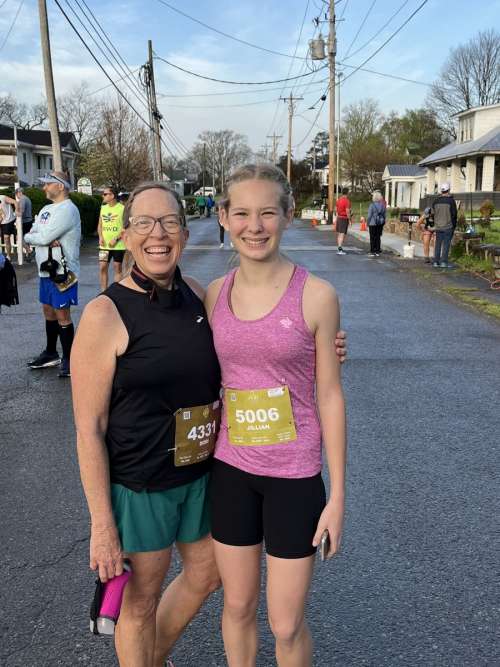 All ready to run Oak Barrel!  
.
One of the best things at Oak Barrel this year was the tracking app that we all had on our phones so every mile that we completed, it alerted the other runners in our circle of family and friends.  And watching Jillian's alerts come through on my running watch was the highlight of the 13 miles!   I literally had tears rolling down my face when the alert came in that she had crossed the finish line and when I looked at the alert and saw that her time was just a couple minutes over two hours I was so proud of her.  I  ran with happy tears rolling down my cheeks.  (Just so you know the miserable physical place I was in… when she finished, I still had five miles to go!)
.
.AND THEN….
.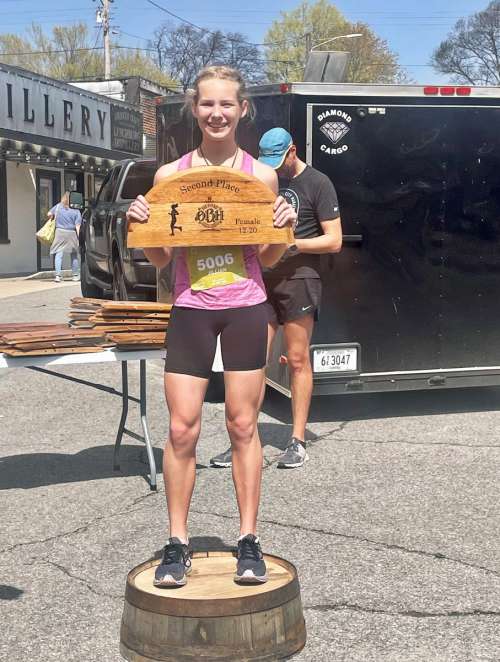 .
When I finally finished, it was to the news that Jillian had placed second in her age division (12 to 20 year old female) and that was just so exciting.  She stood on the half barrel to receive her "medal" which is the most awesome wood burned Half Oak Barrel lid!  I'm so proud of her that I can't even describe it.   And let me clarify something.  Obviously I'm thrilled for her that she placed in the top three (that's really hard in a race this large) but mostly I'm proud of how she sets a goal, does the work, sticks it out through the hard stuff, and then RUNS the race!!!  That is what makes me so happy.  It will help her in every walk of life.   She's a big part of why I push myself to keep going.
.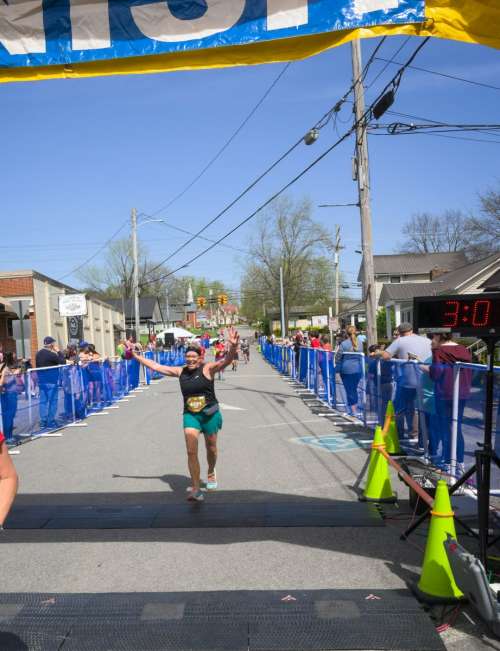 .
So, another Oak Barrel Half is complete and I crossed the finish line.  Not with the time I liked or wanted… but that was a lesson in itself.    Finishing, when you are miserable, is the best feeling!!!  One of the thoughts I had during the run was a saying I had recently heard:
..
Hard Is Not The Same As Bad…
.
So, Farmgirl Sisters.  Here's what I came away with.  I don't want to stop moving.  I don't want to give up on how far I've come in my fitness journey.  And when there are hard experiences… hard races, hard workouts, hard days, hard life struggles… I want to remember they are not BAD.  They teach me so much.  I want to focus on that.
Above all I plan to…
.
Just Keep Running!  
.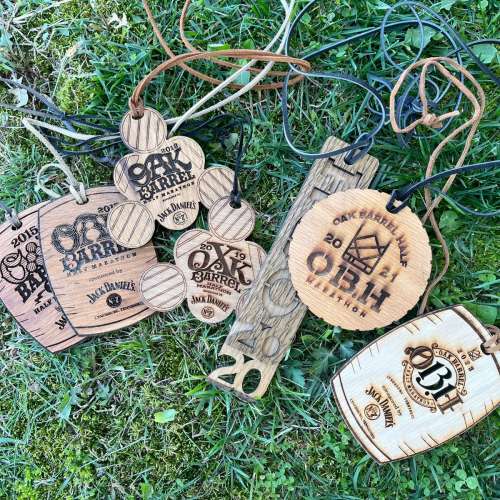 .
I promised myself I would run at least three more Oak Barrel Half (OBH) marathons because I really need to go out on TEN amazing Oak Barrel finishing "medals" right?  Seriously, aren't they the coolest? They are made from wood, with wood burned engraving.  Every single one holds some good (and hard!) memories for me. I hang them proudly.
. 
I'd love to hear what is a HARD thing you've accomplished lately that was actually good when you looked back on it?  I'd love to hear all about it!!!  After all… you always listen to me, I want to hear from you!
.
Until our gravel roads cross again… so long.
.
Dori