Hello Friends!
Today, I've got a fun surprise for you!  Last month in my blog post I told you that my Momma from New Mexico is here with us for awhile.  (If you missed that post, you can read it here.)
Well, today I'm turning this blog over to her!  She's written up a little recipe treat for you!
Meet my mom, Carol: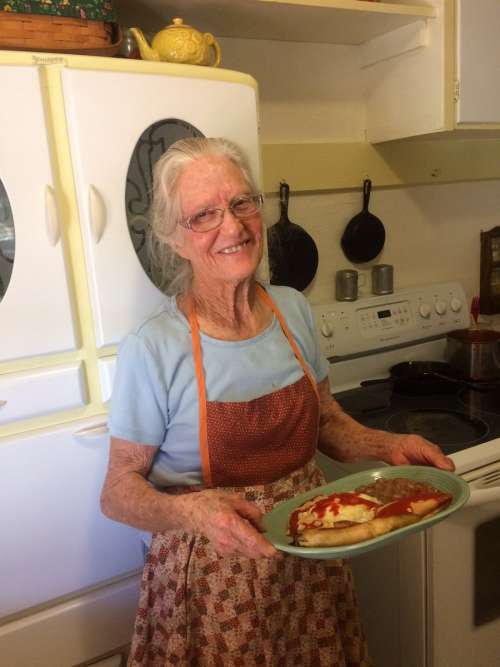 Above picture taken in 2016 of my Momma in her kitchen 
As a homemaker, one of the most rewarding things is preparing a wonderful meal and seeing all the family (and maybe some guests) gathered 'round the table eating, with smiles on their faces.
.
The first question is "what do I cook".  I had seen my mother and mother-in-law put on a simple, tasty meal when I thought the cupboard was bare.  So when times were not so easy as they are now, I would take one more look in the pantry and freezer before putting together a feast!
.
I am now 85 years old and I don't start with a list of what I need to buy.  Yesterday I found just enough pinto beans in my daughter's pantry to cook a big pot full.  When they were ready, I made corn bread… and then I called my granddaughter and family that live down the hill to tell them "supper is ready".  They came beaming into the house a few minutes later.
.
Added to my supper of beans and cornbread was a tribute to my Dad and his addition to my Mother's supper of beans and cornbread.  It can be made in minutes and adds the perfect finish to a pot of beans.  I'm sharing thist simple recipe with you today.
.
Cowboy Salad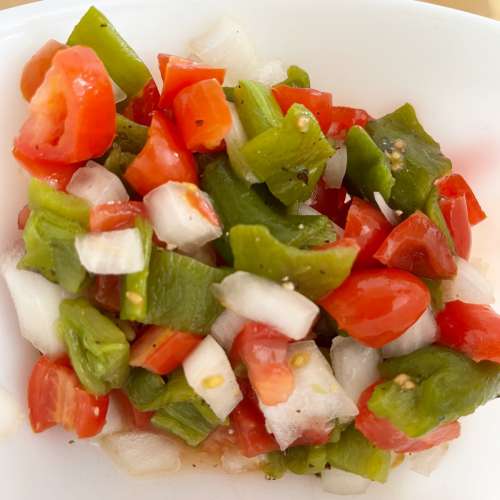 .. 
Ingredients: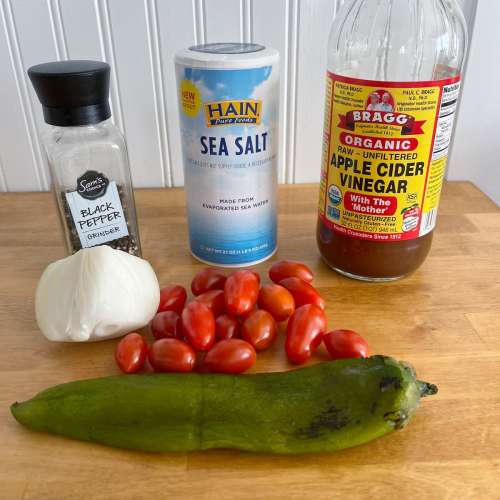 1 cup diced fresh tomatoes
1 cup diced roasted green chile
1/2 cup diced onion
1.5 tsp apple cider vinegar
Salt and Pepper to taste
.
Instructions: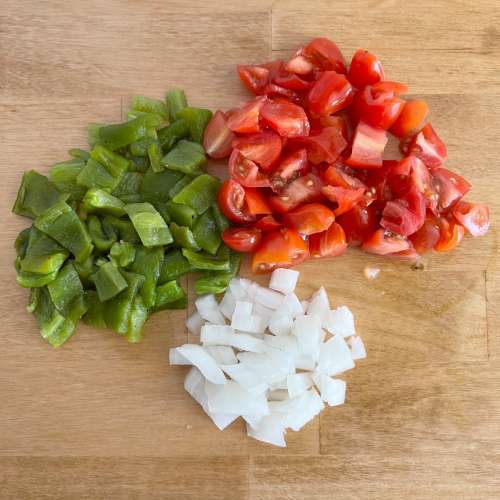 .
Dice your tomatoes, chile and onion.
.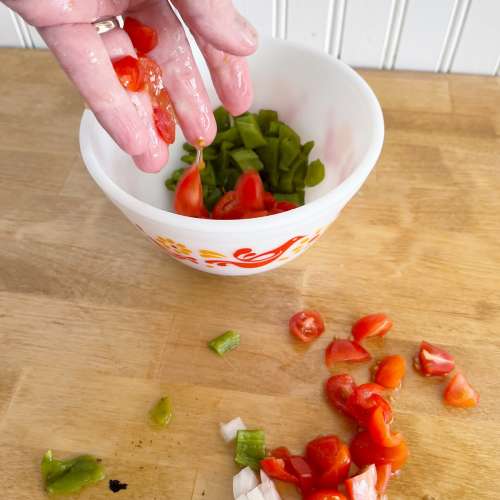 .
Pour them into a small bowl.
.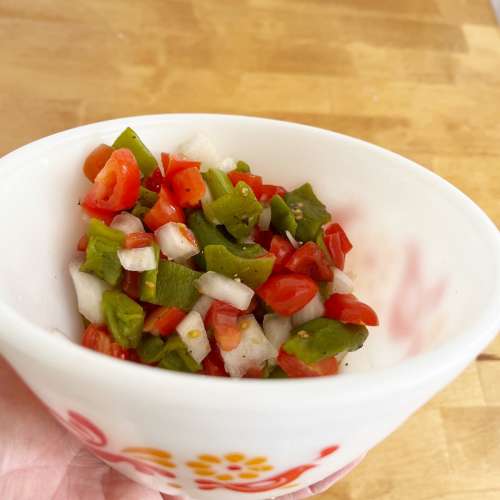 .
Add the vinegar, salt and pepper.  Still well to combine.
.
If you have a big pot of beans and are serving 4 or more people, double this recipe!  It goes fast.  We like to eat this right on top of our beans.  It adds the very best flavor!
.
.
You can also eat it on top of enchiladas or even on an egg at breakfast time!
.
When fresh tomatoes and chile are not available, you can use canned tomatoes and frozen or canned green chile.
~ Love, Carol.  ~
.
Thank you Farmgirl Friends for following along with my Momma today!  Please try my Grand-dad's Cowboy Salad recipe; it must be dated back to the early 1900's and I am not kidding when I tell you that you won't want pinto beans without it again!   (P.S.  In 2016 I wrote about my Momma's amazing red chile enchiladas.  You can find that post here!)
Until our gravel roads cross again, so long,
Dori