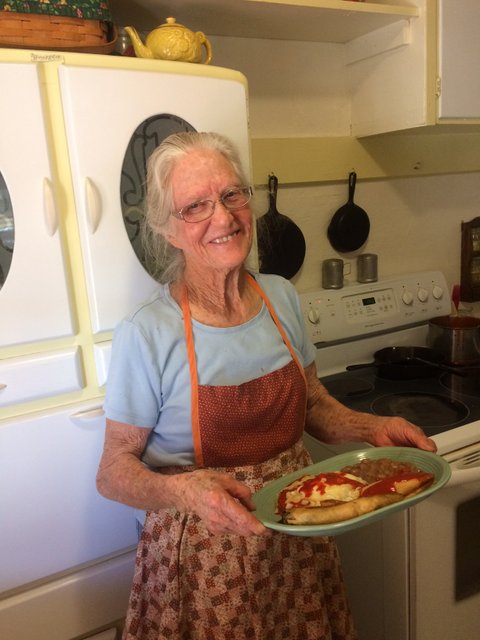 .
.
My husband and I have been at my Mom and Dad's in New Mexico for the last week and one of the things I love so much when we come home to visit is my Momma's amazing home-made Mexican food. I feel like I can hardly get enough of it! I told my Mom that since I would be working on this blog post while I'm at her house then she gets to choose what I'm going to write about. Lucky for all you readers she said, "How about you tell everyone how I make Red Chile Stacked Enchiladas"? I was excited because that meant I would get to eat them! So, here is a little tutorial of my special and amazing Momma making her famous red enchiladas.
.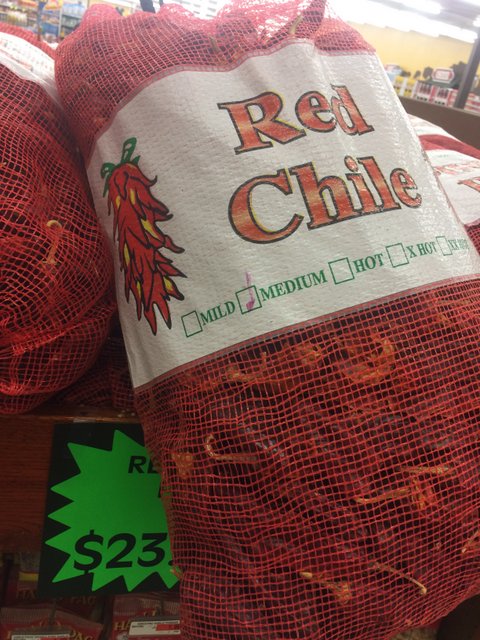 .
The key here is to use dried red chiles. So many people think that red chile sauce is just tomato sauce flavored with chile powder but that is not the case for real true Mexican food! And just a little bit of info for you is that red chiles are actually green chiles that have been left on the plant until they begin to turn red. After they are picked they are left to dry and then sold dried. The amazing thing is that the dried red peppers last a very long time. I love that here in New Mexico you can buy dried red chile in huge bags in the grocery store!
.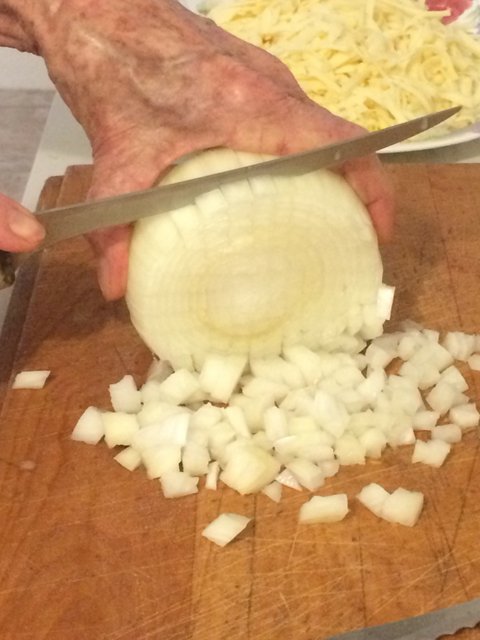 ..
The first thing to do before beginning your stacked enchiladas is to grate approximately four cups of white cheese such as Monterey Jack or Asadero cheese. Then chop one white or yellow onion. Set these ingredients aside. Heat oven to 170 degrees.
.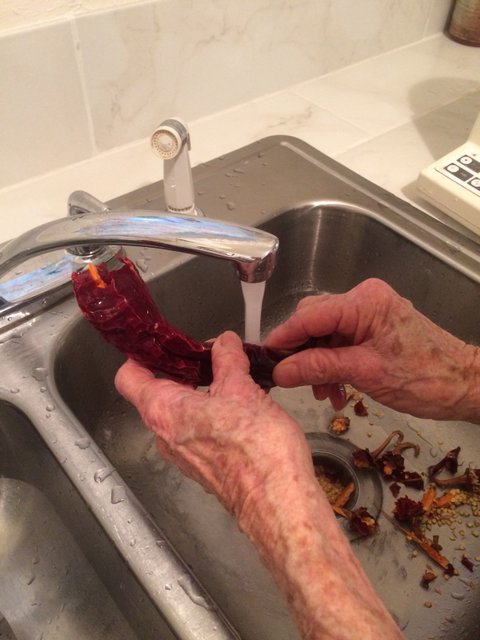 .
For enough Red Enchiladas for four people start with 6 – 8 dried red chile peppers. Pull the top stem part off, shake out the seeds, and rinse well under cold water.
.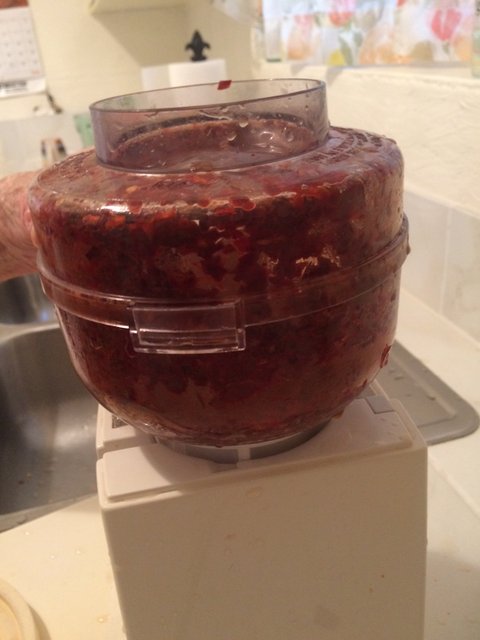 .
Break it up into large pieces and throw into a blender along with one clove of garlic. Add a cup of cold water and blend until those pieces break down.
.
.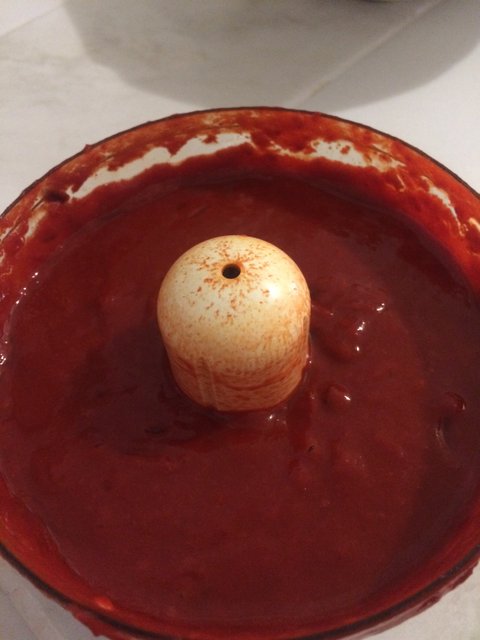 .
Add two more cups of cold water and keep blending until you get a thick puree. Turn off the blender and let it sit for a few minutes. Add enough water to fill the blender about 3/4th full. Blend again until fully incorporated. Turn off and set aside.
.
.
In a large sauce pan over medium heat melt about 2 tablespoons of lard. Add 3 heaping tablespoons of flour and whisk until mixed completely.
.
.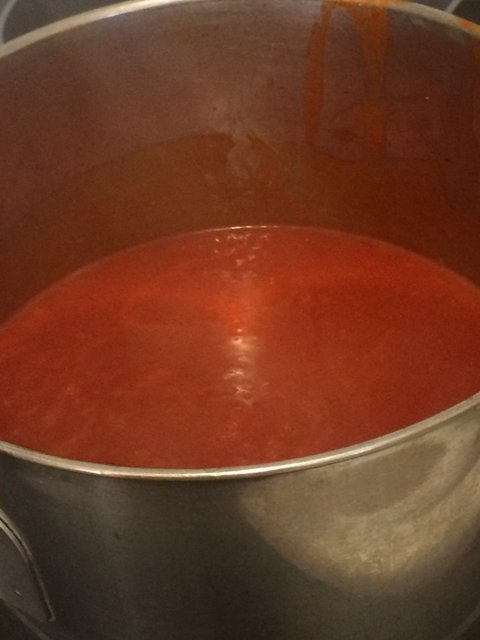 .
Add your red chile puree and whisk it thoroughly and then slowly bring it to a slow boil, stirring every few minutes. Your puree will thicken a little. You don't want it super thick, just enough that it isn't runny like water! Once it comes to a boil, lower your temperature to low just to keep it warm while you prepare your tortillas.
.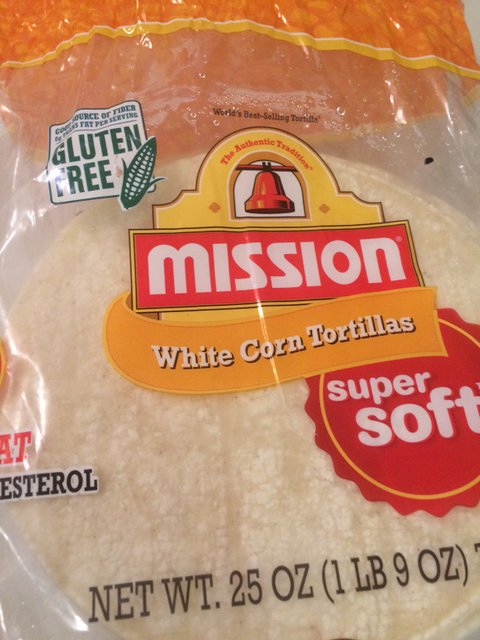 .
The next important ingredient are the corn tortillas. Do NOT use flour tortillas!
.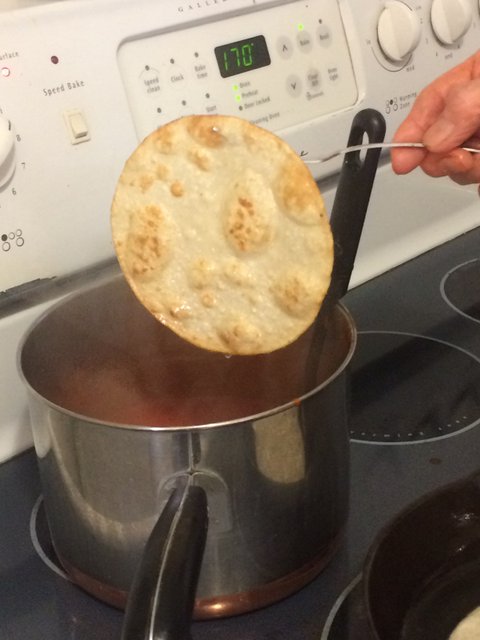 .
In a cast iron skillet melt a teaspoon of lard over medium high heat. When lard is hot, place a corn tortilla in the lard and very lightly brown on each side.  Using a fork or tongs, dip your fried tortilla in the red sauce and then transfer to a plate.
.
.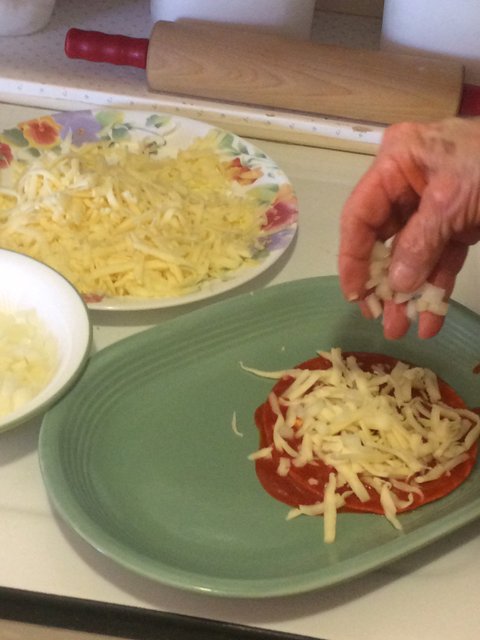 .
Place about ¼ cup of cheese on top of the tortilla and sprinkle with some onion. Repeat with another tortilla dipped in red sauce, place your cheese and onion on top, continue until you have a stack of three. Place this plate in the oven to keep it warm and then start on your next plate repeating the above steps. Place that plate of stacked enchiladas in the oven and continue repeating the process until you've created your four plates of enchiladas. (Of course you can do fewer plates as your left over enchilada sauce will last for a week in a jar in the refrigerator, or you can put it in a ziplock bag and freeze it for more enchiladas later!)
.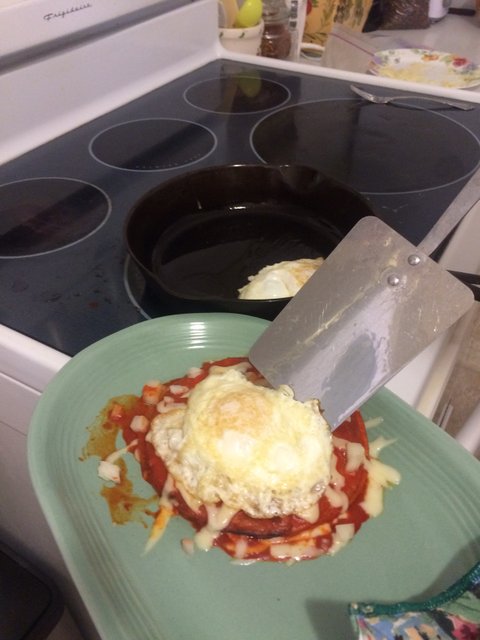 .
Now, for the final step. And this is an important one. Trust me on this. Fry an egg for each enchilada plate and place on top of your enchilada stack. (We like our fried eggs slightly soft but you can fry them to your preference.)
.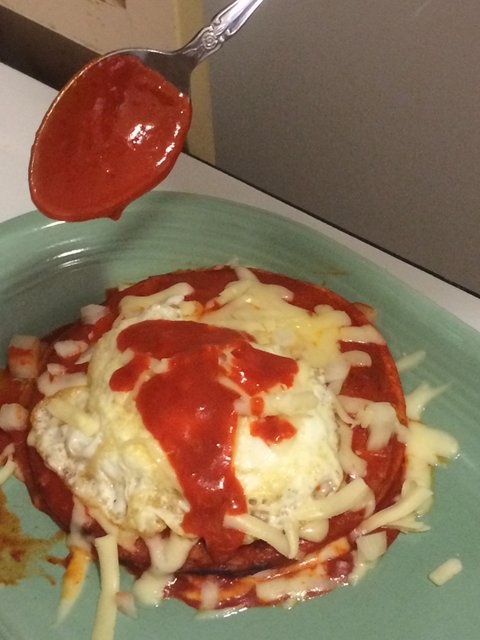 .
Add a little cheese on top of the egg and drizzle with some red sauce.
.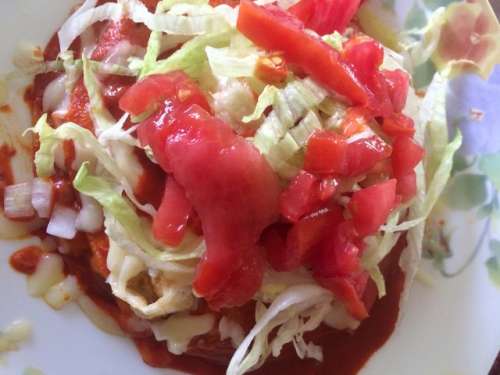 .
Serve with shredded lettuce and diced tomatoes if you'd like.
.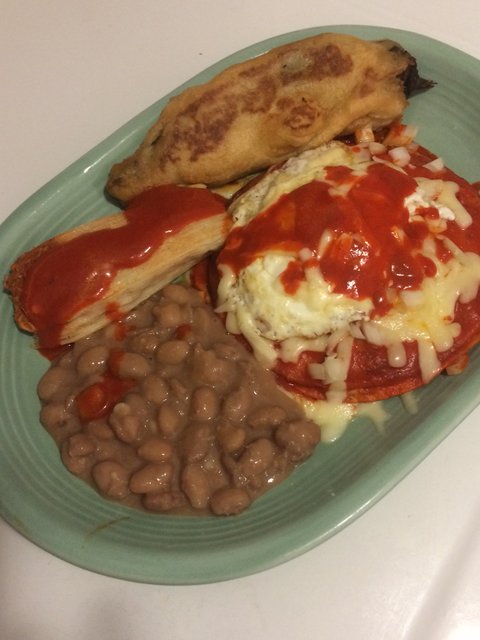 .
Or you can do what my Momma did and serve it with fresh pinto beans, pork tamale, and a chile relleno! Honestly, there is no better meal as far as I'm concerned!
.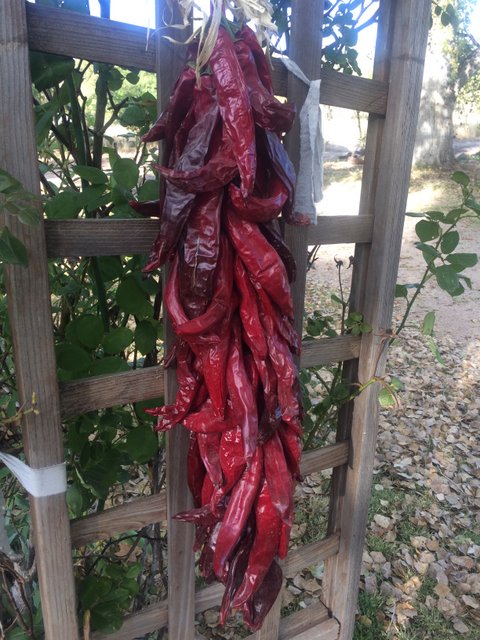 ..
If you live where buying dried red chile peppers is not possible you can order them online! There is a farm that my Momma recommends here in New Mexico; click here and it will take you to their website.    A five pound bag will last you a good long time and since they are sun dried you don't have to worry about them going bad!  Or you can order a Ristra, which is a beautiful string of red chile and hang them outside (or inside) and use off of them for a year!  I bought the above Ristra and am taking it back to Tennessee on the airplane!
.
(P.S. A blog reader let me know that there is Red Chile sauce available in the freezer section of the grocery stores.  I have not checked that out so I'm not sure if it is 100% red chile puree but certainly check that out too!)
.
I hope you'll find some dried red chile and make some of my Momma's amazing red stacked enchiladas!  Let me know how it goes!
.
Until our gravel roads cross again, so long.
.
Dori