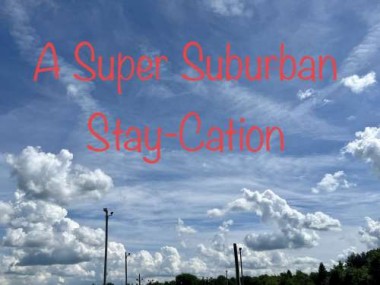 After a shaky, cold start to spring, summer has finally come to New England! This summer, like many others, we are going to enjoy a "stay-cation". That doesn't mean "boring"! From beautiful blooms, a special event, and "new neighbors", we've been busy, and this summer is certainly starting out super! 
First off, we have lived in our home for almost thirty years now. We have been busy tackling all those little "to do" things that come up when you have a home. Things break, things wear out, and there's always something we need to do. We find tinkering about the house relaxing and it feels great when you can check off something on the to-do list. 
It shouldn't be all work and no play, however. After a busy week of running my yearly summer camp in town, I promised myself during my weeks of "down time", I am going to make this summer like the ones when I was a child: I will see friends, enjoy being outdoors, read, play, even a bit of afternoon tv. I believe you don't have to go far from home to enjoy a relaxing vacation, and just the price of gas or watching the recent travel nightmares on the news makes me break out in hives! So far, our "home" summer has started off great!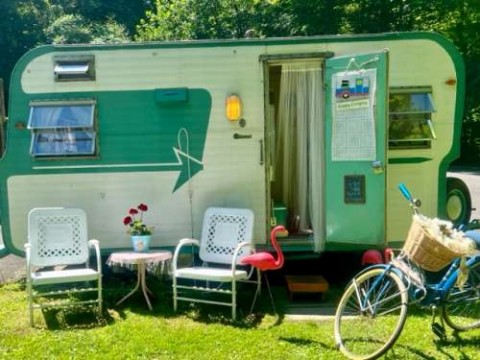 Gidget is open. YAY! We had her plumbing repaired (there was a leaky kitchen sink pipe that occurred from ice that accumulated in the driveway). We will be working on the other issues that arise when you are preserving a vintage camper, but we still enjoy her even when we aren't camping.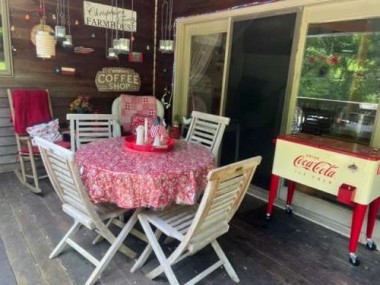 If it is too hot to sit in the camper, we enjoy eating al fresco and hanging with the pups on the "shabby chic" porch. This year, I found the cutest "retro" cooler. I don't drink Coca-Cola (except once a year, perhaps, and only the one in a glass bottle with cane sugar, for nostalgia's sake), but the brand is sentimental to me because it makes me think of my grampa, who was a sign painter and painted signs for Coca-Cola in the 1940s. 
I have worked very, very hard on the garden and flower beds. The reward has been worth it! The cooler, nice spring we had has made for some really great blooms this summer. I love the "full, cottage look" of flower beds bursting with plants, like cutting gardens found in England.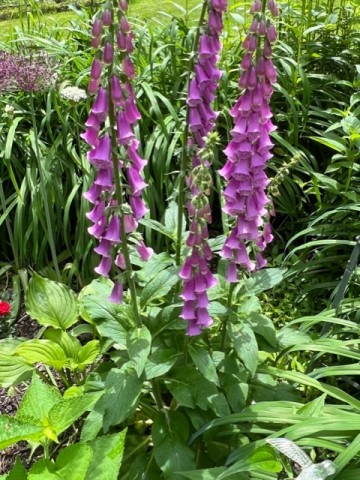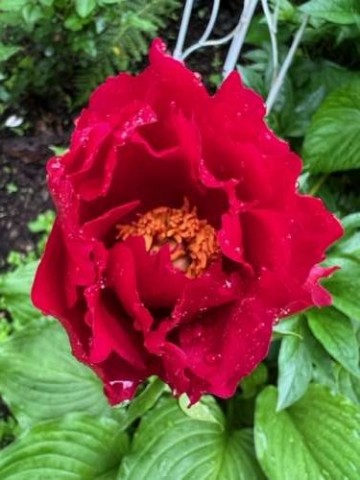 We have also had lots of "visitors".  From birds, to butterflies, to bunnies, something is always about.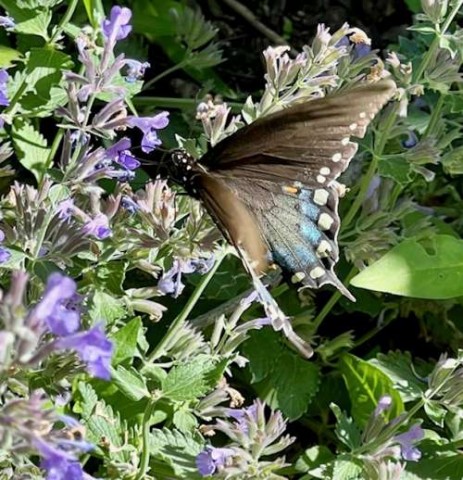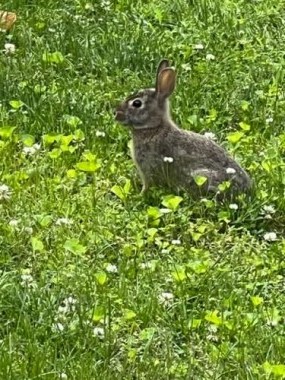 We have noticed the same bunny visiting for a few years (she has scars from some kind of altercation, so we know it is the same one). We call her Bunny Beans. We think perhaps she had a litter of babies this year, as we are also visited every day by "the twins", Baby Beans and Mini Beans.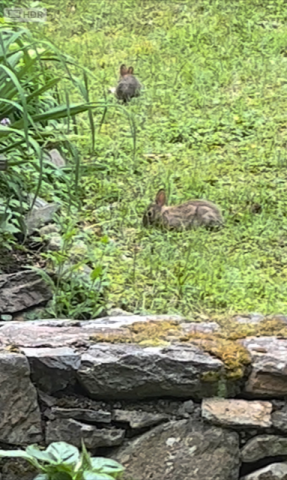 Of course, as cute as they are, they are a bit of a pain when they EAT EVERYTHING I PLANT! I have used sprays, granules, and fencing as a deterrent. I give up. I heard that there are more bunnies this year due to less foxes because of a mange-like disease that hit the fox population in the area.
The birds in the yard have returned, as well, like this huge woodpecker!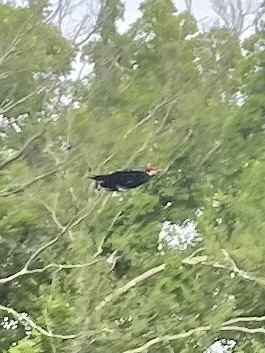 One bird in particular was extra-special. We had a mama robin build a nest in our flowering quince bush, right by the door where we go in and out all day, taking the dogs out. She sat on that nest, on only one single, beautiful, blue egg – morning and night. We'd greet her good morning, and in the evening, say goodnight as we passed by after closing the chickens in the coop for the night. 
One evening, I went a bit earlier than usual to close the coop. I noticed the robin not on the nest, which was unusual. I also heard a terrible racket from the tree above. Fearing the worst, I went to the front of the bush. There, on the ground was the egg, its shell intact but missing a piece of the blue, exposing the membrane underneath. It looked as though the egg had fallen out of the nest; perhaps it had started to hatch, and the movement startled the mom, who was now frantically screaming in the tree above. It had fallen from the nest pretty far, missing the rock border below and landing on the grass. At this time, my daughter came out. I tried to reach and carefully place the egg back in the nest, but my arms were too short! I handed it gently to my daughter. We both could feel the wiggly baby inside the egg! Being a few inches taller, she was able to get the egg back in its nest. At that very moment, Mama Robin swooped in between us, inches from our heads, to sit on the nest! She gave us a look that we knew to be "thank you". The next morning, there was a fuzzy, sleepy baby in the nest, and we watched the family of birds until finally, one day, the baby was able to leave the nest. We felt so proud!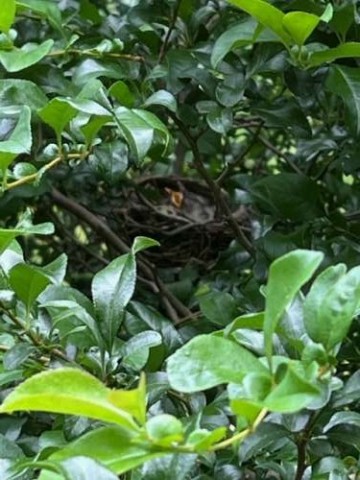 We've also got new "neighbors"! For almost three decades, the property behind us was a state preserve, until recently. New owners began clearing trees and burning brush, and putting up a fence. We worried what was going to happen, until one day, when it sounded like elephants trumping! A herd of cows came stampeding through, checking out their new domain. We were thrilled! (Better than condos)! We only see our new "neighbors" once in a while; by our calculations, it takes them about two weeks to mosey over near our side; always a thrill to see them.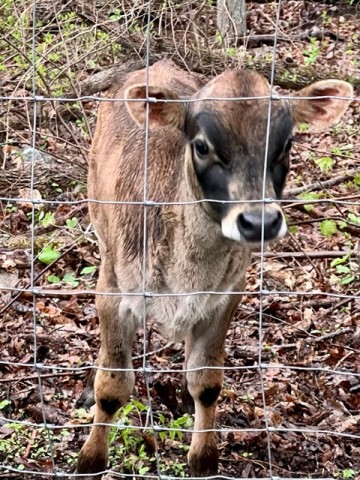 The veggie garden is in, and we had a bumper crop of snow and snap peas, and my kale, chard and lettuce have fed us well.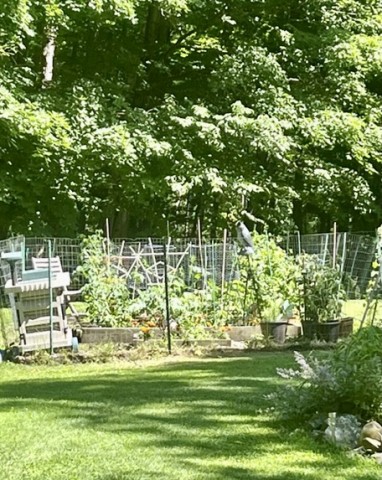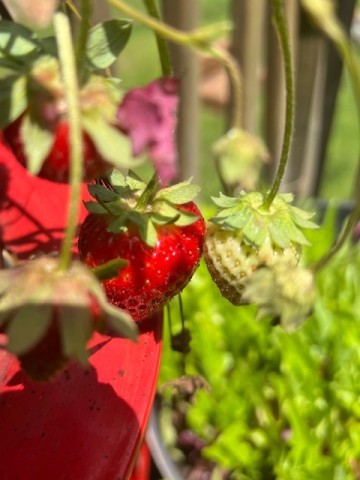 The lettuce bolted during a recent heat snap; I put the flowers in a tiny vase because they looked so interesting to me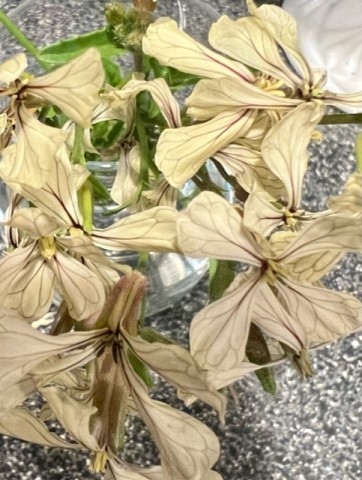 Nothing is better than surprises! I've talked for years about wanting to have an orchard. Recently, I came home to my sweet husband's gift of fruit trees – apple, peach, pear and plum! 
We still have to plant the last trees, and weed and mulch the area, but our little orchard is coming along nicely!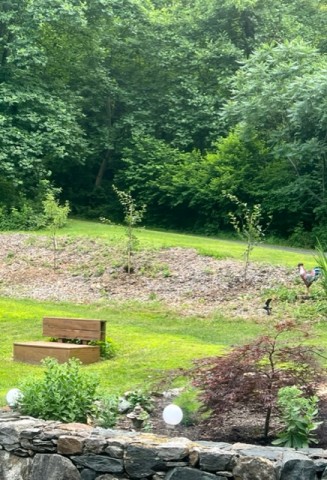 Recently, we were invited to a wedding, for the first time in ages! I think we "clean up" okay!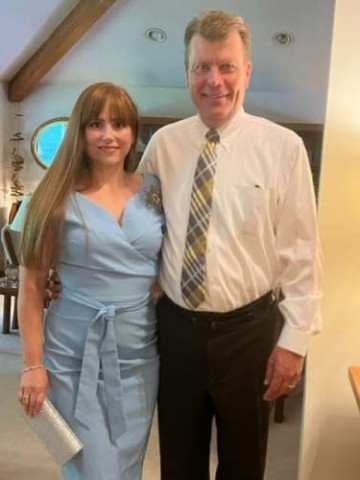 The event was held on a sunny day, with the ceremony outside and the reception inside. I loved that the happy couple ditched the idea of an over-the-top, formal wedding cake, and instead treated guests to an all-you-can-eat dessert and ice cream sundae bar! YUM!
I recently also tried something new. Have you seen the "Paint and Sip" events at local craft places and stores? I never thought of attending, until a group of my friends from one of the knitting classes I teach invited me. Loving crafts, I still have never tried painting a picture! The group of four of us went to a local store on the quaint Bank Street in New Milford, CT, and with the instruction of a local artist, learned to paint a landscape featuring a barn with a barn quilt. We had so much fun – we met some other nice ladies there, and afterward we enjoyed a great dinner at a tapas restaurant. It was a great evening of fun, and I love my picture! It brightens up a dark hallway and makes me think of my friends when I see it. Another friend went with her book club and made trays at another shop. Even if it is a craft you have never tried, you're guaranteed a fun evening – a great "stay-cation" activity! 
Going junking is always fun. I have been a few times with different friends, and to a local tea room with my daughter, (who, by the way, turns TWENTY) this month! I can't believe it! She was seven when I wrote my first blog here…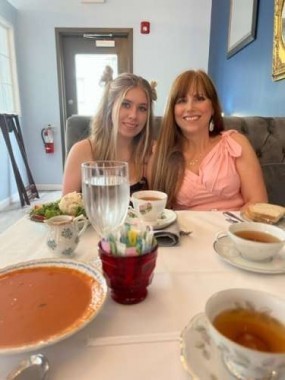 One fun barn sale purchase last year was this badminton set. I remember hot Texas afternoons playing badminton as a child in our backyard.

Families used to enjoy time together playing fun yard games like badminton, croquet, or horseshoes. My husband grew up playing badminton in Denmark, as well. I love the kitschy graphics on the box. A fun game for all ages, it is an activity where you can't hold a cell phone and play at the same time!
We have seen a few great summer movies (Dr. Strange, Jurassic Park, Downton Abbey, Elvis, Top Gun…(Oh my! Top Gun was awesome)! I love a cold movie theater on a hot day! 
The rest of the summer, I hope to spend time swimming, reading in my hammock, walking with my dog and a friend at our favorite trail, sewing, knitting and just spending time with my family and friends.
What's going on in the world and in the news is often upsetting, but don't forget to find "the happy". There is still lots to enjoy and be thankful for.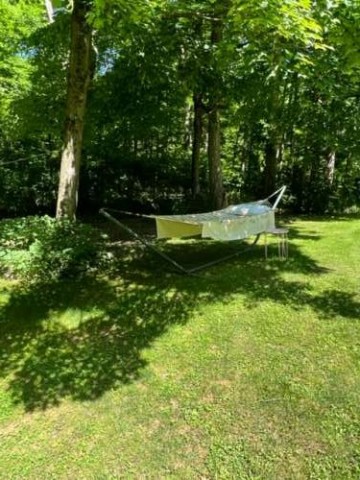 Wishing you blue skies for a happy, relaxing summer!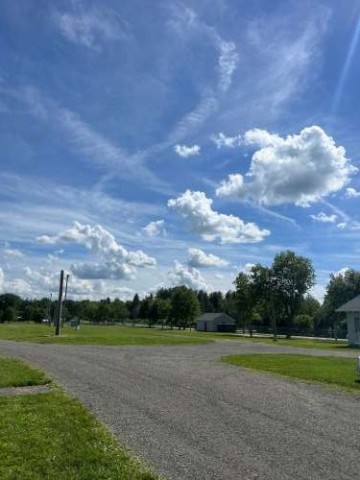 Please remember to leave a comment here so I know you stopped by (don't forget to fill out the captcha so we get your comment)!


Until Next Time…Farmgirl Hugs, Nicole