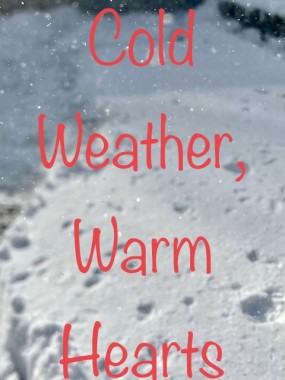 It is hard to believe we are in February already! I am glad, because I am feeling ready for some spring weather. (Dear, warm-weather readers, won't you send me some sunshine)? Don't get me wrong, I do love the four seasons, but January and February bring very cold and sometimes icy weather, and this season has been no exception! At least February is the month of love, with Valentine's Day! February is a short month, but it is a good month to "nest" indoors and catch up.
January was a busy month for my little family; we were almost thankful for the couple of recent snow days that cancelled daily life for a short bit, just to get a moment to recharge. Here, when it is going to be a big storm, our state is usually well prepared.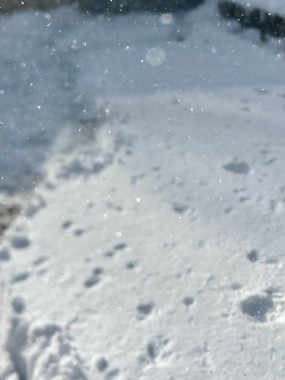 Streets are "salted", usually with a brine-like liquid, before an impending storm, and as soon as they can, most streets are plowed. Schools and businesses really don't close unless it is going to be a pretty big storm, so it isn't that bad.
However, after the outside temperature falls below freezing, and when there is soooo much snow on the ground, it does get a bit tiring. We can't control the weather!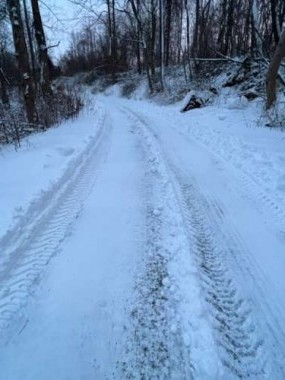 My husband does the plowing and clearing of our long, steep driveway. He also chops our firewood. We heat our home with propane, but in our back room we stay extra-toasty with a wood-burning stove. I am always worried when he comes in cold, from being outside too long. Both of us have warm work gloves to wear, but sometimes we have to remove them to accomplish different outdoor tasks; often just taking the dogs out makes our hands and fingertips cold. I came up with the easiest little solution, to also use scraps from my sewing room!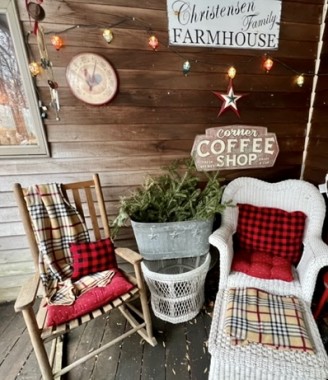 I love buffalo-plaid check, and made a few pillows this year for winter for my shabby-chic porch. I envisioned sitting outside, under a blanket, with a cup of cocoa, watching the snow fall. When fluffy, powdery snow is falling, the sounds of quiet and peacefulness are something.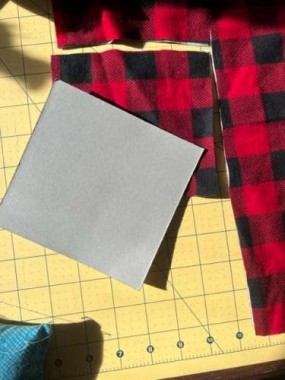 Using the flannel scraps, I cut two squares, 5" X 5". With the right sides together, I sewed three sides with a ¼" seam, then used pinking shears, trimming all around. I clipped the corners, too, and then pressed them with my iron on low heat.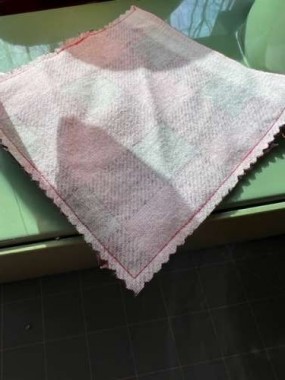 I turned the "pocket" right side out. I folded the open sides in about ½", and pressed.
Using 1 cup of dry, uncooked rice, I mixed 3 – 5 drops of my favorite essential oil. I used lavender, but you could use whatever scent you wish.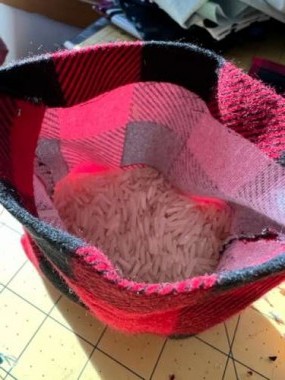 This amount of rice is enough for two "pockets". The idea is to have them flatten out and be shapeable when closed, like a bean bag. I then sewed the top closed. Voila!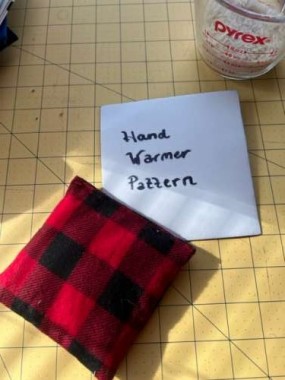 Place them in the microwave for about a minute or so, and you have wonderful, warm, aromatherapy hand warmers, for toasty fingers! They also work great for achy sore muscles, like shoulders or stiff necks. My husband loves them, and puts them in his jacket before he heads out for cold weather chores. While super simple, this works best using flannel like my buffalo plaid check. You could also repurpose an old flannel shirt. An easy craft, they only take a few minutes to make, and make a great little "I am thinking about you" gift.  Warm hearts and warm hands!
I made a bit larger square, about 6" finished all around, and used a bit more rice, about ¾" cup with the essential oil. This time, I used Sunbrella outdoor fabric scraps leftover from summer pillows in front of the camper. This time, I placed the finished little pocket of rice in the freezer. It works great for bumped knees, etc, in place of an ice pack. There's no mess or melting, watery ice, and is ready when first aid is needed. Both hot and cold, the rice packs are reusable – heat and freeze over and over as needed, with no waste or mess. You can also make a more long, rectangle pouch for draping across, tired, achy shoulders, like a nice warm hug! Just make sure not to overfill the pouches so they are pliable. 
While winter can seem long, there is something to be said for beautiful winter skies. I stopped before grocery shopping and snapped this photo of these beautiful iridescent clouds; a friend told me the halo is the result of ice crystals suspended in the clouds. Cool!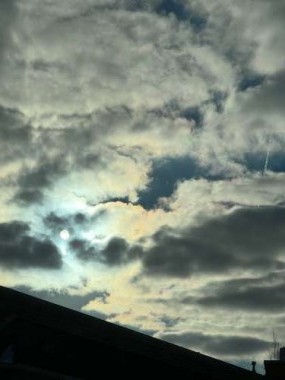 My warm weather friends can say what you want, but there is nothing cuter than little bird prints in snow. These teeny tiny tweety-feety-prints were on my back deck. So sweet!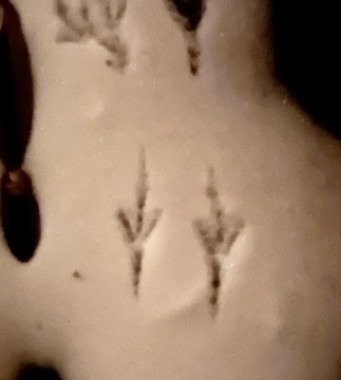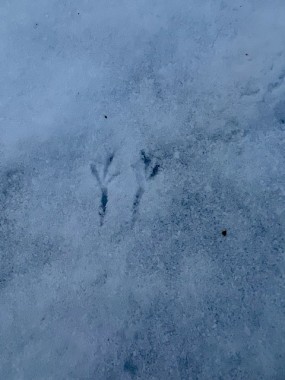 I think these prints belonged to the little wild bunny that calls our yard home.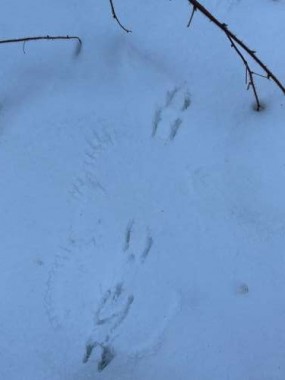 However, there is a bit of pause when you realize the morning after a snow that the large prints that go from one side of your yard to the other belong to what we think is the "local" bobcat!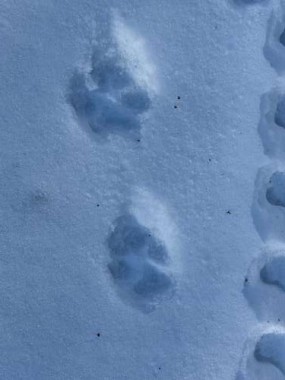 They crossed by the closed chicken coop, and down into the woods. Our large dog was on "alert" the night before. GULP!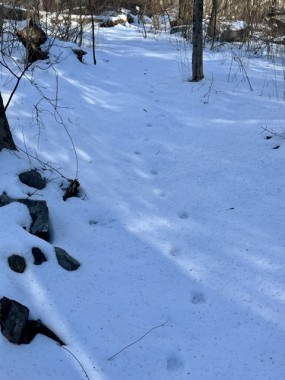 All in all, our 2022 is looking "up", and we are looking forward to a good thaw. Until then, we are staying warm. The house is cozy, and the Hoosier in the kitchen is "dressed" for Valentine's.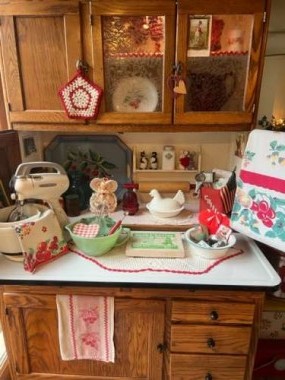 I have set out Valentine's old, and new. Mail in the box is like a warm hug! There's also a wonderful feeling of contentment when we are all home safe and warm.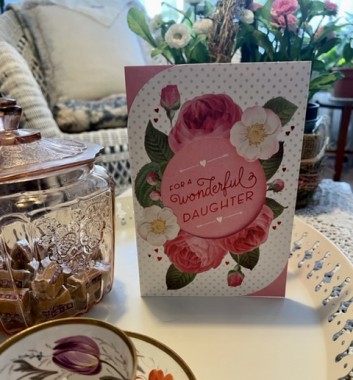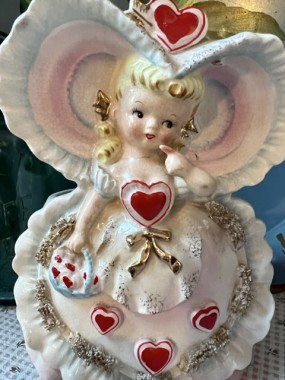 So, dear readers, I hope YOU are safe, cozy, and warm! Happy Valentine's Day! 
Tell me, did you enjoy last month's soup? Are you doing anything special to celebrate Valentine's Day? Leave me a comment so I know you dropped by!
Until Next Time…Farmgirl Hugs, Nicole