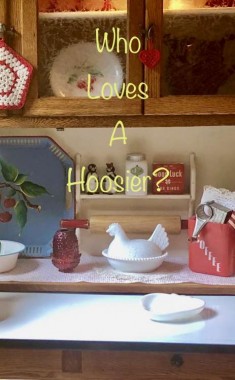 Having forever been an "old soul", I've always loved "old things". Even as a child, my favorite treasures were vintage – the older the better – like a 1940s Nancy Drew book or an Edwardian-era bracelet, my very first flea market purchase (made in the third grade). As an adult, my adoration for vintage grew stronger. Things were made better, and with charm, to boot! From glassware to dishes, clothes to decor, I'm drawn to items with a past life. My favorite things are beautiful and serve a useful purpose. At home, my favorite part of the house is the kitchen. For as long as I can remember, I've longed for an antique Hoosier (kitchen) Cabinet.
"Hoosier Cabinets" were named for Indiana, the "Hoosier" state, where most were made. The Hoosier Manufacturing Company was the most-widely known manufacturer. Much like the "Kleenex" name brand is often used to refer to any brand of tissue, or a "Coke" can mean any kind of soda in conversation, the name "Hoosier" became a blanket term for the cabinets, despite that many other manufacturers, such as Sellers and Napanee, also made them.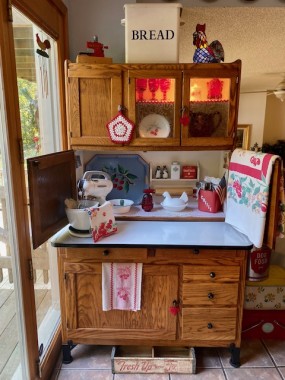 Before built-in cabinets were part of American kitchens, early homeowners might have had a "Baker's Cabinet", the predecessor to the Hoosier, for storage and a work surface. This was basically a freestanding wooden cupboard and hutch (not to be confused with a "Baker's Rack", which typically refers to an all-metal shelving unit, once used to cool pies and cakes after baking). Later, the "Hoosier Cabinet" came into fashion. This innovative workstation/storage furniture piece made kitchen tasks streamlined. With clever advertising, soon every household wanted one.
Many versions of the cabinets existed: some with three or four sections of cabinets, some with glass for displaying, some without. A true Hoosier cabinet consists of two pieces – a top and a deeper bottom. The bottom typically has several drawers for organization, with a tin-lined drawer to keep bread fresh, and at least one large cabinet for dishes and storage. The table-like top would pull out, made of wood, tin or porcelain enamel. On top, there might be tambour doors, and at least one built-in flour sifter. More organizational improvements, such as built-in spice racks and cookbook holders, were added when new models were made each year. Hoosier cabinet sets came in various sizes- from large to small, with the smallest cabinets being "apartment sized" and having only two doors. Most were on casters to make it easy to move the unit around the kitchen depending on the task at hand.
Starting in the late 1800's, many American kitchens were adorned with a Hoosier cabinet. Their popularity waned in the 1930's when kitchens began having built-in cabinets, and by WWII, most production had stopped. The Hoosier Manufacturing Company closed its doors in 1942. Now considered antique, I can't think of anything that says "farm kitchen" more than a Hoosier cabinet!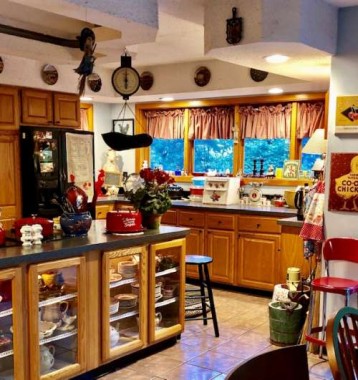 As much as I adored my kitchen, I never thought I'd be able to have a Hoosier cabinet. My kitchen is on the contemporary side- with lots of light and glass, but no solid walls, and only a half-wall on the side by a sunken family room. I've had a small Scandinavaian sideboard, belonging with my dining room set, in the corner by the kitchen door, but it still wasn't a true Hoosier. Whenever I'd see one for sale, it was too big, falling apart, or too expensive for me. Many didn't survive after the popularity diminished, as they were repurposed in garages and cellars for storage, or used for firewood. My grandmother had a small white one, used in the mud room near the back door as a potting bench for houseplants.
Then, late this summer, I saw a grainy photo of a Hoosier for sale on my Facebook newsfeed, reasonably priced. I contacted the seller with a few questions, and made plans to see it. My husband and I drove over an hour, all the while not keeping my hopes up. When we got there, it was love at first sight! The seller was moving to the Southwest, and was afraid it wouldn't make the trip. Unsure of the age, she'd owned it twenty years. I was so excited. It was to be an early anniversary present, for our anniversary this very week. For the price of dinner out, I now have an heirloom!
Just the right size for my kitchen, it has the tin drawer for bread (nice and deep for storage), a pull out wooden shelf and a pull out metal rack in the bottom cabinet.
The top has "feathered" glass. Someone added a light kit at one point, which I love. I added vintage red ric-rac to the shelf as edging.
It's missing the flour sifter, which would have gone in the long left side cabinet (I prefer the storage, anyway).
The top has a charming white and black enamel top, that pulls out. Since my kitchen table is a Scandinavian farmhouse table, it's narrower than American-made tables. (The Danes prefer more intimate seating at meals). The metal top can hold hot dishes of food when we're eating at the table.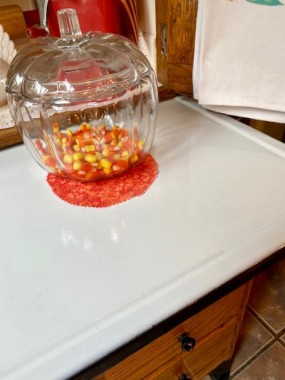 To "date" a Hoosier cabinet can sometimes be tricky. Early models were typically made of oak and unpainted (but could have been painted at a later time). Late models may be painted and may have decals. Some 1920s versions have rounded tops and Art Deco design. There may be a metal manufacturer's name plate or a stamp somewhere on your cabinet, though with some later models this was switched with a paper tag that may have been lost long ago. Luckily, mine is marked "Hoosier, 1910" on the cabinet latches, making it a pretty early piece in great shape! I love the storage and cozy feel, and the oak with black knobs matches my built-in kitchen cabinets.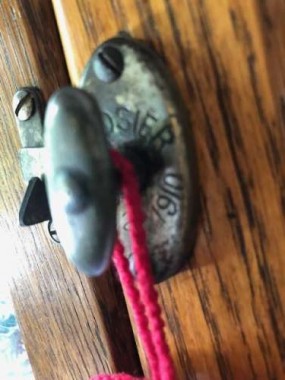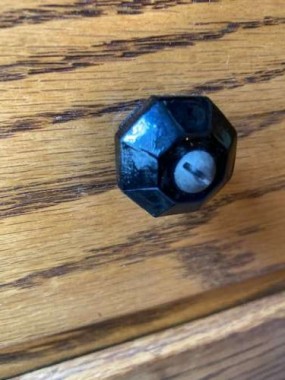 For display, I put some of my most favorite and sentimental pieces, such as my grandmother's red hobnail fairy lamp, and antique salt and pepper shakers my late aunt gave my mom.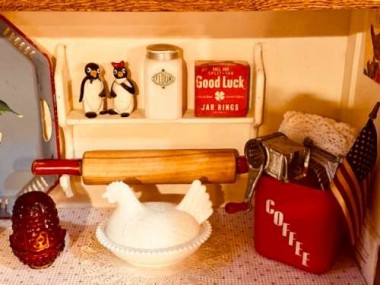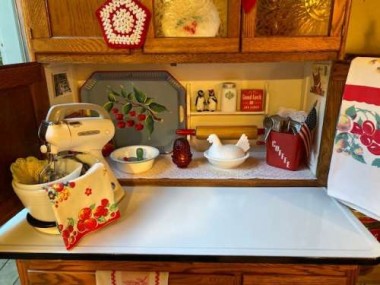 I included a photo of my great-grandmother, an "original farmgirl", seated next to her wringer washer in her cellar filled with canning goods, who I never met but feel connected to because of precious stories I've heard about her.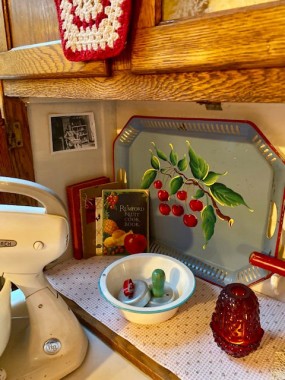 My garden was the best I've had in years, and I've canned many jars of pickles from my fresh cucumbers. The Hoosier is the perfect place to let the jars cool- away from drafts and off the counters. I wondered how many women before me had done the same in the last 109 years.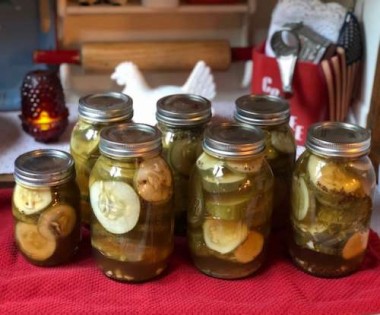 Because mine is an earlier model, it doesn't have as many "gadget" add-ons like sugar sifters or cookbook holders. As the cabinets grew in popularity, so did the number of accessories. "Door Cards" were included with some later models, with advice on spices, or with grocery checklists. Biscuit jars, vases, salt boxes, and spice jars were some of what was offered by companies such as Sneath and Hazel Atlas. I actually have a few pieces that were meant to be used with Hoosier cabinets, not realizing what they were when I acquired them.
When I posted about Hoosier Cabinets on the Farmgirl Connection, the reactions were emotional. Many Farmgirls wish for a cabinet, or are reminded of a long-gone relative such as a grandmother or special aunt who once used a Hoosier Cabinet. The cabinets now may not be used daily in a kitchen to bake bread, but they offer great storage and display possibilities… think towels in a master bathroom, as a "bar" in a study or storage in a family room. They are great pieces to repurpose.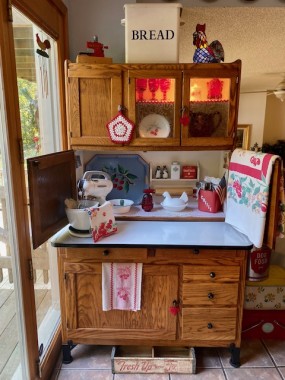 My Hoosier cabinet, a precious gift from my sweet husband, is now the heartbeat of my kitchen. In this faced-paced, ever-changing world, where so much is meant to be "disposable", having something tangible like an old Hoosier cabinet that survived generations, seems really special.
Hope you are having a wonderful start to Autumn. Remember to leave me a comment so I know you dropped by, and c'mon back when the next Suburban Farmgirl blog comes out on October 29th! 
Until Next Time…Farmgirl Hugs, Nicole