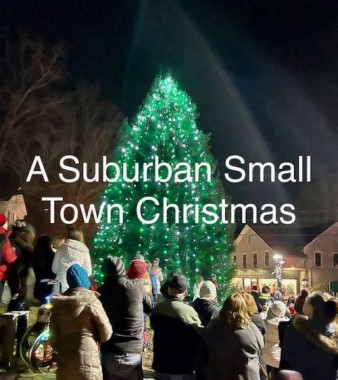 Merry Christmas, Happy New Year, and Happiest of Holidays to you and yours! It is truly my favorite time of year. I (happily) feel like one of Santa's elves during December! After spending the first half of my life in a big Southern city, even though we have no family living close by, we are blessed that we've lived in a small New England town the last quarter century, especially at the holidays! Grab a cup of cocoa, take a break from the "busy", and enjoy some "MERRY" with me!
While 2021 was not that great or even much less stressful than 2020, our month of December has been wonderful! Part of the special magic of our Christmas holidays is living in small town suburbia. My heart is so happy to be part of a small town when it is the holidays, and New England has no shortage of adorable hamlets! With so much going on, it is impossible to NOT catch holiday spirit!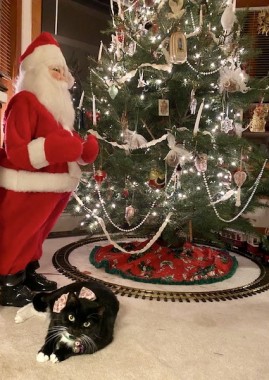 Our fresh tree this year is probably the prettiest one we have ever had, and came from our favorite family-owned tree farm, in Shelton, Connecticut. Jones Tree Farm was started in 1848. The trees are hand pruned and so beautiful! (Poor Mittens just doesn't understand why Santa won't pet her)!
What makes New England so special this time of year? For one thing, decorations abound that make my town and the surrounding areas look vintage Christmas-card perfect and merry! It warms the heart when running errands.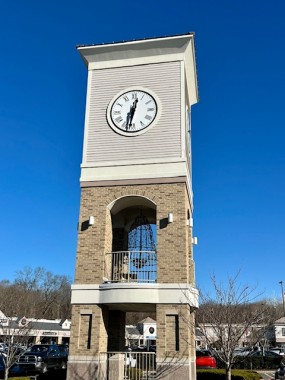 The clock tower in a popular shopping center in Southbury, Connecticut is decorated for the holidays and plays Christmas carols when it chimes during December. It is so festive at night all lit up, as well.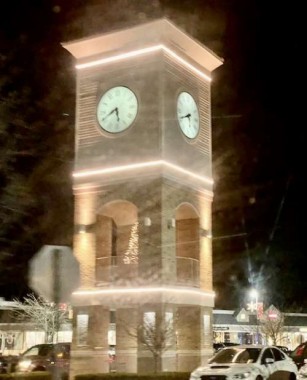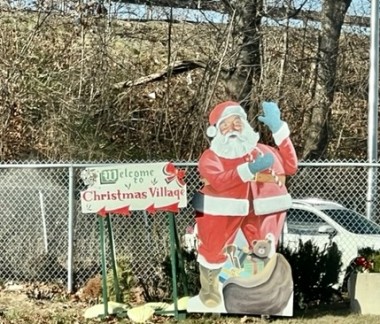 This beautiful old Santa Claus greets commuters at an exit off the freeway in Torrington, Connecticut.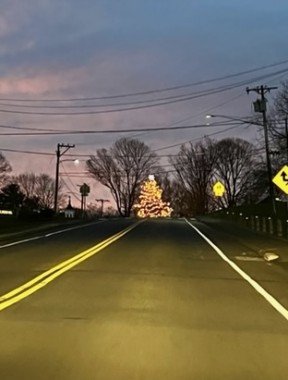 A decorated tree lights the way in Middlebury, Connecticut.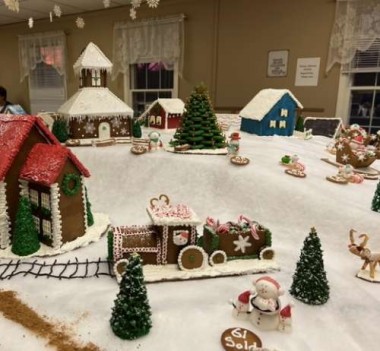 Also in Middlebury, St. George's Episcopol Church ushered in the holidays with the 53rd annual Gingerbread Village and Christmas bazaar.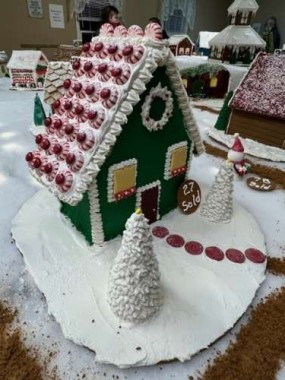 We have gone to the Gingerbread Village for years, since my daughter was a little, and the three of us still love the tradition. (I wrote all about the village in 2011, here). This year was as exciting and breathtaking as ever!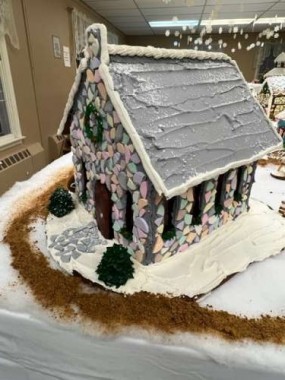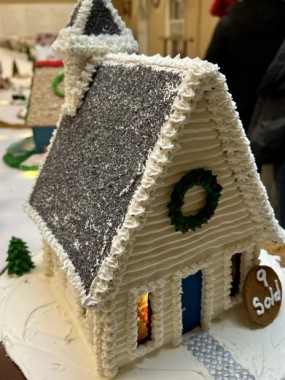 I have such admiration for those that build the amazing structures! This season, for the first time in years, the three of us assembled a gingerbread camper from a pre-made kit. We ended up with icing everywhere (including on the dog), but it made for an evening of family fun and laughs.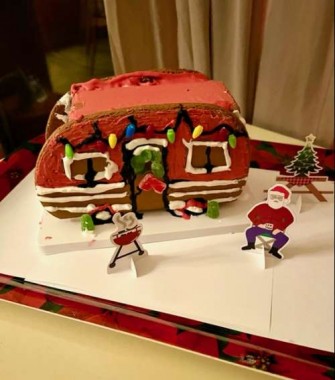 It's been great weather this December! How romantic is it to have ice cream in the falling snow?
One of our favorite places to get homemade ice cream is a small, family-owned dairy farm in Oxford, Connecticut that doesn't close until late December.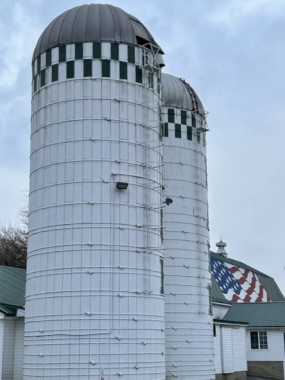 We took a break from the hustle and bustle of errands to enjoy a sweet treat, while admiring the beautiful silo against the backdrop of a winter sky, and watching a barn cat happily chase the softly falling snow flakes.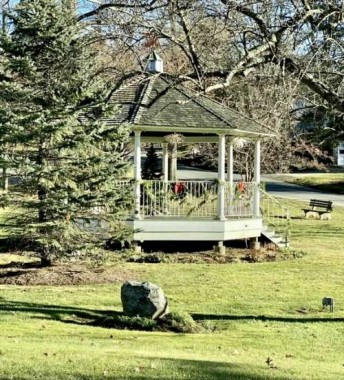 A gazebo (that looks like it belongs in an episode of The Gilmore Girls) at a stoplight in Woodbury wears evergreen finery, with old-fashioned charm. I bet it is just adorable at night, all lit up! 
My friend Andrea and I stepped out to dinner to swap presents (our annual "vintage" gift swap). I loved the life-sized nutcracker standing guard in front of the tavern – so festive! 
I love my hometown. It's the type of place where you go to the grocery store and see people you know, where we look out for one another, and where we cheer each other on.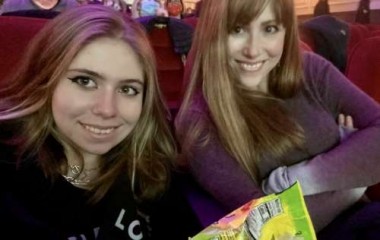 Did you see the Voice on television this year? Jim and Sasha Allen hail from our hometown, and made us all so proud. (What an amazing musical family)!  Audrey and I got to catch a live viewing of one of the episodes at our beloved Edmond town hall. It was exciting to see someone from our hometown with such amazing talent, and to see them make it as far as they did (top eight)! Way to go!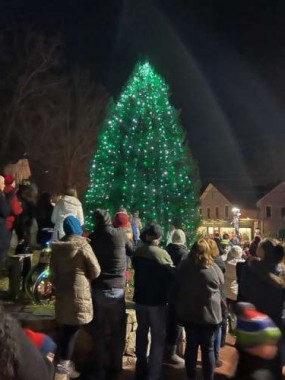 Though I have lived in my home for over twenty-five years, I have never made it to the Sandy Hook tree lighting, until this year, when I was invited by a friend and her husband to join them.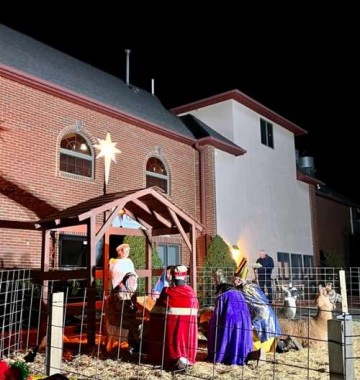 It was so heartwarming and wonderful! We sipped hot apple cider while chatting with the owner of one of our favorite little local shops, then walked down the street to the church on the corner that had a living Nativity scene, complete with beautiful llamas brought in from another friend's local farm.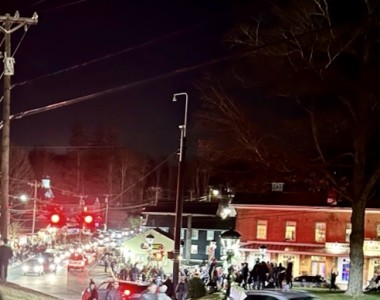 The street was lined with families and smiling faces, lamp posts were dressed in twinkling lights and greenery, and when the two big trees at the crossroads were lit, it was exciting to hear everyone cheer. It was like being in the middle of a real-life Hallmark Christmas movie!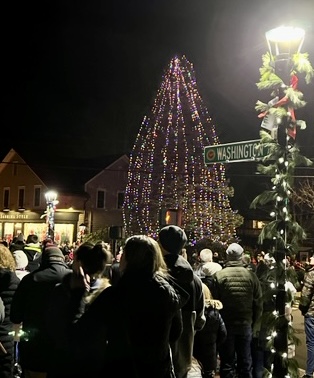 The townspeople make it so special. It's the type of town where neighbors leave surprises in your mailbox, like this goodie bag that contained the cutest handmade "knitting" themed ornament made by a sweet friend who has lived down the street from me for over twenty years.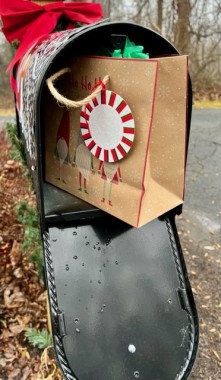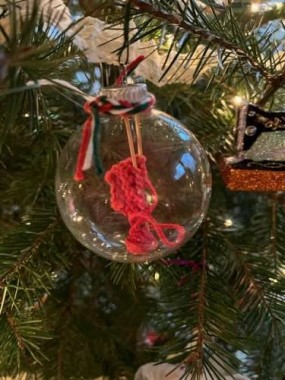 On the walking trail in town, a little tree is merrily decorated for the season. It started with one walker placing an ornament, then someone else did, until…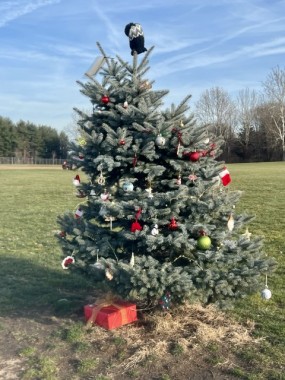 I smiled ear to ear last week as I was out for a walk on the trail and saw the Jogging Santas (and pup), who jog on our streets each year passing on holiday spirit, waving at the kids at school and passersby throughout the town. Their joy was contagious…that's what it's all about!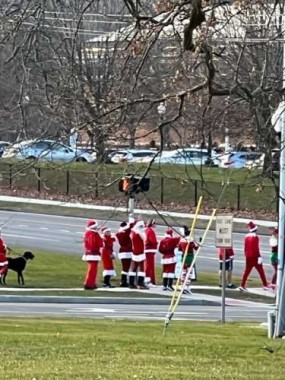 Our hometown also does a Holiday Decorating tour, complete with a guide on Facebook. There are three "tours" to drive, each taking about an hour, with residents' homes all done up for the holidays. Each one is special, and it's become a holiday tradition to drive through admiring all the lights. 
At my home, I am baking cookies, watching Christmas movies, reading Christmas cards, and looking forward to a bit of time off with my little family over the holidays. 
I have hope for the New Year. Do you believe in Christmas miracles? I witnessed one recently, when this beautiful red rose surprised me by blooming through the snow and freezing night temperatures.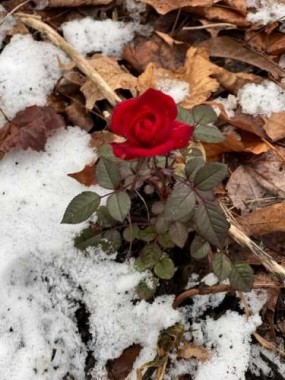 Everything else was dead in my flower bed, but God gifted me a Christmas rose!
Whether you're in a small town, or a big, buzzing city,I hope you are enjoying the charm and magic the holidays can bring.
Thank YOU, dear readers, for all the comments you have left, and to our dear MaryJane and MaryJanesFarm for making the world a lil' bit cozier! Tell me, what are you doing this time of year? Is there a special something about your community that you love about the holiday season? Leave me a comment and let me know you've dropped by!
Wishing a very Merry Christmas and Happiest of Holidays to you all! See you in the New Year!
Until Next Time…Farmgirl Hugs, Nicole