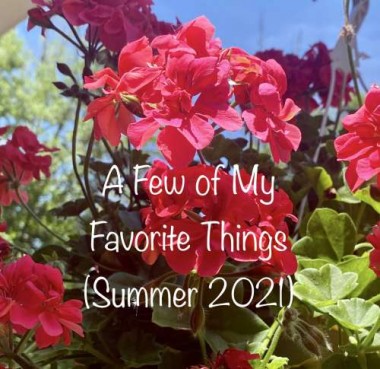 Finally! It's summer! Since the Pandemic hit, it seems that it takes longer than usual for the seasons to get here; maybe it's because it takes so much more effort to do things (like grocery shopping, for example), and we have had less places to go and less people to see. In New England, the weather has also had a lot to do with it. For Memorial weekend, it literally felt like winter, with blinding rain and cold enough temperatures everyone turned their heat back on! We actually broke a record for the coldest start to summer, from 1917! Fast forward a week, and we are hitting in the 90's, the birds are singing and nesting, gardens are going in, and it is no doubtedly S-U-M-M-E-R! Here are a few of my favorite summer things (and some new ones to share). Grab a cold glass of lemonade, and let's have a visit!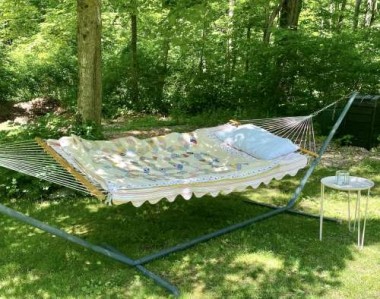 It's been a busy past month here. My daughter finished her first year of college, the veggie garden is planted, and I finished teaching my knitting classes and garden speaking for the summer. Now it is time for my family to take some time to unwind and have a different kind of "busy"! I just love summer!
My favorite thing to do with my family is hit the road and find somewhere we have not been before. I love fun little outings, small day trips on a warm summer day. Recently, we took a drive and had lunch at Guidas, a landmark roadside diner in Middlefield, Connecticut, serving guests since 1946! I had been dying to try it for years, as Betty Boop catches my eye whenever we have passed by.
We also love spending lots of extra down-time with our dogs. Our little one, Pip, has not been feeling well for the last few weeks. Several vet trips and he still isn't quite right. Cross your fingers and say a little prayer for my wee Pip, dear readers, if you don't mind. I hope next blog post I will have good news.
We love sitting outside in summer whenever we can. My favorite vintage hotel chairs were almost toast after a large tree branch fell recently, the result of a bad storm last winter.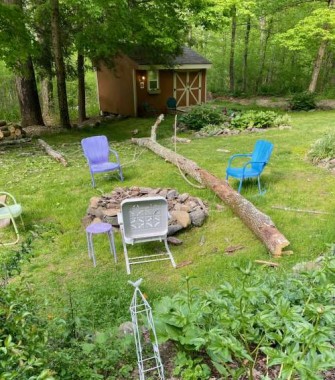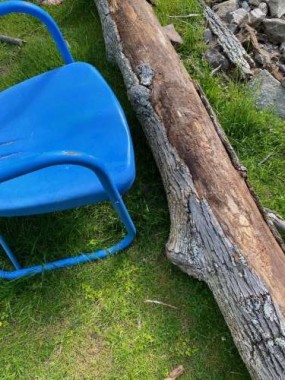 The branch fell right where our chairs are arranged with our firepit, in the middle of one of the flower beds. It literally missed our chairs by TWO INCHES! Our guardian angel was watching over us, as it fell when no one was sitting in the chairs and my dogs were inside. ~shudder~ Thankfully, my favorite 1950's outdoor chairs were spared, as well!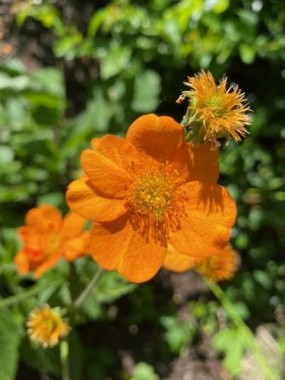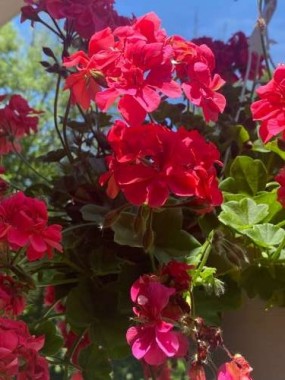 I love to garden. One of the best things of summer are the blooms! While in colder weather, we New Englanders get a break from yard chores, it is such a treat when the flowers really start blooming.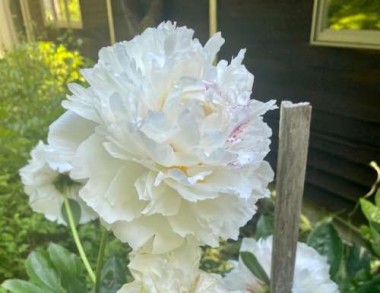 This year, my peonies are the fullest they have been in a long time.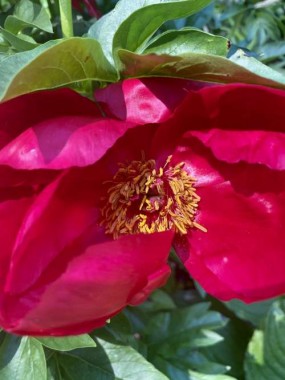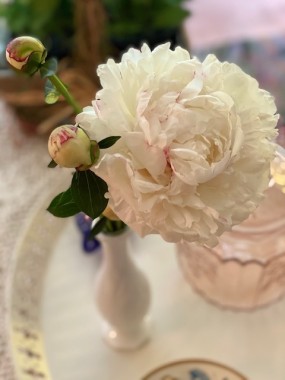 Peonies are one of my favorite flowers. They grow in colder temperatures (zones 3 – 8). I think they are God's reward for our long winters. They are big, fluffy flowers that remind me of petticoats!
Gidget the Glamper is now fully set up and ready to enjoy. Right now, I am writing the blog in the camper while the breeze blows through the windows and door.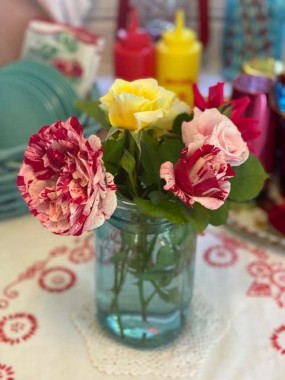 I took a break a bit ago, when a friend who lives around the corner dropped by. She needed help with her knitting, and she brought me these beautiful, fragrant roses, grown from her garden! They look so pretty in the camper on the table, and make the whole space smell amazing.
We may be glamping just at home again. I don't know yet if we will travel or not this year. Even if we stay-cation, I can still send out some fun postcards! If you have a college-age child or grandchild, you may have heard of the online store, Romwe.com.  My daughter and her friends love their trendy clothes and cute accessories at a college-student price point. However, I love their vintage-inspired ephemera!
The stickers my daughter picked for me look like old seed catalogs or packets. I've used them as tuck-ins for thank you notes, and to seal cards through the mail. Use them to decorate objects such as wooden boxes, sealing with Modge-Podge, for example. The box of 30 postcards with vintage prints of floral, fungi, and old sheet music are beautiful! Even the box they came in is lovely. Great to send a quick note to a friend, they are on heavy cardstock and pretty enough to make them frameable. Can't you just imagine one in an antique, embossed brass frame? I bought the sets for under $5.00 for both, an inexpensive summer treat for crafts and notes.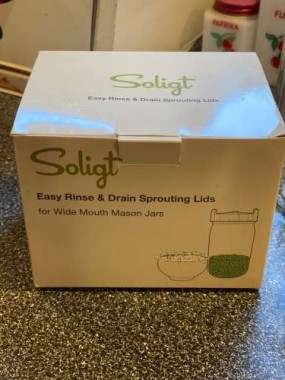 Summer meals, light and refreshing, are another thing I love about summer. Another fun little find my husband picked up this summer are these Soligt seed-sprouting lids found on Amazon.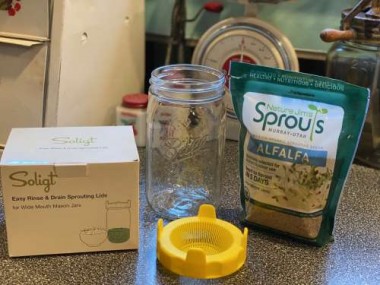 They fit wide-mouth canning jars, and are easy-peasy for growing sprouts, right on the kitchen counter, to eat on sandwiches and salads. I am trying alfalfa for a start. Can't you just taste a summer sandwich with a big slice of sun-ripened tomato, cool cucumber and fresh sprouts? My mouth is watering! 
Summer fruit makes me happy! We just bought our first peaches and cherries of the season! I keep them washed and ready for a quick summer snack. My favorite fruit is cherries…what's yours?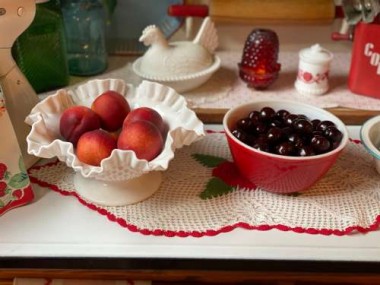 We still keep bags of frozen organic berries and cherries in the freezer, along with bottles of fresh "green" juice, made with things like kale, celery, and green tea, for our morning "shakes". I blend the frozen fruit, green juice, coconut water, almond milk and a bit of turmeric for a refreshing, healthy smoothie. The only problem is that if the liquid with the turmeric drips onto my counter, it is impossible to get off –  staining the formica!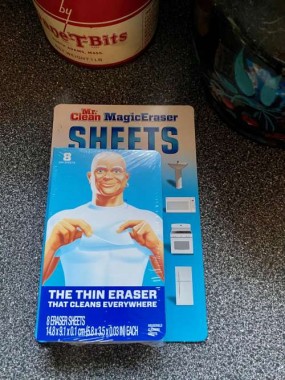 My mom told me about these Mr. Clean Eraser Sheets, and I am hooked! I don't want to spend a lot of time inside this summer cleaning, and these inexpensive sheets (like the Eraser sponges, just thin sheets) save a lot of elbow grease, without harsh cleaners! They managed to get the turmeric stains from my kitchen counters, baked on grease from my stovetop, and rust stains from my laundry room counter when a spill caused an antique decorative iron to rust, staining the countertop. They also are great for getting that funky grime that collects around the edges of faucets and sinks in the kitchen and bathroom.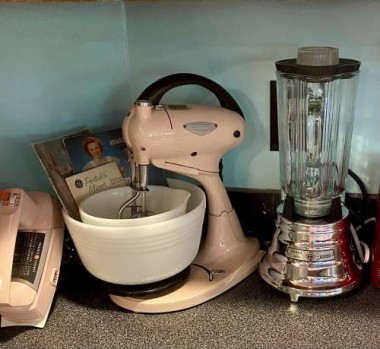 For my daily smoothies, I was given a vintage beehive blender to go in my retro kitchen. It was clean, but after using one of the Mr. Clean Eraser sheets, it looks shiny-brand new!
Speaking of cleaning, another how-did-I-live-without-it, inexpensive cleaning tool I picked up is this rubber-tooth "Fur-emover broom" from Amazon.
My dogs and cats shed like crazy in warmer months! This broom helps me remove the hair that gets stuck in the stair crevices, or under furniture where the vacuum can't go. It also helps corral wet messes with the squeegee-like underside. 
I can't wait for the garden to really get going! I am looking forward to canning, using my pressure canner. A while ago, I consulted the "experts", the farmgirls, on the Farmgirl Connection, to get an idea of what the best pressure canner is. Hands down, farmgirls all agree the best pressure cooker around is the All-American brand pressure canner. It is heavy duty, an investment that can become an heirloom to hand down!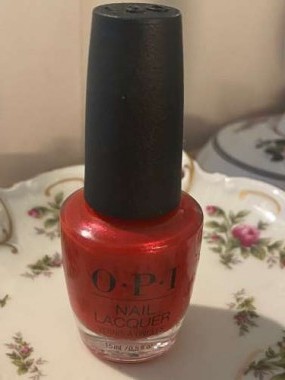 After all the cleaning, gardening and canning is done (wear gloves!), I still like to try to keep my nails painted a pretty, summer color. This season, I am over the moon with this cheery, sparkly red! "Gimme A Lido Kiss" by OPI has just enough coral to make it a light, bright summer red that goes with anything.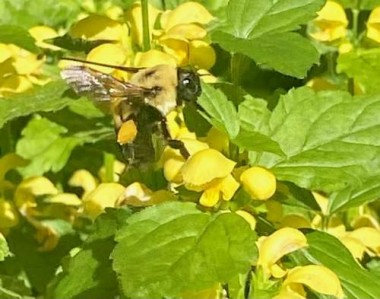 Whatever is keeping YOU busy as a bee with pollen-covered knees this summer, may you have a wonderful season filled with fun, family, friends and flowers! Remember to leave a comment below so I know you dropped by!
Until Next Time…Farmgirl Hugs, Nicole