.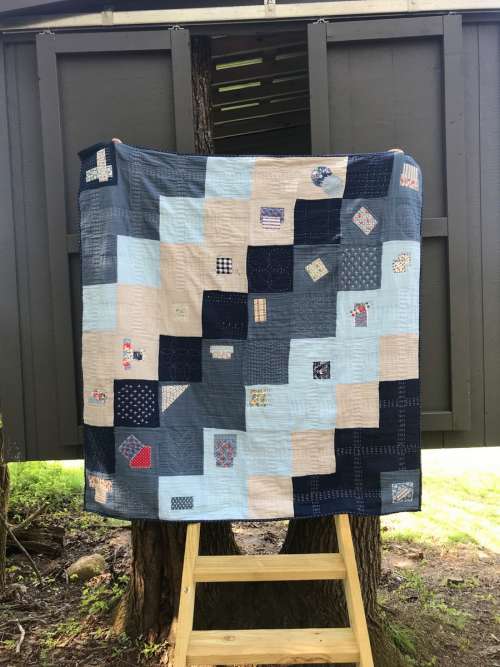 .
Hello Farmgirl Friends!
I'm excited to share my latest quilting project with you!  I've had a thought in the back of my mind for a long time to sew a whole quilt using Sashiko hand-stitching.  I have dabbled in the Japanese Sashiko stitching through the years and even wrote a blog post about it here.  But I've never attempted a full quilt.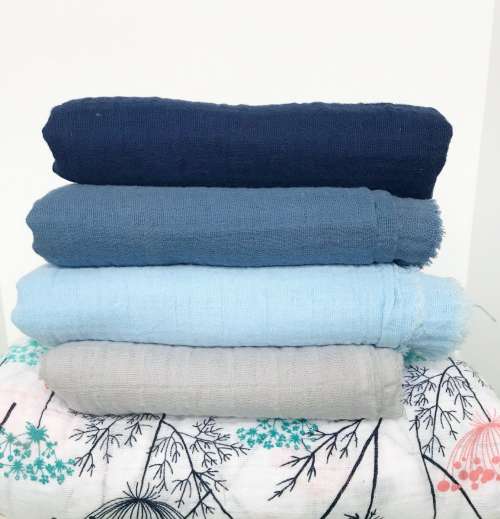 .
Recently I was contacted by the fabric manufacturer, Shannon Fabrics, to see if I would like some samples of their double gauze fabric to do some sewing with.  I was so excited because it's been a dream of mine to make a quilt with double gauze and then a light bulb went off that pairing Sashiko stitching with double gauze fabric is genius!!!
.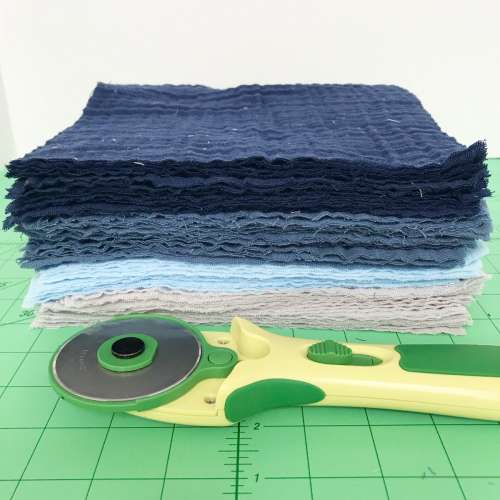 .
When the fabric came I was so thrilled with the way it felt, the colors, the textures and I knew… it was going to be perfect!  And I got right to work cutting squares and piecing a simple patchwork quilt top.
.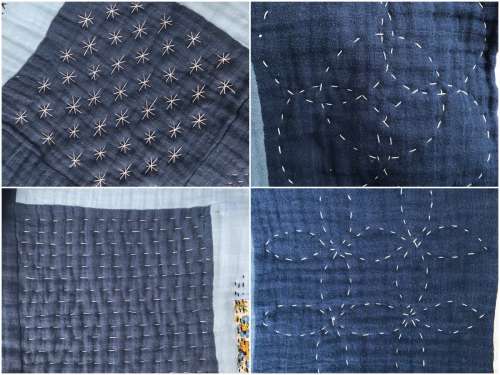 .
Sashiko is the simple process of using white thread and long stitches to form designs on fabric.  I went into it without any plan or thought process.  I just put DMC #8 white thread in my Clover Sashico needle and sat with it in my lap… winging it the entire way!  There are many patterns and designs online that you can use for guidance and I did look some over, but for the most part I just let my needle do the drawing.  Every block was different and some I really love and some I don't!
.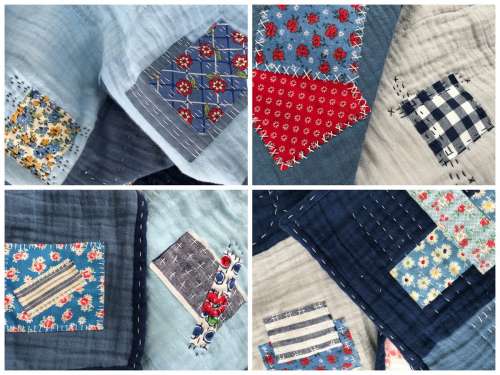 .
After I had filled many blocks with the Sashiko I began to feel like I really needed to add some color to the quilt, so I simply added patches of old fashioned looking fabric scraps I had on hand.  I simply attached them with fusible interfacing and then did some Sashiko stitching to hold them in place.  It was a very simple process that brought life to the quilt and I just began to love it more and more.
.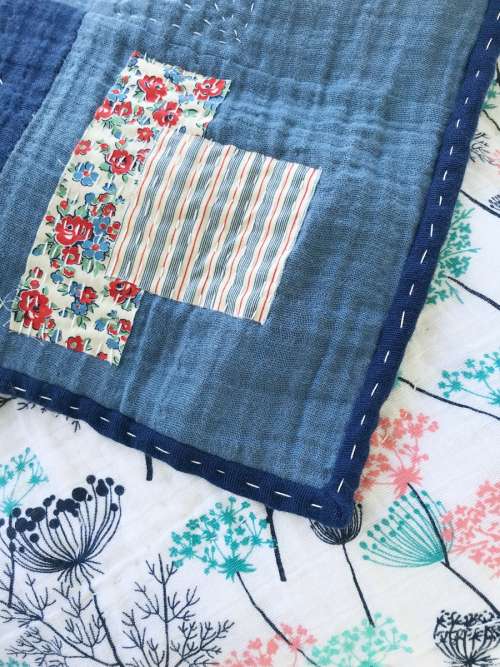 .
I also used double gauze fabric for the binding and attached it the typical way but then finished it off with a decorative Sashiko stitch.
.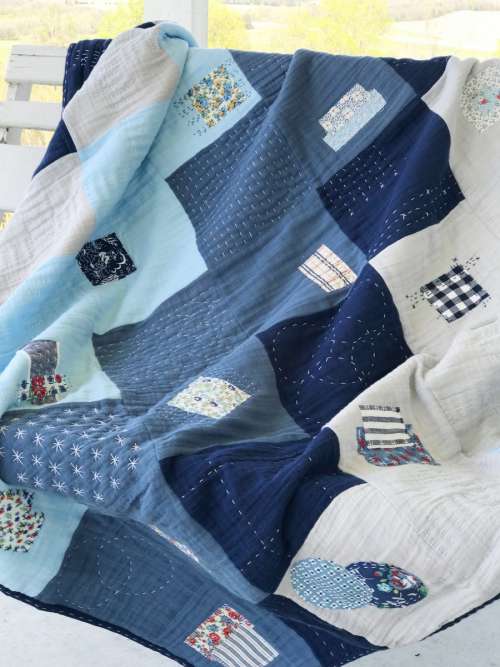 .
The double gauze fabric is so incredibly soft and amazing and after I washed it, the crinkly goodness made it even softer!  Double gauze is a fabric so often used for baby swaddling blankets and now I know why!!
.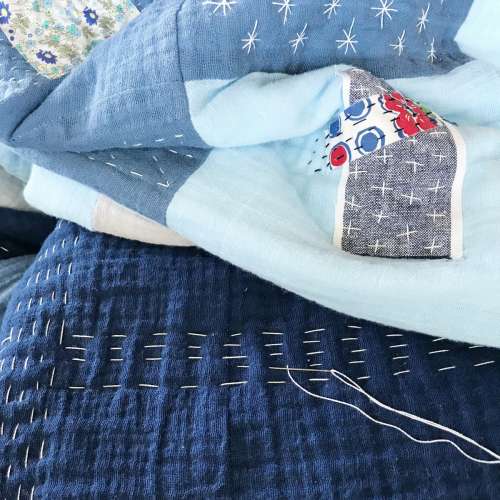 .
I spent so many hours of hand stitching this quilt and every one was so relaxing for me.  Stitching through layers of double gauze, bamboo batting, and double gauze backing was so easy… my needle just slipped through.  If you've never quilted with double gauze I beg you to try it!
.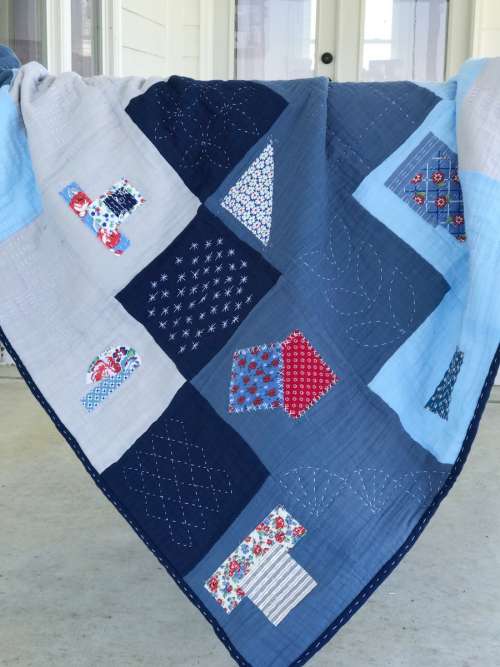 .
.
This was a really fun end to a wonderful winter of sewing and now…. I'm heading into flower season and sewing is on the back burner for the next six months!
.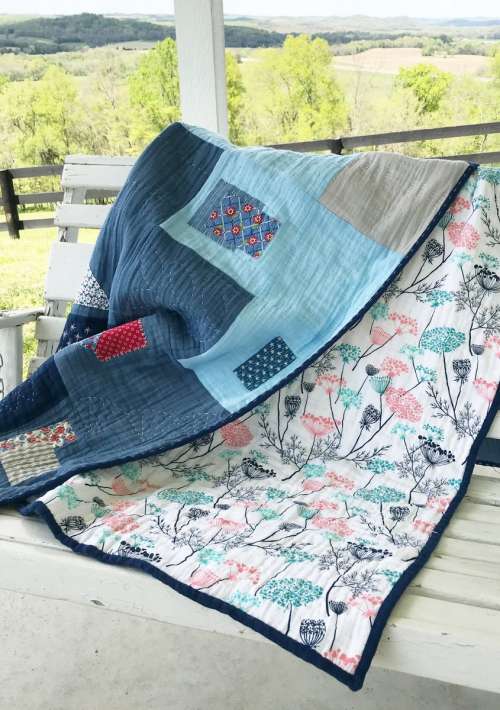 ..
.
Tell me… what is on your project table?  I'd love to hear all about it!
.
.
.
Until our gravel roads cross again… so long.
.
Dori
.
P.S.  Here's the backstory on the above picture: my daughter and her husband and their two little girls have a home on our farm and when I took the quilt to the woods to try to find a place to photograph it, I saw that my grand-girls were in their treehouse, so I asked for their help. You can see the four little hands holding the top of the quilt. This picture ended up being my very favorite!!