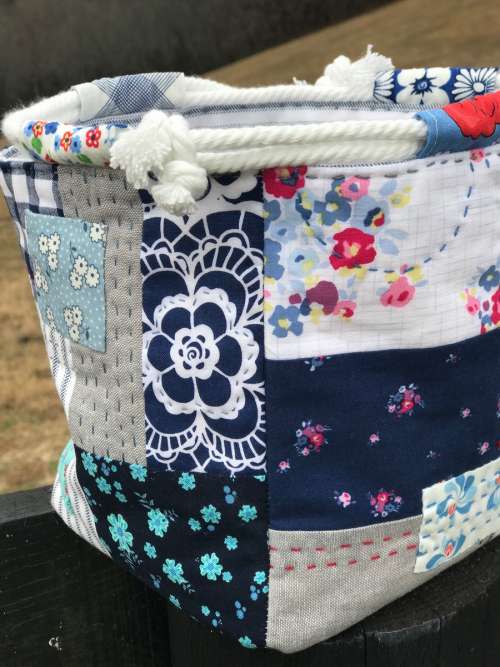 .
I hardly remember a time in my life that I didn't enjoy having a needle and thread in my hand.  And in the slower winter months I always find it so soothing to sit and hand sew.
.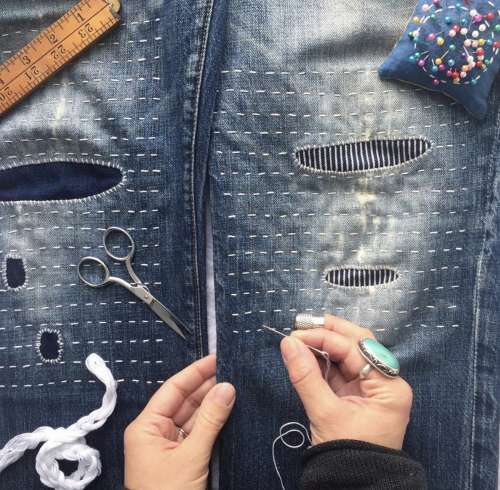 Photo: Katrina Rodabaugh
.
I've recently loved learning a little bit about Sashiko hand sewing.  Sashiko is a form of decorative reinforcement stitching founded in Japan.  If you search "Sashiko" you will see some of the most amazing and intricate mending stitches.  Above is an excellent example from one of my favorite people that I follow on IG.  She does such beautiful work and teaches classes on Sashiko mending in New York.
.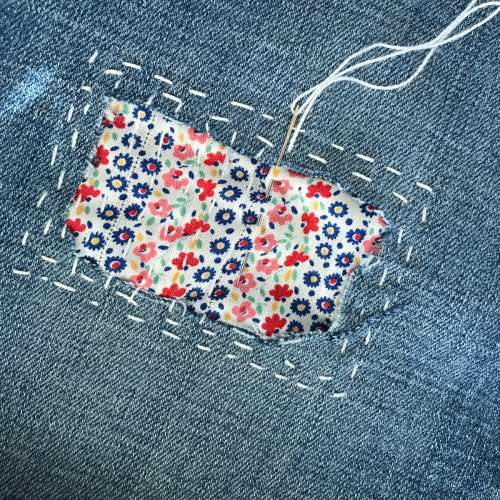 .
I decided to try my hand at some mending on an old pair of ripped blue jeans.  I wanted to to add some color to the jeans so instead of using old denim on the back of the hole, I used a happy piece of cotton fabric.
.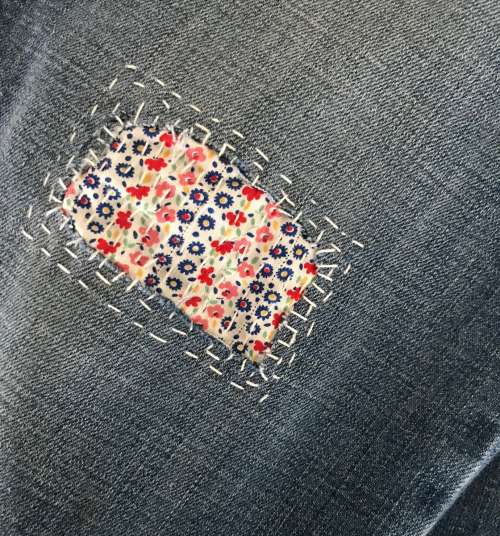 .
Super easy, super fun and oh so cute!  The funnest thing about Sashiko is that you don't have to worry about the length of your stitches or whether they are perfect or not.  It really makes it very relaxing.
.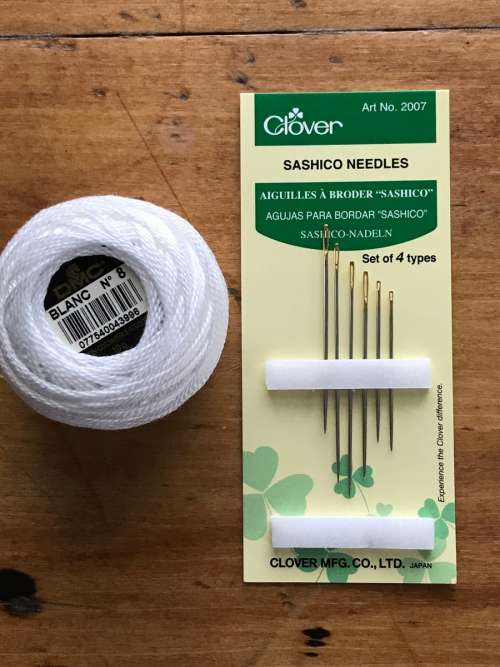 .
In Sashiko stitching you use a thicker thread.  My preference is the DMC Perl Cotton #8 or #12 thread.  It is such a lovely thread to work with.  But because of it being a thicker thread then it does require a needle with a large eye.  Clover makes Sashico needles that are perfect.  They have a large eye and are also very long so you can really get numerous stitches on one needle length.
.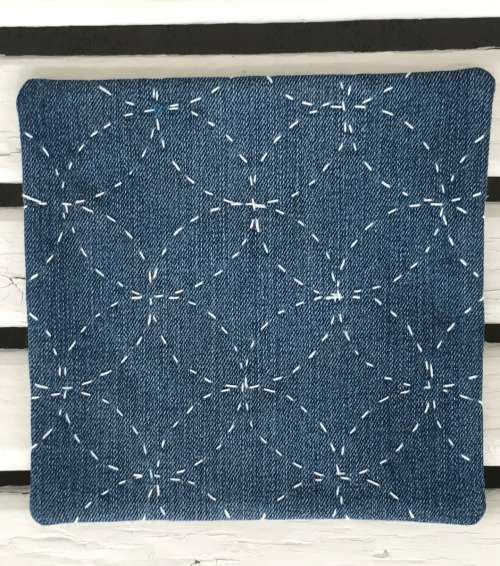 .
I drew a design on an old denim scrap and made a quick coaster with fun Sashiko stitching.  This project took less than an hour and was so satisfying.  I intend to make more for stocking stuffers!
.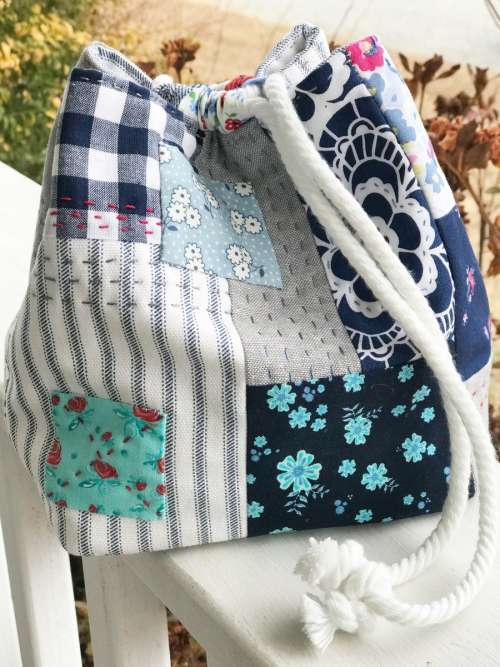 .
My favorite project that I've made in a very long time is called a Rice Bag or a komebukuro. They were traditionally made from scrap fabric with a draw string closure.  They were filled with temple offerings, such as rice or other items.   In my research about Sashiko I saw Rice Bags referred to numerous times and so I decided to make one.
.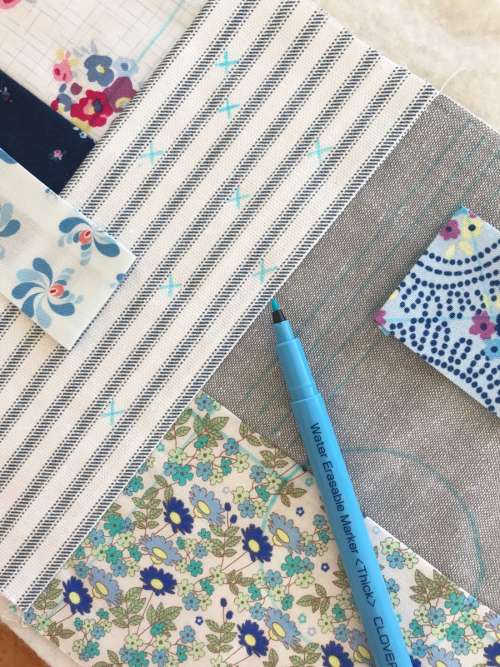 .
I just dug in my scraps and began piecing together some of my favorites.  I also cut some tiny scraps to appliqué on as patches.  After that, I drew some hand sewing lines with my fabric marking pen.  I don't think there is any right or wrong in Sashiko stitching.  I drew some cross stitch lines as well as some circles.
.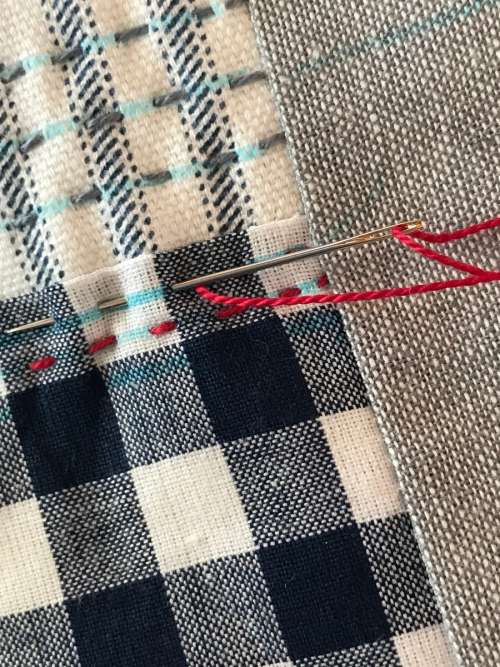 .
And then I had so much fun hand sewing along those lines.  This is a great opportunity to really get creative and have fun with hand sewing.
.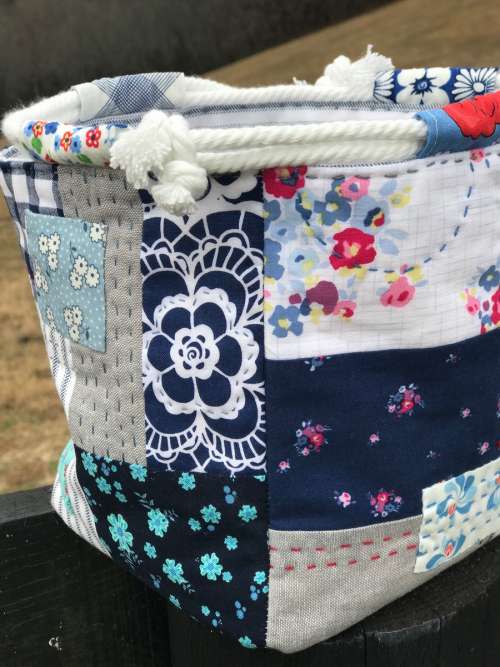 .
I used all different colors of threads and just went for it!  I think the key here is not to overthink it.
.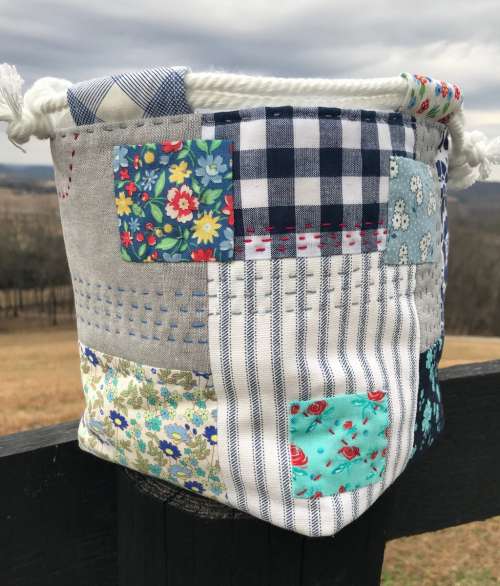 .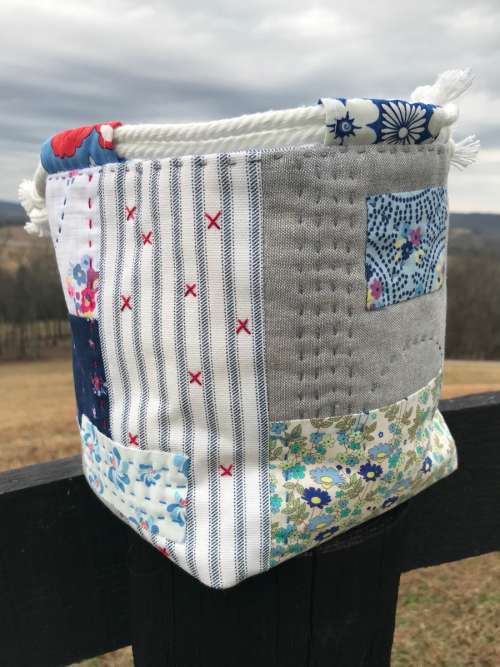 .
I absolutely adore how this Rice Bag came out.  I have no idea what I'm going to use it for but I might just sit and look at it for awhile!
.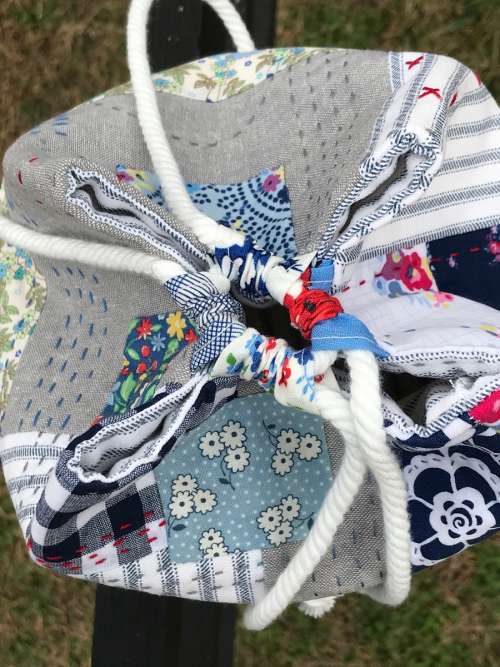 .
I made tabs out of scrap fabric and threaded some nice white cord through the tabs to make the drawstring closure.  Isn't it just the funnest?
.
If you are interested in making this bag, you will find the pattern here!
..
What would you use a Rice Bag for?  Do  you think it would be a gift that you would love to receive?
.
Wishing you the Merriest Christmas and the Happiest New Year! .
.
Until our gravel roads cross again… so long.
.
Dori