We must be turning the corner (slowly) on winter, 'cause I think I see light at the end of the frozen tunnel.  Days are getting longer, and soon clocks spring forward again. The seed catalogs that graced my mailbox are well-read and dog-eared, and I'm planning my summer garden. I've got organic seed starting mix and all my recycled containers ready, and I'm starting to collect seed packets!  I will not plant seeds that aren't heirloom or organic.  It isn't just pesticides; now we need to be mindful of GMO's as well. Everyday there's more evidence published pointing out the harmful effects GMO's have on humans and the environment. I want to know what's in my food, and I'm not willing to gamble my family's health! Eating out's been a favorite family treat, but we find we want to eat at home more than ever to stay healthy. I don't want cooking to feel like a chore, so on hectic evenings, I'm armed with recipes that aren't only delicous, but fast and healthy, too! Come see what I'm cookin' and plantin'…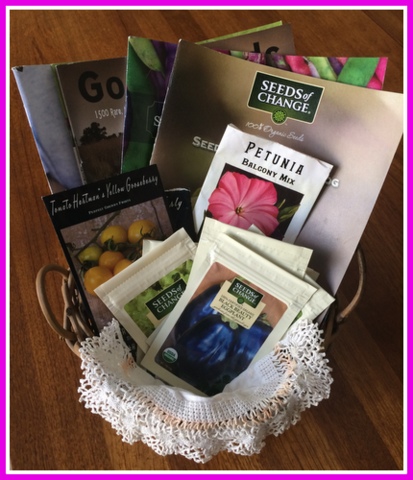 This year, two new stars to my garden will be kale and eggplant. I love eggplant dishes, like eggplant parmigiana, but it's tedious to make often.  (I believe Heaven's got a kitchen filled with fried food, but if I'm gonna indulge in somethin' fried, I can think of other goodies before eggplant). I do like eggplant…it's beautiful with its its glossy, colorful skin. As a newlywed over twenty years ago, I bought a cookbook filled with recipes for "healing foods", and eggplant was listed. Unfortunately, the recipe wasn't very tasty, and called for peeling the skin off the eggplant and "salting" it for forty minutes before cooking to remove bitterness. It was a disaster, and I never made eggplant again.  Last summer, my friend Valerie had little Italian eggplant in her garden; she told me to forget those old rules and saute it, peel and all, in olive oil and curry.  Delicious! Each time I'd add something more, modifying it until I created a new family favorite, a one-dish meal that's fast and easy for super-busy weeknights or "Meatless Mondays".
To make "Eggplant Curry", cut several small Italian eggplant, or one large traditional eggplant into slices, then into chunks. Peel and chop an onion, and two big cloves of garlic.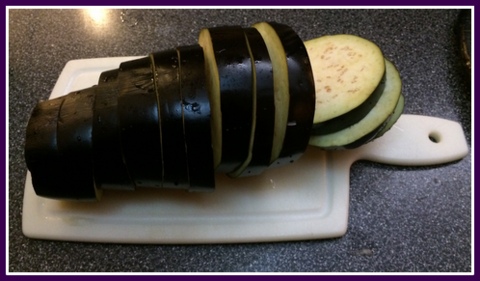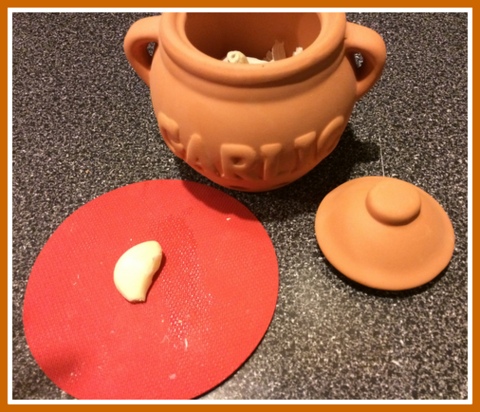 To effortlessly peel fresh garlic, tuck the clove into a rubber jar opener, and roll on the counter. I've got two of them, both free swag with ads on one side. Re-purposing, and perfect peeled garlic every time!
Brown the eggplant chunks, onion and garlic over medium heat in a large skillet with several tablespoons of olive oil.  You may need to add more a little more oil, if you have a really large eggplant.  When the onion has browned, add one can of chopped tomatoes (do not drain), one can of drained garbanzo beans, and a few handfuls of torn kale leaves. Season with two tablespoons of curry, and ½ each teaspoon of ginger and sea salt. Cover and let simmer on low for twenty minutes, or until the vegetables become soft .  Before serving, stir in one cup of cooked rice.  (Jasmine rice would be flavorful, too).  I've used leftover rice, or just cook organic rice quickly in my pressure cooker while the eggplant simmers.
Some busy nights when I'm pressed for time, I also like to throw together pasta and fresh veggies.  Boil whole-wheat penne pasta. When the water is boiling, during last three minutes of cook time, add halved grape or small yellow tomatoes, a handful of chopped kale, and a small bunch of snipped fresh asparagus before draining.  (The veggies should stay crisp).  In winter, I will add frozen organic broccoli instead of the asparagus, since I always have that on hand.  Drain, and toss with ½ cup olive oil, one minced clove of garlic and the juice of one lemon.  Sprinkle with salt, fresh basil leaves, and fresh parmesan or feta cheese.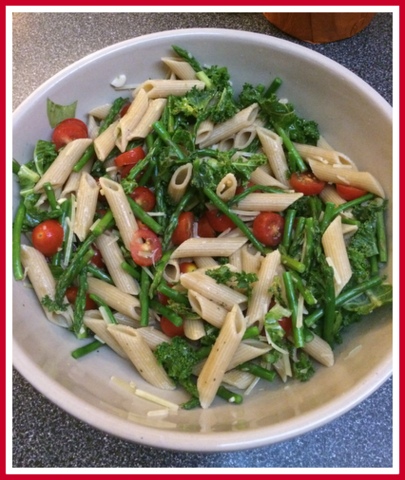 Of course, there's always pizza, but unless it's made with organic ingredients, it's probably made with enriched, bleached flour. I've found I can whip together a homemade one in the same time it takes to order take out, and it tastes so much better with fresh organic ingredients from the garden. (For my easy crust recipe, check out the comments section of my blog "Flying Chickens and Other Kitchen Mishaps", here: http://www.farmgirlbloggers.com/1186#ore-1186).
Of course, planting season here is still a ways to go. Yesterday we had a lunch hour with white-out conditions, and everything's "fifty shades of gray", (and I don't mean the novel). Seed starting and garden dreaming makes me feel refreshed! I just can't wait to get my garden going, and be able to answer "What's for dinner?" with "What's ready to pick from the garden?"
****Do you have any favorite, fast and healthy recipes you'd like to share? What are you planning to plant this year?  Say 'hello' by leaving me a comment.****
Until next time, Farmgirl Hugs, Nicole